Apple released a stable version of iOS 16 for eligible models including iPhone 8 and above on the 13th of September. It was followed immediately by an iOS 16.1 beta for developers on 15th September. It has been a few months since dev and beta versions of iOS 16 have been rolled out before releasing a stable one. It is natural that issues have started getting reported in 23 of the iOS 16-supported devices after the update.
Initially, the iOS 16 bugs reported are around missing wallpapers, excessive battery drain and battery percentage not showing up in a status bar, touchscreen not responding or lagging, all installed iOS wallpapers found to be missing after the update, and data connectivity issues to name a few. These are the initial reports and as the new OS settles down with the resources, one will find iOS 16 issues coming down.
However, there is one issue that is troubling many and is commonly reported. It is iOS 16 battery drain at an abnormal pace on iPhone 8 and above models. The possibility of an improvement in battery life was expected as iOS 16 got stable and the roll out of iOS 16.3 recently has brought about improvements. Let's find out the user reactions and whether it is safe for you to update to iOS 16.3 to fix the abnormal battery drain in the iOS 16.1 and iOS 16.2 releases.
What is the iOS 16 battery drain bug?
Users of models like the iPhone 11 series, iPhone 12 series, and iPhone 13 series are commonly reporting excessive battery drain after installing iOS 16 update. In comparison to the last stable iOS 15, battery drain in iOS 16 is relatively abnormal for many.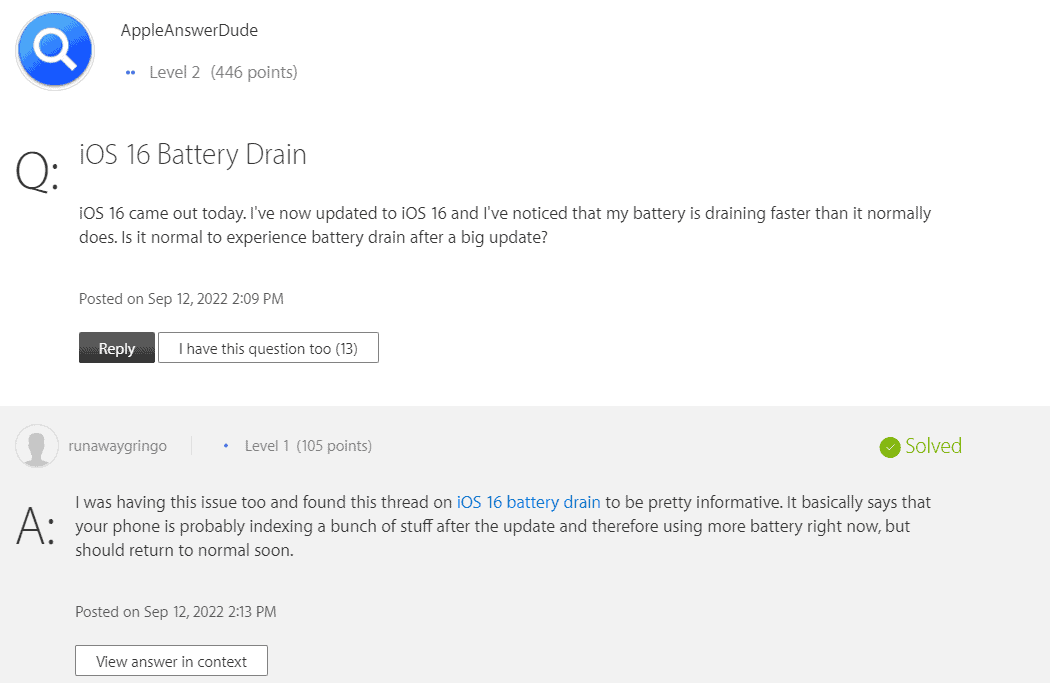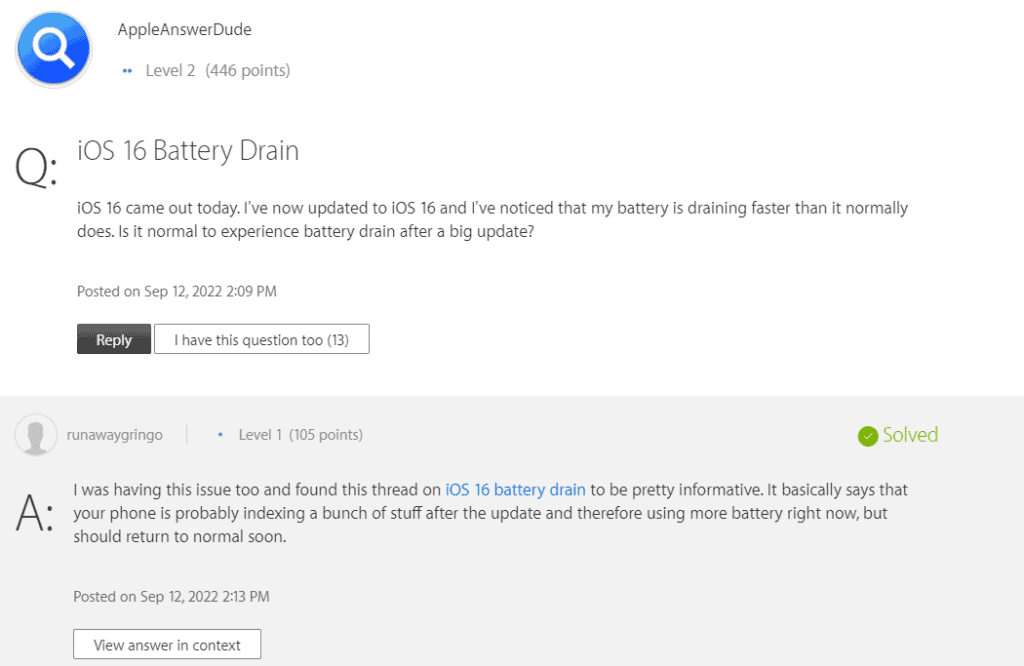 For some, the battery drain is massive with the iPhone needing to charge at least twice a day. Some users are complaining of 20% battery drain in an hour while some users have found battery drain at the rate of 1%/a couple of minutes. Home & Lock Screen are found to be taking up almost 20% The issue of iOS 16 battery drain is reported by new iPhone users suggesting that the device is not an issue.
However, the issue of iOS 16 battery drain is not observed by a few users. The update has been almost equal to or even better than iOS 15 with 90% plus health observed. Battery life has been amazing after updating to iOS 16 with the battery still at 97% after rigorous usage of 2 hours. Such a section of iPhone users is finding an improvement in battery health instead.
However, there are a few more related issues popping up.
Some are even reporting overheating after installing the iOS 16 update
Few reports are seen on issues with charging.
What is the reason behind the iOS 16 battery drain?
The issue of battery drain after a major update rollout is now not considered to be a bug now. It's a normal occurrence at least on the first few days of the update. It is not restricted to iOS updates. One encounters battery-sipping behavior even on platforms like Android, Mac, and Windows during the initial days of installation.
Even Apple Support has said that "It's normal for your apps and features to need to adjust up to 48 hours after an update."
The reason behind the unusual OS 16 battery drain is attributed to the reindexing and cache creation is happening in the background with a lot of data. These reindexes are happening on lot many apps and data. It has been practically found that the battery statistics return to normal or even get better after a couple of days.
The process takes a couple of days to recalibrate the usage data with respect to assigning priority to apps.
After installing a big OS update, it usually happens that the usage data collected by the system is cleared. So, you may need a few days for your device to re-learn which app usage pattern.
The issue of battery drain has been reported with the RC (Release Candidate) version of iOS 16 as well. However, Apple seems to have ignored it and passed it on to the stable version.
The past stable iOS 16.1 and iOS 16.2 did not bring much improvements in the iOS 16 battery life. Apple will attend to the critical issue and release an update in the future with its fix.
Does iOS 16.3 fix iPhone battery drain issue?
Apple devs have claimed to fix the bugging abnormal battery drain issue with the recent iOS 16.3 update. Many users have also confirmed that the recent update has been the best so far and has fixed the nagging battery drain issue. Check out their reactions shared on the internet below.
However, there are few who are commenting that they cannot see much of an improvement. It is too early to rate the fix because after the software update, usually on the first day there is drainage before it gets some stability.
In the meantime, if you own a pair of AirPods Pro 2, do check out if the Battery Drain issue has been resolved after the latest update.
Unfortunately, Apple has weakened the haptic vibrations with the keyboard on iOS 16.3. The devs had clarified earlier that turning haptics on could be the major reason behind battery drain. The haptic feedback has become so light that one can barely sense it and the actual vibration surfaces only after the user taps the key with a slight delay.
If you are experiencing issues with haptic feedback on your device, you may want to try some troubleshooting steps such as restarting the device, checking for any updates, or contacting Apple support for further assistance.
How To Fix iPhone Battery Drain Issue after iOS 16.3 update?
A feasible explanation for battery drain is the phone trying to get acclimatized to the optimizations that an update brings with it. If you encounter a battery drain issue, the following are a few tips to give a try. Most of the tricks are known to many.
Restart iPhone – It is always advised to restart the phone before opting for any radical approach.
Disable Lock Screen Wallpapers – Users are reporting the new iOS 16 lock screen Live Wallpapers with widgets as one of the reasons behind abnormal battery drain.
Apps – Disable unnecessary power-consuming third-party apps running in the background. Cross-check the battery health against these apps. Identify the not to be used apps which are eating away the resources. Delete them!
Autom download of apps – Another feature that saps power is the auto-download of Apps and App updates. This should be taken off. A few more tricks that can help in keeping the battery healthy are disabling features like – auto-play videos, opting for low-power mode, and optimizing the phone and its storage. The last one can be done via Settings app -> General -> iPhone Storage
There are a few tips that can extend the battery life till a permanent solution comes from Apple. One is background App Refresh which eats away a chunk of battery. Disable it from Settings -> General -> Background App Refresh.
Another feature that you can deactivate if not using actively – Location Services. Head straight to Settings app -> Privacy -> Location Services and switch it off.
You can also make certain changes to your iPhone to extend the battery life. These changes include disabling auto-brightness, disabling background app refresh, and turning off location services. Another auto feature that is enabled is the automatic download/install of iOS updates. It also contributes to the iPhone battery drain. Turn off from the location – Settings app -> General -> Software Update -> Automatic Updates.
These tips and tricks to fix battery drain work on both iPhone and Android as they are platform-independent and focus more on the root cause. Though Apple has neither commented on nor acknowledged the iOS 16 battery drain issue. But one can expect improvements in battery life, fix to sluggish performance on older iPhones, and stability in Bluetooth and Wi-Fi connectivity getting fixed in the coming days.
Also Check: How to fix Galaxy S10 battery drain after OneUI 3.0 (Android 11) update
Do share with Phoneswiki's team your experiences and what you are looking forward to from the iOS 16 update and do not forget to drop in a note about your experience with the latest version of iOS 16.