The Apple AirPods Pro 2, launched on September 7, 2022, is the latest addition to the popular AirPods line of wireless earbuds. It features active noise cancellation, improved sound quality, and a new design that offers a more comfortable and secure fit that makes it stand out from its predecessors. However, many users have reported the AirPods Pro 2 battery drain issue.
It was not expected by the users that they will be hit with the excessive battery drain issue after use for over 3-4 months only. Let's find out in detail about the issue and possible workarounds to help resolve it. Though Apple is looking into the issue and a release has been rolled out in the latest iOS 16.3 last week. Few users have reported that there has been an improvement in the battery drain statistics. However, many users continue to be plagued with glitches making the experience not worthy of an Apple product.
From turning off automatic ear detection to completely draining the AirPods battery and charging it again, we'll cover all the steps you can take to ensure your AirPods Pro 2 last as long as possible. This blog aims to help you get the most out of your new AirPods Pro 2, so you can enjoy all the features they have to offer without worrying about battery drain problems.
What's the AirPods Pro 2 Battery Drain Issue?
Apple's AirPods Pro 2 earphones have been the crown jewel of Apple's TWS earphones catalog this year. But recently, some users have reported that the AirPods Pro 2 charging case battery is draining excessively even when not in use. This issue is believed to have started after a recent case firmware update, specifically the '5B58' update.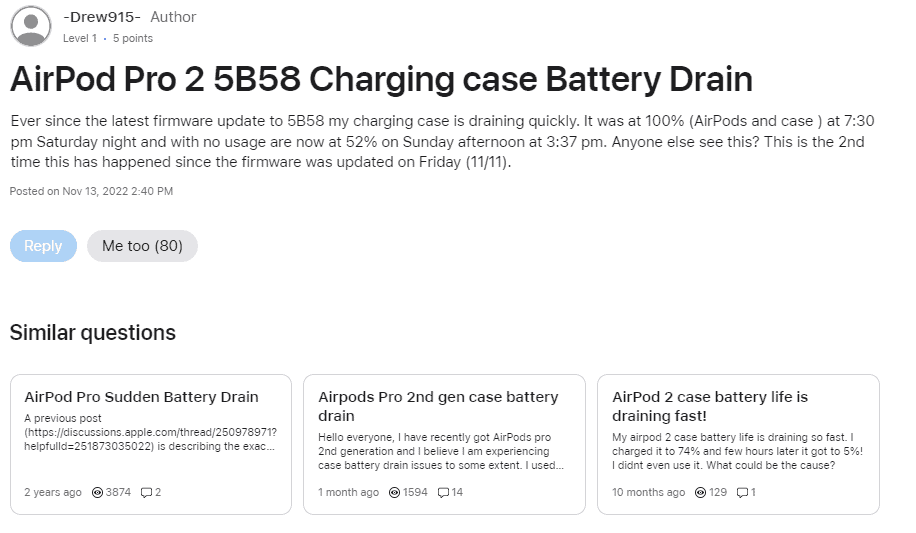 The reports suggest that even when the AirPods Pro 2 on full charge but lying idle for long periods, the battery in the charging case decreases significantly, with some users reporting a 10% drop overnight. While some users are even reporting that battery on their AirPods Pro 2 case updated to the latest firmware is draining to almost 20 – 25%/day even without using the AirPods. Some have even gone to the extent of reporting a loss of 1% every hour without even using the headphones. So overnight around 12-15 % battery conks off without touching the case.
It is important to note that this issue is not limited to just the AirPods Pro 2, as other models have had similar issues with their charging cases. However, it does seem to be more prevalent with the AirPods Pro 2.
The Apple Support team is aware of the bug and can be see working to collect more data to replicate the issue. To address Airpods Pro 2 Battery Drain issue, Apple did release an update. It was supposed to reduce the amount of power that the AirPods Pro 2 draw when connected to a power source.
Unfortunately, these updates have not completely fixed the AirPods Pro 2 battery drain issue, as it is still not clear what exactly is causing it in the first place. As such, users may still experience battery drain issues with their AirPods Pro 2 charging cases.
Are there any more issues with Airpods Pro 2?
For some, the studio buds do not show the case percentage anymore in settings. Those who are on iOS 16.2 have reported that the AirPods case battery indicator always displays '0%' even when it is fully charged. Users have suggested updating to iOS 16.3 to fix it. Some are reporting crackling sounds, and random disconnection of calls on Bluetooth. It has been found that AirPod Pro 2 auto switching between Mac and iPhone is not working the way it should. Noise cancellation is found to suddenly stop working. Many users are facing issues with Airpods Pro slowly sliding out of the ears and taking a position to where they're kind of just loosely in place.
If you are experiencing any of the related Airpods Pro 2 battery drain issue, it is recommended to read below the possible fixes for this solution.
You might also want to read: AirPods not working? Here's how to fix AirPods and AirPods Pro issues
How to fix AirPods Pro 2 Battery Drain?
Now, we know that there are many such cases reporting the Airpods Pro 2 battery drain bug but how do we get about solving it? How to stop the case battery from unnecessarily flushing out battery percentages? Let's look at some solutions below.
Apple's response
Switch Off Automatic Ear Detection
If you own the Apple AirPods Pro (2nd generation) with the engraved case standing in the charging case, you may have noticed that your battery is draining too quickly. If this is the case, one of the best ways to preserve battery life is to switch off automatic ear detection.
This feature allows your AirPods to detect when they are in your ears and only play audio when they are. To turn it off, go to Settings > Bluetooth on your paired iPhone, tap the AirPods, then tap Automatic Ear Detection.
Once this feature is disabled, you can increase the life of your AirPods' battery and ensure a better listening experience.
Turn Off AirPods' Find My Network
If your AirPods Pro 2 case battery is draining too quickly, you need to take a few steps to conserve the battery life. One of these steps is turning off AirPods' Find My network. Here's how you can do this:
Launch the Find My app on your iPhone or iPad.
Tap on the Devices tab.
Select your AirPods from the list of devices.
Tap on the Settings icon (the gear icon).
Select the option to turn off Find My network.
Confirm your choice by tapping on Turn Off.
By disabling the Find My network, you can help preserve your AirPods Pro 2 case battery life and ensure that it lasts longer before needing a recharge. Check out user responses below
Recalibarte AirPods Battery and Charge Again
To ensure optimal performance of your AirPods Pro 2, it's important to completely drain the battery and charge it again. This can be done by putting the AirPods back in the charging case and making sure they don't have any charge left. To do this, make sure to use your AirPods until they are completely depleted of power. Once they are fully drained, put them back in their charging case and leave them there until they're fully charged again. Don't open and close the lid of your AirPods case repeatedly as this can cause further battery drain issues.
Don't Keep Airpods Out of the Case Too Long
To avoid draining your AirPods Pro 2 case battery too quickly, make sure to keep your AirPods in their smart case whenever you're not using them. This will help preserve the battery charge and ensure that your AirPods always have enough power when you need them. Additionally, don't forget to switch off Automatic Ear Detection and turn off the Find My Network feature to enhance the battery life of your AirPods.
Check out user's response for AirPods Max that will apply for Airpods Pro 2 as well.
Update to the latest iOS version
Keep your iOS and case OS updated to the latest. Update to latest Case firmware 51.11.1. Check out the user reaction below.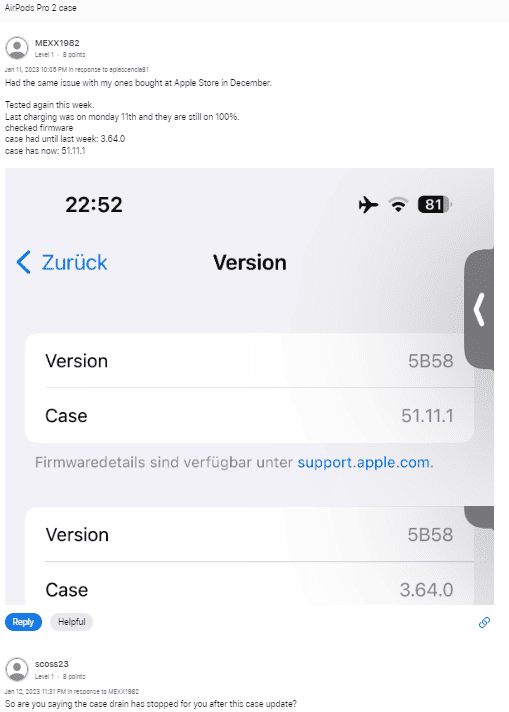 Apple rolled out iOS 16.3 and there are reports from some sections that it has resolved the Airpods Pro 2 battery drain issue. Check out the one below.
However, iOS 16.3 fix has resolved the irritating idle battery drain for some and for some it has introduced one more bug. The new glitch is AirPods Pro case always shows 0% battery even when fully charged. It appears that the power widget is faulty and the charge levels indicated on the pop-up of the case are actually correct. The power widget doesn't show that the case is charging or even the current charge level. It displays a percentage that is not correct.
Contact Apple Support for assistance
If you have tried all of the above steps and are still experiencing the AirPods Pro 2 battery drain issues with its case, it may be time to contact Apple Support. You can get in touch with an Apple representative through the company's website, over the phone, or via a live chat. Before getting in touch with Apple, have your AirPods Pro 2 serial number ready so that the support staff can diagnose and help you solve your battery drain issue more quickly.
You might also want to read: AirPods Pro 'automatically disconnecting' or 'deleted from Bluetooth devices list' after 4E71 update! Here's what you can do
Conclusion
The AirPods Pro 2 is a great addition to the Apple ecosystem, offering improved sound quality and noise cancellation capabilities. The latest AirPods Pro 2 features longer and improved battery life over its predecessor. Additionally, Apple designed to reduce the amount of energy that the AirPods Pro 2 use when connected to a Bluetooth device. Overall, the second generation of AirPods Pro offers a unique way to experience audio with enhanced Active Noise Cancellation, Touch control for media playback and volume adjustments directly from the stem, Personalised Spatial Audio, and longer battery life. However, the AirPods Pro 2 battery drain issue is a very serious and common concern among a pool of loyal Apple customers.
To address this issue, users can try switching off automatic ear detection, turning off the AirPods' Find My network, completely draining and recharging the AirPods battery, limiting the amount of time the AirPods are out of the case, and contacting Apple support for further assistance.
It's important to note that these solutions may not work for everyone, and the issue may be caused by a variety of factors. As always, it's best to keep an eye on your case battery levels and troubleshoot any issues as soon as they arise. With a little bit of attention and care, you can ensure that your AirPods Pro 2 are always ready to go when you are. in the meantime do not forget to read about Airpods 4 rumors.