A majority of the eligible iPhone owners were ranting about idle battery drain problems after the iOS 14 update. It was practically found that before the iOS 14 update, the battery life lasted 6 hours at 58%. Whereas after iOS 14 update it lasted only for 4 hours in 58% left. The figures were for a relatively less than a year device having 100% battery health.
It all started with iPhone 12 series owners reporting serious idle battery drain issues. It was initially logged on the Apple forum on 25 October 2020 and more than 100 pages of grumbling users joined the chorus. Even after 3 major updates, the issue had no solution that got complicated by no support from Apple.
But hopes for a permanent solution has been ignited again for all the 20 different iPhone models that got upgraded to iOS 14. On December 16, Apple released its first iOS 14.4 beta 1 that is reported to bring the solution. The version came out just on the heels of iOS 14.3 where the idle battery drain bug persisted.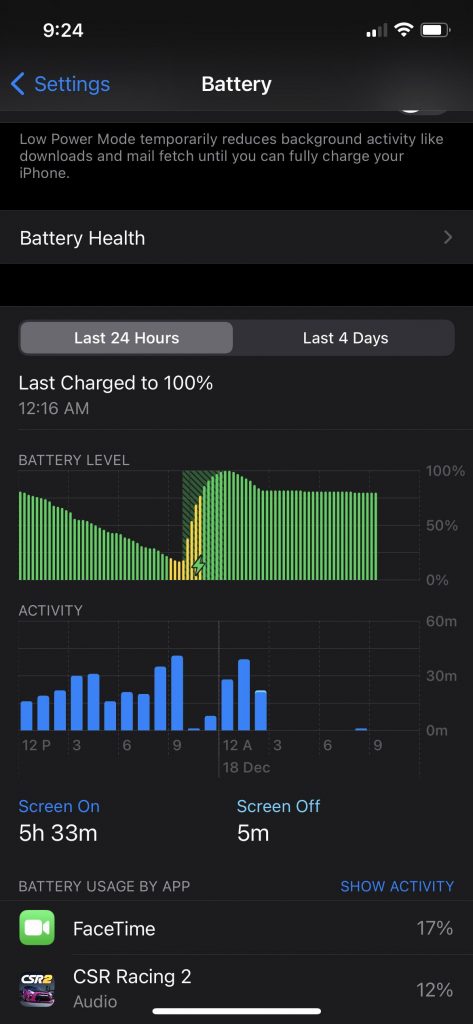 Initial reports of 14.4 beta 1 coming in are encouraging. People on Reddit seem to be happy, getting a majority of pertinent issues fixed. Many have found their issues on iPhone 11 Pro and iPhone 12 fixed. One Redditor confirmed that he found issues fixed like phone calls using low power core, photos not background on battery, messages not going haywire, and Home Screen acting .. like an idle Home Screen.
One of the users has given statistics –But literally I'm at 91% with moderate use after 4 hours today before noon. Two days ago, was at 77% with less usage. And I've even reinstalled Chrome. But few found that it is at the expense of Apple prioritizing battery over performance a bit too much.
iOS 14.4 beta 1 has been made available to registered devs and it can be downloaded via an over-the-air update in the Settings app. The build number 18D5030e is assigned to iOS 14.4 beta 1.
Drop in note about your experience with the latest version iOS 14.4 beta 1.