Apple has added a lot of cool iOS 16 camera features to its latest version and is still adding new ones, but unfortunately, some people are experiencing issues with their device cameras. If you are one of the many people facing iOS 16 Camera issues, you are not alone.
According to multiple reports on Reddit, the latest version of Apple's mobile operating system has been causing some users to run into issues with the camera on their iPhones. A number of users have taken to social media to complain about the problems, with some saying that their camera apps are completely frozen or not responding at all when trying to use them after the latest iOS 16.0.2 update.
The issue appears to be widespread, affecting both older devices and brand-new ones alike. In fact, it seems that most users are having problems with their cameras at least once during their first week or two of using iOS 16.
Let's take a look at the iOS 16 camera issues users are experiencing at the moment.
What are the different iOS 16 camera issues?
iOS 16 camera lag issue
Many users are reporting that they cannot access their iOS 16 Camera app without it taking several seconds for the app to respond to their touch input. Some say that they can only get the app to work by waiting a few moments before tapping anywhere on the screen. Users have noticed that the culprit is the default camera app and any other third-party app that uses the camera is unaffected. 
The issue does not get resolved in the latest iOS 16.0.2 update. Users report that camera lag is evident with the camera app as well as 3rd party apps using the camera function. A certain section of users reports that on opening the camera there is a lag of 5-10 seconds with the screen blacked out. In addition, when trying to use the iPhone camera through 3rd part apps like Whatsapp, the camera doesn't even start, just remains blacked out.
iOS 16 camera freeze issue
A small number of users report that their iOS 16 Camera app is completely frozen when trying to open it. This means that no matter how long they wait, the app will remain stuck in its current state until the user shuts down their device and starts it back up again. The problem becomes even more annoying when the user wants to capture an important photo but finds that the iOS 16 camera not working. People are reporting the issue during selfie shots.
iOS 16 camera app refusing to open
There are also a handful of iOS 16 users who found themselves unable to get their front camera to work at all. It doesn't appear as though these users were able to launch the app at all, either from the Home Screen or by pressing the camera icon within any app.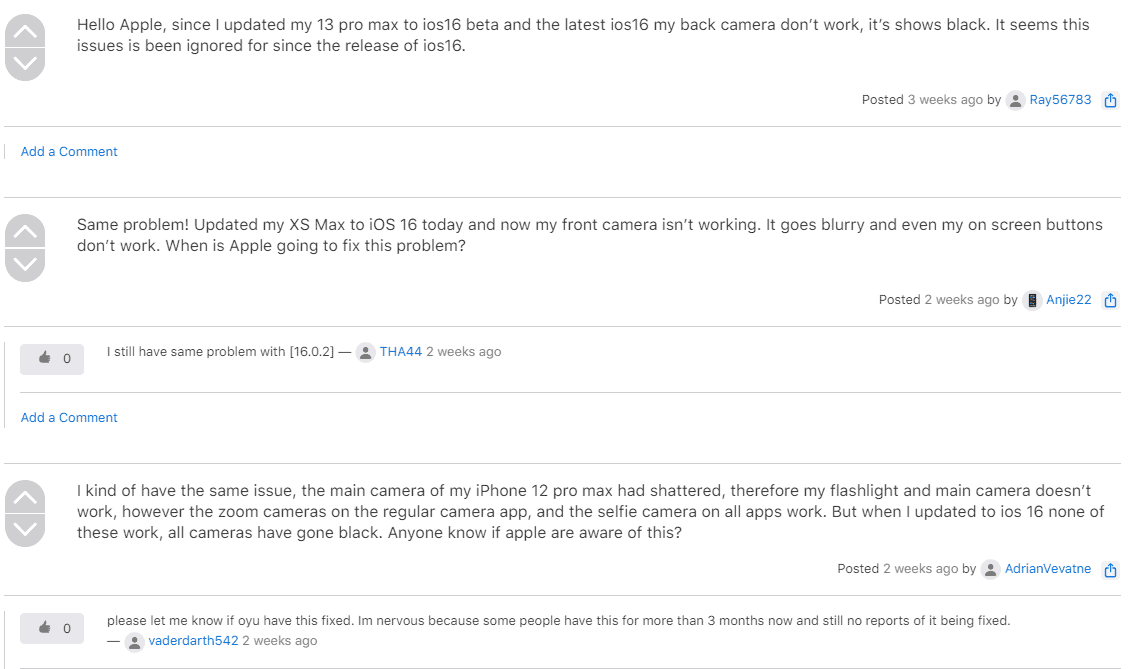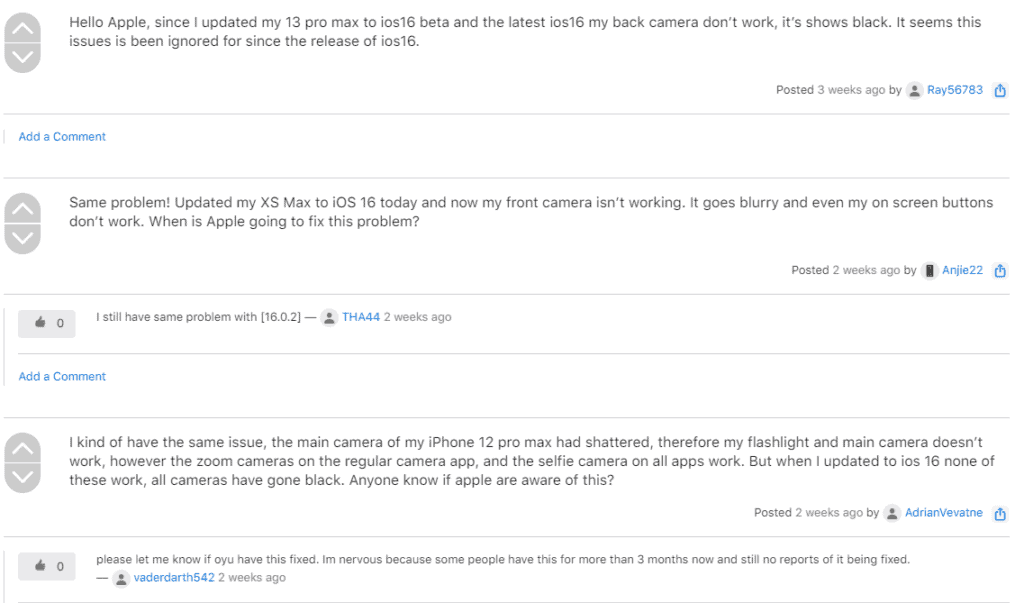 The issue of the controls and buttons of the iPhone camera app not working in any application, be it Camera, iMessage, Halide, Instagram, WhatsApp has been reported from the iOS 16 Beta version. The screen gets blacked out and the camera doesn't take a photo or see anything. Many users are unable to access the camera at 1x, 2x or even .5x zoom after updating to the latest iOS 16.0.2.
Some reported about the crop function of the iOS 16 camera/photo was broken or buggy.
iOS 16 camera blur/focus issue
People are finding issues related to focus with the "1x" lens and on switching between different camera modes, the object appears blurred out. Some even went to the extent of downgrading to the last installed iOS update and found that the camera issues were resolved. This appears more of a software issue.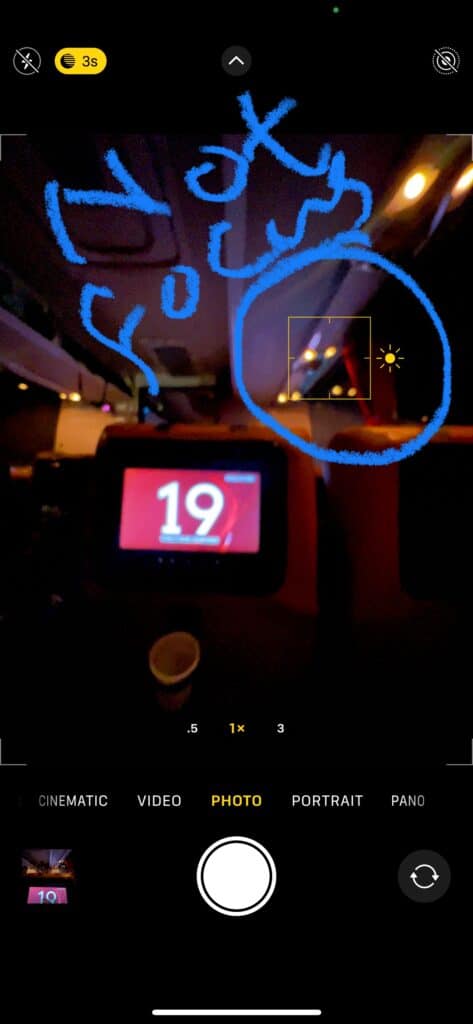 Users after upgrading to iOS 16.0.2 are reporting of all rear as well as front cameras have focusing issues. None of the lenses are able to focus on the object. A certain section of users found that for them the iPhone camera app works fine but with any other 3rd party app, the focus function refuses to work while taking a close-up picture.
Users who have updated to iOS 16.1 beta2 are reporting that it has fixed the camera focus bug.
Fortunately, there are several ways you can try to solve your iOS 16 camera problem. Below we gathered some tips on how to fix the iOS 16 Camera app. However, if none of the solutions below works for your case, you should contact Apple Support.
Ensure to install the latest update
First of all, make sure to check for software updates regularly. It will be stupid to assume that Apple is not aware of these issues after so many outrages from its users. So, there is a good chance that Apple may release its iOS camera bug fixes through an update anytime.
Try Restarting Your Phone
Sometimes restarting your phone is enough to resolve many problems.
Reset All Settings
This simple trick might help. To reset all settings on your phone, follow these steps: Go to Settings> General> Reset> Erase all Content and Settings.
Hard Reset
If resetting your current settings to default doesn't work, you can try the hard reset method, which may solve some or all the iOS camera app problems for you.
Downgrade from iOS 16 to iOS 15
Since all the iOS 16 camera app issues are related to the latest iOS version, we can safely say that downgrading your device to the previous iOS 15 may solve your camera issues. Here's how to do it using iTunes-
Step 1: First, make sure you create a backup of your existing data because this method will cause data loss.
Step 2: Download the iOS 15 file (this needs to be signed by Apple) to your computer.
Step 3: Connect your device to the computer via USB.
Step 2: Launch iTunes on the computer and ensure the device is connected.
Step 3: Click on "iPhone" under Devices.
Step 4: Select the option to "Restore iPhone."
Step 5: When prompted, select the iOS 15 file from your computer, and click on Restore.
Step 6: Wait for the process to complete.
Step 7: Once done, restore your data from the backup.
After restoring your iPhone to iOS 15, you will be able to enjoy the benefits of the older operating system. However, we do not recommend this process for everyone as this can lead to a bricked device and result in costly repair if anything goes wrong.
In the end, it is advisable to contact near Apple Support Center and run diagnostics to check whether there is a hardware problem or the iOS 16 camera issues have cropped up due to the latest software update.
Did Apple release a bug fix for iOS 16 camera issues?
In the last week of September, Apple rolled out iPhone 14 Pro camera shake fix with iOS 16.0.2 update. However, at the time of writing this piece, there does not seem to be an official fix for the iOS 16 camera issues stated above from Apple. PhonesWiki will keep you updated if there are any changes made to the situation.