It's no longer a riddle that Apple's 2022 gen iPhone 14 series offers one of the best smartphones on the block. Apple is known and demands a price for the sturdy build quality, state-of-the-art design, powerful hardware under the hood, and one-of-a-kind software it offers. iPhone 2022 has come out with 4 variants namely the iPhone 14, iPhone 14 Pro, iPhone 14 Pro Max, and iPhone 14 Plus, in a surprising move Apple has decided to discontinue the miniature version of the iPhone.
However, there are a few issues that are troubling the new iPhone 14 users. To name a few, connectivity issues and iPhone 14 Pro Stock wallpaper blur issues. Let's see what they are and find out if we can fix iPhone 14 Pro Stock Wallpaper issues or not.
What is the iPhone 14 Pro blurred wallpaper issue?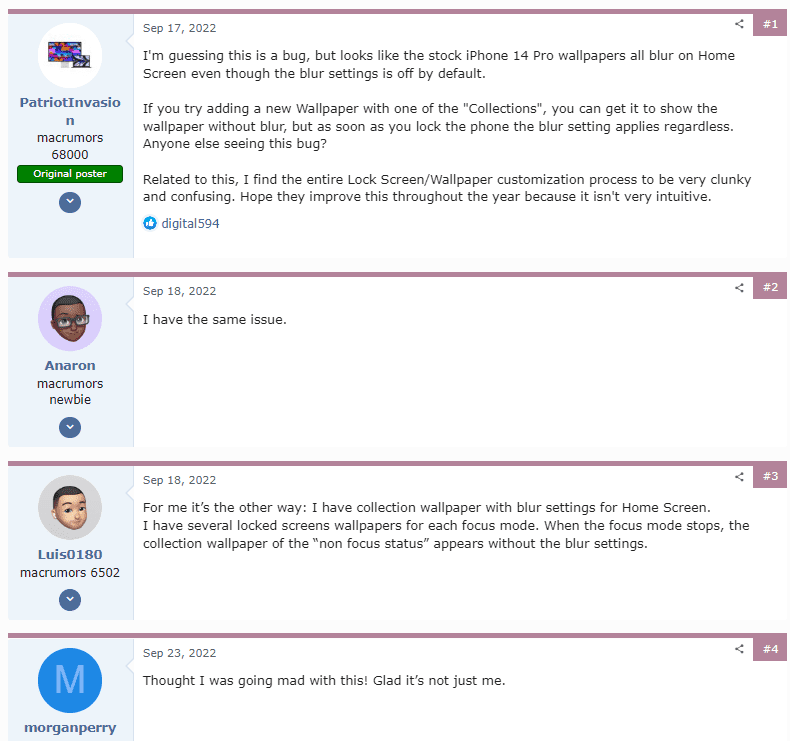 A similar problem has been reported by users on Reddit. One can unblur any custom wallpapers, but the Apple "Collections", typically 14PM ones stay blurred irrespective of the settings. And I don't use any focus modes. The issue has been reported on both iOS 16.0.1 and iOS 16.0.2.
People have tried to change the settings and well as customizing Home Screen by toggling between blur/unblur the home screen. However, the glitch refuses to get rectified.
There has been no resolution or acknowledgment from Apple as of now. But it is hoped that a fix will rollout in future builds.
Final words
Overall, the iPhone 14 Pro Stock Wallpaper issue is a UI bug and has not affected everyone, but those who are impacted by it are definitely not happy, and it's difficult to ignore such a grave glitch.
We hope that Apple will come up with a solution in its next major iOS 16 rollouts so that users can enjoy a seamless and uninterrupted experience with their devices.
For now, we recommend you check PhonesWiki regularly for more updates on this topic in case we find any new information.