It is hard to imagine your life without such a familiar and native Short Message Service, available to every mobile user nowadays. Well, true that people now use messaging applications more, but it all began in 1992 with the "Merry Christmas" message.
What Are SMS Tracking Apps, and Why Do People Need Them?
Typing "SMS tracking app" in the search line of the Google engine will immediately give you a ton of links titled somehow like "spy on text messages", "track SMS", and so on. Based on this, we can conclude that SMS trackers have several key tasks:
Read one's SMS while staying anonymous;
Get access to one's personal information remotely;
Be installed without access to the phone.
Basically, there might be several reasons people would need to find a proper message tracker to use: to control the child's communication, to spy on your loved one, and … well, who knows what naught thoughts might get to your head (joke).
What Technology Is Used for a Good SMS Tracking App?
The progress is not far enough to create a technology that would allow you to track messages without any preparation. As for now, you need to use different apps for tracking SMS, location, content, and so on. Thus, the biggest challenge is to install the SMS tracker without touching the target phone.
If the mission of delivering the program on the user's device is accomplished – grab your favorite drink, sit in your favorite armchair, and enjoy the show. The application will send you all the short messages history, instant messages history, location tracking info, and sometimes even recorded calls! Hilarious, isn't it?
Top 5 SMS Tracking Apps Worth Your Attention
We are strongly sure that ease of use should be the top priority here. Users do not really want to dig into such technical matters as how to run the no-root setup, whether they got a silent SMS tracking app, and so on. They just want to start using it. Thus, welcome to our list of the best phone tracker apps!
iKeyMonitor – a Descent Free SMS Tracking App
This application is a great choice for those who would like the check their messaging history and not pay for the program. Of course, there is a paid plan, but the free version also provides you with enough opportunities for SMS and call tracking. It helps you:
monitor chat records;
view messages;
check emails;
capture what is on the target screen.
Unfortunately, it is impossible to install this app on any device remotely, but hey, do you really need it? Probably, if you cannot get the target phone in your hands and unlock it – you are not close enough to the owner, are you?
uMobix – The Best SMS Tracking App
uMobix is a program that lets you keep your presence secret. If you install it on an Android phone, you can simply delete the icon, and as for iOS – there will be no icon at all! It can be said that it is a hidden SMS tracking app, but the fact is that it allows you also to:
keep an eye on social media messaging;
track location;
check digital data, such as photos and videos.
You can install this SMS tracker without touching the target phone using iCloud if it is an iOS device. For Androids, unfortunately, you need to get the gadget in your hands and unlock it to proceed.
SpyStealth – The Best SMS Tracking App for Android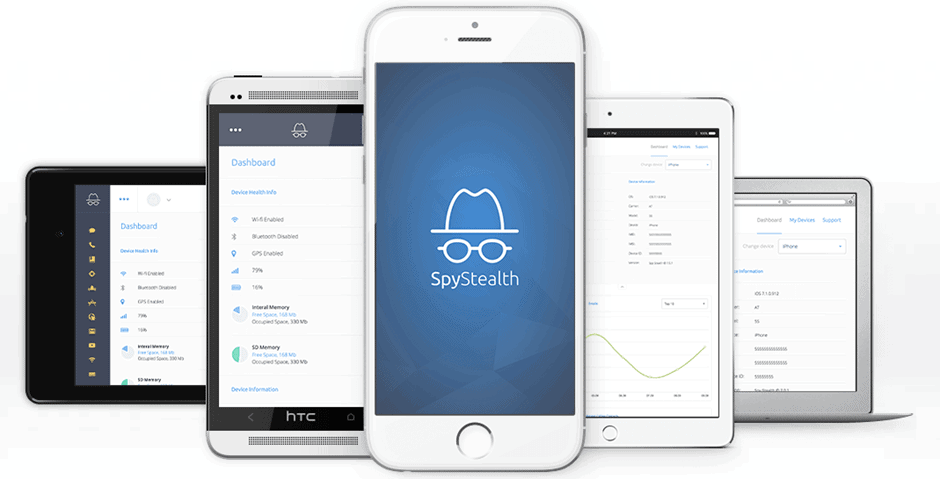 SpyStealth has a set of features that is a must-have for every tracking app on the market:
messages tracking;
social networks monitoring;
access to the digital data (videos and pictures);
GPS tracker, and much more.
It is an SMS tracking app compatible with Android and iPhone, providing all the necessary features for you to feel comfortable. What is also important is that it is undetectable on a rooted Android phone, letting you stay completely anonymous while getting all the requested information. The GPS tracking function makes it a perfect everyday assistant for all Android users.
An SMS Tracking App for iPhone Worth Your Attention – Cocospy
One of the best tracking apps (if not the best) for lovers of Apple gadgets. First of all, it goes to the category of the apps, which include SMS and phone tracking functions. But apart from them, it also can:
track location;
get access to browsing history;
give access to photos and videos.
Oh, and the most important thing, it is a completely stealthy and silent SMS tracking app. You will turn into an invisible ghost, following your target, with Cocospy. Thus, if you are looking for a great iPhone SMS tracking app, visit their website!
mSpy – Your Tracking Assistant for Everyday
This SMS tracking app for Android and iPhones users can become a savior of the day. First, it is a stealthy application, the same as Cocospy. Secondly, it offers you all the most necessary features, such as:
screencorder;
tap and keystroke tracker;
chats and messages access, and many more.
However, if you are looking for a free SMS tracking app, you should better try something else. These guys are proud of providing high-quality service and have a perfect understanding of how much it costs. On the other hand, there is no such thing as a free lunch. All the good products cost money.
Conclusion
Choosing a proper Android or iPhone SMS tracking app is not an easy task, as you can see. But the market is ready to offer you many different solutions. You only need to understand what exactly you want from the product, use Phoneswiki's list to choose, and enjoy it!
FAQs
Are there any phone SMS tracking apps you can use without touching the target phone?
No doubt, there are a lot of SMS tracking apps. You only need to read the app description carefully. Usually, this information is stated there. It is much easier for iPhone users, though, as they can use the iCloud service to get access to the phones of their family members.
We must disappoint you here, as it is impossible to find free SMS tracking apps that cost no money. As we have already mentioned above, any high-quality product or service should be paid for. But hey, you are ready to pay for the safety of your loved ones, aren't you?
How can I figure out if SMS tracking apps are installed on my phone?
Well, there is no 100% working way to do this. First of all, check your phone for any unknown apps. You can also try installing some safety programs, such as a firewall or antivirus. However, no one guarantees that a tracker will be found if you have one. Keep an eye on unusual activity, such as fast battery drain, device overheating, hearing strange sounds during calls, random reboots, etc.