If you found yourself familiar with the iPhone 12 crackling sound, this article might bring some bad news to you.  Numerous reports have sprung up all over Apple Support Community about a weird, loud crackling noise in iPhone 12 models that shut the phone down. In fact, the device's speaker audio had reports of producing static sounds from the year of its release. Important here is to know the underlying reasons behind this growing iPhone 12 crackling sound issue and its effects.
There have been reports of issues with the earpiece of the device as well. In this regard, Apple has introduced a whole new customer support program that will cater to these incoming complaints regarding the iPhone 12 crackling sound.
According to Apple, this customer support program is only servicing "a very small percentage of iPhone 12 and iPhone 12 Pro" device users. But this small percentage is reportedly on the rise as the audio problems keep on building up.
What is the iPhone 12 crackling sound glitch?
This issue has reportedly affected the iPhone 12 devices in different ways. The Apple Support forum indicates that device owners suddenly heard the iPhone 12 crackling sound while playing a game or browsing an app (mostly Tiktok or Instagram), or doing absolutely nothing at all. The sudden loud noise was followed by the device getting turned off on its own.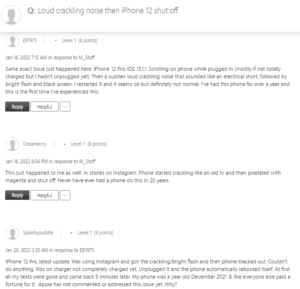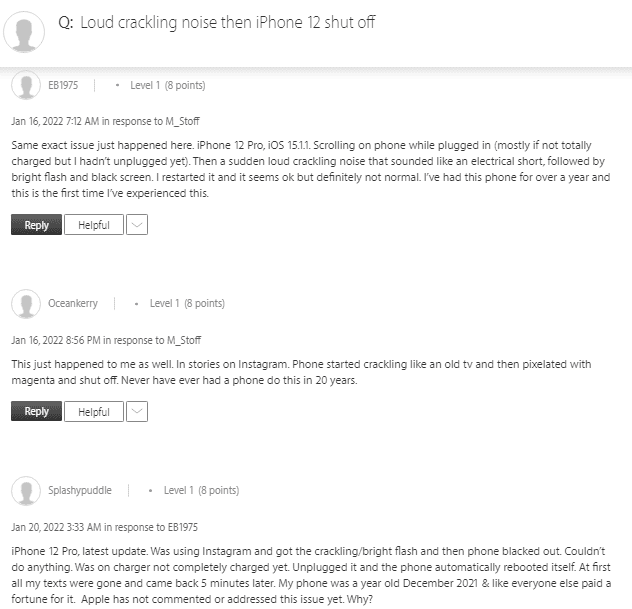 Many complained that while they were in a Zoom meeting, their $900 phone blanked out suddenly after giving a signal that sounded more like an electrical shock. Some got scared after seeing purple pixels sputtered across the screen followed by the phone freezing off and getting into a shutdown mode.
iPhone 12 crackling sound issues have got reported a few days after its launch in November 2022. Even the latest iOS 15 update has not resolved the issue.
For brand new $1000 flagship devices to be facing weird glitches, Apple customers are very discontent with this problem. Imagine spending a hefty sum of money on a product that experiences unexpected reboots! This has effectively instilled paranoia in iPhone 12 owners about the device is powered down, making them always remain near their device and check it time and again.
To make matters further difficult, some iPhone users are also experiencing the iPhone 12 crackling sound during calls. This "buzzing" or "hissing" sound emitted by the Apple devices are making the company's loyal fan-base question its qualitative reassurances.
The predecessors of the device, the iPhone 11, iPhone 8 and iPhone 7 also faced crackling noise issues during phone calls. This was due to weak signals, as the intermittent cellular signal can disrupt the sound and produce odd sounds. However, the source of the distorted noises was outlined to software problems mainly and could be fixed with simple solutions like factory resetting, iOS updates and in worst-case, Apple Support.
Does the iPhone 12 crackling sound glitch impact phone calls or media?
Yes, apart from the usual iPhone 12 crackling sound glitch that reboots your device, there are chances you might face the issue during an important call or while playing a media file. Numerous complaints have emerged about dissatisfaction regarding the speakers of the iPhone 12.  
The issue seemingly has many inconsistencies in the manner iPhone 12 users are encountering it. Many users are encountering it only on specific apps, while some others face it randomly or even all the time. Amid these, iPhone 12 cracking sound issue appears to be very consistent in the AirPods Pro as well.
Complaints regarding the inability to hear the other person over calls on iPhone 12 models as well as iPhone 12 Pro models have also emerged. Unfortunately, in December 2021, the Apple Community listed issues based on the crackling sound appearing on the latest iPhone 13 Pro Max.
How to fix the iPhone 12 crackling sound glitch?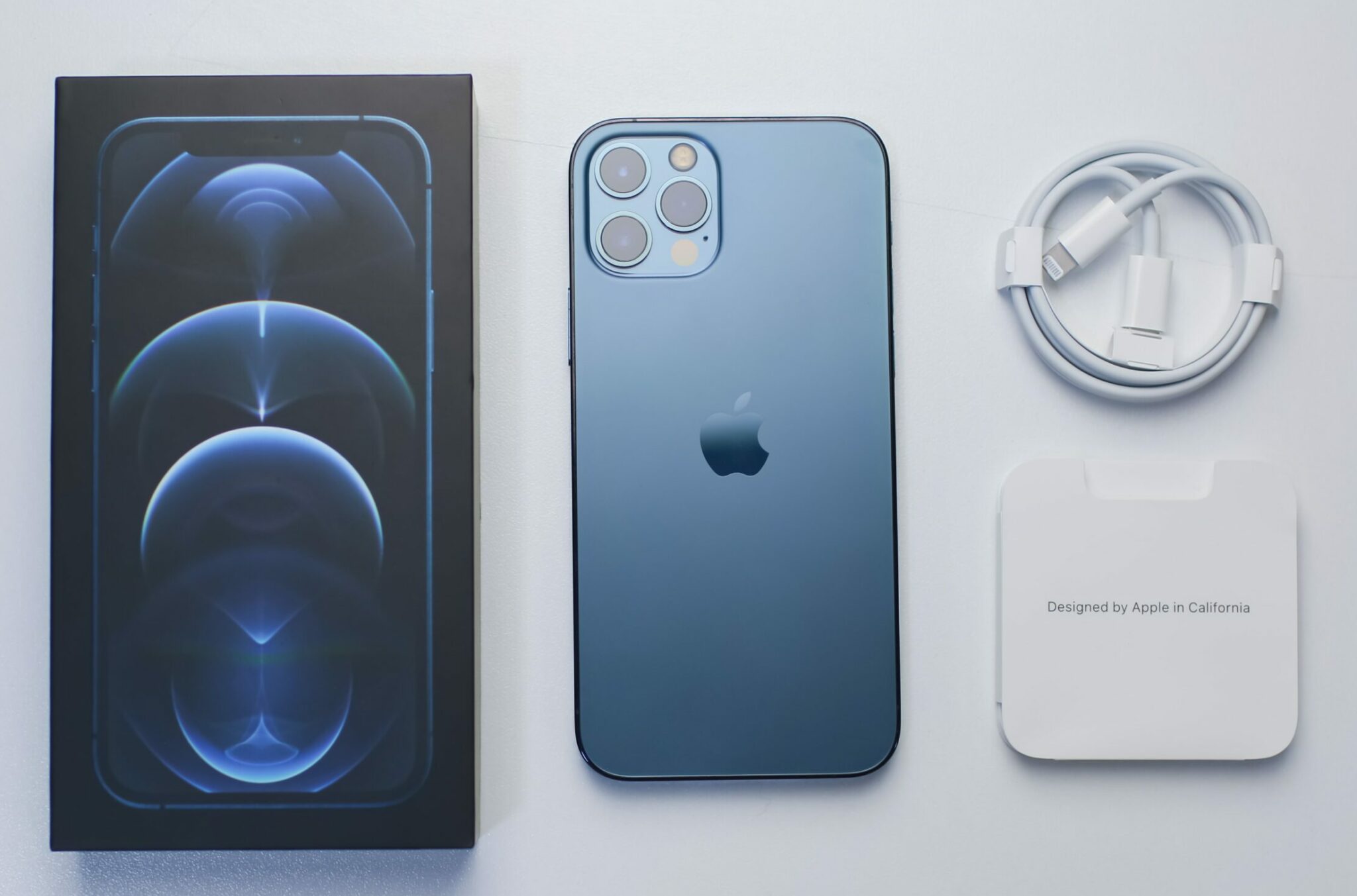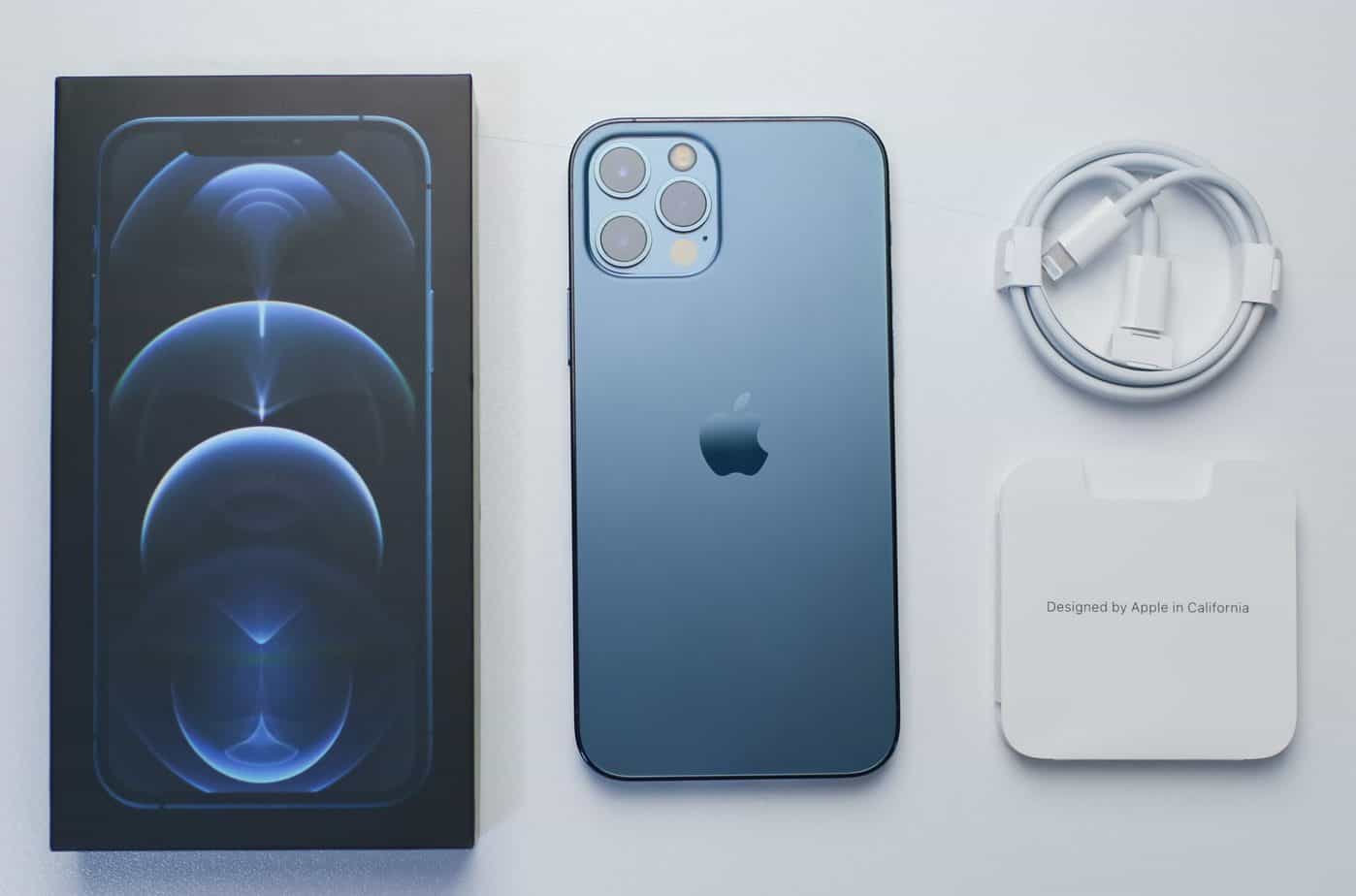 Have you ever found your iPhone producing a weird, loud noise while its charging? Or maybe when you heard some crackling disturbing sounds on your earpiece while you were on a call?
Follow these next set of steps if you want to fix the iPhone 12 crackling sound problem-
Force Restart your iPhone 12
Restarting any device is the most simple and easy process, and it often renders effective in many cases. Force Restarting your iPhone 12 allows a system calibration that refreshes the phone's system and enhances performance. This is essential in resolving the iPhone 12 crackling sound in the earpiece problem.
1. Press and quickly release the Volume Up button.
2. Press and quickly release the Volume Down button.
3. Press and hold the Side button for a few seconds till the Apple logo appears on the screen.
Update your Apps and iOS
iPhone devices build up a lot of problems when they remain outdated. The performance of Apple's line-up of phones has been known to be linked closely with updates. These updates mainly provide fixes to reported bugs and improve the performance of your iOS device.
Reset All Settings
Misconfigured settings on your iPhone 12 can cause a crackling sound glitch. The settings on your iPhone play a very important role to provide you with outstanding performance. A minor incorrect configuration there can potentially lead to a series of problems on your device.
1. Go to Settings and tap General.
2. Scroll down and select Reset and tap the Reset All Settings option.
3. Enter your device password to initiate the process and tap to confirm it.
Factory Reset your iPhone 12
If none of the ways above work for you, your only solution to fix the iPhone 12 crackling sound is to Factory Reset your device. Factory Resetting your iPhone 12 means deleting all contents on your iPhone, including third-party apps and personal information. We recommend you to always create backups before proceeding with any Factory Reset of a device.
1. Go to Settings and tap General.
2. Scroll down and select Reset.
3. Select the Erase all contents and settings option and continue on to enter your device password.
4. Tap to confirm the Factory Reset.
Perform a Recovery Mode Restore
You might solve the iPhone 12 crackling sound problem using a more advanced solution. Recovery Mode Restore deals with severe software problems and also allows you to re-download the iOS on your iPhone 12. This clears away all bugs and glitches and does not erase any data.
1. Press and quickly release the Volume Up button.
2. Press and quickly release the Volume Down button.
3. Press and hold the Power/Side button when you are prompted with the "Connect to iTunes" screen.
4. Continue to hold the button when the Apple logo appears to enter Recovery Mode in your iPhone 12.
You will find two options there- Update or Restore.
5. Select Restore to reinstall and download iOS on your iPhone 12 without erasing any data on your device.
If your iPhone 12 crackling sound glitch continues to persist, chances are your issue is linked with the device's hardware. Your best option in such a scenario is to visit the nearest Apple service centre in your vicinity.
What is Apple's response regarding the iPhone 12 crackling sound glitch?
The iPhone 12 crackling sound issue soon became acknowledged by the tech giant. According to Apple, a device restart can be the result of an App or a system issue. The company has started a new iPhone 12 repair program for handsets identified with audio problems. The iPhone 12 devices manufactured between October 2020 and April 2021 are susceptible to featuring "a small component that might fail on the receiver module".
In case your AirPods Pro is making a crackling sound, or your device fails to emit any sound from the receiver when you make or receive calls, you may be eligible for this program. Another eligibility criteria make it mandatory for your purchase date of your iPhone 12 to be within the last two years.
iPhone User's Response:
This persistent issue in the latest segment of devices from Apple has generated some discontentment among its customer base. Most customers, willingly, spend extra to get an item from Apple that is equivalent to something available at a lesser price under other brands.
Apple's  Customer Support program shows its professionalism in taking quick measures. But iPhone users are disappointed, showing their growing concern towards this breach of assurance in their experience. And in these Dark Ages, the confirmation of the no Noise cancellation feature on iPhone 13 has furthered the negativity of public opinion.
Apple launched their iPhone 12 series in October 2020. The family had a line-up of 4 devices- the iPhone 12, iPhone 12 mini, iPhone 12 Pro and iPhone 12 Pro Max. In 2022, even after the appearance of its successor, the iPhone 13, the iPhone 12 has managed to stay among the list of best devices you could buy. The release of iOS 15 added new features to the device, also ensuring continuity of future updates that iPhone 12 owners will receive.