After the recent iOS 16.5 update, the weather widget has stopped responding for many users. iOS 16.5 weather widget not working issue has been reported since iOS 16.3 and Apple has pushed several updates to fix it but they can't. Users were hoping that the fix will soon land on ios 16.5. But with people still reporting it as not fixed, the glitch resolution might find its way into iOS 17 in this Fall. The weather service is reportedly getting worse day by day.
The Weather widget on the Lock Screen of an iPhone allows you to quickly view weather information without having to unlock your device and open the Weather app. It provides a convenient way to check the current weather conditions, temperature, and even forecasts at a glance. This can be especially useful for getting instant weather updates without any extra steps or interruptions to your workflow.
However, with the recent iOS 16.5 update, some users have experienced issues with the Weather widget on their iPhones. These issues can include the widget not working, failing to load, refreshing randomly, or not updating the weather information as expected. These problems can be frustrating, especially if you rely on the widget for quick weather updates.
How to fix iOS 16.5 weather widget not working issue?
If you're facing iOS 16.5 weather widget not working issues, you can try the troubleshooting steps mentioned below to resolve the problem. These steps include checking app permissions, ensuring background app refresh is enabled, force closing and reopening the Weather app, checking app settings, restarting your iPhone, removing and re-adding the widget, updating iOS and the Weather app, and resetting all settings if needed.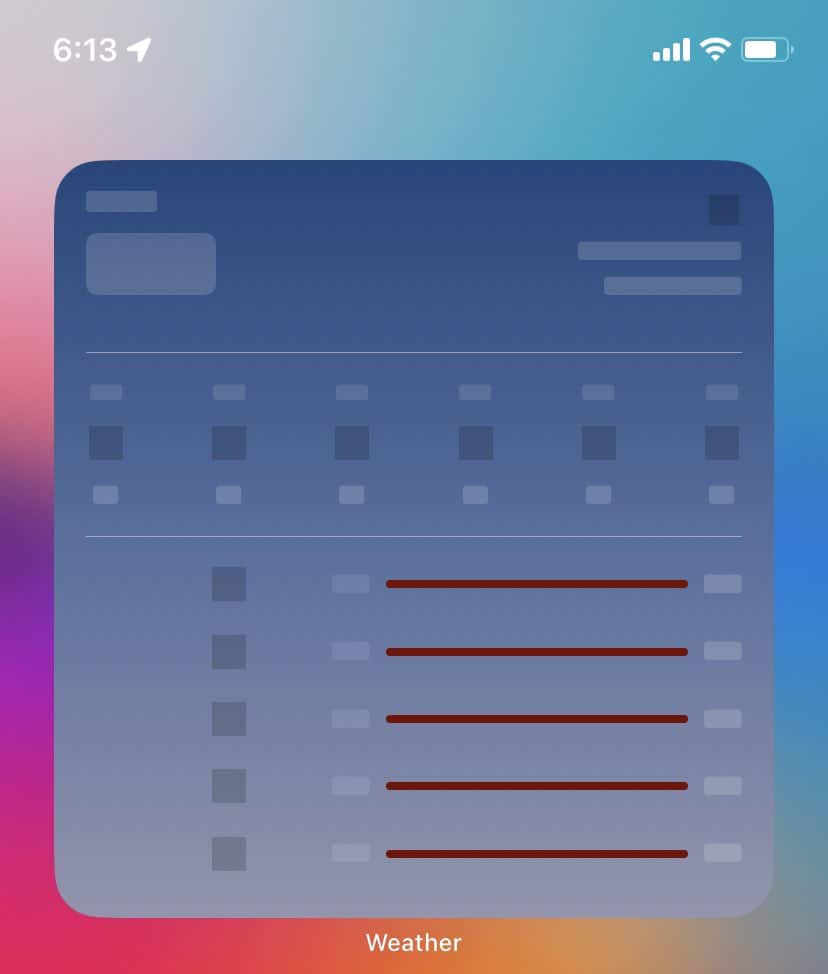 Here are a few general troubleshooting steps you can try:
Check your internet connection: Make sure your device is connected to the internet, as the weather widget relies on internet connectivity to fetch data.
Restart your device: Sometimes, a simple restart can resolve minor software glitches. Press and hold the power button (or the power button and volume button combination) until you see the slider power off. Slide to power off, wait a few seconds, and then turn your device back on.
Verify location services and widget permissions: Go to your device's Settings, select Privacy, and then Location Services. Make sure that both Location Services and Weather app are enabled. Also, check if the widget has proper permissions by going to Settings > Privacy > Home Screen Widgets and ensuring that the Weather app has access.
Remove and re-add the weather widget: Press and hold an empty area on your home screen until the apps start jiggling. Locate the weather widget, tap the (-) icon to remove it, and then tap the (+) icon to add it back. Check if the widget starts working properly.
Check Weather app permissions: Ensure that the Weather app has permission to access your location. Go to Settings > Privacy > Location Services, scroll down to find the Weather app, and make sure it is set to "While Using the App" or "Always."
Force close and reopen the Weather app: Double-press the Home button (or swipe up from the bottom on iPhone X or newer models) to access the app switcher. Swipe left or right to find the Weather app preview and swipe it up or off the screen to close it. Then reopen the Weather app and see if the widget updates.
Check Weather app settings: Open the Weather app, tap the hamburger menu (three lines) in the bottom right corner, and check your preferred settings. Ensure that "Local Weather" is selected and any other desired options, such as showing precipitation or severe weather alerts, are enabled.
Update iOS and Weather app: Make sure your iPhone is running the latest version of iOS available for your device. Similarly, keep the Weather app updated by visiting the App Store and checking for any available updates. Software updates often include bug fixes that can address issues with the app.
Ensure Background App Refresh is Enabled, Open Settings on your iPhone, Scroll down and tap on General, Tap on Background App Refresh, and Make sure Background App Refresh is enabled for the Weather app.
Remove VPN or Disable VPN – Disabling or disconnecting from a VPN network on your iPhone can indeed help resolve issues with location accuracy or security conflicts that may affect the Weather app. If you have a VPN app installed on your iPhone, you can try disabling or deleting it by following these steps:

Open the Settings app on your iPhone.
Scroll down and tap on "VPN" (or "General" > "VPN").
If you see a VPN app listed, tap on it and toggle the switch to disable or disconnect from the VPN network.
If you don't see a VPN app listed, go back to the main Settings screen and look for "General" > "Profiles" or "Device Management."
Tap on "Profiles" or "Device Management" and look for any VPN profiles listed. If you find any, tap on them and choose the option to delete or remove the profile.
By disabling or deleting the VPN app or profile, you can eliminate any potential conflicts or issues related to the VPN that may be affecting the functionality of the Weather app or its ability to accurately determine your location.

Opt for a new weather app. OpenWeather is Ad-Free and Open Source.
Reset all settings: If the issue persists, you can try resetting all settings on your iPhone. Go to Settings > General > Reset > Reset All Settings. Note that this will reset your device's settings to their default values, but it will not erase your data. After the reset, set up your preferences again and see if the widget works correctly.
Must Read: The Best Real-time Weather Apps For iPhone
If the issue persists, it's possible that there may be an iOS 16.5 weather widget bug or compatibility problem specific to your device or iOS version. In such cases, contacting Apple Support or visiting an Apple Store for further assistance would be recommended.