According to recent leaks, the Dead by Daylight year 8 roadmap, which was originally intended to be unveiled during the anniversary 2023 livestream, has surfaced prematurely. DBD Year 8 Roadmap leaks allegedly disclose the release date windows for upcoming killers and survivors.
Currently, Dead by Daylight is in the midst of Chapter 27. The newest addition to the game's roster of killers is an original antagonist known as the Skull Merchant. Chapter 27 also introduces players to two fresh survivors, expanding the pool of playable characters.
BeHaviour Interactive has recently made exciting announcements regarding upcoming content for Dead by Daylight, including the inclusion of Nicolas Cage as a character.
Additionally, it is anticipated that further details and reveals of DBD Year 8 will be shared during the Dead by Daylight Anniversary 2023 live stream.
DBD Year 8 Roadmap Leaks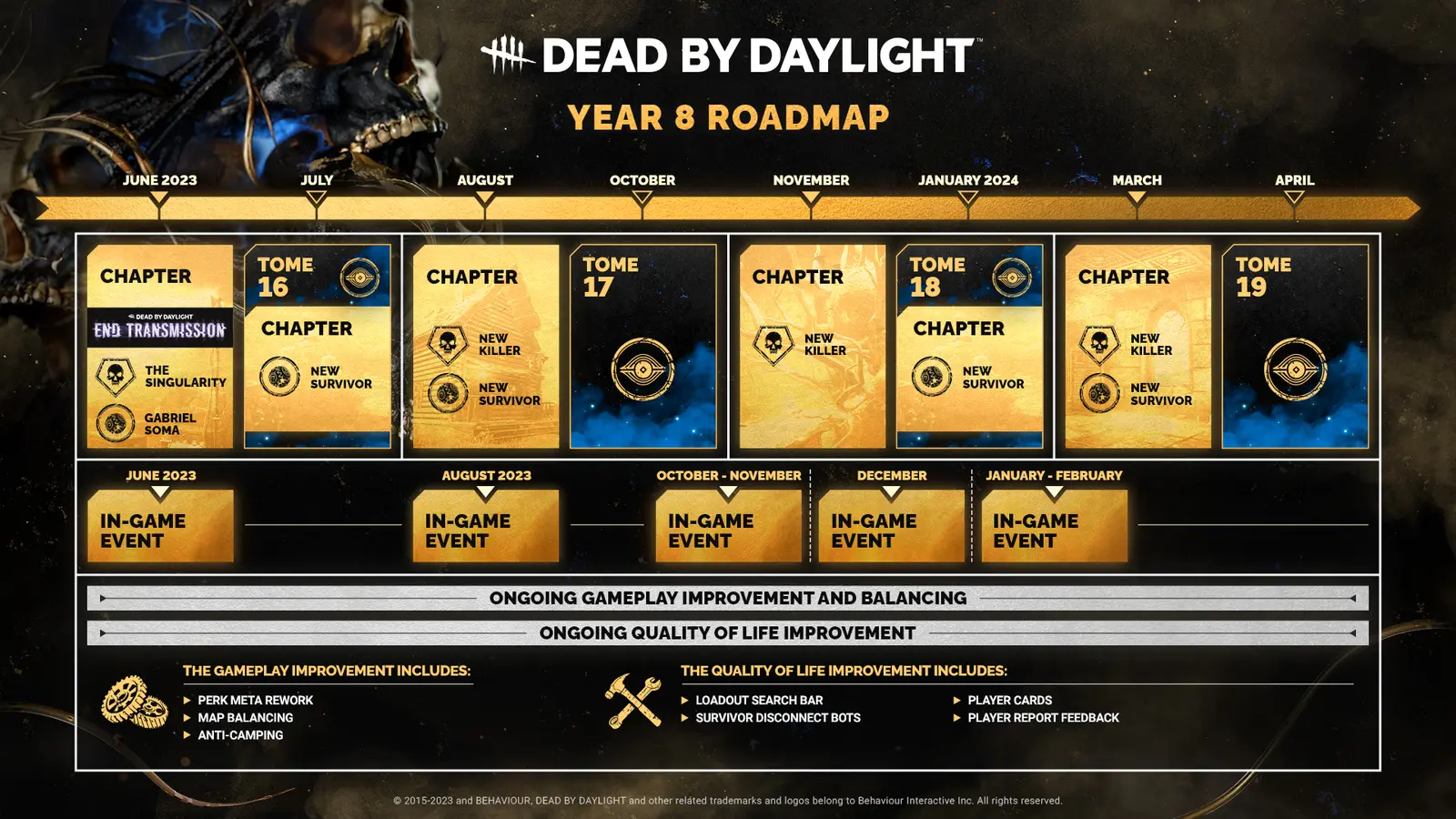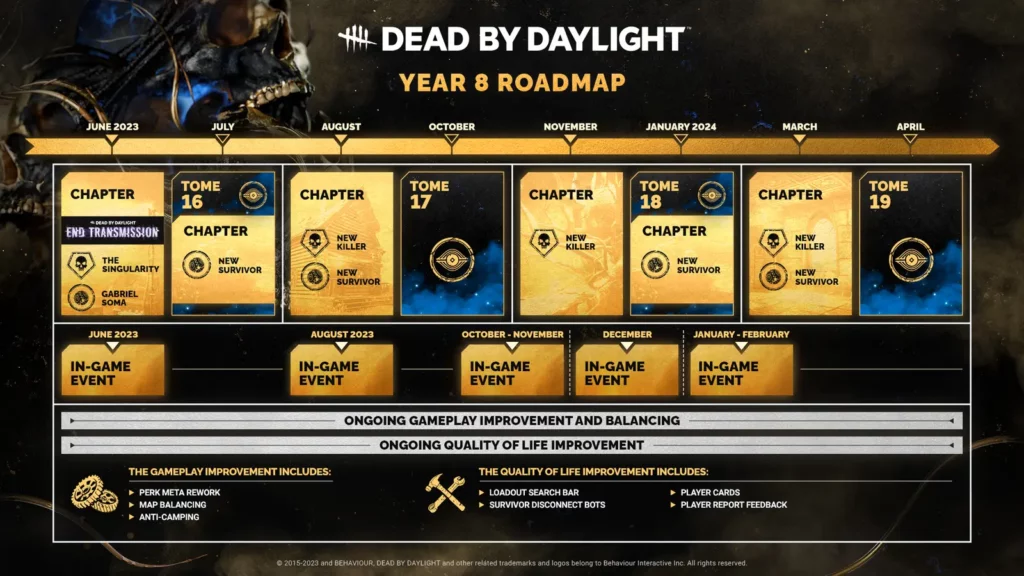 According to information shared by the reliable leaker DBDNewsReal, the aforementioned leaked DBD Year 8 roadmap has surfaced. It's essential to note that as of the time of writing, none of the details provided have been officially confirmed. Leaked content should always be taken with caution, as its accuracy cannot be guaranteed.
June 2023:
Chapter 28
Singularity Killer
Gabriel Soma Survivor
Anniversary in-game event
2. July 2023
3. August 2023
Chapter 29
New killer
New survivor
In-game event
4. October 2023:
Tome 17
Halloween in-game event (runs through November)
5. November 2023:
Chapter/Paragraph
New licensed killer
6. December 2023:
7. January 2024:
Tome 18
New survivor
In-game event (runs through February)
8. March 2024:
Chapter
New killer
New survivor
9. April 2024:
Based on the information provided, it appears that two of the upcoming chapters in Dead by Daylight will feature licensed content. Unfortunately, the specific details about these licensed chapters have not been disclosed at this time. It's common for game developers to keep such information under wraps until they are ready to make an official announcement.
In the meantime, Dead by Daylight Dev team has expressed their commitment to quality-of-life improvements and gameplay enhancements over the next year. Addressing concerns such as balancing maps and the meta, discouraging camping behavior, implementing bots for disconnected survivors, and introducing loadout changes demonstrates a proactive approach to addressing player feedback and meeting fan expectations. This roadmap appears to be promising, as it aims to deliver on many of the features and changes that fans have been requesting. It will be exciting to see how these updates unfold and positively impact the player experience in Dead by Daylight.
Dead by Daylight Chapter 28: End Transmission
According to the provided information, the Dead by Daylight roadmap for 2023 is titled "Chapter 28: End Transmission." This chapter marks the game's venture into the realm of sci-fi horror and introduces a cyborg-like Killer known as The Singularity. Players will face the challenge of surviving on a hostile and perilous alien planet. Additionally, a new Survivor named Gabriel Soma will accompany this chapter's release. It sounds like an intriguing addition to the game, offering a fresh and unique gameplay experience for fans of Dead by Daylight.
Check out the key visual of Dead by Daylight Chapter 28: End Transmission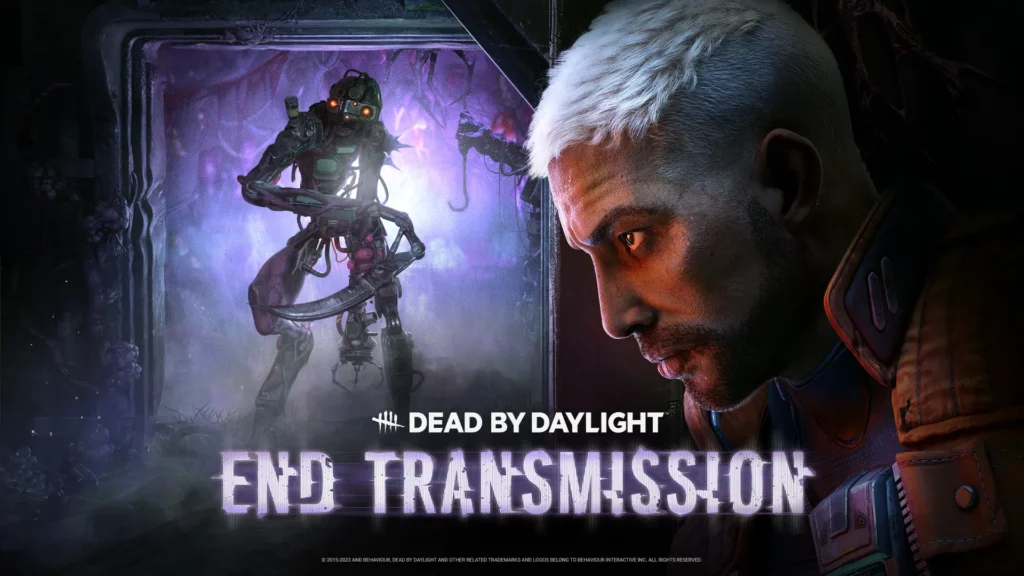 The new Chapter 28 will be made available to play on the Public Test Build (PTB) on May 23, 11:00 AM EDT/ 3:00 PM GMT/11:00 PM HKT.
The upcoming killer for Chapter 28 is The Singularity, an original character, and the survivor is Gabriel Soma, also an original character. This adds new and unique personalities to the game's roster.
Regarding the announcement of Nicolas Cage as a new survivor, it's intriguing to hear that he will be joining Dead by Daylight. While specific details about his character and abilities are set to be revealed on July 5th, it's noteworthy to anticipate his arrival in the game. Fans can look forward to learning more about Nicolas Cage's character and how he will contribute to the gameplay experience in Dead by Daylight.
The announcement of six more chapters and four tomes indicates a substantial amount of content to be released. This includes the introduction of four new survivors and three new killers for players to experience.
The particularly intriguing detail is that two of the upcoming killers following The Singularity will be licensed. This suggests that popular characters from other franchises may be making their way into the game. As mentioned, these licensed killers are expected to be released in the months leading up to August and November, which indicates that significant announcements can be anticipated during that timeframe.
Fans of Dead by Daylight can look forward to a wealth of new content and thrilling experiences with the introduction of these upcoming chapters and the inclusion of licensed killers. Keep an eye out for official announcements from Behaviour Interactive to stay up to date with the latest details and release dates.