Apple Watch Ultra users are eagerly anticipating the announcement of the successor to their device, just a month away. However, the recent watchOS 9.6.1 update appears to have introduced unexpected problems, notably severe battery drain issues.
Following the installation of watchOS 9.6, many Apple Watch Ultra users have been voicing their concerns about rapid battery depletion. The update was intended to fix UI bugs, but unfortunately, it seems to have brought about more problems than solutions for these users. Interestingly, this update didn't introduce any noteworthy new features; the previous version, watchOS 9.5, merely included the Pride Watch Face alongside rainbow watch straps.
While watchOS 9.5 and 9.6 did bring some undisclosed security patches and bug fixes, the lack of detailed changelogs has left users in the dark. For instance, watchOS 9.6 included critical security patches addressing issues such as arbitrary code execution with kernel privileges and unauthorized access to sensitive location information via Find My.
The latest version of the OS for watch, WatchOS 9 was rolled out by Apple on 15th August. It is compatible to run on the Apple Watch Series 4 and the latest Apple Watch Ultra models.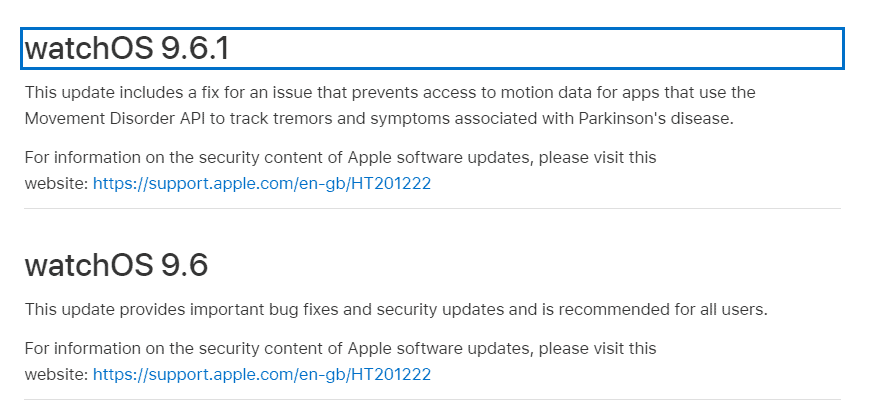 The watchOS 9.6.1 battery drain issue has become a focal point, impacting users' daily experiences. Even with battery health at a healthy 99%, users have reported that their Apple Watch Ultra now barely lasts a day and a half, often dropping to around 65% within 8 hours.
This battery issue doesn't seem to be limited to older units; even recently purchased Apple Watch Ultras are encountering the same watchOS 9.6.1 battery drain problem. The scale of the problem is apparent from the numerous reports, leaving users justifiably frustrated with this flagship smartwatch's performance.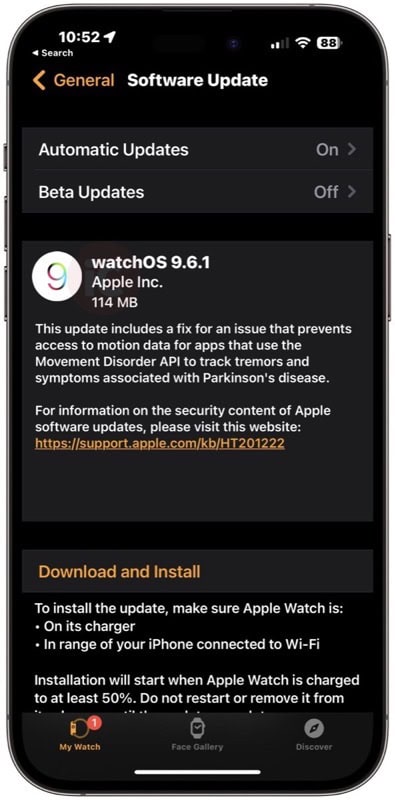 Regrettably, Apple Diagnostics has been unable to pinpoint the source of the issue, exacerbating concerns. With battery life diminishing to less than a day for some users, the seriousness of the problem is evident. It's crucial that Apple promptly addresses this battery drain problem, especially given the recent changes to memory management and kernels introduced by the security updates.
Despite the potential security benefits, users are advised to exercise caution before updating to watchOS 9.6.1 Since this update doesn't bring any significant new features, those content with their current version's stability might want to refrain from updating. A potential solution, although not without its own challenges, is to consider updating to the watchOS 10 Beta, available through the Apple developer program. However, this path isn't recommended unless users are familiar with the potential complications that beta software can entail.
In summary, the battery drain issue following the watchOS 9.6.1 update has created significant disruptions for Apple Watch Ultra users. While the update did address critical security vulnerabilities, it's clear that the associated changes have inadvertently impacted battery performance. Users are left hoping for a forthcoming solution from Apple, whether through a subsequent patch or update. In the meantime, users will need to carefully consider their options and the potential trade-offs involved in finding temporary workarounds for this issue.
Let's check out the mixed responses from people who have updated their Apple Watches with the latest watchOS 9.6.1!
What is the watchOS 9.6.1 Battery Drain issue?
However, numerous users have reported that their Apple Watch Ultra's battery life has significantly decreased since installing the patch.
According to these reports, the Apple Watch Ultra used to maintain a battery life of at least 2 to 2.5 days on a single charge, and sometimes even up to 3 days with moderate usage. The current situation is undeniably concerning. Users have expressed that despite fully charging their smartwatches overnight, the battery level drops to 67% within just eight hours—even shortly after putting the watch on their wrist. Remarkably, the battery's health remains unaffected by these issues.
Curiously, even those who have recently purchased the watch and updated the firmware are encountering the same troubling battery performance.
Users have reached out to Apple's support for assistance, but even after conducting hardware diagnostics, the issue remains unidentified. Some users have expressed their frustrations in forums. For instance, one user questioned if others were observing a significant reduction in battery life over the past couple of days. Their Apple Watch Ultra, just a month old, previously lasted 2-2.5 days on a single charge but now barely manages a day. Notably, this change occurred without any alterations to settings or usage behavior.
Another user shared their experience, mentioning that their watch's battery dropped to 6% within only 23 hours of usage. This occurred despite engaging in a 3-hour run with 1 hour of podcast streaming. Even though battery health still indicates 100%, such issues have left users less than satisfied.
In an attempt to resolve the problem, users have followed common troubleshooting procedures like restarting, unpairing, repairing, and even performing factory resets on their watches. Unfortunately, none of these steps have yielded any positive results.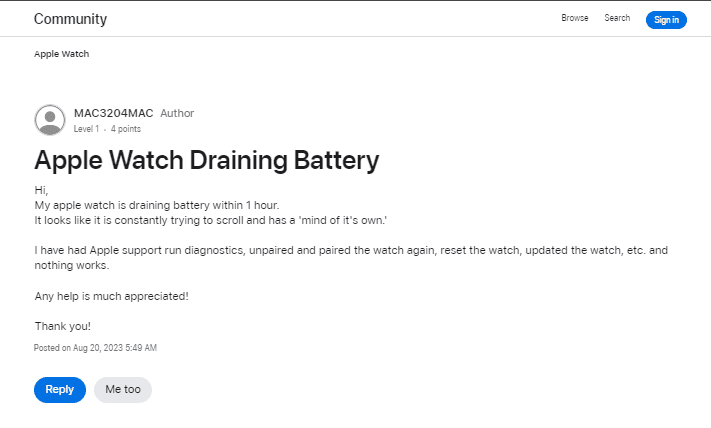 Apple is infamous for the battery life in some of their devices but, in most cases, it should generally get you through the day before asking for a charge.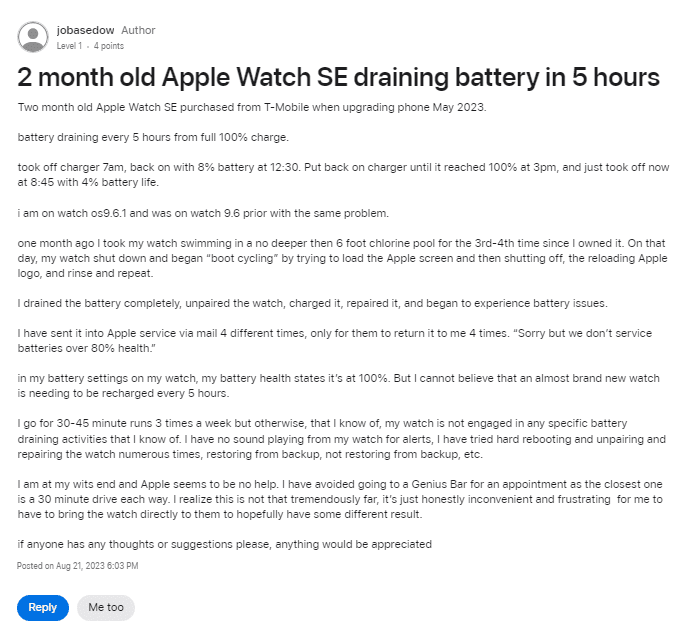 How to fix watchOS 9.6.1 battery drain?
The update to Apple's Apple Watch software includes new running stats, revamped watch faces, an AFib History tool, sleep-tracking data, and a medicine management app for the wristwatch. However, it is not without problems. We looked through forums, comments, and other online opinions on a variety of difficulties, glitches, and minor annoyances to compile a thorough list of the most prevalent watchOS 9.6.1 issues and solutions. Today, we will discuss how to fix the watchOS 9.6.1 battery drain.
Here are different ways to help you troubleshoot the issue.
You can set your Apple Watch to Power Reserve mode, which displays only the time. On your Apple Watch, press and hold the side button until the display of the slider, then drag Power Reserve to the right.
Avoid signing up for WatchOS beta updates, as it tends to hamper your battery life.
Navigate to Notifications in the Apple Watch app on your iPhone. Turn off whatever you don't require.
Reduce the brightness of your Apple Watch by going to Settings > Brightness & Text Size.
Go to Settings > General > Wake Screen on your Apple Watch and turn off Wake Screen on Wrist Raise. You can also do this on your iPhone by going to General > Wake Screen in the Apple Watch app.
Purchase a battery-powered Apple Watch strap.
To disable the heart rate sensor, launch the Apple Watch app on your iPhone, select Workout, and then toggle Power Saving Mode on.
Update your watch to the most recent version of WatchOS 9.6.1 and recalibrate
Delete unused apps. Turn off cellular data for all but a handful of the apps
Put the watch into Low Power Mode for at least a day
Downgrading to previous stable version is not possible in watchOS
It is advisable to wait for the watch to recalibrate itself for 2-3 days after the update.
If your Apple Watch is encountering difficulties while running watchOS 9.6.1 or an earlier version of watchOS, you'll need to navigate the issues without immediate assistance.
watchOS 9.6.1 stands as the most recent update within the watchOS 9 series, leaving uncertainty regarding the arrival of any subsequent updates.
Given that Apple is presently focused on the development of its forthcoming watchOS 10 operating system, progress on watchOS 9 improvements has decelerated. While there's a possibility of additional bug-fixing updates, substantial enhancements are less likely.
Regarding watchOS 10, Apple intends to release the operating system for various Apple Watch models later in the year, possibly around mid-September, in conjunction with the unveiling of iOS 17 for iPhones.
How to install watchOS 9.6.1?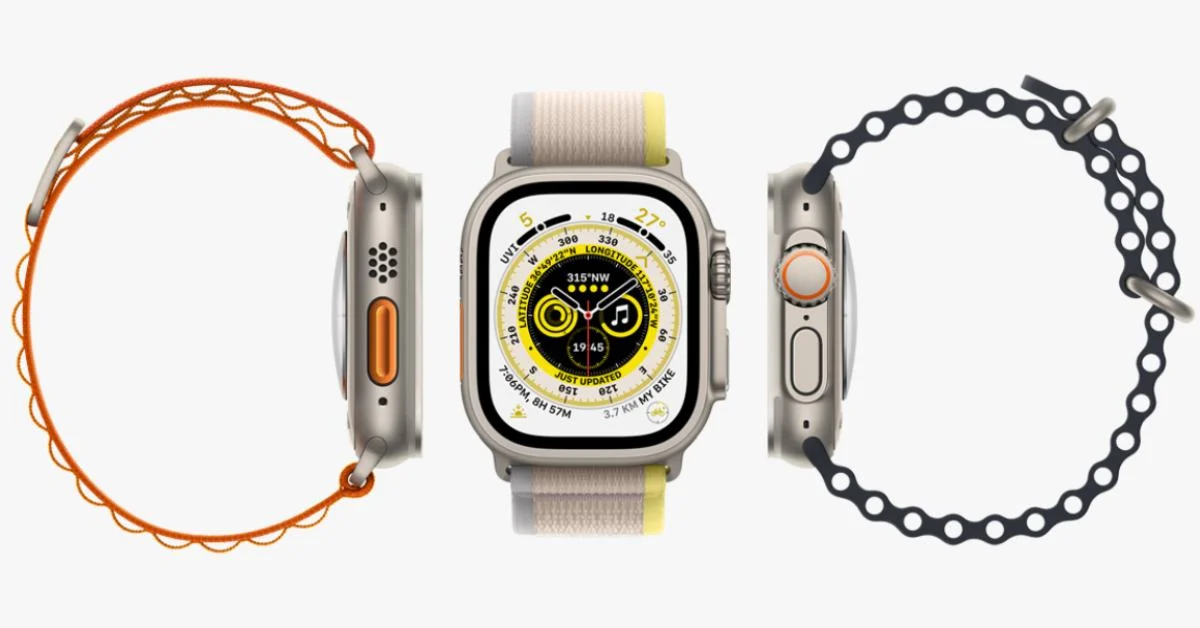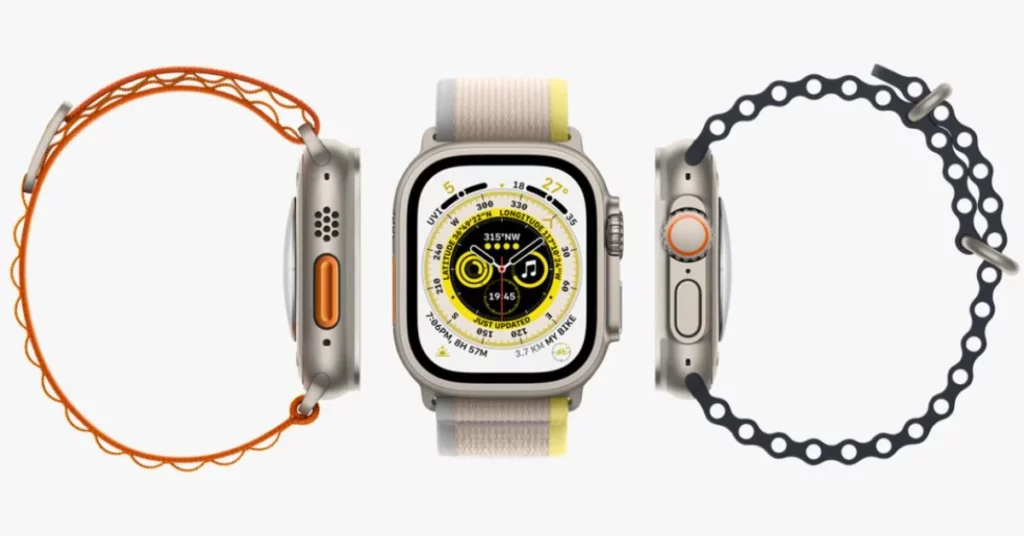 watchOS 9.6.1 can be installed using either your iPhone or your Apple Watch. Whichever way you use it, make sure your iPhone is connected to Wi-Fi and running iOS 16, and that your Apple Watch battery is at least 50% charged. You'll also need to keep your watch and iPhone close together to stay in range.
Open the Apple Watch App on your iPhone and select the My Watch menu to update your watch. Then go to Settings > General > Software Update and Download. Then, on your Apple Watch, you'll see a progress wheel showing that the update has begun. If you opt to install an update directly on the Apple Watch, make sure it's connected to Wi-Fi. Then, on your watch, open the Settings app and go to General > Software Update > Install.
Installing watchOS 9.6.1 can take up to an hour, so make sure you won't need to access your smartwatch during that time. If you really need it, you can upgrade your Apple Watch overnight. When you receive a message that the new operating system is ready for download, select the Update Tonight option. Then, on your iPhone, confirm that you want your watch to be updated overnight. Before you go to bed, ensure that your iPhone and Apple Watch are both charging.
Summing It Up
If watchOS 9.6.1 has hampered your battery life, do not worry as you are not the only one suffering from this. We looked around social media and found out so many people are going through this issue – but Apple will acknowledge the update and provide a fix to it in the next major update watchOS 10.0. In the meantime, you may try some of the workarounds which we have added above.
watchOS 9 is on the verge of being succeeded by watchOS 10, the upcoming iteration of the watchOS operating system currently undergoing beta testing by Apple.
We really hope this article helps you in fixing the battery drain on watchOS 9.6.1. Make sure to leave a comment in the comment section if any of these methods work for you. In the meantime, you can check out – How to get 100k views on Reels? Is there a way to hack Instagram?