Rick and Morty is an amazing American adult animated science fiction sitcom. It is one of the shows that always makes us laugh out loud until our stomach hurts. And the good news for its fans is that the show is renewed for its fifth season. The series already has 4 seasons and they have turned out to be a big hit. On IMDb, the animated series is highly rated at 9.2. As the fans are excitedly waiting for Ricky and Morty season 5, therefore, let's give you all the information that you need to know about your favorite sitcom.
Rick and Morty Season 5 Trailer
Adult Swim, the Emmy award winner for animated comedy dropped in the much-awaited official Rick and Morty S5 trailer on 30th March. It was OFFICIAL TRAILER #1: Rick and Morty Season 5
The 2-minute trailer is a treat to watch. The fans have been able to identify few Easter eggs too. It gives an idea about the storyline of the S5 and what the characters will hold for us. Strangely one can find the makers paying homage to the animated series Voltron at some places. For instance, in one scene involving Rick, Jerry, Beth, Summer, and Morty trying to get hold of one singular Voltron-style vehicle.
The makers have also picked inspiration from Cenobytes of the Hellraiser franchise. In one of the scene, there are needles protruding from Beth's face with Rick and Beth geared up, probably in BDSM gear.
One can see the complete Smith and Sanchez family. It obviously includes the main characters of scientist Rick Sanchez and his teenage grandson Morty Smith. They are supported by Morty's father Jerry Smith and his mother Beth and elder sibling Summer.
There are references to Transformers "strange horny ocean man" look alike. However, the fans will not find any novel idea behind it. They have earlier witnessed particularly in the fan-favorite episode "The Rickshank Rickdemption".
The biggest Easter egg is the sudden spotting of Doc and Mharti from Rick and Morty pilot in one of the clips.
Rick and Morty Season 5 countdown has begun. In the meantime, Adult Swim has released another trailer #2. Check out below
However, fans had more surprises in store with two more trailers dropping in May. Adult Swim dropped in OFFICIAL TRAILER #3: Rick and Morty Season 5 on 1st May. It was followed by another surprise, building the hype to the grand return of a famous show.
When will Rick and Morty Season 5 release?
Adult Swim while releasing the trailer also announced the release date in the US. The global premiere is happening on Sunday, 20th June 2021, at 11 pm EDT. It will be streamed on Comedy Central's Adult Swim. The S5 has been blessed with the name "Rick and Morty Day".
Seasons 1-4 are currently running on HBO Max. The makers have confirmed that the UK release will be announced immediately after the US premiere date.
The makers have now dropped in the official release date and put all speculations to rest. From the news trickling in the past, fans were rooting positively for May 2021. They are much close to it with 20th June being the official premiere date.
Earlier, Chris Parnell (Jerry) dropped in the news with "going to be less of a wait" for season 5 and upcoming seasons.
"We're more on schedule than we've ever been," says co-creator Don Harmon in October 2020.
Last year, the animation Director Nathan Litz had given insight into the complexities while animating even a 1-minute onscreen animation. But, there are teasers from the people involved hinting at a shorter timeframe. The industry is of the opinion that the Rick and Morty Season 5 release date is likely to happen in the second or maybe the third quarter of 2021.
Looking back at the history of announcement and release of past seasons there is usually a gap of 5 months. The communication for Rick and Morty Season 4 was announced in May 2019 followed by the October release of the trailer. It was on November 10, the Season 4 was aired. The Adult Swim is bang on again this time.
Rick and Morty Season 5 Cast
All we can tell for now is that all the main cast members of the show will be retained. Moreover, there is no announcement regarding any new addition or guest stars to the team.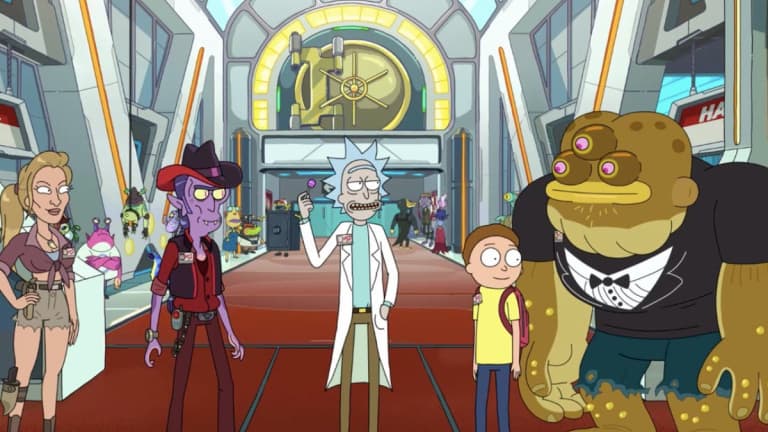 There will be Rick and Morty in the voice of Justin Roiland
For the character Jerry Smith, voice over will be done by Chris Parnell
Jessica's character will be given voice by Kari Wahlgren
Dan Harmon's voice will be behind the character of Birdperson
The voice for the character Beth Smith will be given by Sarah Chalke
Spencer Grammer will voice the character of Summer Smith
Rick and Morty Season 5 Plot
The plot of the upcoming season is tough to predict due to the non linear nature of Rick and Morty. But we hope that the 'Interdimensional Cable' will return in the next series. Also, the story of Evil Morty may be considered to be shown in the upcoming season.
We may also get to see the relationship of Rick and Jerry getting explored.
How many episodes will Rick and Morty Season 5 will have?
As far as Rick and Morty Season 5 episodes are concerned, they are ample enough to ante the sci-fi manoeuvring. Looking at the past history of seasons, it can be safely presumed that Season 5 will be 10 episodes long. Unlike Season 4, Rick and Morty Season 5 episodes will not be split into two parts.
For the uninitiated, in 2018, Adult Swim was given a contract of 70 new episodes. There are 60 pending with the makers, enough for many more seasons to come.
Will there be a Rick and Morty Season 6?
A Big Yes, Season 6 is also coming and hopefully sooner this time. Season 6 had got into works in 2020 itself and hence it can be expected in 2021. Rick and Morty Season 7 is also confirmed by Dan Harman. However, it will not be with you before 2023.
Where can I watch Rick and Morty Season 5 in India free?
The global celebration of "Rick and Morty Day" is happening on the 20th of June. Premiering on Adult Swim, we all know the limited countries where it can be accessed. They are only a handful including the USA, the UK, Ireland, France, Spain, Germany, Sweden, Norway, Denmark, and Finland.
However, do keep in mind that Adult Swim has announced time to air in the USA region only. The show will air on Adult Swim in other markets like the UK, but no announcement has been yet made.
However, with the announcement of a "global" release, it is assumed that in markets like Australia, India, Japan, Brazil, Italy, Mexico, Russia, Singapore, South Africa, and South Korea, Season 5 will be coming on Netflix. As the date approaches, it is expected that both Netflix and Adult Swim will confirm the global schedule.
It is advisable to get a Netflix subscription and we do not promote any unsafe sites. However, few illegal sites like fmovies dot com will stream the episodes. Do keep in mind that there will be advertisements that you need to handle.
Will Rick and Morty Season 5 be on Netflix?
In December 2020, Rick and Morty Season 4 second half came to Netflix whereas the first half streamed on Netflix on June 16. With the announcement of Season 5 getting premiered on Adult Swim's Cartoon Network, global fans wondering when they will be able to watch Rick and Morty Season 5 episodes on Netflix.
Adult Swim is running in select regions of the US, the UK, Ireland, France, Spain, Germany, Sweden, Norway, Denmark, and Finland. Being a global premiere, fans of the rest of the world would wait for Rick and Morty season 5 Release date Netflix. However, there is no official news from Netflix on its plans.
For the sake of history, Rick and Morty season 4 first episode aired on Adult Swim on November 10, 2019. After all the 5 episodes were streamed, they made their debut on Netflix a week after on December 22, 2019.
On the other hand, the second batch of Rick and Morty season 4 episodes started streaming on Netflix on a weekly basis in India immediately after they aired in the US. The release strategy on Netflix in different countries varies and is unknown as of date.
This is all the information we have covered on your favorite show as of now. We hope you guys have found all that you were looking for. We'll keep you updated as and when we get official inputs. Until then, stay tuned.