Motorola has become very aggressive in the launch of its smartphone lineup. It appears set to dominate the mid-range market in 2022. Motorola has risen to third place in the US smartphone market and appears to be unstoppable this year. According to a leaked plan, Moto will release no fewer than 19 phones this calendar year and this includes the much-awaited 200MP Moto Frontier.
In its latest lineup, Motorola Edge X was reportedly touted by a corporate official and has purportedly been found on the China Compulsory Certificate (3C) webpage with product code XT2201-2. According to new claims, Motorola is developing a flagship coded Moto Frontier aka the Motorola Edge 30 Ultra. The gadget is believed to have emerged on the 3C certification site's registry with the same product code, XT2201-2, as the Motorola Edge X. Hence, it's reasonable to assume that Moto Edge 30 Ultra will be introduced as Moto Edge X in the Chinese market. The potential specs of the Moto Frontier have also been leaked online.
Moto Frontier Launch Date
In a recent leak on Weibo, it came to light that Motorola is planning an event on 10th May.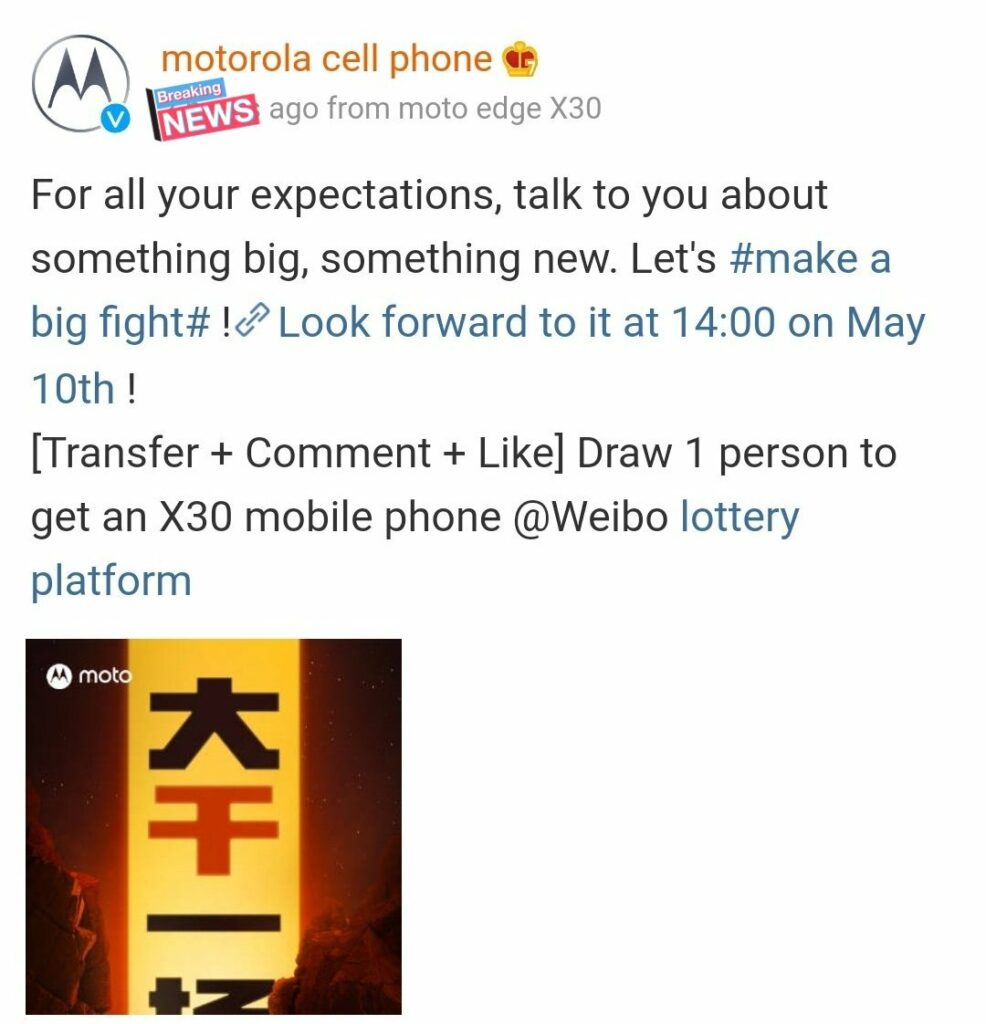 Noted leakster @stufflistings has shared an image with text in Mandarin and Motorola in the background. It shows 10th May at @2:00pm at the bottom. It is being speculated that Motorola is getting ready for another Moto smartphone launch in China on Tuesday, May 10. It is hoped that it should be Moto Frontier. Apart from Edge 30 Ultra, another model Moto G82 is also expected to be unveiled during this event.
At least four of Motorola's future devices, according to a source are part of Motorola's high-end Edge lineup. It includes Motorola Edge Plus, also known as the Edge 30 Pro and Edge X30 in certain territories.
Moto Frontier 22 aka Edge 30 Ultra Specifications (Leaks)
There have been sufficient leaks on the upcoming launch from Motorola and they show that the OEM is planning a major upgrade.
When it comes to design, the display will have a punch hole in the middle, so no under-display camera provision. The front display will have a 6.67″ FHD+ display with a 144Hz refresh rate. Although Motorola has not aimed for new peak values in display, however, it promises a real premium display.
The rear display will have a prominent camera module with a huge sensor and probably this is the USP of Frontier 22 5G. The main sensor will be a 194MP sensor almost close to 200MP. One of the reasons why people are waiting for this model is Motorola Moto Frontier 22 will have one of the highest-resolution cameras on the market.
Another reason to buy will be its selfie camera with a 60MP sensor. It will beat the newly launched selfie cam 50MP Vivo V23. Motorola is adding a little more resolution to the Motorola Moto Frontier 22.
Motorola Moto Frontier 22 specifications summed up
6.67″ FHD+ curved POLED, 120Hz
144Hz refresh rate
Snapdragon 8 Gen 1+ (SM8475)
8/12GB LPDDR5 RAM
128/256GB UFS 3.1 storage
Rear camera setup: 200MP + 50MP (Ultrawide) + 12MP (2x telephoto)
Selfie camera: 60MP
4,500mAh battery, 125W charging
Android 12, My UX
In-display fingerprint sensor
4500mAh 125W
30/50 wireless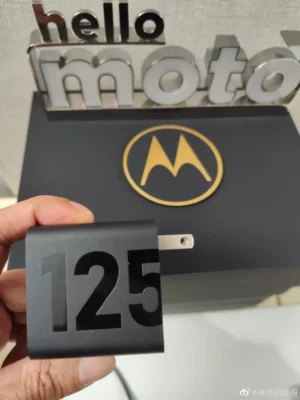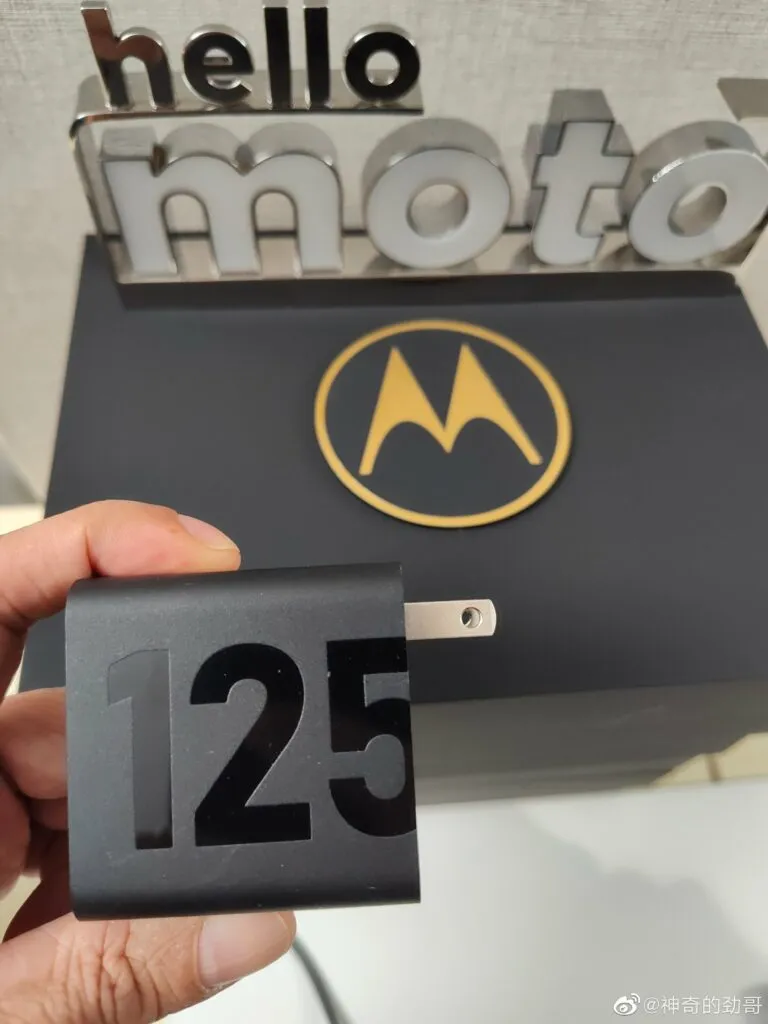 Motorola Moto Frontier 22 Price Leaks
There is no official confirmation. However based on the configuration, one can expect the base variant of Motorola Frontier 22 5G to be priced around $499/ ₹39,990.
Moto Phones 2022 lineup
Motorola's four forthcoming devices are coded Frontier, Miami, Dubai, and Dubai Plus. We've previously learned a great deal about the Frontier's large 200MP camera. We've also seen leaked pictures and specifications for the phone, implying that it's a more extreme form of Edge Plus. According to Blass, the smartphone will be released in worldwide markets as the Edge 30 Ultra. However, it won't be available until the third quarter of this year. That implies the debut might happen as late as September.
China is the place you may anticipate the phone sooner. According to a source on the internet, it is the "younger brother" of the Motorola Edge Plus. The phone will include a 6.55-inch FHD+ screen, a 144Hz refresh rate, two 50MP cameras and a 2MP depth sensor on the back, a 32MP front camera, and a 4,020mAh battery. There's no information on the CPU, but the gadget should come with three RAM/storage options, the most expensive of which will be 8GB/256GB.
The Dubai Plus is expected to arrive in Dubai in the third quarter of this year. The unknown phone is anticipated to include an octa-core MediaTek CPU with two Cortex-A78 cores operating at 2.6GHz and six Cortex-A55 cores running at 2.0GHz. The only distinction between this version and the normal Dubai will be a larger 5,000mAh battery and touch functionality.
Finally, Motorola may place the phone nicknamed Miami between the two Dubai smartphones. This is between April and September. The phone might be a Lite version of the Edge Plus, including a 6.28-inch 120Hz display, Snapdragon 695, 6GB/8GB of RAM, 128GB/256GB storage, a 64MP primary camera, a 13MP wide-angle camera, and a 32MP selfie camera. Miami is also said to have a 4,020mAh battery.
The remainder of Motorola's phones isn't mentioned in depth in the source. However, the leakster referred to it as "Part 1" of the company's plan, so we may hear more about more Moto smartphones in the upcoming days. Share with us your excitement about the global launch date of Moto Frontier.