This year yet another anime has carved its name in the best Shonen anime list. We are talking about the Jujutsu Kaisen anime that premiered in October 2020. It completed its first season on 26th March 2021. It turned out to be one of the best works from MAPPA studios in competition to the likes of Attack on Titan. A few hours before the final episode aired, Jujutsu Kaisen 0: The Movie (aka JJK0) was announced to the fans with release in 2021.
There are strong speculations of Jujutsu Kaisen Season 2 in the pipeline, however, the announcement of the prequel Jujutsu Kaisen Volume 0 has made 2021 look brighter.
The film is based on the manga prequel Jujutsu Kaisen 0 Tokyo Toritsu Jujutsu Kōtō Senmon Gakkō (Jujutsu Kaisen 0: Tokyo Prefectural Jujutsu High School) authored by Gege Akutami.
When is Jujutsu Kaisen 0 Movie Release Date?
During the "Juju Fes 2021" event held in mid-June in Saitama, a surprise announcement about Gekijō-ban Jujutsu Kaisen 0 (Jujutsu Kaisen 0 the Movie) was made. It will make its debut in Japan on Christmas eve, Friday, December 24, 2021. A promo video along with a visual was also released for the fans.
If it's going to theatres in Japan during winters, MAPPA is likely to announce a Spring 2022 global premiere.  It is assumed that the global theatrical release will follow a similar pattern as done by Demon Slayer: Mugen Train.
At least a year's wait from now for optimistic fans!
Jujutsu Kaisen 0 Trailer
After the Jujutsu Kaisen Season 1, fans are eagerly waiting for the movie. The hype has even more increased after the trailer got released by MAPPA studios. Check it out!
Jujutsu Kaisen Movie 0 Visual
In the "Juju Fes 2021" event, a new teaser visual of Jujutsu Kaisen Movie 0 was launched. Check it out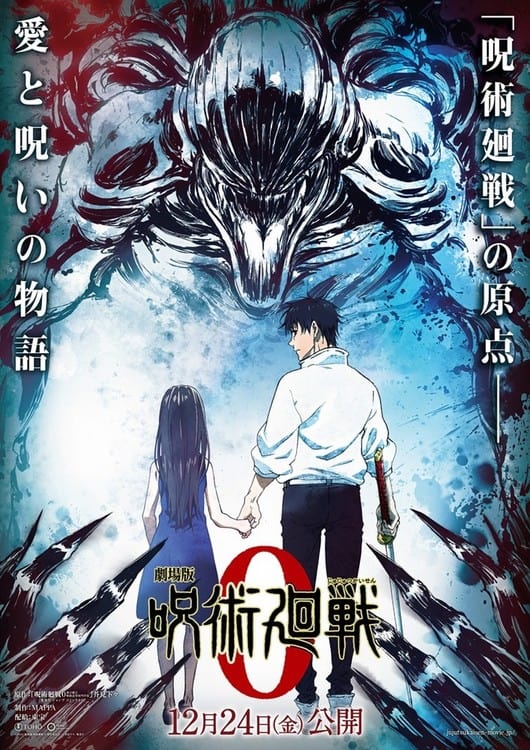 Jujutsu Kaisen Movie 0 Plot
The movie will adapt the Cursed Child arc from the manga by Gege Akutami. According to Fandom, the Cursed Child arc story is about a young boy Yuta Okkotsu. He is haunted by the spirit of his childhood friend Rika. The spirit brutally kills people who are seemingly a threat to Yuta. Yuta is convinced by Satoru Gojou to enrol Jujutsu high and work as a Jujutsu sorcerer.
"Jujutsu Kaisen Volume 0" prequel manga will serve as the source for the movie. If anyone is interested, the Viz website has made "Volume 0" free to read for everyone.
"Jujutsu Kaisen Volume 0" is not an arc from the main "Jujutsu Kaisen" manga series, as many people are debating. "Volume 0" and its sequel, the main "Jujutsu Kaisen" series, are two different instalments of the franchise.
"Jujutsu Kaisen Volume 0" continues to be very important to the lore with only 4 chapters long, hence it's most suitable for a movie format. Each chapter of "Jujutsu Kaisen Volume 0" is 45-52 pages long. So each chapter should take around 20-22 minutes of runtime. Hence the "Volume 0" movie should be exactly around 80-90 minutes long if they don't add or remove any scenes, a perfect run time for the movie.
Jujutsu Kaisen 0 Characters
The cast for Jujutsu Kaisen Movie 0 has not been officially revealed. But with MAPPA at the helm, we can be sure of Satoru Gojou who voiced Yuichi Nakamura. The voice cast of the main characters Yuta and Rika have yet not been announced. The section will be updated as soon there is confirmation.
Where can I watch Jujutsu Kaisen 0 Movie Dub?
Jujutsu Kaisen Season 1 Dub was streamed by Crunchyroll outside Asia. It is currently available on Crunchyroll and HBO Max. It got dubbed in 5 languages, namely, English, Spanish, Portuguese, French, and German languages. JUJUTSU KAISEN season finale and the entire series can be watched right here on Crunchyroll. As of now, it is not confirmed whether the movie will stream online.
However, assuming that the movie follows Demon Slayer: Mugen Train (Japanese theatrical release, followed by global premiere and digital streaming), JJK 0 is likely to go for digital streaming.
Now coming to dates, if Jujutsu Kaisen 0 premieres globally in Spring 2022, fans can expect Jujutsu Kaisen release on streaming platforms to happen in Summer 2022.
The manga has gone on an indefinite hiatus due to concerns over the health issues of Gege Akutami. However, the production works of Jujutsu Kaisen Season 2 is in progress.