Without a doubt, WhatsApp is the most popular instant messaging app with over 500 cr+ downloads on Play Store and 114 cr+ ratings on App Store. But in recent times, the popular messaging app has made it to several controversies – which is a never-ending list. Therefore, today we bring you some WhatsApp alternatives to make chatting sound and safe for you. We have listed 5 WhatsApp Alternatives apps that could be a replacement for WhatsApp in all senses.
It's not like WhatsApp is a reckless app to install in the first place, but not the other way around too. It sure has some pros and cons and we will discuss that too in this article to give you a brief on why an alternative is the need of the hour.
Why do we need WhatsApp alternatives?
WhatsApp's recent privacy policy update has caused concern among users and has led many to seek alternatives. However, choosing a suitable alternative can be challenging, as several factors need to be considered. In this blog post, we will discuss what to consider when selecting an alternative to WhatsApp.
Immediate Circle Usage
The first thing to consider is whether the messaging app is being used by your immediate circle of friends and colleagues. After all, it is pointless to use an app unless you have people to communicate with on it. Therefore, ask your friends and colleagues which apps they use and prioritize those that are commonly used within your immediate circle.
Privacy Features
Privacy should be a primary concern when selecting a messaging app. End-to-end encryption should be a key feature to look for, which means that only the sender and recipient can access the message's content. Additionally, it's essential to check the app's privacy reports to ensure that there are no security flaws and to see if the app's parent company collects user metadata. It's also best to look for messaging apps that are not owned by the Facebook group, as their apps have been plagued with privacy concerns and hacks.
Flexibility of File Sharing
The ability to share media files, such as images, videos, and screenshots, is crucial. Therefore, look for apps that provide this feature. Additionally, bot-driven services are becoming more popular, and apps like Telegram offer bot-based services, making it a suitable alternative to WhatsApp.
Cross-Platform and Multi-Device Operability
Being able to communicate across devices with ease is essential, so look for messaging apps that offer cross-platform and multi-device operability. This way, you can switch between your phone, tablet, and desktop without any issues.
What are the best WhatsApp Alternatives?
Are you tired of using the same old messaging app to stay in touch with your loved ones? Well, you don't have to limit yourself to just WhatsApp. Fortunately, there are plenty of other messaging apps that provide different features and benefits. Whether you are looking for a more secure messaging experience or want to try out a more customizable messaging platform, you can find the perfect fit for you. In this blog post, we will explore some of the best WhatsApp alternatives available today, including Telegram and Signal.
Telegram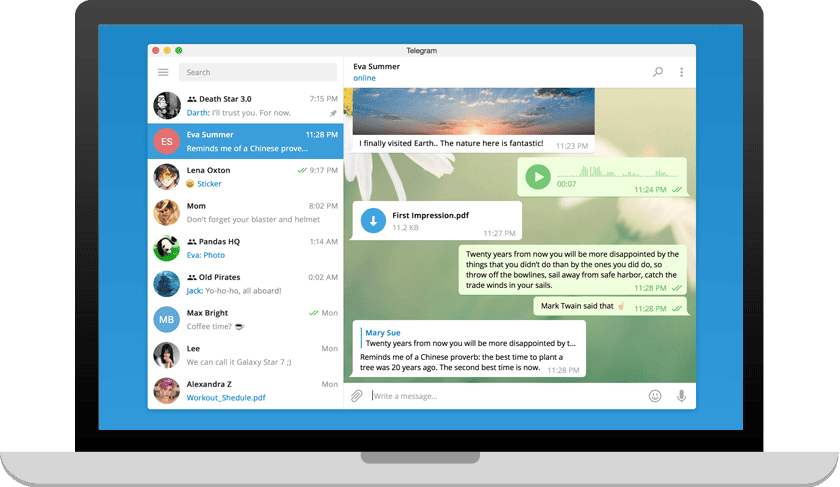 For quite some time now, Telegram Messenger has been recognized as the top rival to WhatsApp and this hasn't changed. The open-source messaging app is still the most optimal alternative to WhatsApp. While both messaging apps offer the usual messaging features, Telegram stands out with its additional features such as the capability to accommodate super groups with up to 100,000 members, public channels, usernames, file sharing with a maximum size of 2 GB, passcode lock, self-destructing messages, and end-to-end encryption in secret chat, among other things.
Telegram Bots add a great deal of value to the messaging experience. They provide quick access to important information and also offer various game bots that allow users to play games within the app. Additionally, unlike WhatsApp, Telegram can be used simultaneously on multiple platforms, allowing users to begin texting on their phone and then seamlessly switch to their PC. Furthermore, I find the voice call feature on Telegram to be highly functional and reliable.
Available on all major platforms, including iOS, Android, and desktop, Telegram offers users a seamless messaging experience with end-to-end encryption technology for added security. Additionally, the platform also allows users to create groups with up to 200,000 members and offers various customization options for chat backgrounds and notification settings.
Also Read | 10 Best Spy Apps for Android and iPhone (hidden)
Provides end-to-end encryption for secure communication.
Uses the MTProto encryption protocol and open-source apps and libraries.
Allows users to log in on multiple devices at the same time and supports two-step verification.
Offers self-destructing messages for added privacy.
Compliant with GDPR.
Requires phone number for registration.
End-to-end encryption is only available for Secret Chats.
The server code is not open source.
Logs user data, including IP addresses (use a reputable VPN service).
There are concerns about potential data sharing with government agencies.
Signal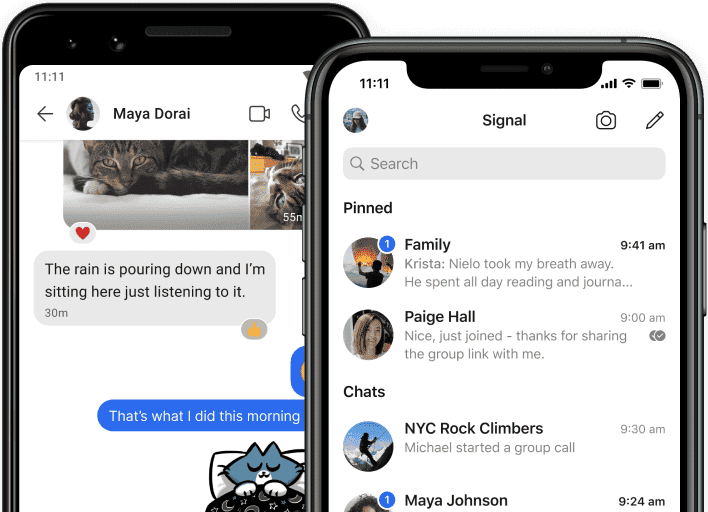 Signal Foundation, the organization responsible for providing end-to-end encryption technology for WhatsApp Messenger and Facebook Messenger, also has its messaging app known as Signal Private Messenger. Compared to WhatsApp, Signal offers several security benefits including self-destructing messages, screen security that prevents screenshots, and more.
Signal ensures encryption for all its features including backups, calls, group calls, and data in the app. Additionally, Signal protects files sent using the app. The app does not link any data to your identity, as stated in Apple's App Store listing.
Signal Private Messenger is a great option for those who want to securely communicate with other users, particularly journalists. If you're looking for a simple and secure messaging app, Signal is the best WhatsApp alternative for you.
Signal Private Messenger is available for free on Android and iOS platforms.
Download links: Signal for Android, Signal for iOS
Also Read | Making Use of Social Media to Grow Your Business
End-to-end (E2E) encryption
Encryption algorithms: Signal protocol, with Perfect Forward Secrecy (PFS) for text messages, voice messages, and video calls
Open source software
Disappearing messages (also known as self-destructing messages)
Published transparency reports
Logs minimum amount of data
Does not log IP Addresses
Requires a phone number for sign up
Occasional issues with sending and receiving messages
Viber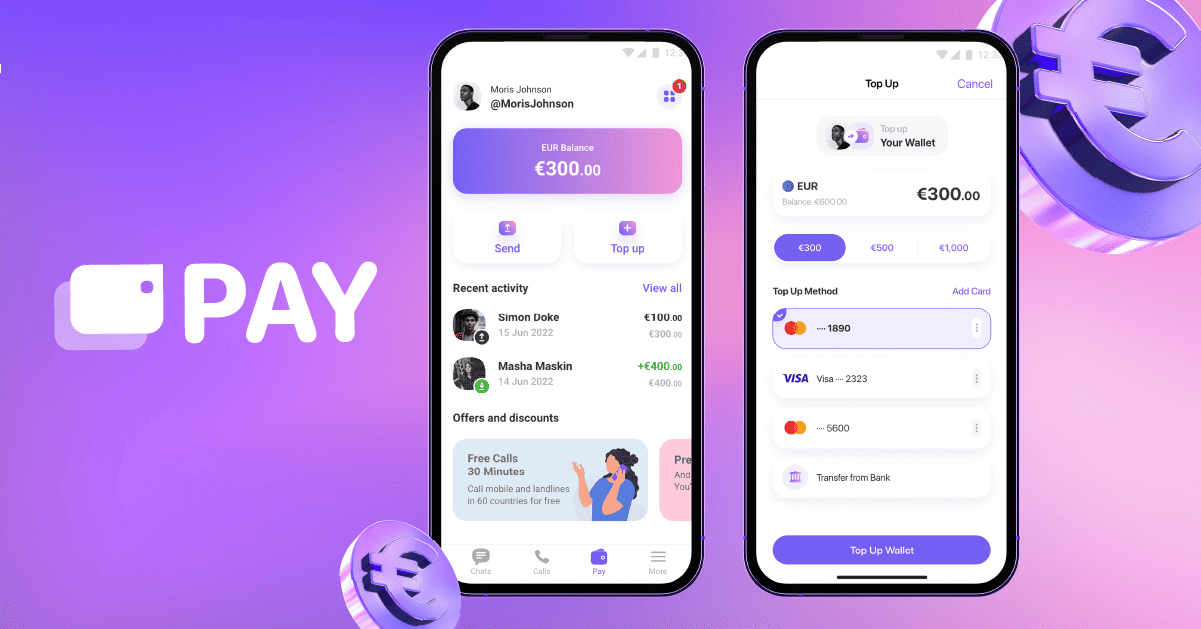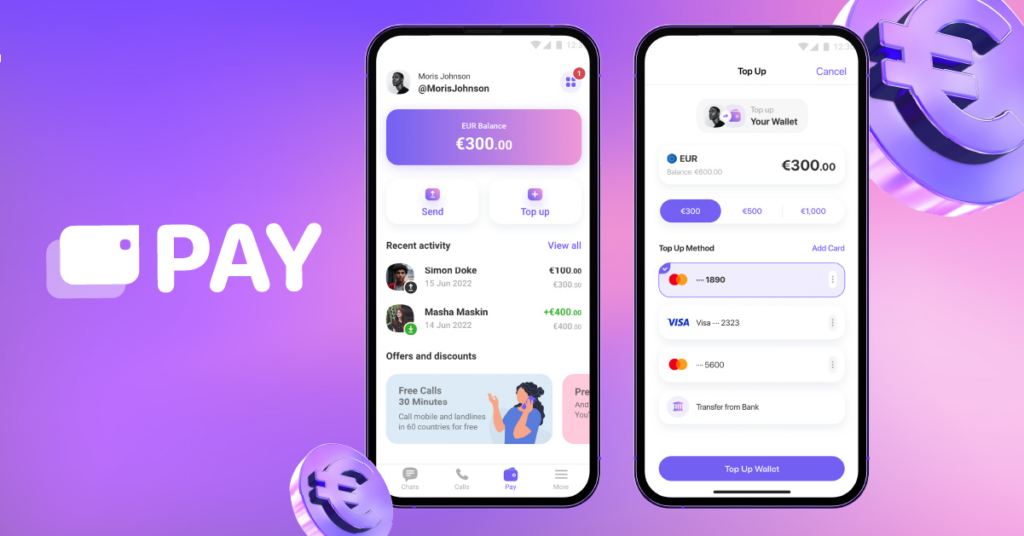 Viber is a messaging application that was released in 2010 and later acquired by Rakuten and rebranded as Rakuten Viber. It is a popular WhatsApp alternative with several features. Viber claims to have End-to-end Encryption for text, call, and media data safety, which WhatsApp also uses. Unlike WhatsApp, Viber allows you to save encrypted images on your devices and offers support for multiple devices.
Viber Out is another feature that enables users to make international calls to non-Viber users at a lower cost. In addition, Viber supports stickers, voice and video calls, and allows users to backup their data to Google Drive. Viber also offers in-app games to users.
Viber is available for Android and iOS.
No requirement for usernames, passwords, or aliases for registration.
Users can make unlimited free voice and video calls and text messages to other Viber users.
Group text messages are available.
Provides inexpensive calling to landline and mobile numbers.
It is not as widely used as it once was.
The quality of Viber's service is not as good as that of Skype or WhatsApp.
Viber does not provide a secure and private communication platform.
Skype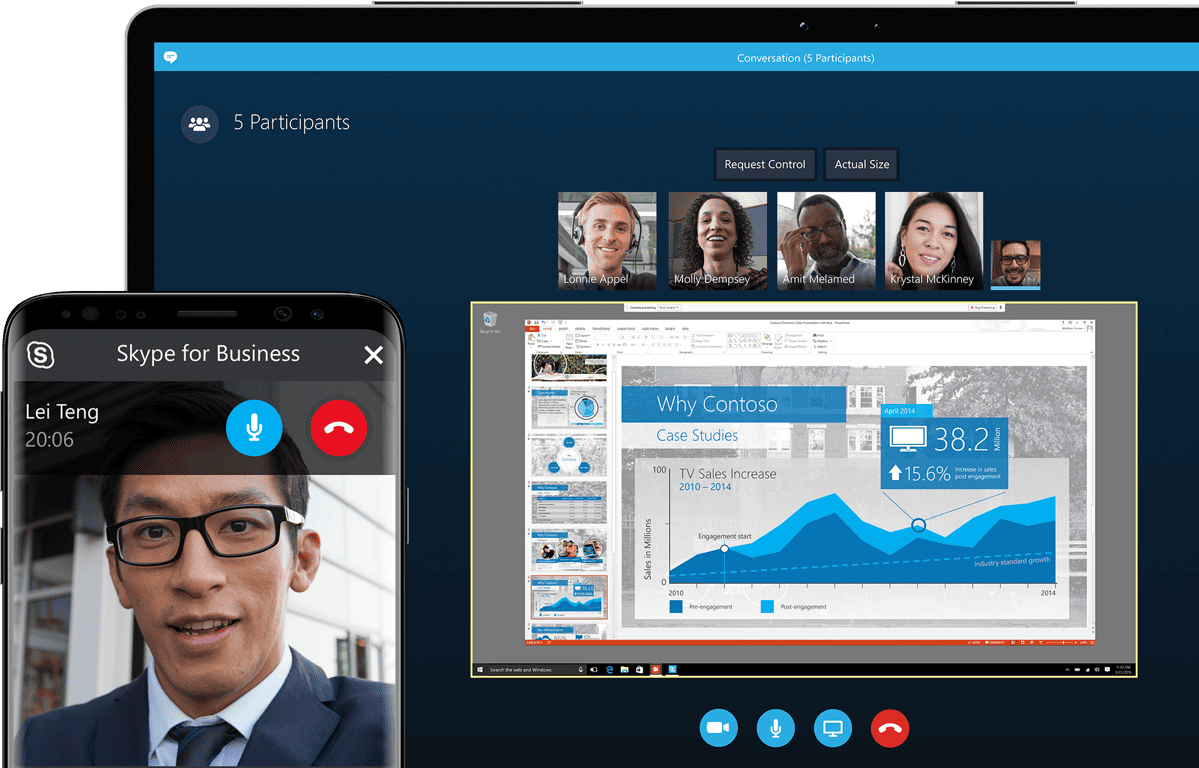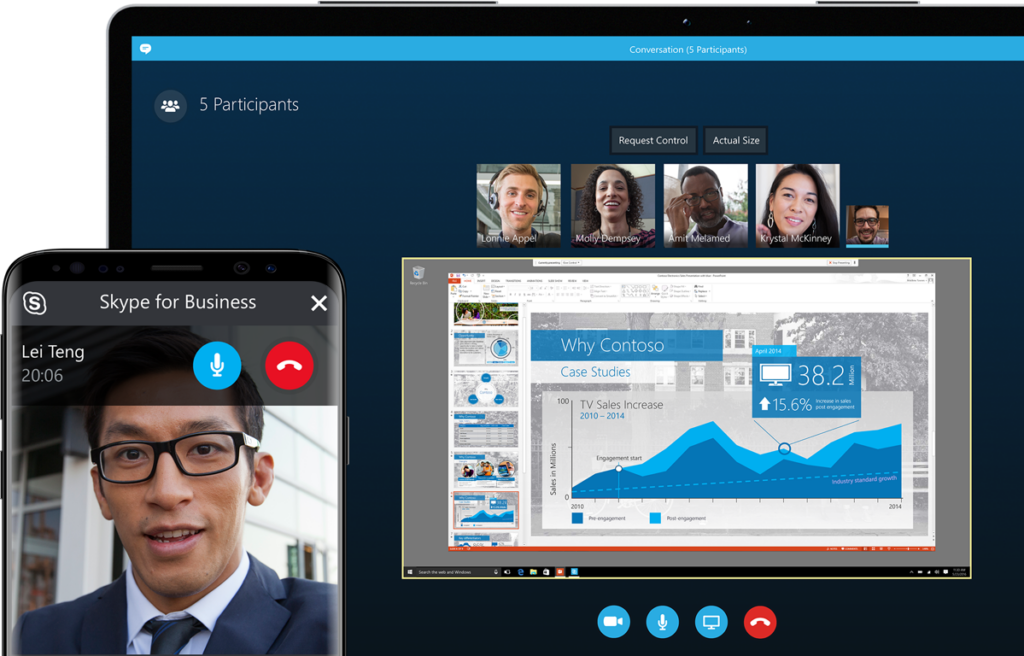 Skype is an exceptional business chat application backed by Microsoft that surpasses all other similar applications in the market. However, its success in the business world has led to its reputation as a business-only app, thus discouraging regular users. Despite this, Skype remains one of the best chatting applications on the market, particularly for frequent video and voice calls.
Skype's sound and video quality are unparalleled, particularly for international calls. Its group video call functionality is also exceptional. Unlike most apps that lack support for group video calls or lag with more than three to four participants, Skype performs seamlessly even with numerous people.
If you make frequent video calls with friends and family, Skype is a recommended option over WhatsApp and other chat applications. Our Skype tricks article offers valuable tips to help you maximize the app's potential.
Skype is available for free on Android, iOS, macOS, Windows, and Web platforms.
Download links: Skype for Android, Skype for iOS, Skype for mac, Skype for Windows
Excellent for making video calls, making it a good choice for virtual meetings, catching up with family and friends, or even online dating.
Completely free to use, making it accessible to a wide range of users regardless of their budget.
Offers robust security measures to protect user privacy, including end-to-end encryption and optional two-factor authentication.
Limited file-sharing capabilities, which can be inconvenient for users who need to send large files or a variety of file types.
Connection quality may be compromised if users have limited bandwidth or a slow internet connection, which could result in dropped calls or poor video quality.
Discord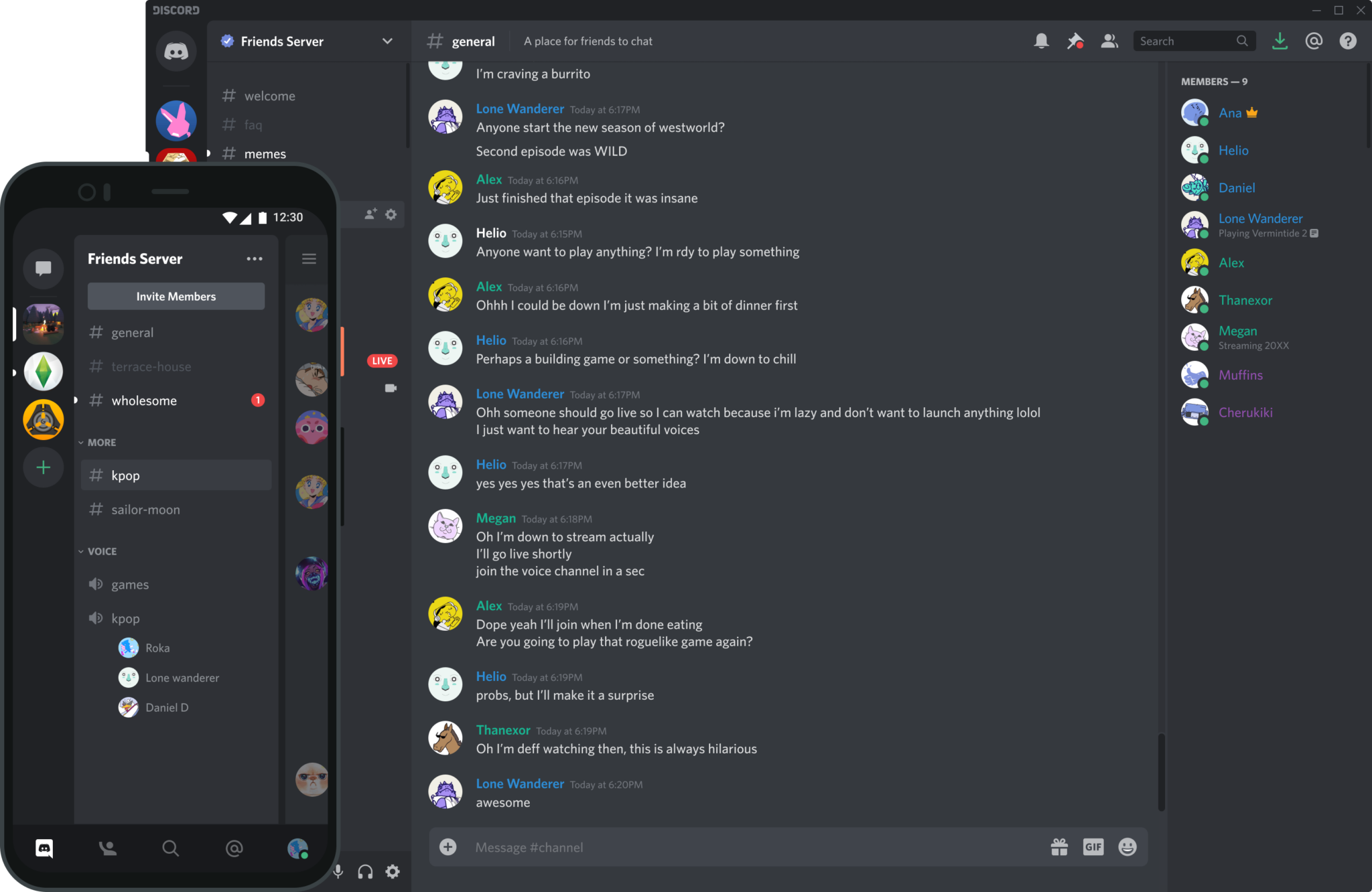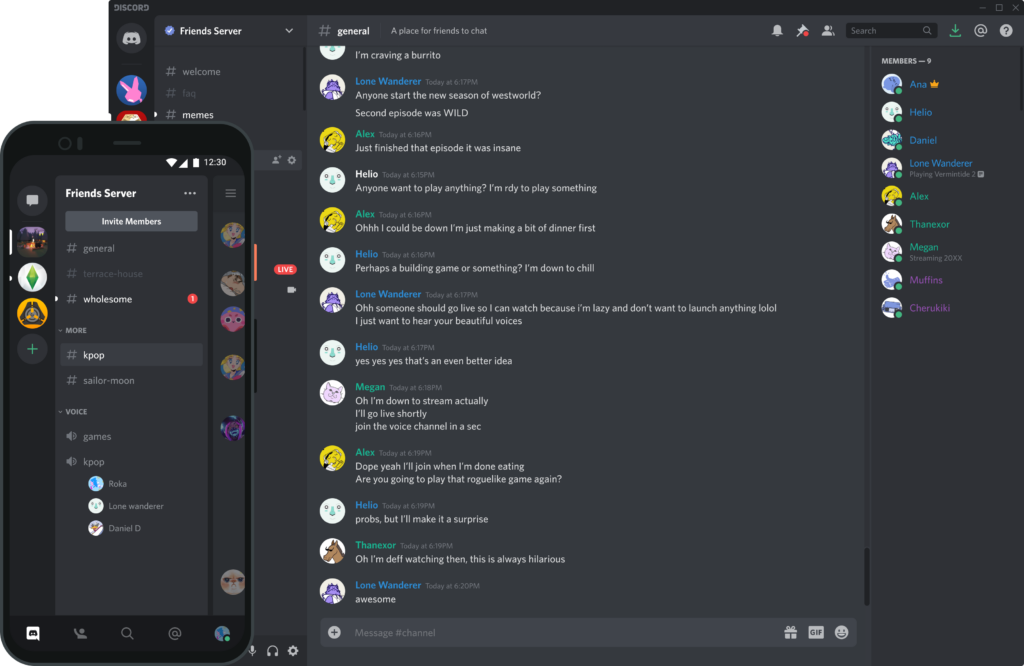 Discord is worth considering while looking for WhatsApp alternatives — it's more than just a chat platform and offers various features such as exploring different servers, voice, and video calls, and file sharing. However, what sets it apart from other apps is its ability to share your screen with your friends.
Moreover, Discord has integrations with various platforms like Twitch, YouTube, Spotify, Steam, Battle.net, Reddit, and Xbox Live. You can create a group with 10 participants or create your server with more members.
Discord is an all-in-one messaging app that caters to your messaging needs. Unfortunately, it doesn't offer data backup options, so users have to use third-party apps and manually transfer their data.
Discord is available on Windows, macOS, Android, iOS, iPadOS, Linux, and the web.
Offers more features and options than WhatsApp
Allows users to share videos and even stream them to friends
Free basic version is available
No built-in backup option, requiring manual transfer of data through third-party apps
Can be difficult to use, especially for users accustomed to simpler chat apps
Discord Bans are also common
Must Read – Best Discord Music Bots
FAQs
What messaging app works well for international communication?

Apps like Viber and Discord offer free voice and video calls that can be used for international communication, while WhatsApp also allows users to message and call internationally for free.

What messaging app is best for businesses?

Slack and Microsoft Teams are popular options for business messaging, while WhatsApp Business is designed specifically for small businesses.

Can you use WhatsApp on multiple devices?

Currently, WhatsApp only allows you to use one phone number on one device at a time. However, other messaging apps support multi-device usage, such as Telegram.

Which app is best for group video calls?

Zoom is a popular app for group video calls and meetings. Other options include Google Meet and Skype.

Are there any apps that offer more features than WhatsApp?

Apart from Telegram and Discord, you can also try out apps like Slack and Microsoft Teams if you are looking for a messaging app with advanced features.
Best WhatsApp Alternatives – Editor's Say
Hats off to Telegram! I have been using it primarily for a long time now, which makes me eligible (at least in my mind) to sing its praises to anyone who will listen. The app's unparalleled security features, user-friendly interface, and wide range of useful features make it my go-to messaging app, and I also want to point out a few things about this WhatsApp alternative. I mainly switched to Telegram in 2021 because WhatsApp seemed to be quite loaded with over a thousand contacts, and ever since then, Telegram has become a secret companion.
I didn't uninstall WhatsApp mainly due to work, therefore, for work purposes, I still have it on my phone, but when things get personal, I take them to Telegram.
There are certain group chats I am a part of, and what a cool feature it is to shift to a platform, and become a part of a group chat without having to share your phone number — WhatsApp, you missed it, there! For anyone who is concerned about their phone number becoming public or simply doesn't want to share it with many, Telegram is a great pick.
Additionally, Telegram allows for encrypted messaging, ensuring that conversations remain private and secure, which is especially important for sensitive or confidential information. But this all looks like brand promotion, so keeping it to the point
What do I like about Telegram? You may install it and answer this question to me — I can have personal preferences, but one possible thing you are surely going to drool over is its large file transfer capabilities.