PUBG Mobile, one of the favorite mobile games is going to celebrate its 20th season in the next couple of months. It has been only a few days with PUBG gamers enjoying Season 19. Yet there will be few who after hitting their targets will be looking for PUBG Mobile Season 20 leaks.
There is no dearth of influencers with Pubg Mobile Season 20 leaks and rumors. We have collected information on the release dates, RPs from various leaks and created a list of all the leaks and rumors. Do keep in mind that these are not official. We will keep on updating with more verified news as it comes by.
Till then, what are you waiting for? Go ahead and dive in to see all the new leaks of PUBG Mobile Season 20 Royale Pass.
PUBG Mobile Season 20 Release Date
Traditionally speaking PUBG devs have kept a typical PUBGM season that lasts for 7-8 weeks only. The current PUBG Mobile Season 19 was released on May 17, 2021, with some amazing skins and an even more glorious event around Godzilla vs Kong.
PUBGM Season 19 RP event will end on July 13 at 5:29 a.m IST. It is visible in the in-game section of the Royal pass section. Moreover, it usually takes 24 hours to wind up any season. On top of it, devs take additional 2-3 days to release the new season to the gaming world, ensuring there are no show stoppers.
PUBG Mobile Season 20 release date should happen on Wednesday, July 14, 2021, at 7:30 a.m IST. If the download does not happen automatically, wait for few hours before the download gets started on your device.
Battlegrounds Mobile India Season 20 Ranking Details
PUBG Mobile India aka Battlegrounds Mobile India made the much-awaited debut for Android users in India on July 2. iOS users have been made to wait with no news. For Indian PUBG gamers, there has been a new nomenclature when it comes to Seasons and Cycles of game.
From Mobile Season 20 onwards, 3 Seasons of BGMI will be combined as a cycle. Each Season will be of 1-month duration with Season replaced by Month. The earlier convention of S1, S2 will be changed to M1, M2, etc.
Coming to Cycle nomenclature, it will be of 3 months and will follow C1M1 -> C1M2 -> C1M3 pattern. Once Cycle 1 ends, it will be followed by Cycle 2 and 3 seasons. Season 20 will be named as M1, Season 21 as M2, and so on.
For India, there will be some deviations from the process followed earlier. Devs have asked players to claim all the Royale Pass Season 19 rewards before the season ends and that is today.
PUBG Mobile Season 20 New Map
Devs had released a new map in the 12.2 updates recently and on the basis of this, it can be assumed that new content will come to PUBG Mobile.
Last month, PUBG had announced an agreement with Tesla. One can expect branded products of Tesla available in-game. It is speculated that teh products might range from Tesla-branded outfits and/or weapon skins, in-game vehicles. Depending upon the duration of the partnership, these will be available for a limited time.
PUBG Mobile Season 20 RP Rewards
As our love for the game grows so does the anticipation for more and more PUBGM weapons and skins. Devs ensure that the charm of the game is retained by offering unique RP rewards every season.
So here we are once again with some leaked information which sadly at this time cannot be verified as the sources are scrambled. But still, most of the leaks do come true as they are released in different builds and different files. So here are some of the PUBG Mobile Season 20 leaks.
PUBG Mobile Season 20 RP Rewards – Guns
AKM
PUBGM Season 20 can feature this beautiful AKM to be available at level 90 of the paid Royal pass plan. This AKM has an oceanic theme to it with beautiful wave patterns on it and sun on the stock. This doesn't look like an upgradable skin but it still is beautiful. We have seen a very similar gun in the previous season called Pearl hunter AKM.
Kar98k
On the purchase of the PUBG Mobile Season 20 Royale Pass, players will be bestowed upon this beautiful Kar98k as soon as they buy the pack. It looks super friendly to play with but every PUBG mobile player knows that this is one of the deadliest guns in the game.
It has a beautiful color scheme on the top with feathers and a zigzag golden pattern. The barrel has a little cute heart on it too which might be more of a taunt to the players it hunts. The gun has a golden finishing overall and it looks amazing.
AWM
The beautiful AWM is rumored to be part of Season 20. This AWM encompasses a color palette of golden, black, and white. To us it looks like an upgradable skin with its beautiful effects and loot crates.
According to the source, AWM gun will not be a part of Royal Pass rewards. Instead, it will be a part of either a lucky skin or a loot crate that PUBG mobile releases with every season. Little known fact that AWM stands for Arctic Warfare Magnum or AI-Arctic Warfare Magnum.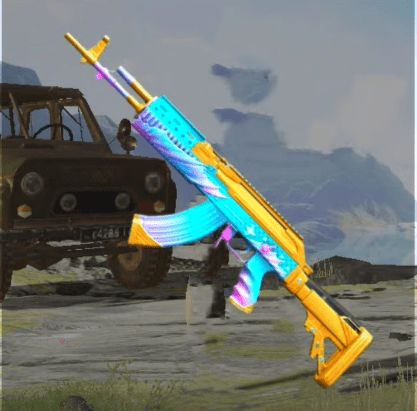 M762
Like the Kar98 we can see this m762 which follows the same theme as the kar98 with a beautiful color pallet and a golden finish on the barrel moreover it the colors also goes in hand with the oceanic theme of the previous items. Players might get this skin at level 90 according to the source of this leak.
S686
S686 gun is a very powerful weapon that can one-hit any player within close distance. This S686 shotgun will drop in season 20 at level 50 and this will be available for everyone even the people who haven't paid for the royal pass in typical PUBG mobile fashion, it's is just harder for players to reach level 50 who haven't paid for it when compared to who has.
PUBG Mobile Season 20 RP Skins
Helmet
Continuing with the oceanic theme, players will get this helmet which has a trident on it and a crown signifying the king of Atlantis or the ocean. This helmet also has Fins instead of ears giving it more personality related to the water bodies.
The leaked image shows a level 3 helmet as we don't have level 1 and level 2 leaks yet. Players might get this helmet at level 25 of the paid royal pass plan. The strap has a cute little heart on it too and it looks very enticing to play with!
Pan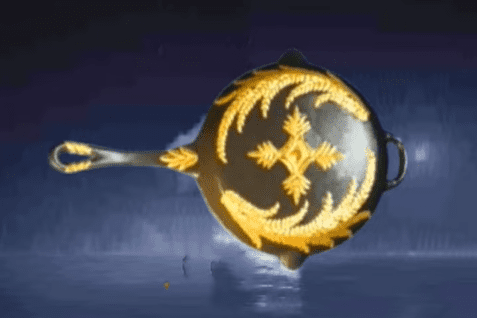 One of the most iconic PUBG weapons is the Pan. It is a very satisfying way to kill your enemies by hitting them with a Pan, it is almost comical with the satisfying sound it creates.
The rumored Pan can be seen with two beautiful wings with a cross in between. All is in shiny gold which goes in hand with the pure black color of the pan. The handles also have a hint of gold and will look absolutely stunning hanging around a player model or in their hands. It is not confirmed if this pan will be available in royal pass rewards or one of the crates that get released with the Royal Pass.
Parachutes
A parachute is something every player uses at the start of the round while dropping in on a location. It is one of the most noticeable things about a player's inventory. Parachute skin is made available immediately when a player buys the royal pass. This skin surely goes with the oceanic theme as we can see the beautiful blue color palate and it goes well with the helmet too as it has a crown on it like the one, we saw on the helmet.
The second parachute on our leak list has a major difference from the above one. The obvious one is appearance. It is available for everyone even the players who haven't bought the pass. It is unclear how one will redeem this nonetheless it is simple with a very nice design of green and a little blue. We personally think players with this parachute mean business.
Bag Pack
This bag pack is the third oceanic-themed skin and we have to say by far this one of the most elegant-looking bag packs in PUBGM. This bag pack consists of the typical wave patterns we have been seeing but the art style is definitely Asian somewhat Japanese/Chinese as we can see how the waves are depicted.
It also encompasses a beautiful sun on the upper part of it with some carvings around it. The bag also features beautifully threaded ropes.
Bag pack #2
Another bag pack skin that has been reported leaked is this beautiful oxygen tank bag pack. We can see how it totally goes with the theme as one cannot survive inside the water body without one of these for a long duration.
This bag also features a cute little ornament at the bottom of it which clearly is a submarine! According to the source, this bag will be available in one of the various lucky spin PUBG mobile likes to roll out with its new season.
Bag Pack #3
The third bag pack follows the previous pan theme with golden stitches and a matte black theme. It also has two wing-like structures at the bottom. This looks like a level 3 bag to us. It is unclear how players will be able to get this. But the speculation is that it will be an addition to the redeem section of the PUBG mobile store, where players can buy skin with their silver fragments.
Do share with us if you come across any reliable leaks. Also, let us know which one is your favorite.
Source: YouTube