There are times when I think I'm being far too skeptical about things. Especially when manufacturers release a new product. As a result, this skepticism extends to both ends of the spectrum. Be it Apple with their overpriced monitor stands or Xiaomi with the severely under-priced smartphones.
Issues With the POCO X2- (Inhales) There's a lot. Buggy software, malfunctioning cameras, terrible UI, a disappointing Android 11 update, MIUI Version 12. A lot!
POCO X2 receiving Android 11 customized skin MIUI 12 in January 2021, but it didn't go really well. POCO X2 problems after the update were the common ones like heating and battery drain. They have been carried forward from Android 11. Some POCO X2 problems were hardware-specific.
Broken touch response and screen freeze, laggy command input, third-party launchers failing, navigation gestures, broken file manager, defective messaging app are just the tips of the iceberg. The frustration is very much obvious as POCO X2 defects have left the device unusable. Maybe, Xiaomi can get all this fixed with its MIUI 12.5 rollout
Coincidentally the matter of today's scrutiny is the recent Xiaomi's POCO X2 MIUI Rear Camera issue. Of late, several complaints have cropped up from the users and reviewers of the device. Here's our take after getting on this proverbial bandwagon.
POCO X2 MIUI Rear Camera Freeze
Honestly bragging about having a 64MP camera that doesn't work does seem pretentious? Several users have taken to Twitter in light of the recent camera failure issues. Many users are reporting frequent MIUI rear camera freeze and about display turning to a black screen. There is no issue with the selfie camera.
Although the primary cause hasn't been clearly estimated yet some believe it could be a software bug while others cry foul over poor hardware. This has been reported by users on Poco X2 12.1.3 Version
Some are reporting of 'Can't connect to camera' error message when they try to open the Xiaomi Camera app. Macro or the ultra-wide camera features have been rendered useless since trying to open even causes the app to hang. Even devices on Custom Roms in POCO X2 are also reporting complete blackout.
The issue on initial troubleshoot appears to be more software related and not hardware. On using of GCam app on Poco X2, the camera issues could not be replicated. Hence, on prima facie, it appears to be a software fix that is needed.
POCO X3 NFC users had also lodged similar issues, but there is no fix rolled out by the R&D team yet.
Xiaomi POCO X2 Response
Taking certain measures against the aforementioned problems is very much suggested. In this case, simply avoid the MIUI 12 update for now.
We have verified claims that the problem with the black camera screen is a software bug. Since Google Camera works, try using it as a temporary replacement. However, some Xiaomi service centers claim it's a defect of the motherboard which if the device is covered under warranty is an easy fix. Otherwise, you could cough up a neat Rs.10000.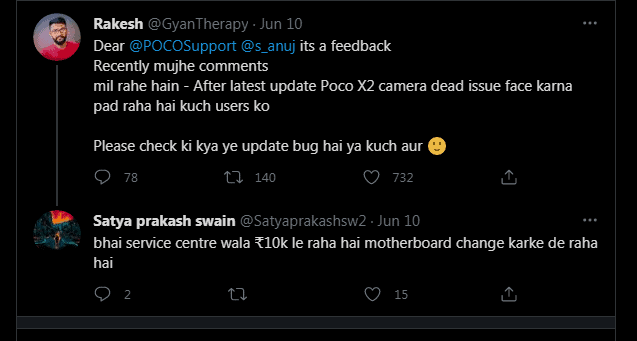 Fortunately, POCO support has acknowledged the MIUI Rear Camera issue and has asked to follow the steps it has tweeted.
Temporary solution by POCO Team suggested
Clean Camera App data: Open Settings- Search Manage apps – Search Camera – Clear data-Clear all data
Share with us whether the potential workaround worked for you or not!