The Apple Card Savings account is a feature rolled out by Apple in partnership with Goldman Sachs as part of their Apple Card credit card product. It's a high-yield savings account with a 4.15% APY, much higher than the US national average of 0.35%. The account has no minimum balance or deposit requirements and is exclusive to Apple Card users. The savings account allows Apple Card users to earn interest on their savings at a variable interest rate, with no minimum balance requirement or fees.
The savings account is built by Goldman Sachs and enables users to manage their accounts directly from the Wallet app. To use the Apple Card Savings account, users must have an Apple Card and enroll in the program through the Wallet app on their iPhones. Users can track their account balance and interest earned over time through the Wallet app's Savings dashboard.
Funds deposited into the savings account are held by Goldman Sachs and are FDIC-insured up to $250,000. Daily Cash rewards get automatically deposited into the account. Users can also deposit additional funds and withdraw at any time.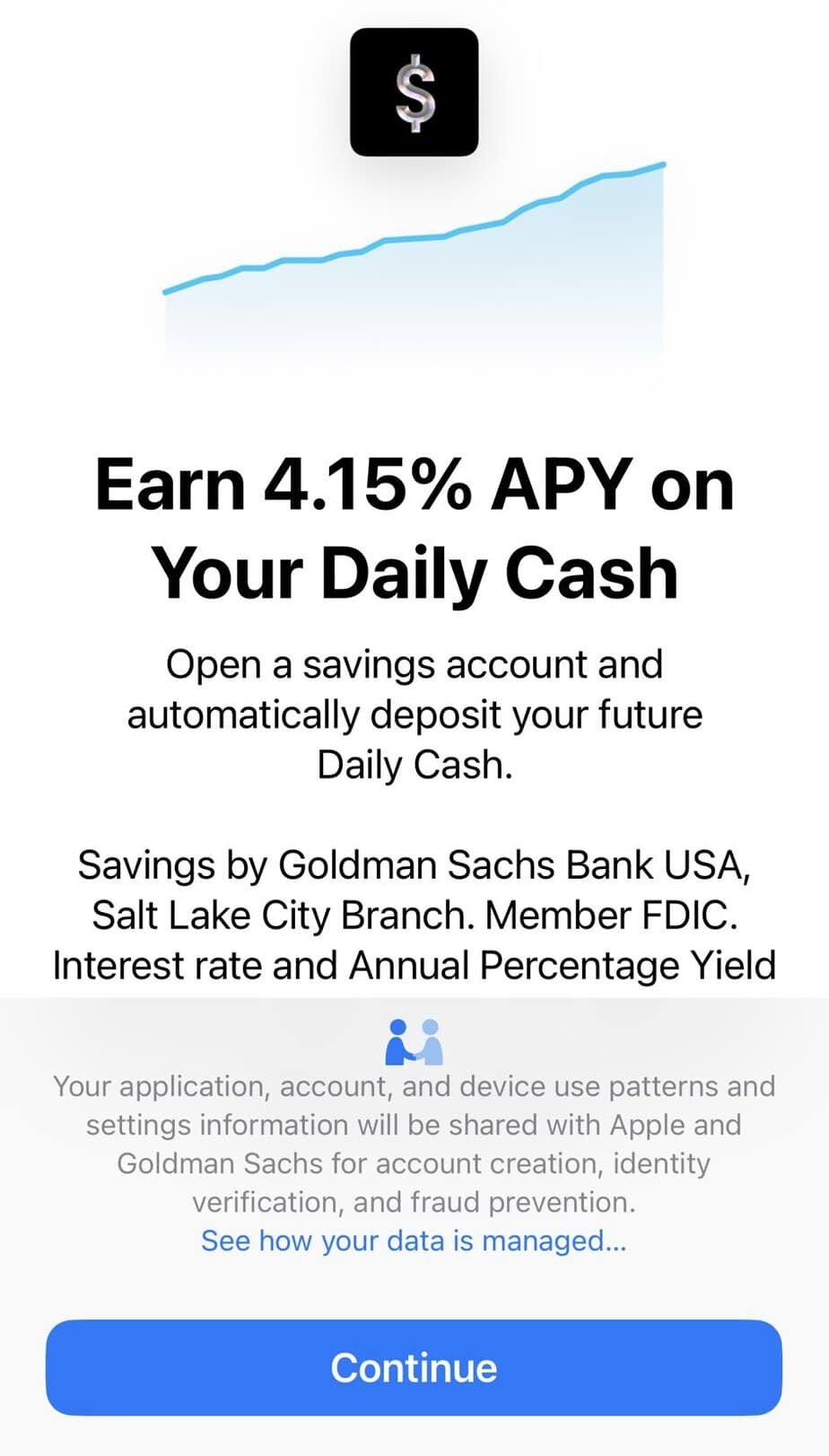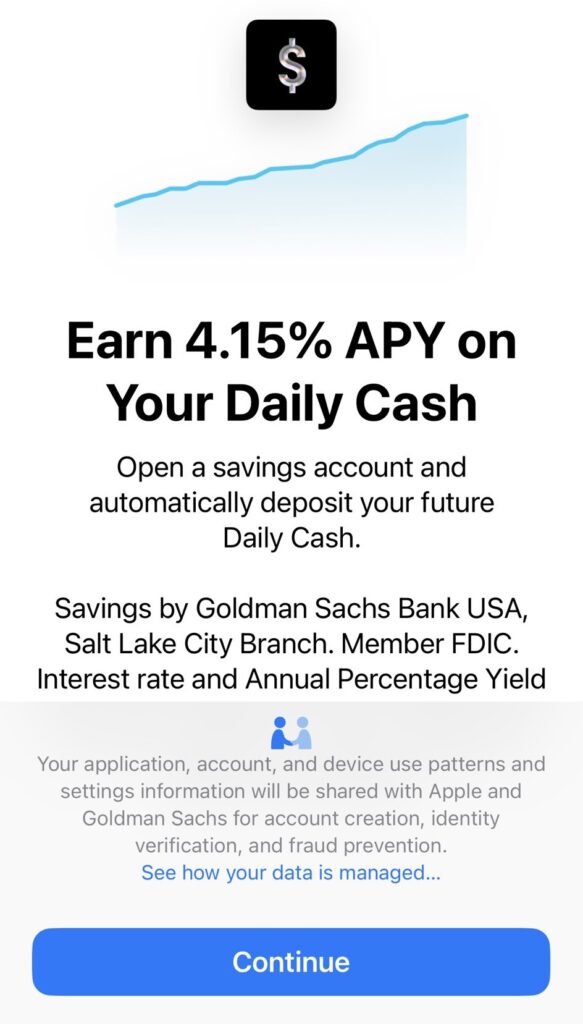 The interest rate on the savings account is subject to change and is determined by Goldman Sachs based on prevailing market conditions. The competition for high-yield savings accounts is heating up with other companies offering significant APYs, such as CIT Bank with a 4.75% APY and Vio Bank with a 4.77% APY.
It is important to note that the Apple Card Savings account is not a traditional bank account and does not offer the same features or protections as a checking account or other deposit account.
The Apple Card Savings account feature is rolling out now inside the Apple Wallet app on iPhones.
Why is the Apple Card Savings account option not visible to you?
As with any new feature release, some users are encountering difficulties accessing the latest additions. Specifically, Apple Wallet users seem to be having trouble locating the Savings account option, which appears to be missing from their preferences.
Several users have reported that they are unable to find the Savings account option in their Apple Wallet, while others have said that the option briefly appeared before disappearing again. Some reported that they are able to see the Daily Cash, but no options for Apple Card Savings set up.
In some cases, new features may become available gradually through a rollout process, and it's possible that some users will have access to them before others. While waiting for a new feature to become available, it's important to remain patient and avoid comparing oneself to those who may already have it.
However, if you're eager to access a particular feature, there may be some steps you can take to increase your chances of receiving it. For example, you could try checking if you're eligible for the feature by clicking on a provided link or updating your device's operating system to the latest version. Nonetheless, it's important to keep in mind that not all features may be available to all users, and eligibility may depend on various factors such as device compatibility, geographic location, or account type.
It seems that the update is being rolled out gradually, which means that some users may receive the feature sooner than others. Your friend could get the feature earlier than you or vice versa. This is a common approach to ensure that the update is stable and doesn't cause any issues for a large number of users all at once. So, even if you don't have the feature yet, it's best to remain patient and wait for the update to become available for your device or account.
How to fix the Apple Card Savings account not showing up issue?
Before discussing the issue, it's crucial to understand the steps involved in finding the feature and the eligibility criteria that must be met. Knowing these details can help ensure that you're able to access the feature and take full advantage of its benefits. Once you have this information, you can proceed with the sign-up process for the Apple Card Savings account.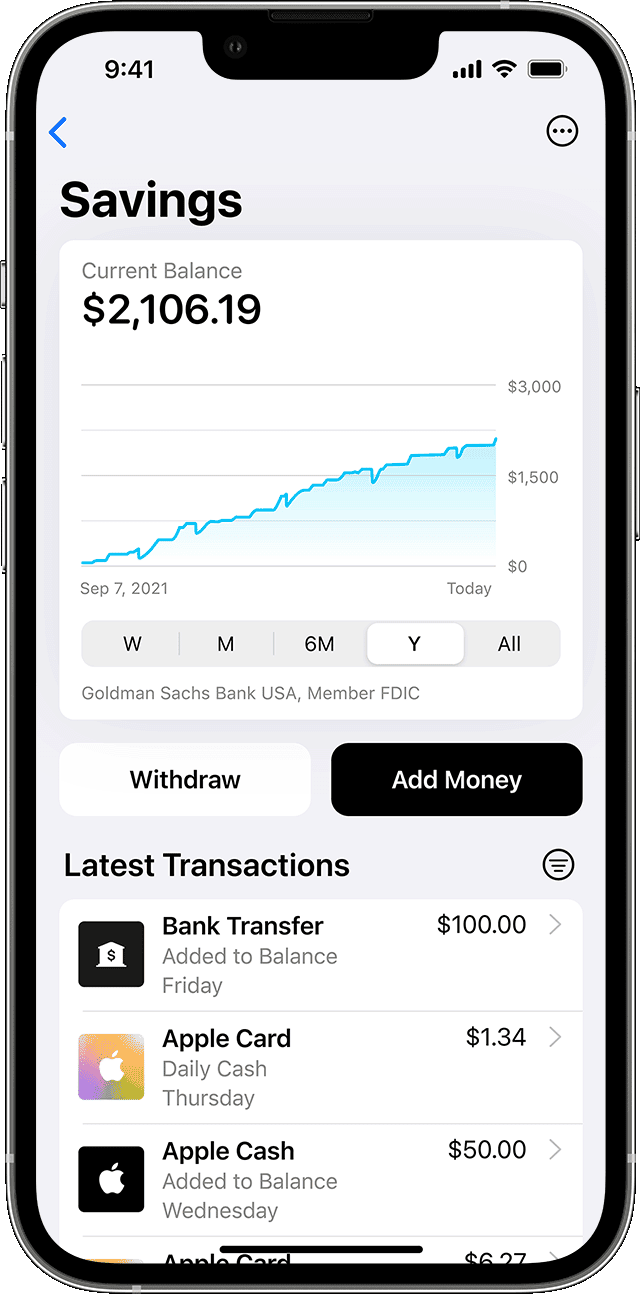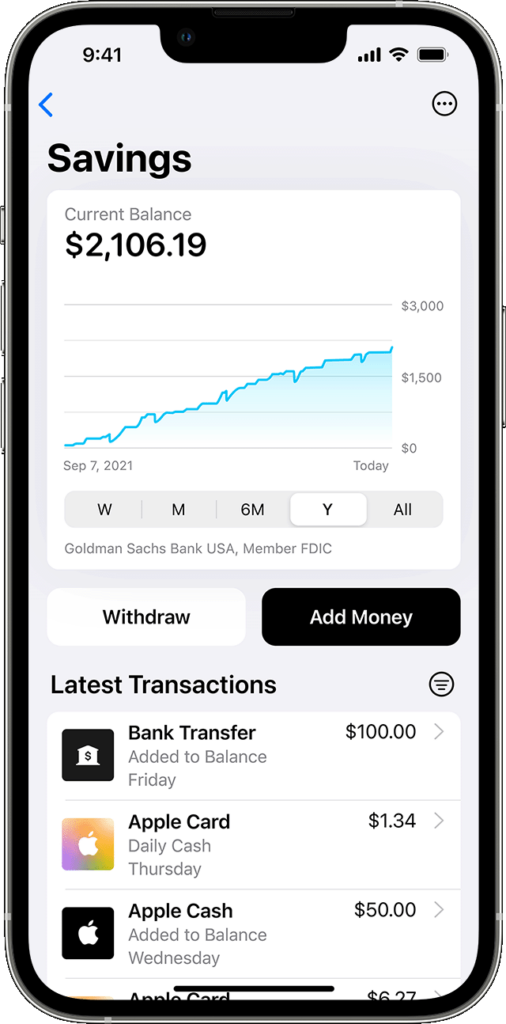 To sign up, go to Apple Card -> "…" on the top right -> Daily Cash -> scroll> setup Savings under "Daily Cash" > Profit
At present, the Savings account feature is only available to users of the Apple Card in the United States. While some users may be eligible to access the feature and have followed the steps outlined earlier, it's possible that they may still not be able to find it. This could be due to various reasons, such as device or account compatibility issues, geographic restrictions, or other factors. If you're having trouble accessing the Savings account feature despite meeting the eligibility criteria, you may want to check with Apple support or your financial institution for more information.
If you're eager to start using the new Apple Card Savings account, there are some steps you can take to increase your chances of being eligible.
One option is to try clicking on the link using your iPhone to check if you currently qualify for the feature.
Some users recommend updating your iPhone to the latest iOS build iOS 16.4.1, as this may help ensure that you're able to access the Savings account and any associated features.
Keep in mind that eligibility criteria can vary depending on your location, account type, and other factors, so it's important to confirm that you meet all requirements before attempting to sign up for the feature. Also do note that the savings account is limited to 18 years and older, and only for the owner and co-owner.
We understand that many users are eagerly waiting for the Savings account feature to become available to a wider audience beyond Apple Card users in the United States. We share your hope that the developers will release this feature to more users as soon as possible. Our team will be closely monitoring any updates on this matter and will be sure to keep you informed of any noteworthy developments. As soon as we receive any updates, we will update this story to reflect the latest information.