Zach Bryan is gearing up for an exciting The Quittin Time Tour 2024, which includes a special appearance at the annual Buckeye Country Superfest in Columbus, Ohio. At this event, he'll be headlining and is expected to showcase tracks from his chart-topping 2023 self-titled album, including the Hot 100 No. 1 single "I Remember Everything" featuring Kacey Musgraves. If you're eager to secure early access to The Quittin Time Tour tickets via presale, we've got you covered.
The announcement about Zach Bryan's upcoming The Quittin Time Tour was shared on his Instagram account, where he also revealed the complete tour schedule. The tour is set to kick off with two consecutive nights of performances in Chicago.
For more details and information on where to find The Quittin Time Tour tickets, make sure to keep an eye out for updates. This promises to be an event that country music fans won't want to miss!
However, in recent news, it appears that there is a rising dissatisfaction among fans regarding the ticket pricing for Zach Bryan's 'The Quittin Time Tour' in 2024. This eagerly awaited tour has encountered some complications during the presale phase.
Many devoted fans have faced obstacles in acquiring the vital 4-digit registration numbers, which are crucial for confirming their spot in the presale ticket purchasing process. This challenge has understandably left concert enthusiasts feeling frustrated and disappointed.
Zach Bryan's 'The Quittin Time Tour' ticket price grossly overpriced
As per the outpour of fans on social media, it has come to light that fans are currently facing a significant challenge regarding ticket prices for Zach Bryan's upcoming 'The Quittin Time Tour.' They contend that ticket prices on Ticketmaster have surged to staggering levels, rendering it exceedingly difficult for them to make a purchase.
Some individuals are voicing their concerns about certain seats being priced at well over $1000, a price point that many find unreasonably high. In some cases, fans are noting that the cost of a ticket for this event exceeds their monthly rent.
Fans are also expressing their dismay at the fact that Zach Bryan's tour tickets are surpassing the prices of presale events for artists like Taylor Swift. This has led to considerable dissatisfaction, with many questioning whether the elevated ticket prices align with the overall concert experience.
The situation is particularly distressing for those residing in less-frequented cities, such as Sacramento, where opportunities to see artists like Zach Bryan are rare. With only one California show on the tour, fans from across the state are vying for a limited number of tickets, and some are even contemplating reallocating their expenses to attend the concert.
Critics argue that Zach Bryan did not opt to disable platinum pricing, even though he had the option to do so. Others are considering alternatives like waiting for a music festival due to their inability to afford expensive concert tickets.
Furthermore, there is growing concern among potential ticket buyers that they might not be able to secure a ticket despite having the financial means, largely due to issues with the Ticketmaster system. The frustration among fans is palpable, and many are expressing their disappointment with the current state of ticket pricing.
There is a segment of the audience who asserts that placing blame on the singer for the high ticket prices is unjust. They firmly believe that the main culprits behind this issue are the event promoters, with Ticketmaster being a notable example.
These individuals contend that Zach Bryan has consistently shown efforts to keep his concerts affordable and protect fans from potential scams that could exploit their hard-earned money.
They question the rationale behind an artist, especially one performing in stadiums, wanting to restrict ticket access. It's evident that any artist would want to reach a larger audience and expand their fan base.
According to these proponents, many stadiums have pre-existing agreements with Ticketmaster, and they firmly maintain that Zach Bryan wields limited influence over the determination and adjustment of ticket prices. They argue that the responsibility for ticket pricing predominantly falls on event promoters and ticketing platforms like Ticketmaster, rather than the artist himself.
About Zach Bryan's Columbus "The Quittin Time Tour"
Zach Bryan's "The Quittin Time Tour" is set to make a special appearance at Ohio Stadium in Columbus, Ohio, on June 22nd, 2024. This stadium is renowned as the home of the Ohio State University Buckeyes football team.
Notably, Bryan's performance at the Buckeye Country Superfest will be his exclusive tour stop in Ohio for the year 2024. He had previously taken the stage at the same event in 2022, sharing it with artists like Luke Combs and Morgan Wade. However, his most recent show in The Buckeye State occurred in June 2023 when he headlined at Cleveland's Rocket Mortgage Fieldhouse as part of his "Burn, Burn, Burn North American Tour."
Who will open Zach Bryan at the Columbus "The Quittin Time Tour" Show?
The festival-style bill boasts an impressive lineup featuring artists like Billy Strings, Charley Crockett, and Charley Wesley Godwin. Furthermore, it includes Zach Bryan's fellow "Quittin Time" tourmates, the Turnpike Troubadours, and Levi Turner, who are affiliated with Bryan's own Belting Bronco record label.
How to access presale for Zach Bryan's 2024 tour?
The presale for The Quittin Time Tour is now in progress, and here's how you can participate:
Starting from Wednesday, September 6, fans can visit Zach Bryan's official website to register for access to the presale tickets currently available for purchase. Once you've signed up, you will receive an access code that allows you to secure your presale tickets.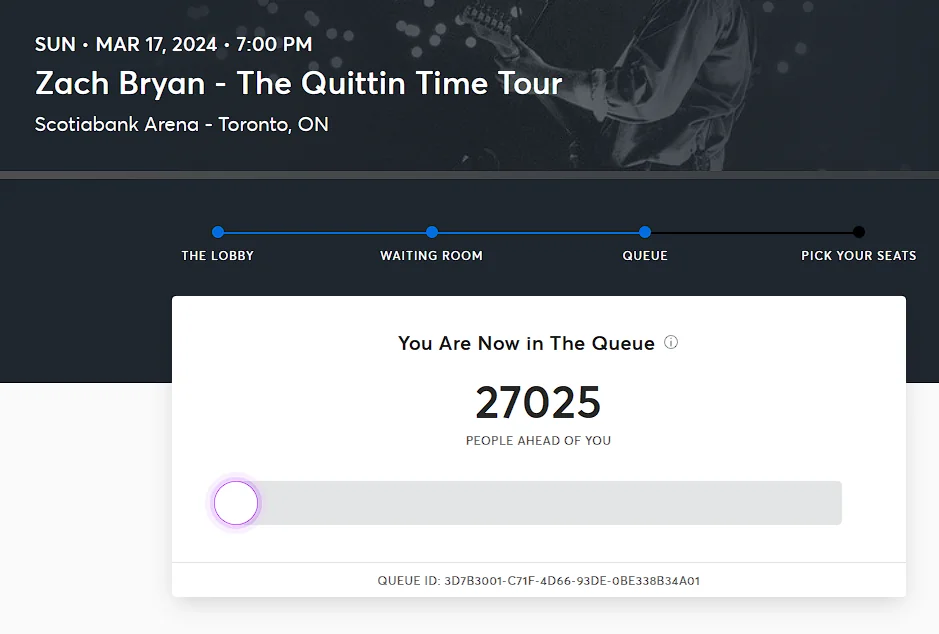 Currently, the official website is open for presale registrations, and this process is being managed by Tunespeak. You'll encounter a similar message on Ticketmaster, where you have the option to "You are now in the queue" after signing in with your registered email ID.
According to Consequence, fans have the opportunity to utilize the access code "STUDIO" for the presale on Ticketmaster, beginning on Thursday at 10 a.m. It's important to note that the presale tickets became available for purchase at 12 p.m. on Wednesday.
How to book Zach Bryan's "The Quittin Time Tour tickets"?
For those looking to attend the Tampa stop on "The Quittin Time Tour," there are several pre-sale opportunities available to ensure you have a chance to secure your tickets:
Zach Bryan's Artist Pre-sale: The earliest opportunity to purchase tickets is through Zach Bryan's artist pre-sale, which kicks off on Wednesday, September 6th, at 10:00 a.m. local time. This pre-sale is often reserved for dedicated fans and members of the artist's community, offering them a head start in securing tickets.
Ticketmaster Pre-sale: General tickets for "The Quittin Time Tour" will be released for sale via Ticketmaster starting at 10 a.m. on Friday, September 8th. The ticket prices will be disclosed when they become available. It's worth noting that Zach Bryan has chosen Ticketmaster as the platform for selling tickets for this tour, a departure from his previous approach for the 2023 North American tour when he avoided using this platform.
Additional Early Access Options: While some websites suggest the possibility of additional access codes for the upcoming tour, such as a Spotify presale, there is currently no official information regarding any other access codes on alternative platforms.
For those interested in purchasing tickets for the Columbus stop on "The Quittin Time Tour," they will be available to the general public starting at 10:00 a.m. Eastern Time on Friday, September 8th, through Ticketmaster. It's important to note that Zach Bryan has recently reconciled with Ticketmaster and has selected them as the official ticket vendor for this event.
Alternatively, you can explore seating options and potential deals via StubHub. It's important to be aware that StubHub operates as a secondary market ticketing platform, and ticket prices may fluctuate, either above or below face value, depending on demand. However, you can have confidence in your purchase, as all orders placed through StubHub are covered by their FanProtect program, ensuring the authenticity of the tickets.
Upcoming Zach Bryan's "The Quittin Time Tour" dates
March 06, 2024 – Chicago, IL – United Center
March 07, 2024 – Chicago, IL – United Center
March 09, 2024 – Pittsburgh, PA – PPG Paints Arena
March 10, 2024 – Buffalo, NY – KeyBank Center
March 12, 2024 – State College, PA – Bryce Jordan Center
March 14, 2024 – Newark, NJ – Prudential Center
March 15, 2024 – Newark, NJ – Prudential Center
March 17, 2024 – Toronto, ON – Scotiabank Arena
March 18, 2024 – Toronto, ON – Scotiabank Arena
March 20, 2024 – Milwaukee, WI – Fiserv Forum
March 22, 2024 – Birmingham, AL – Legacy Arena at the BJCC
March 25, 2024 – Washington, D.C. – Capital One Arena
March 27, 2024 – Brooklyn, NY – Barclays Center
March 28, 2024 – Brooklyn, NY – Barclays Center
April 26, 2024 – Des Moines, IA – Wells Fargo Arena
April 29, 2024 – Omaha, NE – CHI Health Center
May 02, 2024 – St. Louis, MO – Enterprise Center
May 05, 2024 – Greenville, SC – Bon Secours Wellness Arena
May 06, 2024 – Greenville, SC – Bon Secours Wellness Arena
May 09, 2024 – Knoxville, TN – Thompson-Boling Arena at Food City Center
May 13, 2024 – North Little Rock, AR – Simmons Bank Arena
May 14, 2024 – North Little Rock, AR – Simmons Bank Arena
May 17, 2024 – Oklahoma City, OK – Paycom Center
May 18, 2024 – Oklahoma City, OK – Paycom Center
June 07, 2024 – Las Vegas, NV – T-Mobile Arena
June 08, 2024 – Las Vegas, NV – T-Mobile Arena
June 15, 2024 – Denver, CO – Empower Field at Mile High
June 22, 2024 – Columbus, OH – Buckeye Country Superfest
June 26, 2024 – Foxborough, MA – Gillette Stadium
July 30, 2024 – San Antonio, TX – AT&T Center
July 31, 2024 – San Antonio, TX – AT&T Center
August 03, 2024 – Greensboro, NC – Greensboro Coliseum
August 04, 2024 – Greensboro, NC – Greensboro Coliseum
August 07, 2024 – Philadelphia, PA – Lincoln Financial Field
August 10, 2024 – Atlanta, GA – Mercedes-Benz Stadium
August 14, 2024 – Tampa, FL – Raymond James Stadium
August 17, 2024 – Arlington, TX – AT&T Stadium
August 20, 2024 – Kansas City, MO – T-Mobile Center
August 24, 2024 – Minneapolis, MN – U.S. Bank Stadium
August 25, 2024 – Grand Forks, ND – Alerus Center
November 17, 2024 – Edmonton, AB – Rogers Place
November 18, 2024 – Edmonton, AB – Rogers Place
November 20, 2024 – Vancouver, BC – Rogers Arena
November 22, 2024 – Tacoma, WA – Tacoma Dome
November 23, 2024 – Tacoma, WA – Tacoma Dome
November 26, 2024 – Portland, OR – Moda Center
November 27, 2024 – Portland, OR – Moda Center
November 29, 2024 – Sacramento, CA – Golden 1 Center
December 03, 2024 – Glendale, AZ – Desert Diamond Arena
December 04, 2024 – Glendale, AZ – Desert Diamond Arena
December 06, 2024 – Salt Lake City, UT – Delta Center
December 07, 2024 – Salt Lake City, UT – Delta Center
December 13, 2024 – Tulsa, OK – BOK Center
December 14, 2024 – Tulsa, OK – BOK Center