The Travis Scott Utopia 2023 Tour aka "Utopia Tour Presents Circus Maximus" marks the return of Houston rapper Travis Scott to the stage after the tragic events at the 2021 Astroworld Festival, where 10 people lost their lives and many were injured. The tour is set to kick off on September 25th in Chicago and will feature shows in cities such as Atlanta, Houston, Los Angeles, Nashville, and DC, concluding in Miami on November 27th.
Tickets for the tour will be available for purchase starting Friday, August 11th at 10:00 a.m. local time through Ticketmaster. Additionally, tickets will be offered on StubHub, a secondary market ticketing platform that offers the StubHub FanProtect program, guaranteeing orders for buyers. Ticket prices on StubHub may vary based on demand and could be higher or lower than face value.
Travis Scott's recent album release, "Utopia," achieved significant success, claiming the top spot on the Billboard 200 chart in its opening week with nearly 500,000 equivalent album units sold. The album was originally scheduled to be introduced with a live performance at the Pyramids of Giza in Egypt; however, this event was canceled due to production complications. Nevertheless, Scott still commemorated the album's launch with a special performance at Rome's Circus Maximus, where he surprised the audience by bringing out his mentor Kanye West.
The "Utopia Presents Circus Maximus Tour" will serve as a platform for Travis Scott to promote his fourth studio album, "Utopia." The Travis Scott Utopia 2023 tour's schedule includes dates across various cities, starting from Chicago and progressing along the East Coast, with stops in cities like Boston, Philadelphia, and Washington, D.C. The tour will then make its way westward to places like Dallas, Phoenix, and Las Vegas, ultimately concluding on the West Coast. The tour will then circle back to central locations like Austin and Nashville before culminating with a final show in Miami on November 27th.
Travis Scott Utopia 2023 tour holds special significance for Travis Scott and his fans, as it marks his return to performing after a tragic incident. It's an opportunity for fans to experience his music and live performances once again, while also celebrating the success of his latest album release.
Travis Scott Utopia 2023 Tour Details
Travis Scott initially unveiled his tour dates but later decided to cancel the tour. However, based on the dates he had previously announced, the tour was set to commence with a concert in Chicago on September 25, 2023. The tour would have taken him to various cities across the United States, and the final show was planned for Miami on November 27, 2023. While the tour was anticipated to encompass these dates, circumstances led to its eventual cancellation.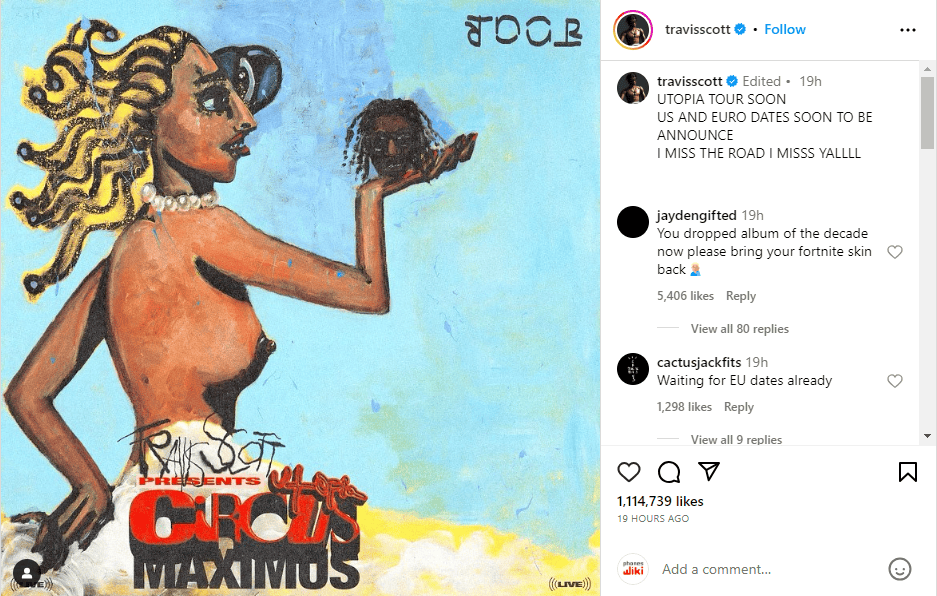 Travis Scott 2023 Tour Dates:
09/25 – Chicago, IL @ United Center
09/27 – Detroit, MI @ Little Caesars Arena
09/29 – East Rutherford, NJ @ MetLife Stadium
10/01 – Boston, MA @ TD Garden
10/04 – Philadelphia, PA @ Wells Fargo Center
10/05 – Washington, DC @ Capital One Arena
10/08 – Atlanta, GA @ State Farm Arena
10/11 – Charlotte, NC @ Spectrum Center
10/12 – Raleigh, NC @ PNC Arena
10/14 – Orlando, FL @ Amway Center
10/17 – Dallas, TX @ American Airlines Center
10/19 – Houston, TX @ Toyota Center
10/21 – Oklahoma City, OK @ Paycom Center
10/23 – Denver, CO @ Ball Arena
10/26 – Phoenix, AZ @ Footprint Center
10/28 – Las Vegas, NV @ MGM Grand Garden Arena
10/30 – Oakland, CA @ Oakland Arena
11/04 – Inglewood, CA @ SoFi Stadium
11/07 – Seattle, WA @ Climate Pledge Arena
11/09 – Vancouver, BC @ Rogers Arena
11/12 – Portland, OR @ Moda Center
11/18 – Austin, TX @ Moody Center ATX
11/24 – Nashville, TN @ Bridgestone Arena
11/27 – Miami, FL @ Kaseya Center
How can you book tickets to Travis Scott Utopia 2023 Tour?
Tickets for Travis Scott Utopia 2023 "Utopia Presents Circus Maximus" tour will be available for purchase starting Friday, August 11th, at 10 a.m. local time through Ticketmaster.
In addition to Ticketmaster, you can also find tickets for the tour on StubHub. StubHub offers a 100% guarantee through its FanProtect program, ensuring a secure and reliable ticket-buying experience. It's important to note that StubHub is a secondary market ticketing platform, which means that ticket prices may vary from face value based on demand.
If you're looking to secure your spot at one of Travis Scott's tour dates, be sure to check both Ticketmaster and StubHub for ticket availability once they go on sale.
Travis Scott Utopia 2023 Tour tickets will NOT go on sale this week, presale announcement expected
On Tuesday, Live Nation initially published the concert dates for the Travis Scott Utopia 2023 Tour at the Little Caesars Arena, but the information was swiftly taken down after a brief appearance. The tickets for these shows were originally set to go on sale at 10 a.m. on Friday, August 11, 2023. However, reports have emerged indicating that the ticket sale has been delayed, and it won't happen this week as initially planned.
According to The Detroit News, the delay in ticket sales of the Travis Scott Utopia 2023 tour was communicated by a representative from the venue through an email. The email stated,
"The tour has now shifted its timeline and tickets will NOT go on sale this week. More information to come once we have new details."
The initial announcement had revealed a total of 24 concerts, commencing at Chicago's United Center on September 25 and culminating in a grand finale in Miami, Florida, on November 27.
Despite the lack of confirmed ticket sale information, eager fans are actively seeking out presale codes for the Utopia Circus Maximus tour. Fans are hoping for details about presale opportunities, even though the rescheduled dates for the main event are yet to be announced.
Live Nation has not shared any specifics about potential presales for the Travis Scott Utopia 2023 tour tickets, as the primary event timeline remains unannounced. Interested individuals are advised to keep an eye on the official website for further updates.
Travis Scott recently performed in Rome, Italy, as the first stop of the Circus Maximus run to support his new album. The performance reportedly featured a surprise appearance by Kanye West, who joined him on stage to perform "Praise God."
For those who haven't yet listened to "Utopia," the album's complete tracklist is available, and fans have already begun ranking their favorite songs from this new installment.