Tragically, TikTok's well-loved feline stars, Sad Boy and Baby Bird, have both passed away, leaving their devoted fans heartbroken.
The news of their untimely deaths emerged on Friday, September 8, as their respective owners took to social media to share the heartbreaking news. Poets Square Cats broke the news of Sad Boy's passing, while Megan Mannarelli, the caregiver behind the Rafiki's Rescue social media pages, announced the loss of the beloved TikTok sensation, Baby Bird. Both cats had been battling health issues, which ultimately claimed their lives.
The passing of Sad Boy and Baby Bird serves as a poignant reminder of the importance of caring for our furry companions and cherishing the joy they bring into our lives. These two feline celebrities have garnered a substantial following, and their legacies will endure through the fond memories shared by their countless fans.
About TikTok's most famous cat Sad Boy
Sad Boy's videos were a fixture on TikTok, and his distinctive, perpetually sad expression made him instantly recognizable to nearly every user of the platform. He gained fame for his heartwarming interactions with Lola, another pet under the care of Poets Square Cats, who was always fiercely protective of Sad Boy when their rescuer attempted to film them for TikTok content.
However, a heart-wrenching update from Sad Boy's caretakers at Poets Square Cats revealed the devastating news of the cat's passing. In an Instagram post, they shared the heartbreaking information that Sad Boy had been "humanely euthanized."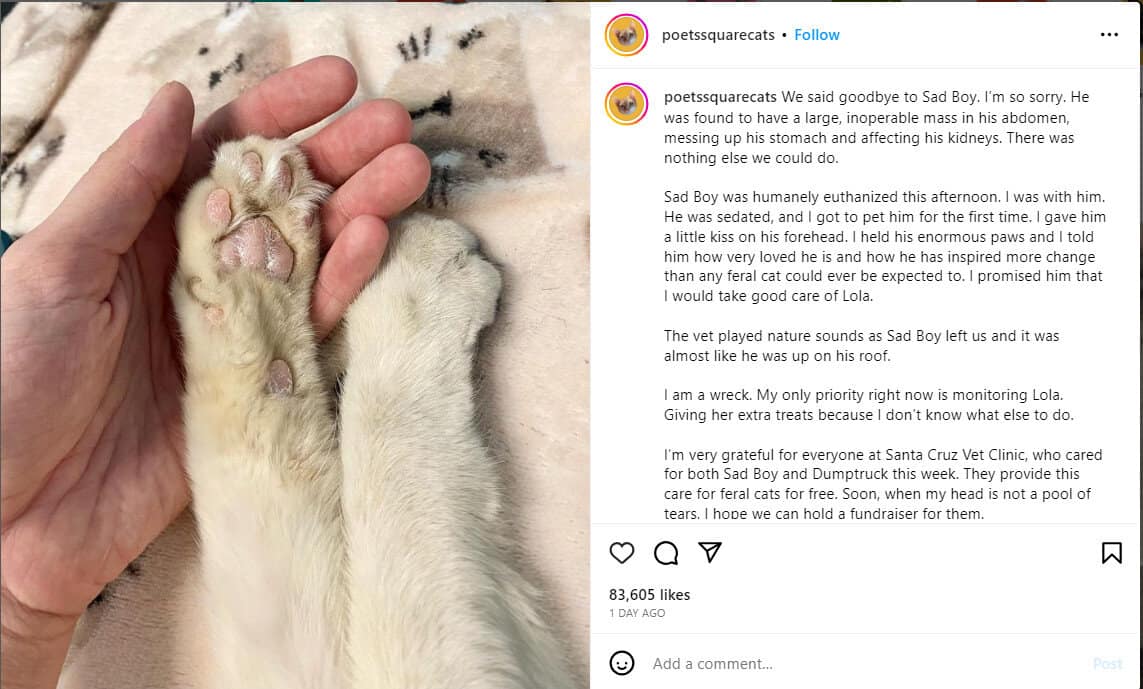 In a subsequent post, the rescuer disclosed that Sad Boy had been experiencing a rapid and alarming weight loss, along with a troubling loss of appetite in his final days. The announcement of his passing further explained that medical examinations had uncovered an "inoperable mass in his abdomen," which had adversely affected his stomach and compromised his kidney function.
The loss of Sad Boy is undoubtedly a somber moment for his countless fans who had grown attached to his endearing and melancholic presence on TikTok. His memory will live on through the videos and memories he shared with the world.
About TikTok's most famous cat Baby Bird
On the same day Sad Boy's passing was announced, Baby Bird's rescuers at Rafiki's Rescue also shared a heartfelt Instagram post and TikToks to announce the sad news of the beloved internet kitty's passing. Baby Bird was tragically just five months old.
Megan, Baby Bird's owner and caregiver at Rafiki's Rescue, posted a touching video on social media to pay tribute to the feline's memory. She sang a song while sharing cherished clips of her and Baby Bird. In her post, Megan wrote, "I sat all yesterday, unable to speak a word. I could not bring myself to do anything but sit there. So when words fail, the only thing I can resort to is music. And this was the only way I felt I could honor her and announce her passing."
In a previous post, Megan disclosed that Baby Bird had been diagnosed with feline Sarcoidosis, a condition characterized by abnormal tissue growth in felines. Just a weekend prior to her passing, Baby Bird had to be rushed to the hospital due to sudden lethargy and neurological impairment, adding to the heartache of her caregivers and fans.