"Embark on an exciting journey to catch the electrifying Taylor Swift The Eras Tour live streams for all the upcoming shows, all thanks to the passionate fans who generously share their firsthand experiences online. 🎤🎶
Since its captivating kick-off in March 2023, the iconic American singer-songwriter Taylor Swift has been gracing the stages with The Eras Tour, enchanting audiences with her timeless music and unforgettable performances. 🌟🎸
In a digital age that fosters connections, fans eagerly await the opportunity to virtually witness these incredible shows through livestream links. The camaraderie among Swifties has led to a collective effort to provide fellow fans with the chance to be part of the magic, no matter where they are in the world.
So, whether you're relishing the nostalgia of her earlier hits or embracing the evolution of her latest sound, the Taylor Swift The Eras Tour 2023 promises an extraordinary musical experience. Stay tuned for those coveted livestream links and get ready to immerse yourself in the enchanting world of Taylor Swift's music.
Where can I watch The Eras Tour livestream?
Taylor Swift's sixth concert tour, "The Eras Tour," is a spectacular showcase of her chart-topping albums. Commencing on March 17, 2023, in Arizona, this tour is still in full swing, igniting excitement among fans worldwide. Enthusiasts are eagerly embracing various ways to experience these concerts—either by becoming part of the live, roaring crowd or by tuning into livestream videos on social media platforms.
Spanning over three hours each, these concerts are an immersive journey through Taylor Swift's musical legacy, encompassing a staggering 44 songs. The duration doesn't deter fans from joining in, regardless of location.
In the absence of an official livestream for The Eras Tour, the Swiftie community has shown incredible camaraderie by supporting one another throughout the tour. Fans have ingeniously turned to platforms like TikTok, Instagram, and more to share live streams of the concert with those who are watching from the comfort of their homes.
To join in on the action, start by initiating a quick search on TikTok and Twitter using keywords like "Eras Tour live stream" and "Eras Tour live stream Los Angeles." These search terms can yield streams that are accurately labeled or lead you to posts containing links to accounts that are broadcasting live.
For a more streamlined approach, accounts like @ErasTourLive on Twitter play a vital role. They curate and share links to various accounts across platforms like TikTok, Instagram, and Twitch that are live streaming the concert on a given night. Another valuable resource is SwiftStream, offering Swifties a reliable avenue to catch the live show.
In a heartwarming display of fan dedication, one Swiftie, who goes by the name Bohne, takes center stage by leveraging her husband's laptop. With swift precision, she delves into a search for live feeds captured by fellow fans within the concert crowd. What unfolds is nothing short of magical—a live broadcast of Taylor Swift's marathon three-hour-plus performance, all orchestrated through the dynamic platform of TikTok. With a steadily growing follower count, currently reaching 160,000 and beyond, Bohne's influence knows no bounds.
Night after night, a congregation of thousands of Swifties convenes to partake in the spellbinding experience of witnessing their superstar idol belting out their cherished anthems—all through the intimate confines of their 5-inch phone screens. These unauthorized TikTok livestreams have seamlessly emerged as a lifeline for those who may grapple with financial constraints preventing them from accessing the arena, or for those geographically distant from the tour's destination cities. It's through these digital portals that Swift's billion-dollar-grossing, Ticketmaster-overwhelming tour finds a way to touch the lives of fans across the globe.
Bohne, aptly crowned the unofficial "Eras Tour cruise director," stands as a beacon of virtual camaraderie. With her adept skills, she carves out a niche as a reliable hub—a sanctuary where devoted fans can converge to revel in the grandeur of Swift's performances, all from the comforts of their own homes. Her virtual initiative bridges the physical divide, uniting Swifties worldwide under a single virtual roof.
There is one dedicated Twitter fan account, going by the handle @ErasTourLive, who plays a pivotal role in Swiftie gang. This account diligently shares various available livestream links, capturing the magic from each live show. Fans are thereby granted the incredible opportunity to be virtually present at the concert.
Moreover, the user behind this account has ingeniously set up The Eras Tour Live website to facilitate access to Taylor Swift's live performances. The website serves as a hub for live stream links, catering to those who yearn to witness a Taylor Swift show in real time.
The page operates with precision, often posting links to accounts a day or even mere hours before the show. For those planning to attend the concerts in person, the account provides a means to inquire if the experience will be live-streamed. This dynamic interaction allows fans to be part of the excitement irrespective of their attendance.
What began with a modest follower count has now flourished into an impressive online community, with the @ErasTourLive Twitter account boasting over 27,000 dedicated followers. These followers rely on the livestream links as a means to connect with Taylor Swift's performances, making it a digital pilgrimage for every fan.
As the tour embarked on its initial journey, evading the allure of Swift's livestreams on TikTok, Twitch, Instagram was an arduous feat, eclipsed only by the challenge of locating them.
In an audacious bid to curate the most captivating live content, TikTok's algorithm lent its wings to illicit concert streams, magnifying their presence on the coveted For You page. A phenomenon ensued: Swifties, armed with determination and enthusiasm, converged virtually, immersing themselves in these bootleg streams, as they indulged in the concert experience, spanning hours, and engaged in a symphony of comments.
Yet, as time flowed on, a shift occurred. TikTok, attuned to its responsibilities, opted to intervene. While streams were in progress, TikTok took the decisive step of removing streamers and, in a calculated maneuver, suppressed their visibility on the For You page. This strategic pivot aimed to protect the integrity of authorized content while steering away from potentially unauthorized or unverified sources.
The dynamic landscape of digital engagement echoes the evolution of such phenomena. It showcases the platform's vigilance and adaptability, nurturing an environment where creativity thrives within the bounds of responsibility.
Not to be missed: Dance the Night Away with the songs of Barbie Movie Soundtrack 2023 ranked
What to do when the live stream of Taylor Swift's The Eras Tour shuts down?
Even the most seasoned fan might face glitches, but there are strategies to swiftly recover in case the live stream you're tuned into gets interrupted. By harnessing the collective power of social media platforms and the collaborative spirit of the Swiftie community, fans worldwide are uniting to bring the magic of The Eras Tour right into their homes.
When faced with a situation where the live streams of Taylor Swift's "The Eras Tour" in Los Angeles get shut down, there are several effective steps you can take to ensure you don't miss out on the magic:
Platform Redirects: If you're using platforms like TikTok, they might automatically redirect you to a new stream when the previous one is shut down. However, these new streams might not always be related to The Eras Tour.
Follow Streaming Accounts: It's wise to follow accounts that frequently stream the concert. This way, you can receive notifications when they go live again, giving you an opportunity to catch the performance from another source.
Bookmark Relevant Posts: When you come across posts that feature links to Livestream accounts for The Eras Tour, bookmark them. This will provide you with quick and easy access to alternate options if the stream you're watching is interrupted.
Brief Pauses: Sometimes, streams are temporarily paused and then resumed. If you encounter a paused stream, be patient and wait for it to return. Bookmark the page to return to it once it's back online.
By employing these strategies, you can increase your chances of swiftly recovering from a livestream shutdown and continue enjoying Taylor Swift's unforgettable performances during The Eras Tour.
When are the next upcoming shows of Taylor Swift's The Eras Tour 2023?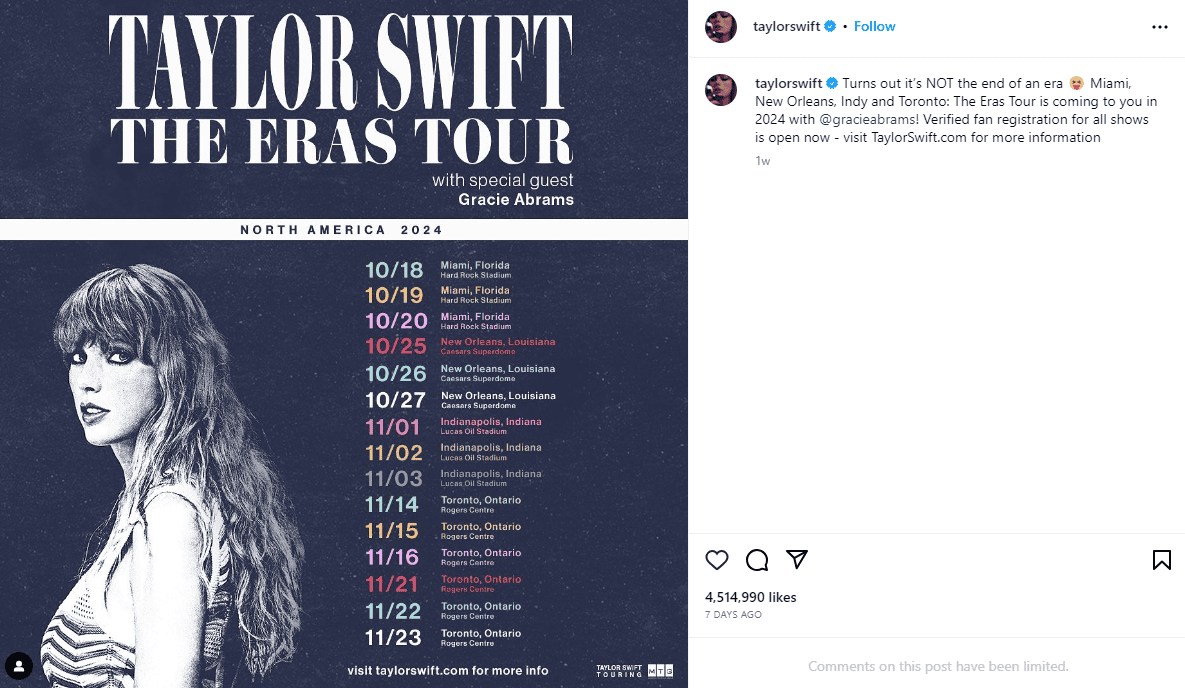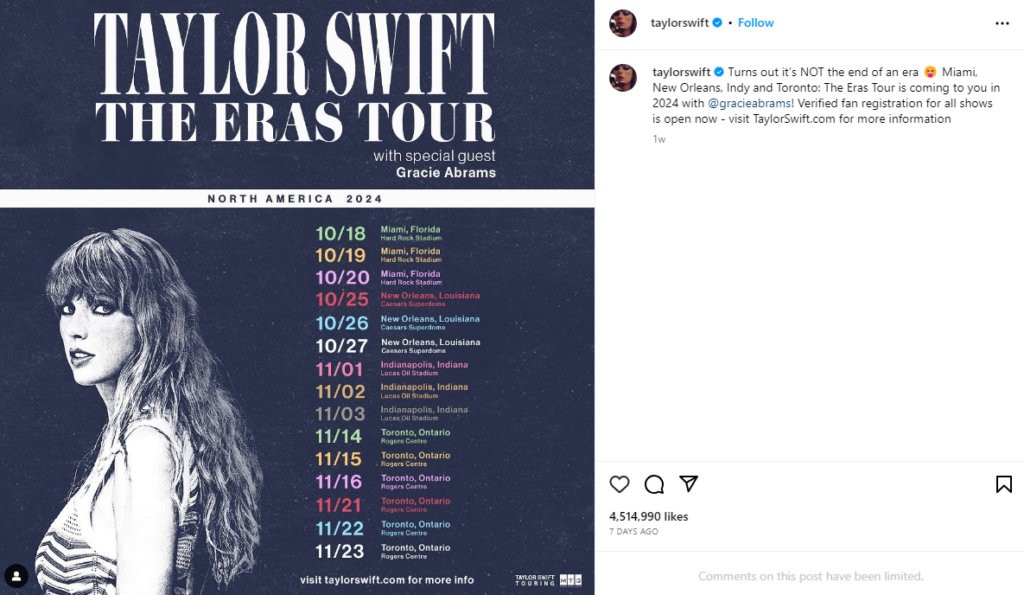 Taylor Swift's "The Eras Tour" has been aptly characterized by the artist herself as a captivating voyage through her various musical "eras."
Born on December 13, 1989, the 33-year-old sensation recently graced the stage with a mesmerizing performance on August 9, 2023, in the vibrant city of Los Angeles. The anticipation continues to mount as her next captivating show is scheduled to unfold at the iconic Foro Sol in Mexico City, spanning from August 24 to August 27, 2023.
For those eager to stay in the loop, a comprehensive list of all upcoming tour dates can be conveniently accessed on Taylor Swift's official channels or through her engaging social media posts. Swift enthusiasts are encouraged to keep an eye out for her updates.
In the realm of online fan engagement, the "Eras Tour Live" Twitter account has recently announced a brief hiatus. This pause in activity will persist until the resumption of The Eras Tour. Stay tuned for more electrifying performances and the return of this dedicated account.