Xiaomi is a beast when it comes to technology. Their product line not only includes smartphones, but it has expanded its business to offers in smartwatches, TVs, and even clothing! Innovation is a part of each of their launches, may it be weird concepts as seen in Mi Mix 2, or simply bizarre tech stuff. So, we are bringing you a list of all those new launches that Xiaomi is bringing upon this September 2020.
Poco X3
While the Mi series of phones provide smartphones that compete with other phones of Samsung, etc., Poco offers high performance for a minimal price. Poco F1 did phenomenal when it was launched due to its value for money. The Poco X3 is expected to do the same, with even more specs at a better price!
Poco X3 will come with the Qualcomm Snapdragon 732G processor, which was launched on August 31st. The chipset will deliver maximum performance, as it is optimized for the better gaming experience.
The phone will be really smooth due to a 120 Hz Refresh Rate display. Apart from processing and smoothness, the camera won't let you down either. You will get a Quad Camera Setup, with a 64MP primary camera and a 20MP selfie camera.
The Poco X3 is a performance machine. It will be available on Flipkart from September 29th. If you are interested in the specs, you can set up a notification on Flipkart. While the price starts at a fantastic ₹16,999, this phone with such specs is a real value for money package.
Xiaomi Mi Band 5
Along with the Mi Watch Evolve, Xiaomi is also going to launch the successor to its popular Mi Band 4 series. Mi Band 5 is all set to launch on September 29th. The Mi Band series is one of the best selling fitness bands in India. While they deliver great sensors and experience at an affordable price, the same is true with Mi Band 5.
With 11 sports mode, larger display, 50M water resistance, Special Women's Health Tracking, heart-rate monitor, and much more, the Mi Band 5 has enormous features. It is a 24/7 device for you, as with a complete charge, it will take you two weeks to juice it out. The Mi Band 5 has a bigger screen than the previous band. Moreover, a new Yoga Mode will also make an appearance in this Smart Band!
Loaded with such features and even more, the expected price of the Mi Band 5 is about ₹2,500 only! The Mi Smart Band 5 launch date has been set for 29th September. It can be purchased either from Mi India Store or its retail partner Amazon.
Earli in September, Redmi had launched Redmi Smart Band in India priced at ₹1599.
Mi Smart LED Bulb
Smart LED bulbs are becoming a "Must Have" in today's time. These bulbs have variable colors, and that can be changed using your phone or any virtual assistant like Alexa. Make the lightings of your home as per your mood, with just a click. Indeed, this a premium product, but Xiaomi will bring their Smart Bulb at cheap prices, as affordability is something they are known for.
The Mi Smart LED Bulb starts for ₹1,299. The company claims that the Mi Smart LED Bulb has a life of about eleven years! You do not even need bridges to connect the Mi Smart LED Bulbs. Moreover, the bulb is compatible with 2.4 GHz modems. With 16 Million Colors and Ambient Lightings, the Mi Smart LED Bulb will launch in India on September 29th.
Please note – you need to buy B22 Holder yourself, as the standard product does not come with it beforehand.
Mi Smart Speaker
So this launch is something none of us were expecting. We know Xiaomi makes accessories, and also, there are a couple of speakers they made. But, this announcement was exciting as well as unexpected. Since there are plenty of launches occurring on the 28th and 29th September, a Mi Smart Speaker was something that we needed!
Manu Kumar Jain took onto Twitter and teased their upcoming Mi Smart Speaker. We do not know anything about it at all, not even the expected price, except the fact that it is coming on September 29th.
Xiaomi Mi Watch Evolve
Amazon is saying 'It's Time to Evolve' as the new Mi Watch Evolve is coming! You will get the 'Notify Me' below the banner too. On September 29th, we are going to witness the launch of Mi Watch Evolve.
The Mi Watch Evolve will flaunt stylish design and modern sensors. With about 14 days of battery life per charge, the watch will deliver an incredible user experience. There will be plenty of faces for the dial, and it will be nice to see how the watch manages to connect with your phone.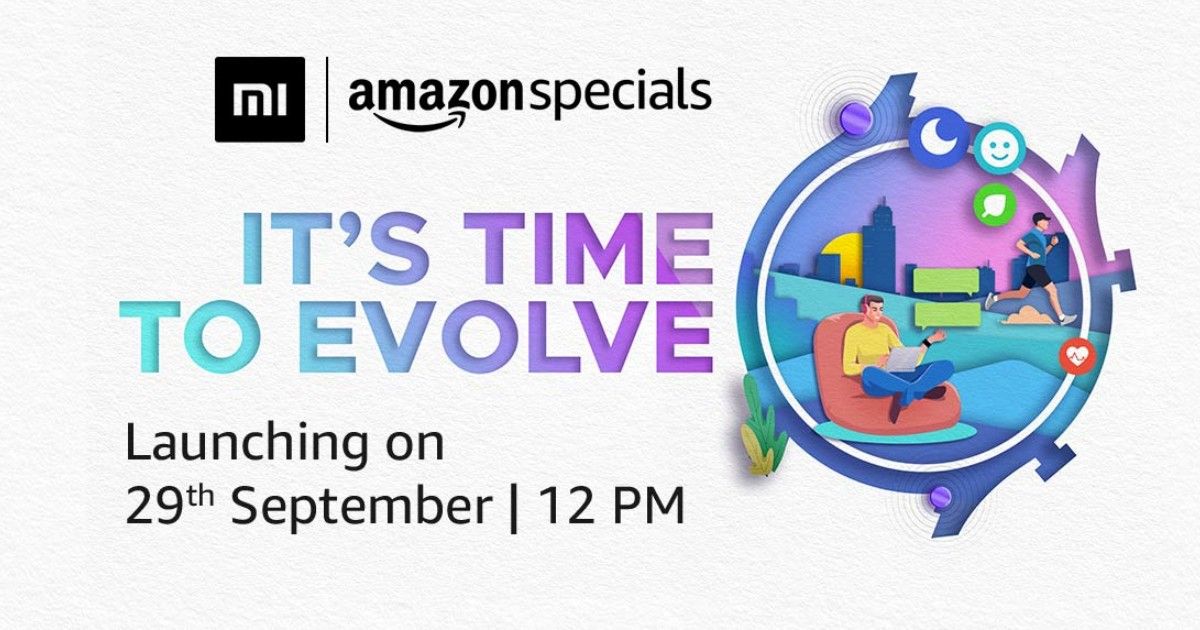 Xiaomi is known for its pricing and value for money. Again, the Mi Watch Evolve is expected to be in the same league. The official price announcement will be made along with the launch on September 29th on Amazon.
With all these gadgets and gizmos, Xiaomi will turn September to Techtember on 28th and 29th. Which launch is your favorite out of all these devices? Share your views with us!
PhonesWiki team will bring more updates to you, so make sure to stay tuned and follow us on YouTube, Instagram, Facebook, and Twitter!