The statistics show that the Roblox game is becoming extremely popular. As of June 2020, Roblox has been downloaded 383 million times across Google Play and iOS, which is a significant accomplishment. As a result, Roblox ensures that the platform stays a safe area for everyone who uses it, which is why accounts are temporarily or permanently banned.
If your account has been banned for the wrong reasons from any game and you're unsure what to do next or want to Roblox unban, this guide will show you how to get unbanned from any Roblox game in 2022-2023. Let's first understand why Roblox has to ban its players.
Why Do Roblox Ban players?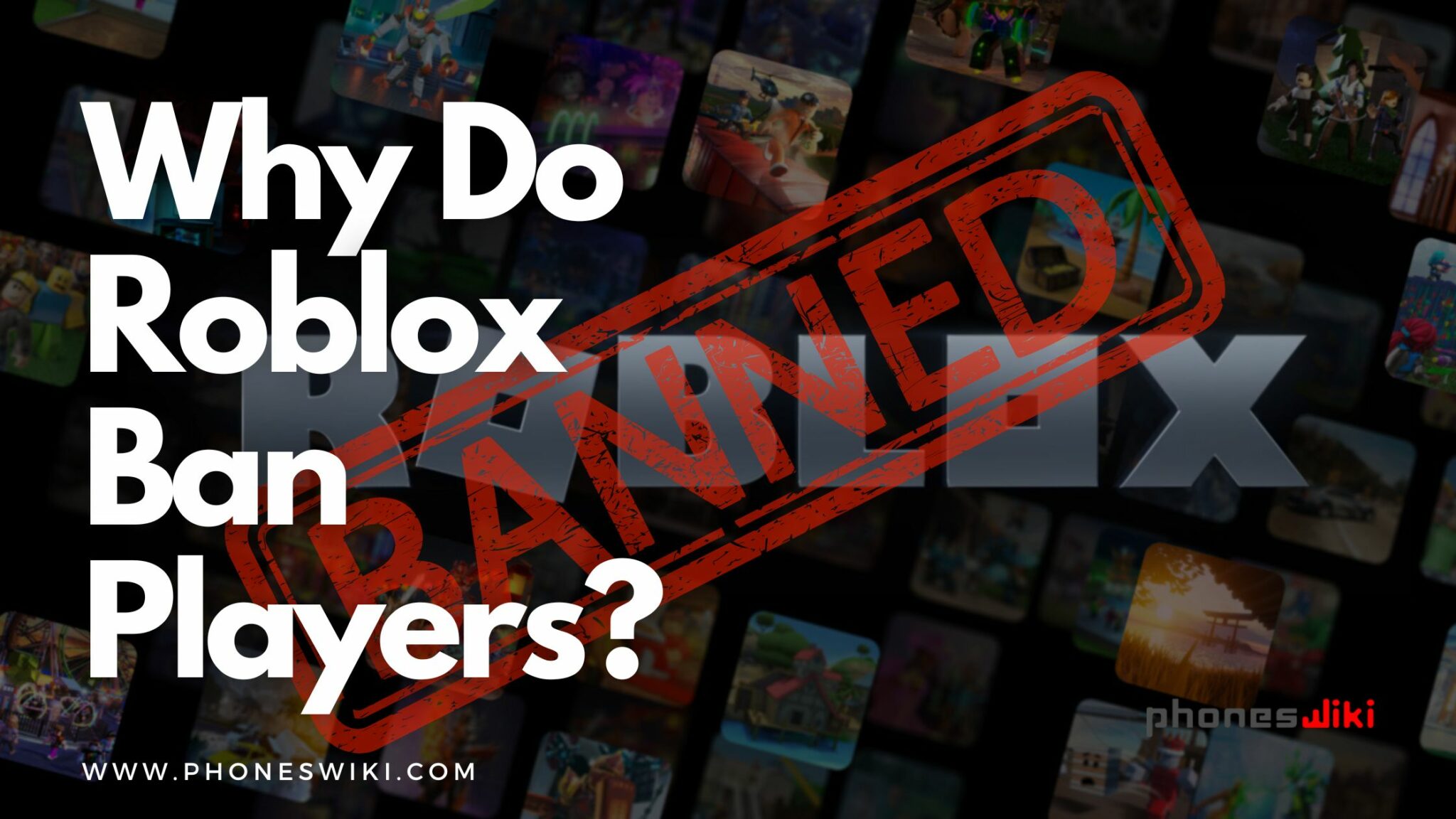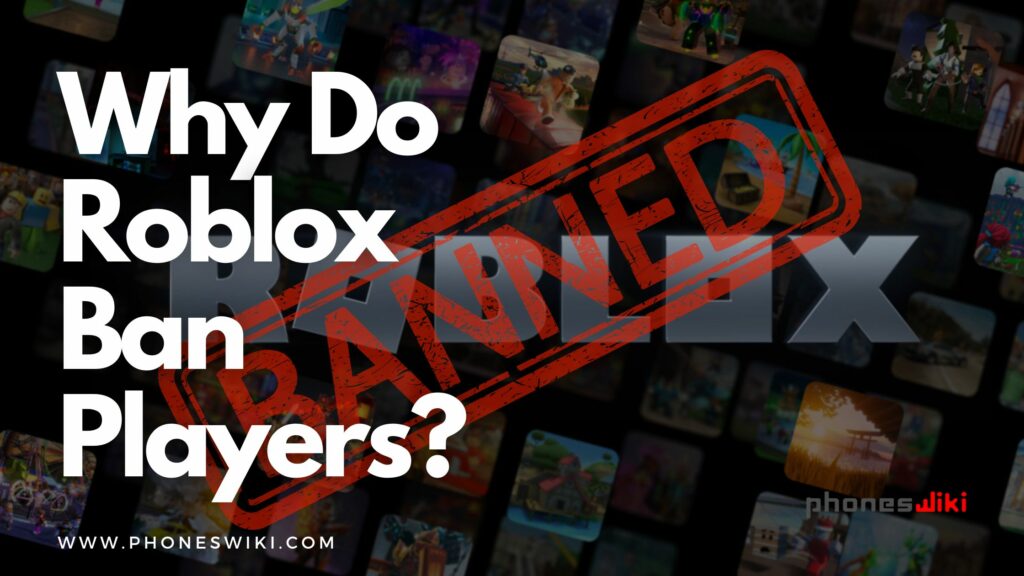 Roblox bans users who break the rules in order to maintain the community cheerful and functional. As a result, the most evident reason for your account's initial ban is that you did not comply with Roblox Terms and Players Privacy Rules. However, before Roblox accounts are banned, they are sent a warning. So, we can reasonably assume that before banning you, moderators analyze your offence and decide whether or not to unban you. This includes not only game regulations, but also community norms and terms of service.
If you breach any of the rules, you may be suspended or banned. What counts as platform ban-triggering activity is:
Being disrespectful
Discriminating
Disclosing personal information
Harassing or cyber bullying
Impersonating someone
Using Roblox for dating purposes
Showing sexual content
Violating local, national, or international laws
Selling, trading, or giving away Robux, digital goods, or game codes outside of the official channels on the Roblox platform
Being Disrespectful
Roblox expects players to have mutual respect for each other. Offending, using foul language, or acting disrespectfully might result in a suspension or ban.
Discrimination
Any form of discrimination is not tolerated on the platform. You will be banned if you use discriminatory language or use any derogatory slurs for someone. You must not disrespect players based on their age, gender, sexual orientation, origin, religion, socioeconomic status, political beliefs, language, physical characteristics, or mental or physical disability.
Disclosing Personal Information
Revealing someone's personal information might result in your Roblox account ban. You should keep your own data private, but if you reveal someone's full name, address, password, email address or any other personal information, your Roblox account will be banned.
Harassing or Cyber-bullying
It is unacceptable to use the platform to bully, stalk, threaten, humiliate, attack, or abuse someone. If you encourage another player to participate in similar behaviour, it will result in a Roblox account ban.
Impersonating Someone
You are not permitted to use another person's identity on the platform. Impersonating a celebrity, another gamer, police, or any other person or company is prohibited. Doing so will result in a Roblox account ban.
Using Roblox for Dating Purposes
Roblox is definitely not an alternative to Tinder or Hinge and neither it can be used for that purpose. If Roblox detects that you are looking for a dating partner, it will result in the Roblox account ban.
Showing Sexual Content
Any exchange or use of sexual content will result in a ban. Roblox welcomes underage players as well, therefore creating an inappropriately dressed avatar, using explicit language, or acting in a vulgar manner will result in a Roblox account ban, either temporarily or permanently.
Violating Local, National, or International Laws
Violations of the law shall be severely penalized. This includes Roblox hacking, cheating, phishing, flaming, exploiting, spamming, scamming, blackmailing, or otherwise abusing the platform.
Selling, trading, or giving away Robux, digital goods, or game codes outside of the official channels on the Roblox platform
Transitions involving Robux, digital goods, Roblox games, groups, or game codes are only permitted via official means on the Roblox site. If you participate in these transitions through Roblox groups, chat, or third party websites, it will result in a Roblox account ban.
How to Unban Roblox Account?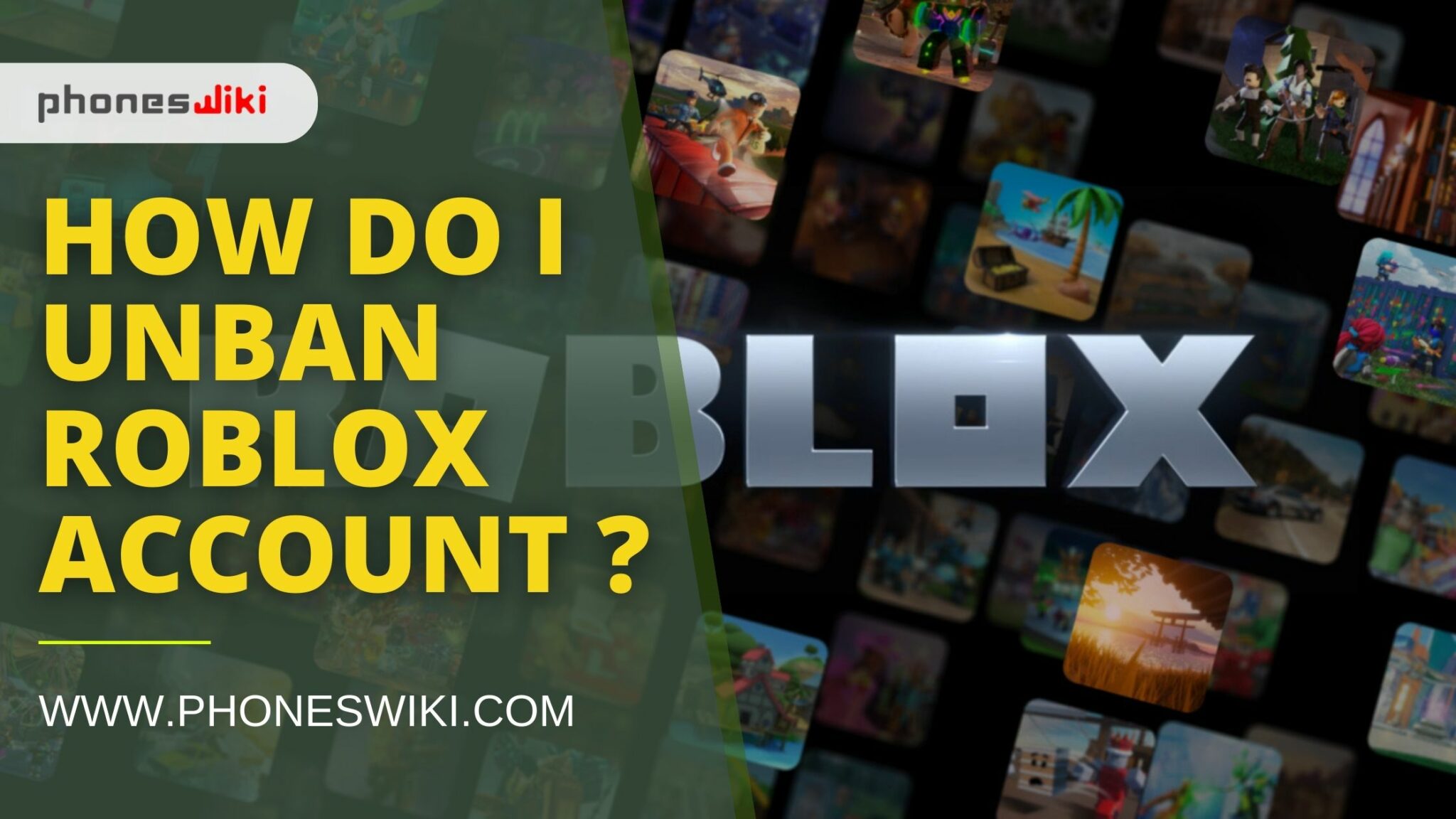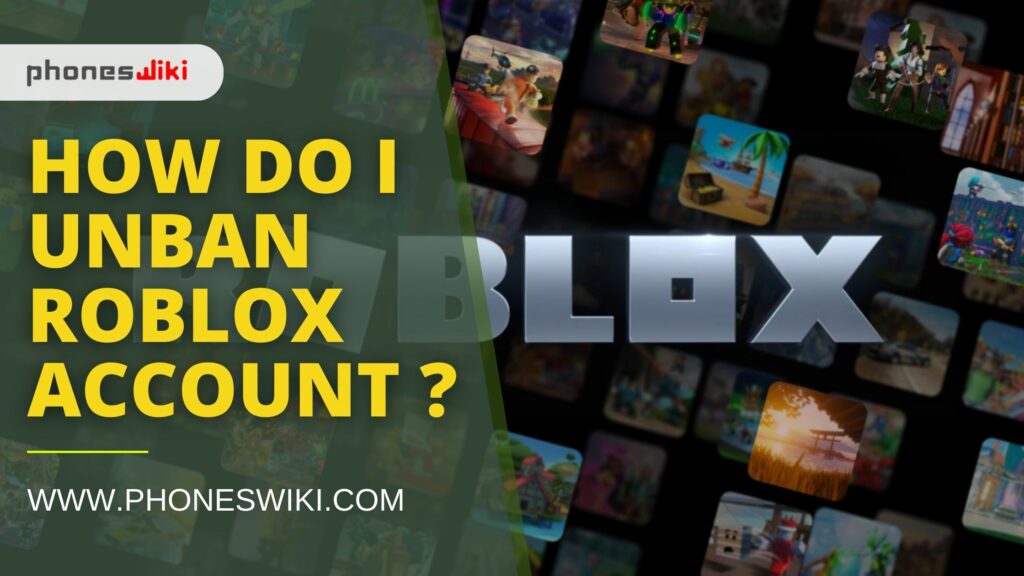 There are two proven ways to unban your Roblox account if you have been slapped with a fine for the wrong reasons.
Method 1: Unban Roblox by Contacting the Roblox Support
Unban Roblox can be done in two ways.
Send an e-mail to info@roblox.com
Fill out a form on the Roblox service box narrating your issue.
Have a word with the Roblox Support Team by filling out this form. Start the account unban procedure by doing this: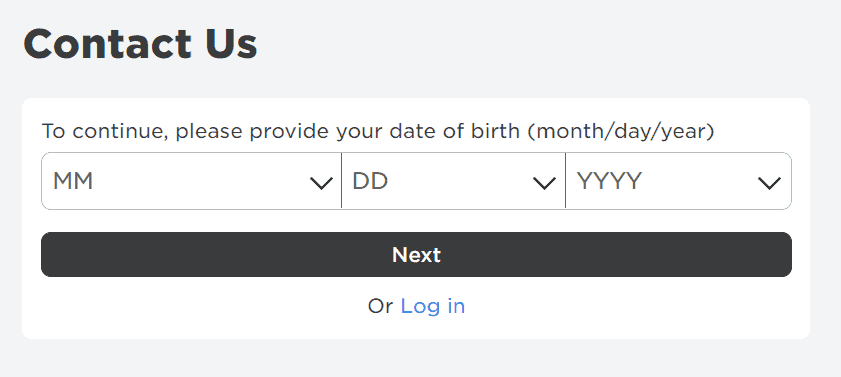 Once you visit the Support page, you will be asked to enter your Date of Birth in MM/DD/YYYY format. After filling this, the actual Support form will appear on the screen where you are supposed to include the following information.
Name
Email address
Username
The device you're using, such as Xbox, Mac, and similar
Support category—Select Moderation
Describe the issue you are having in detail and why you were wrongly banned
Submit the form and wait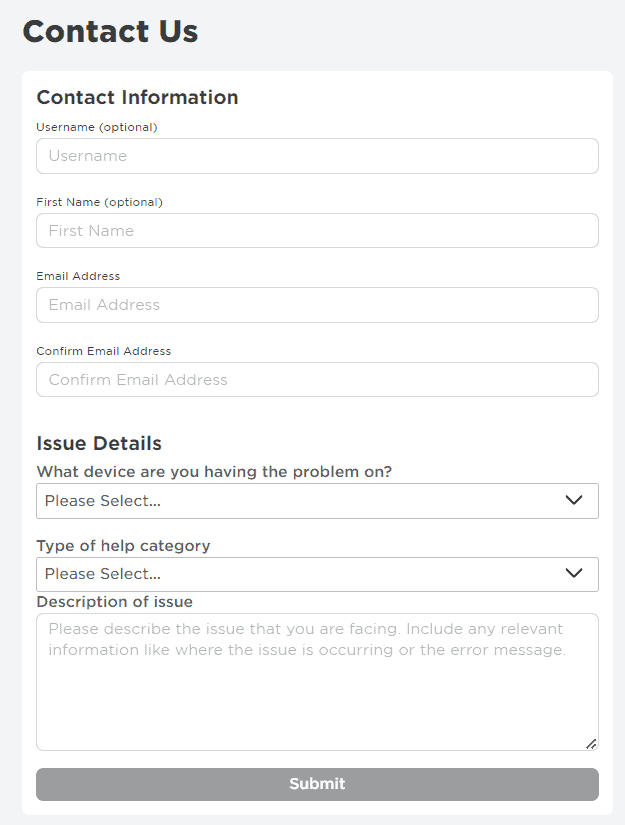 Note that once your appeal has been reviewed and the decision made, Roblox won't change it.
In order for your appeal to be successful, you must thoroughly state your case and also read Roblox Community Rules. They will evaluate it and decide whether or not to continue with the same moderation action. In any case, Roblox Support receives a large number of reports every day, so it may take some time for them to examine your issue.
Method 2: Unban Roblox by Contacting Roblox Game Mods
Navigate to the game creator's profile and select "Send Message." There is little you can do if you are aware that you have broken the rules. Alternatively, if you haven't been IP banned, you may always use a secondary account to play Roblox till the time ban is revoked.
Method 3: Unban Roblox by Using VPN
In case, your Roblox account got IP banned, you can always look after VPNs. The process is a piece of cake for most gamers. There are a couple of VPN apps available in the Play Store and App Store. You may simply install a VPN and enable it and continue playing Roblox. Note: This only works when you fall under the category of IP ban.
What Are The Different Types of Roblox Bans?
Currently, there are three types of Roblox bans. However, before you get banned, there is something you must make sure of which is whether you really break the rules or was it just an error of the game's AI? Fortunately, Roblox makes it easy to appeal if something is messed up in your game from their side. But, the first and foremost rule is, to be honest, while writing to them.
Are Roblox Bans Temporary in Nature?
Roblox Ban is temporary as well as permanent in nature.
In a temporary Roblox Ban, you may lose access to the Roblox official app or website. However, you will see the following notification indicating the time period of your Roblox account ban.
How long does the Roblox ban take?
One-Day Ban

: As the name goes, you won't be able to log in to your Roblox account for 24 hours.

Three-Day Ban

: Similarly, you will lose access to your Roblox account for 72 hours.

One-Week Ban

: The account will be suspended for at least a week.

Two-Week Ban

: In this case, you may decide to take a short break from the game.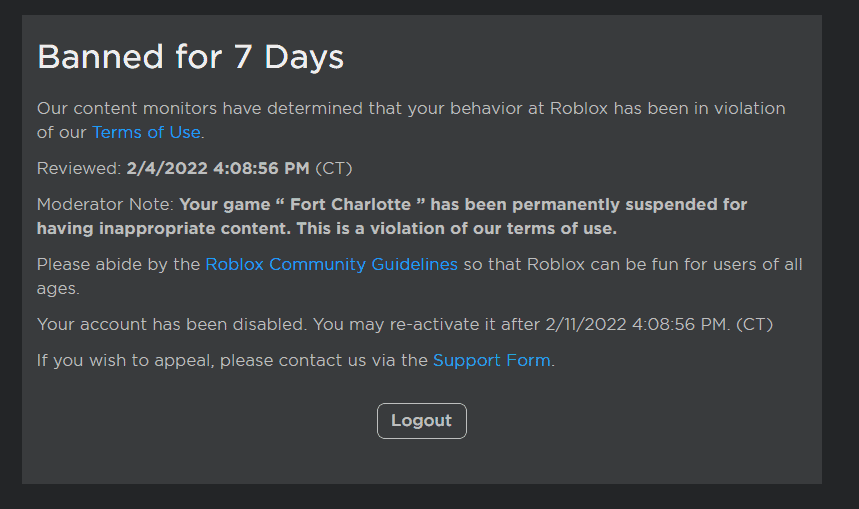 In the above-mentioned scenarios, you can either wait for the period to get over or directly appeal to the team to unban your Roblox account.
Are Roblox Bans Permanent in Nature?
There are a few bans slapped by Roblox that are permanent in nature where the player's account is initially disabled and later on permanently banned from playing the game. After termination, it becomes permanently unrecoverable in the majority of the cases.
What is Roblox Games Server Ban?
If you were playing on a Roblox gaming server and were abruptly banned, it's possible that a member of the moderation staff reported your account. However, you should be warned ahead of time.
In any event, this form of the ban only applies to a certain server, where you will be unable to play unless you request an unban from an account representative.
What Are IP And Poison Ban?
Violating Roblox's Terms of Service might lead to IP or Poison ban, in one of the cases, your Roblox account might get temporarily suspended. However, in the latter one, it might result in a complete and forever Roblox Account ban.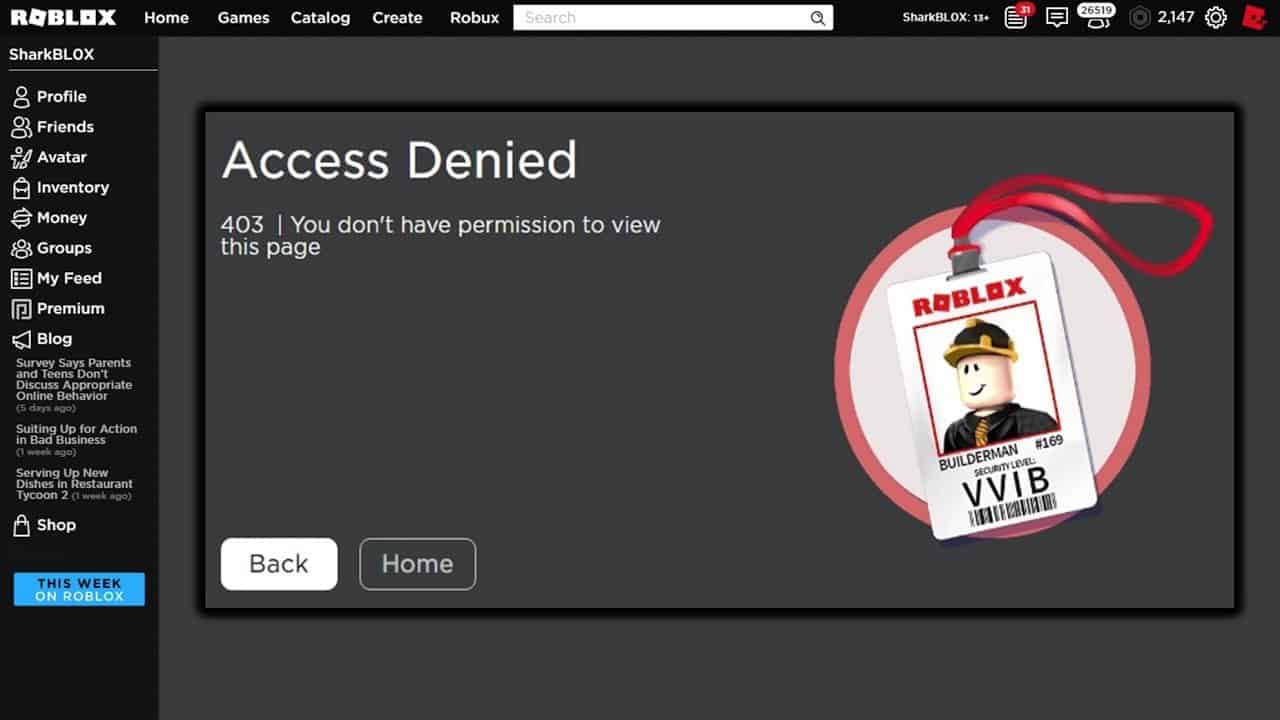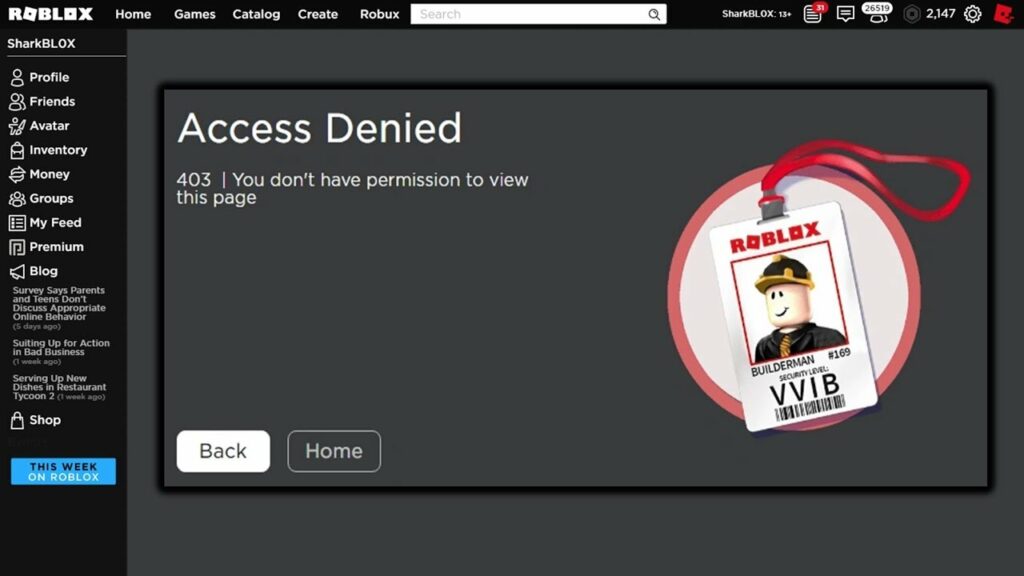 What is Account Deletion or Account Termination in Roblox?
This is the last stage of bans that Roblox pushes to their gamers. Therefore, if your account got deleted, there is no hope left for you – it's over. Don't wait for the moderation status of your account to change. You most likely did something really wrong to get to this stage.
FAQs Related to Roblox Ban
1. How Many Warnings Does One Get Till The Roblox Ban is Slapped?
You will get two warnings before you get banned on Roblox. At the third warning, your account will be suspended.
2. Is Roblox Ban Permanent?
Yes, Roblox can. However, that's not the usual case. If you get banned permanently. You must have done something extremely against their policy. You can try to unban your Roblox account by following the methods noted above.
3. What Does Inactive Status Mean in Roblox?
An account showing status as inactive means that it has been banned forever from Roblox.
Summing It Up
Well, Roblox is fun to play. However, while playing certain measures are needed to be followed to not lose access to your account or simply get it banned. The two methods for unban Roblox are tried and tested so they will solve your issue. And, if you have got something to share on how you have got your account unbanned by Roblox, please share it in the comment section.
Well, that's pretty much from our side. For more similar content visit the website. Also, do not forget to check out "How to spy on Instagram for free without a password?"