SBI account holders have been facing problems since August 3 while doing UPI based transactions. Users have been confronted with messages "servers temporarily unavailable" or "Your bank's servers didn't respond" on their screens due to failed SBI UPI transactions. They have encountered server issues when they tried to make payments, check the account balance, or even update their profile.
Many have carried out payments but the SBI UPI transaction is not getting reflected at their end nor at the end of the receiving person. People who are trying to fetch their balance are confronted with the message "your bank server didn't respond". The breakdown of servers happening in the first week of the month has left the users frustrated. More so, if they have a salary account with SBI.
The agitated customers have taken to Twitter to raise their voices and seek help from SBI and digital partners. SBI has responded to them with the message "Dear Customer, we regret the inconvenience caused. There are intermittent connectivity issues with our UPI app. Our team is on the job to resolve it at the earliest. We suggest you to use our other digital channels."
But SBI UPI has not given a date to the resolution of the issue. Though the SBI team had made an attempt to resolve it on August 6, but the issue persists. The frustration amongst the SBI account holders is more due to frequent issues. SBI UPI servers have been plagued with similar issues in the past too.
Scanning the messages initially indicated that the SBI UPI transactions could not get through Google Pay. But later on, people using PayTM, PhonePe, Amazon UPI, and BHIM UPI also encountered similar challenges.
SBI is aware of the issue and its team is working on resolution of intermittent connectivity issues. In the meantime, it has requested the users to opt for other modes of digital transactions like netbanking/credit card/debit card.
It has to be kept in mind that UPI servers give limited functions during night hours. Many would have experienced that at night they are not able to get through their transactions. It depends on the bank's infrastructure, how native bank's CBS talks to NPCI Switch/Server at night.
Many banks keep their CBS database in offline mode at night leading to failure of UPI transactions through NPCI usually keeps its UPI Servers/switch on a 24x7x365 basis. For instance, if a transaction needs to be done from HDFC bank at night using SBI UPI App. In that case for a transaction to be successful, the three entities SBI UPI App, HDFC CBS, and NPCI should be in synch.
Updates as on August 10
There has been no development on the matter of the SBI UPI server issue. The official SBI Twitter handle is responding with a standard reply to such issues. Please check what it says!
"We regret the inconvenience caused. Please ensure that your account with us is linked to the UPI app used by you. There are intermittent connectivity issues with our UPI Server. Please try again as our team is on the job to resolve it fully at the earliest. You may use our other digital channels like Yono SBI (Banking & Lifestyle app), Yono Lite (Mobile Banking app) & Online SBI (Internet Banking)"
Updates as on August 11
Today SBI has officially conveyed that SBI customers can opt for Yono SBI & Yono Lite apps as official alternatives for the SBI UPI server issue. This is a stop-gap arrangement till the time bank is trying to solve the issues with the UPI servers. In the meanwhile, check details here on Yono SBI and Yono Lite.
Updates as on August 20
Though SBI had informed a week ago that the UPI issue has been resolved but users have started reporting the problem again. SBI has responded to the queries with the statement "Please note that all our digital services are working fine. We are only facing intermittent issue in UPI."
It has asked its customers to "we recommend you use an in-app complaint mechanism for UPI related issues or escalate the same to our technical team at support.upi@sbi.co.in if the issue persists."
UPDATED AS ON 3rd December
On 22nd November, SBI had announced that they were upgrading their internet banking platform to provide for a better online banking experience. However, it seems since 1st Dec, the earlier issues while doing BHIM UPI, Google Pay, PayTM, or on the official SBI Yono app transactions refuse to find a permanent resolution. This time users are encountering issues related to the server's performance due to which they cannot complete transactions.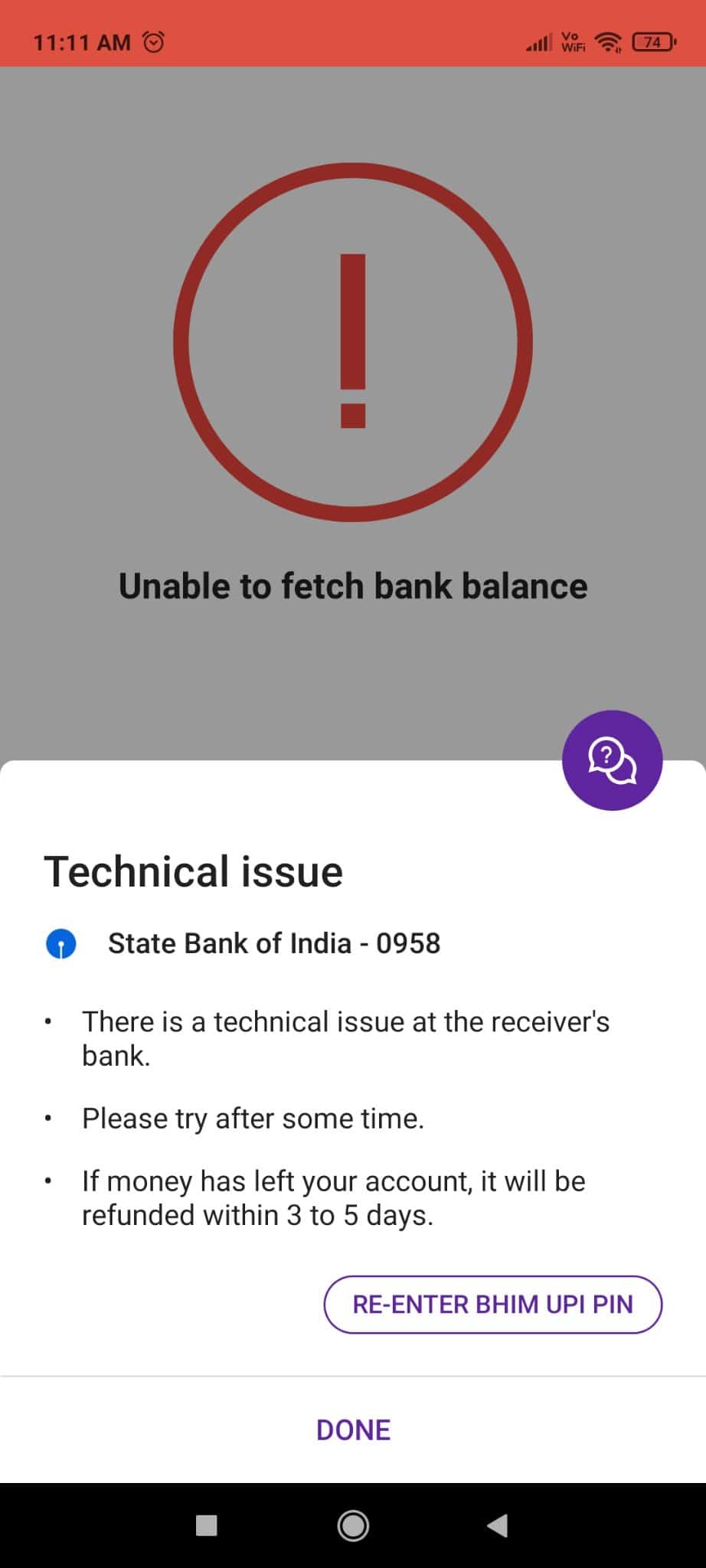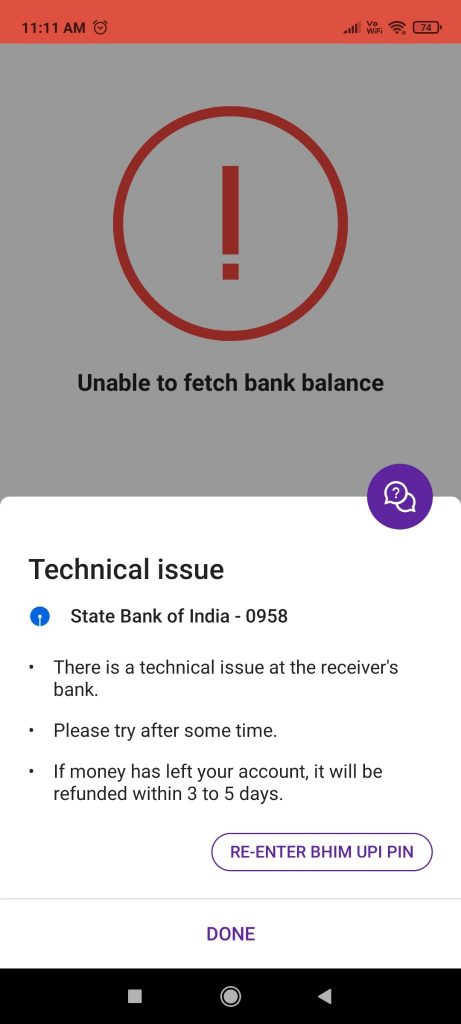 SBI's online payments are not getting through and even UPI credit card and debit card payment transactions are failed. SBI has not responded to such failed transaction reports. Though we believe that SBI's team would be working towards a permanent fix.
However, SBI bot has replied with "We request you to raise a transaction dispute through the in-app complaint mechanism of the UPI app or send a mail to support.upi@sbi.co.in . Your matter will be looked into. Thank you."
Updated as on 31st December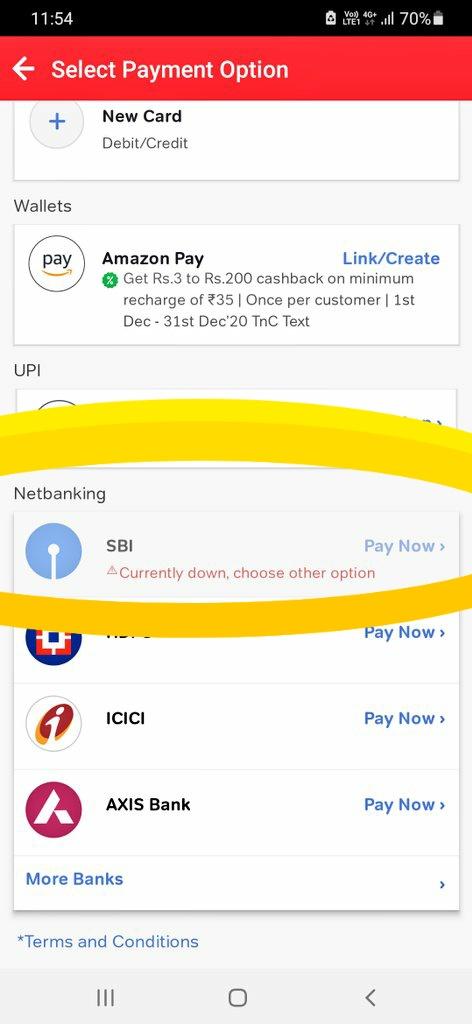 The SBI UPI servers have again run into rough weather. The bots have replied with no TAT in sight
Updated as of 14th March – SBI Updating UPI Platform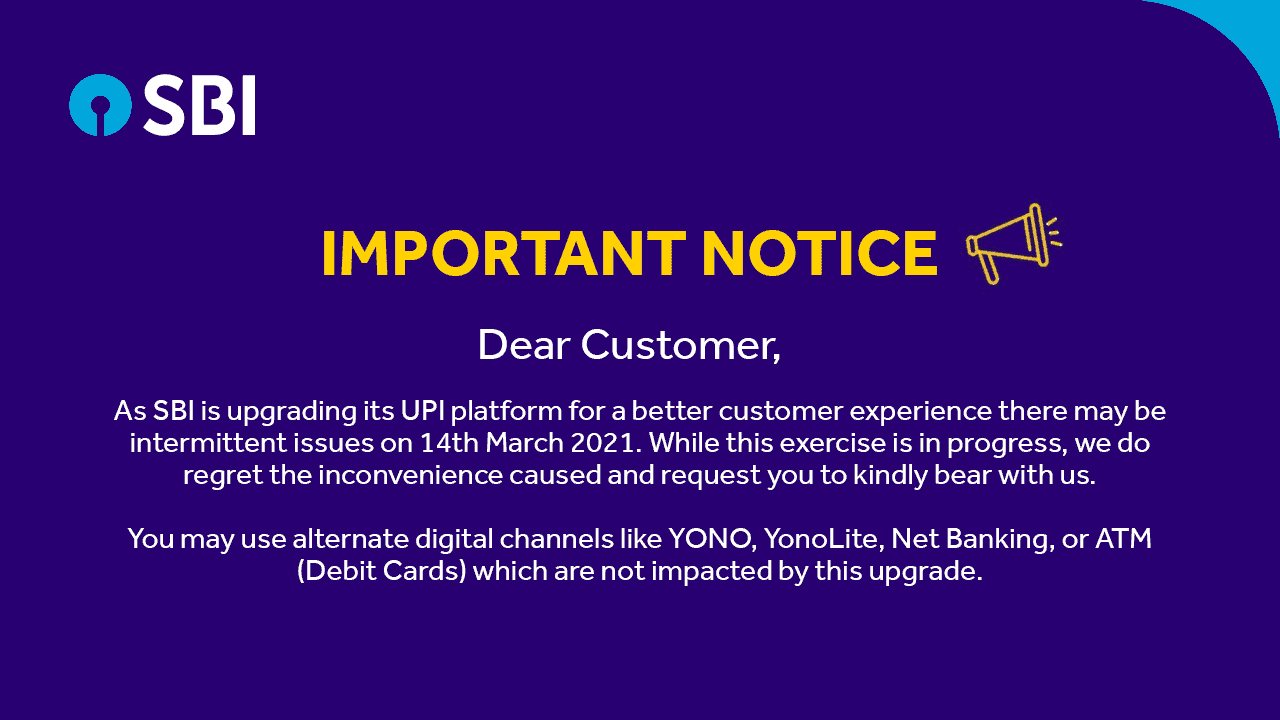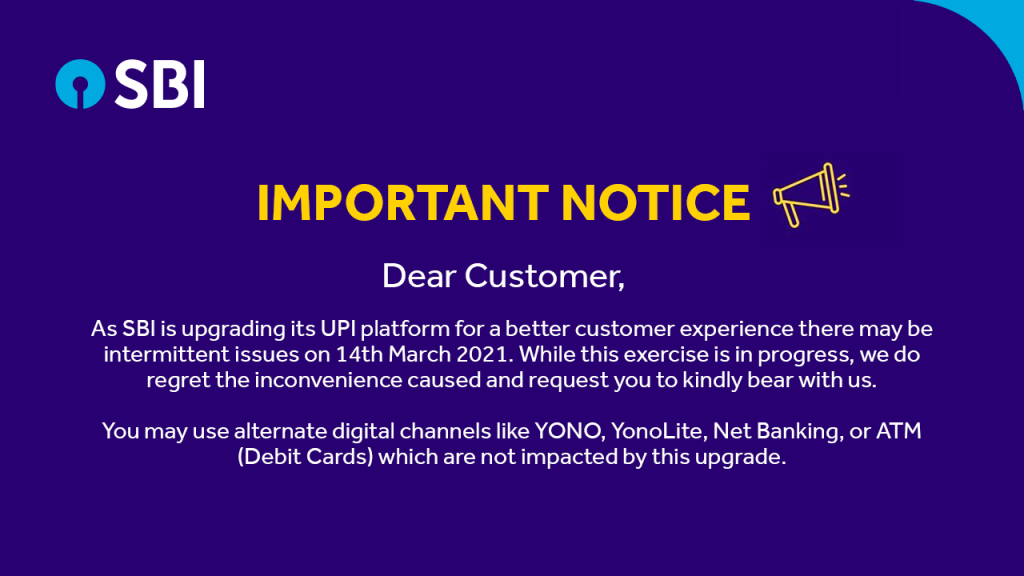 Finally, there is a date to the resolution of the SBI UPI Server issues. After endless complaints, on March 13th, SBI announced about upgrading its UPI platform. In an effort to provide uninterrupted banking experience in the future, it notified about the possibility of intermittent issues during the process.
Updated as of 1st April – SBI Upgrading Digital Platforms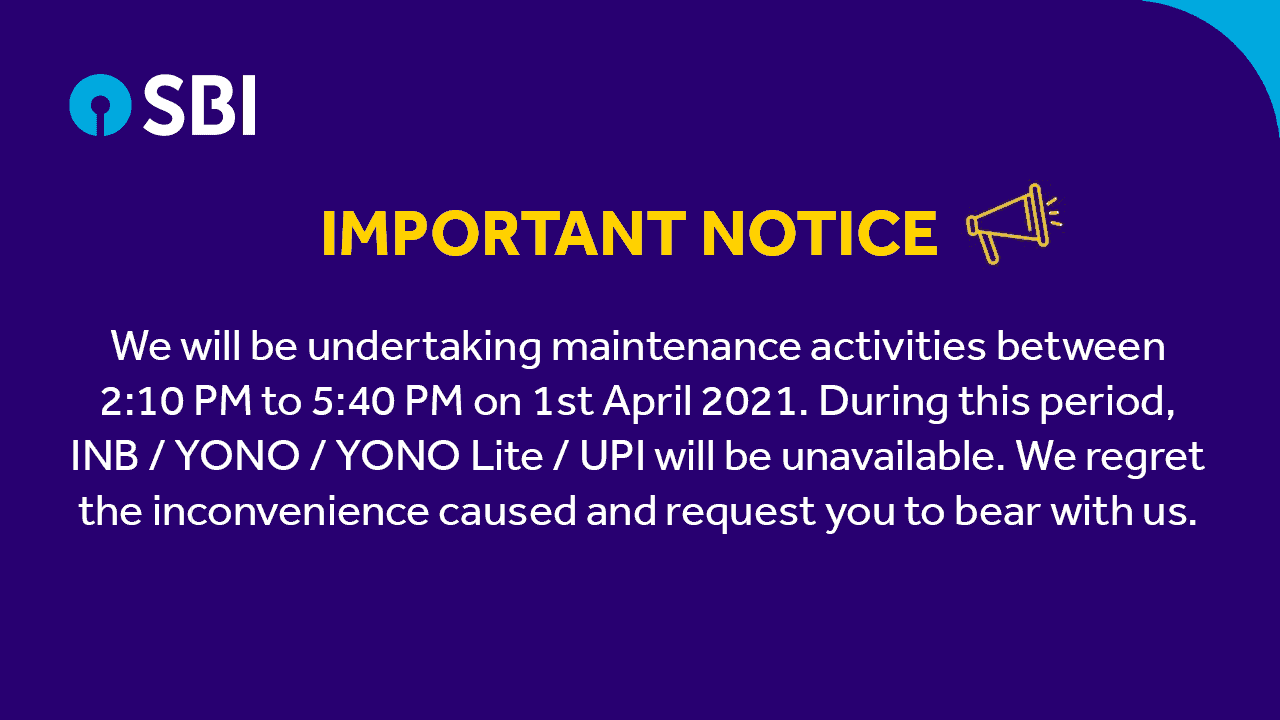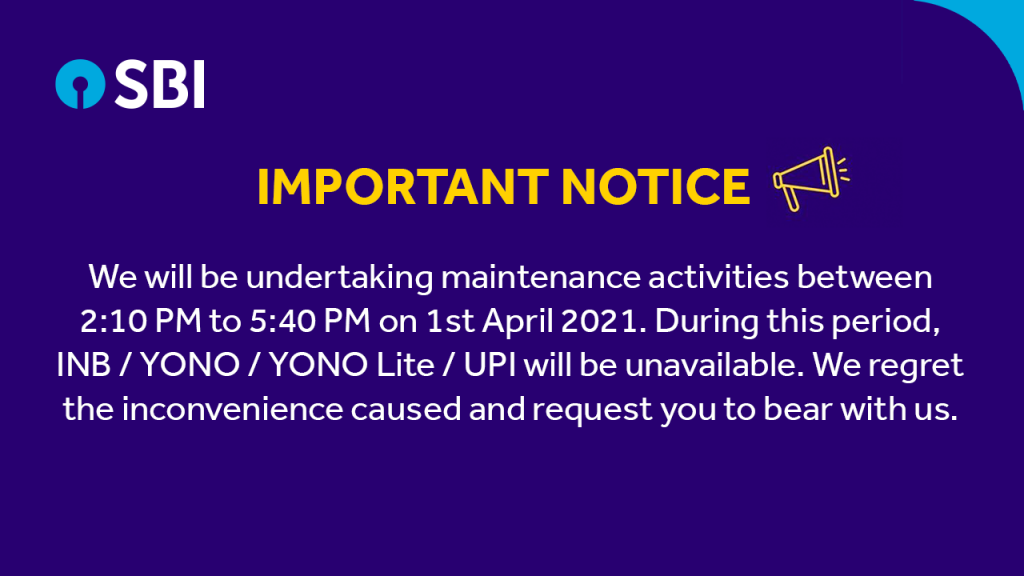 On 1st April, SBI tweeted that the bank is in the process of upgrading its digital banking platforms in order to provide a better online banking experience. Due to this digital services will not be functional for more than two hours on Thursday 1st April.
It has been more than 24 hours that the maintenance work got over. Unfortunately, SBI customers are still facing issues. However, the bank claims that "Our online banking services are up and running. Please retry and get in touch with us if the issue persists."
Updated as of 13th December – SBI UPI down
Since the morning of 13th December, SBI users are unable to carry out UPI transactions but unable to do on any platform. The SBI UPI server is again down. Even SBI YONO users are unable to do any transaction. Few are even complaining that the issue is since the past few days and SBI has not paid attention!
SBI bots have a standard reply to the issues raised – "We regret the inconvenience caused. Please write to support.upi@sbi.co.in with the details of your concern, our UPI team will team look into the matter." Or you can "Dear Customer, please use the in-app complaint mechanism to register your UPI transaction related grievance."
However, SBI has confirmed that the technical glitch has been fixed now. Please verify!
Updated as of 9th January 2022 – SBI UPI Servers Down Again
SBI UP servers are down again.
Updated as of 23rd February 2022 – SBI UPI Down Again
SBI UPI servers, net banking as well as mobile banking are down again for a couple of days with no communication from SBI on ETA. SBI customers are distressed because every transaction has almost gone digital. Most customers trust SBI bank and carry no cash but UPI payments going frequently down brings life to still.
Updated as of 29th August 2022 – SBI UPI Servers Down Again
SBI UP servers are down again.
Updated as of 3rd April 2023 – SBI Servers Down Again
SBI website is reported to be not working again on both Chrome and Microsoft Edge. There have been complaints on all possible platforms that the servers of the largest banking service in the country, SBI Bank's NetBank, UPI, and Yono App, have gone down again. As a result, the users are unable to pay and withdraw money.
According to the information published by the tracker Downdetector, SBI servers are down again since 9.19 am today. Also, it is said that a similar problem was present in the bank server yesterday. The online banking of SBI is down for more than half a day and has not yet been resolved. Customers are outraged as they are unable to access UPI, Net Banking, and YONO Services topped up by no communication from SBI on any of the platforms. The services have started a meme fest on Twitter
Updated as of 17th April 2023 – SBI Servers Down Again
Many SBI customers are experiencing issues accessing the bank's services online due to a server outage, prompting several users to take to Twitter for assistance. This is not the first time that the State Bank of India (SBI) has faced such an issue, as similar outages have occurred in the past.
Updated as of 6th August 2023 – SBI Servers Down Over Weekend
SBI UPI has gone down again over the weekend. Earlier a scheduled maintenance was planned for 2 hours by SBI, however it appears the servers are not up and running the whole day. There is no official confirmation so far.
Stay tuned with us for updates on the issue and in the meantime, do share with us in the comment box, the issues you are facing!