After a desperate wait of few months, OnePlus 5/5T users have finally received a seemingly farewell update last week. The build is titled – OxygenOS 10.0.1 for the OnePlus 5 and 5T and is being rolled out in a phased manner. Many devices would have received the update along with September 2020 security patch.
Earlier the OEM had released the Android 10 beta program (OxygenOS 10) for the OnePlus 5 and 5T users way back in May 2020 in China. However, it turned out to be too buggy and a stable rollout could not be released worldwide for many months. After more than 5 months, in mid-September, OnePlus acknowledged OnePlus 5 & 5T update delay.
The reason for inordinate and unexplained delay was "a serious bug related to the communication module." The OEM did not give any deadline while acknowledging communication fault at their end. Now with OnePlus rolling out OxygenOS 10.0.1 to the OnePlus 5 and 5T with September 2020 security patch life with their phones have become bright for the users.
People who have received OxygenOS 10.0.1 on their OnePlus 5/5T are usually satisfied with the quality of the build. They have found the interface more smooth, app opening animation, and shelf transition were much appreciated.
Although, there are few disgruntled voices regarding the non-working of Electronic Image Stabilization. The changelog states about the EIS feature in the camera as :
The feature has been reintroduced in OygenOS 10.0.1 which had been earlier taken off from OOS 10.0.0. Many users have taken to the OnePlus community forum for reporting bugs with the OnePlus 5 and OnePlus 5T and its EIS. Similar complaints from the users can be seen:
OnePlus moderator has acknowledged the EIS issue in one of the threads but he was not sure of the performance.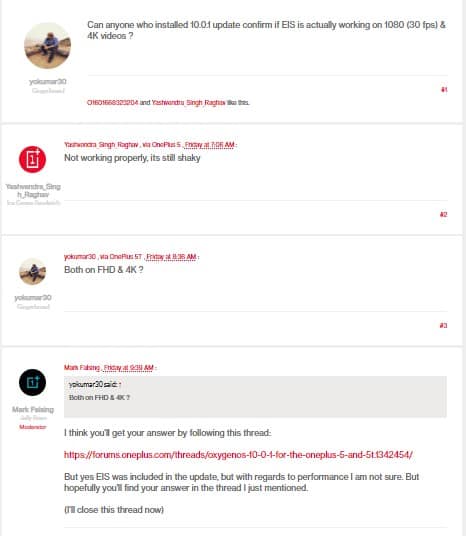 The link shared by Mark does not have any solution underlined neither there is any workaround. In case you have tried any tweaks to bettering EIS performance, let us know in the comments section.
Apart from the EIS issue, people have reported the absence of fixes in USB OTG, no connectivity (WiFi, signal, Bluetooth) fix. People are also inquiring details about the critical communication module fix which had stalled a stable OxygenOS 10.0.1 release for months.
Those who have not received the notification for the OxygenOS 10.0.1 update can download from here

OnePlus 5: Download Link
OnePlus 5T: Download Link
On a lighter note, maybe OnePlus 5 series is coming to an end of its life. The OEM must be planning to send its last update with fixes along with a message. "We can no longer support you. You desperately need a new OnePlus smartphone now"
The OnePlus 5 models were launched way back in June 2017. They were designed for running on Android 7.1.1 and were powered by SD 835, 6-8GB RAM, and a 3300mAh battery. Over 3 years they got upgraded to Android 10, based on OxygenOS 10, the 3rd Android upgrade. The latest OO 10.0.1 appears to be the final one.
Till the time we hear from OnePlus on the EIS issue in OxygenOS 10.0.1 update, stay with us for the latest.