With the launch of the iPhone 13 series (iPhone 13, 13 Mini, 13 Pro, and 13 Pro Max) in September 2021- Apple users witnessed an incredible upgrade in comparison to its previous models. However, the best-selling smartphone is not devoid of glitches. Recently, the iPhone 13, 13 mini, 13 Pro, and iPhone 13 Pro Max Screen Brightness issue where it fluctuates randomly has left users criticizing the high-end flagship device. 
The iPhone 13 series is the latest smartphone launched by Apple, embedded with promising features. However, top-notch hardware and software specifications alone are insufficient when the device can be susceptible to simple irritable issues. And this is what has taken place over the course of the last few days. 
Users of the iOS device have been reporting a problem where the iPhone 13 Mini/Pro/Pro Max Screen Screen Brightness seems to throttle randomly. According to them, this brightness issue is occurring irrespectively of the amount of usage. As such, even under low to moderate usage, the iPhone 13 screen brightness is falling randomly during outdoor usage. 
This glitch has started to become widespread with reports increasing daily. However, it is an old one. Screen brightness throttling issue has been reported for iPhone 13 mini and iPhone 12 mini by @mewtwozero. Though earlier models have not reported it frequently. As per him
The iPhone 13 mini still suffers with the same issue as the 12 mini throttling peak brightness when the phone gets too hot my brightness is locked at 100% and I can see it keep hard switching from actual 100% to like 75% every few minutes
So without making you wait, let's take an in-depth look at the iPhone 13 mini, iPhone 13, iPhone 13 Pro, and iPhone 13 Pro Max screen brightness issue and their probable causes and fixes. 
What is the iPhone 13 Mini/Pro/Pro Max Screen Brightness issue that is bugging many?
Despite the massive success of the iPhone 13 series, users are greatly troubled to find the screen brightness of their iPhone 13 mini/Pro/Pro Max dimming on its own. Even with lower usage, the glitch doesn't seem to go away. This indicates that the problem is most probably not related to the battery. And with the issue mainly taking place during outdoor usage, it has left a sour taste among iPhone 13 users. 
iPhones are designed such that brightness is stopped from increasing if it gets too hot so as to prevent overheating. But the issue as highlighted by one of the Reddit user(iPhone 13 pro max brightness bug) clarified that neither it was too warm (about 18-20 degrees) outside nor his iPhone 13 Pro max was directly exposed to sunlight. The issue has been reported with iPhones 13 in the room as well.
Just imagine you're playing your favorite game or about to click a perfect snap and boom! Your iPhone 13 screen brightness suddenly goes down and you can barely see what's happening. It has been frequently reported by iPhone 13 mini/Pro/Pro Max users playing Genshin Impact who after a while found iPhone automatically reduces brightness and limits performance and one can't increase the brightness. Sounds troubling right? In fact, there are actual reports of the iPhone 13 mini/Pro/Pro Max brightness issue where it has left the text or content completely unviewable under direct sunlight. 
Users who are using Magsafe have found that there is a 25-45% reduction in brightness reduction when charging iPhone 12 mini via MagSafe due to the heat throttling screen.
Users have tried all possible ways to fix it at their end by keeping auto brightness off, True Tone off. "Require Attention for Face ID" off, restored iPhone but the issue of iPhone 13 mini/pro/pro max Screen Brightness did not improve.
With no response from the Apple Support team, one can assume that it is its default way of managing the inner temperatures.
What are the reasons behind iPhone 13 Mini/Pro/Pro Max Brightness issue?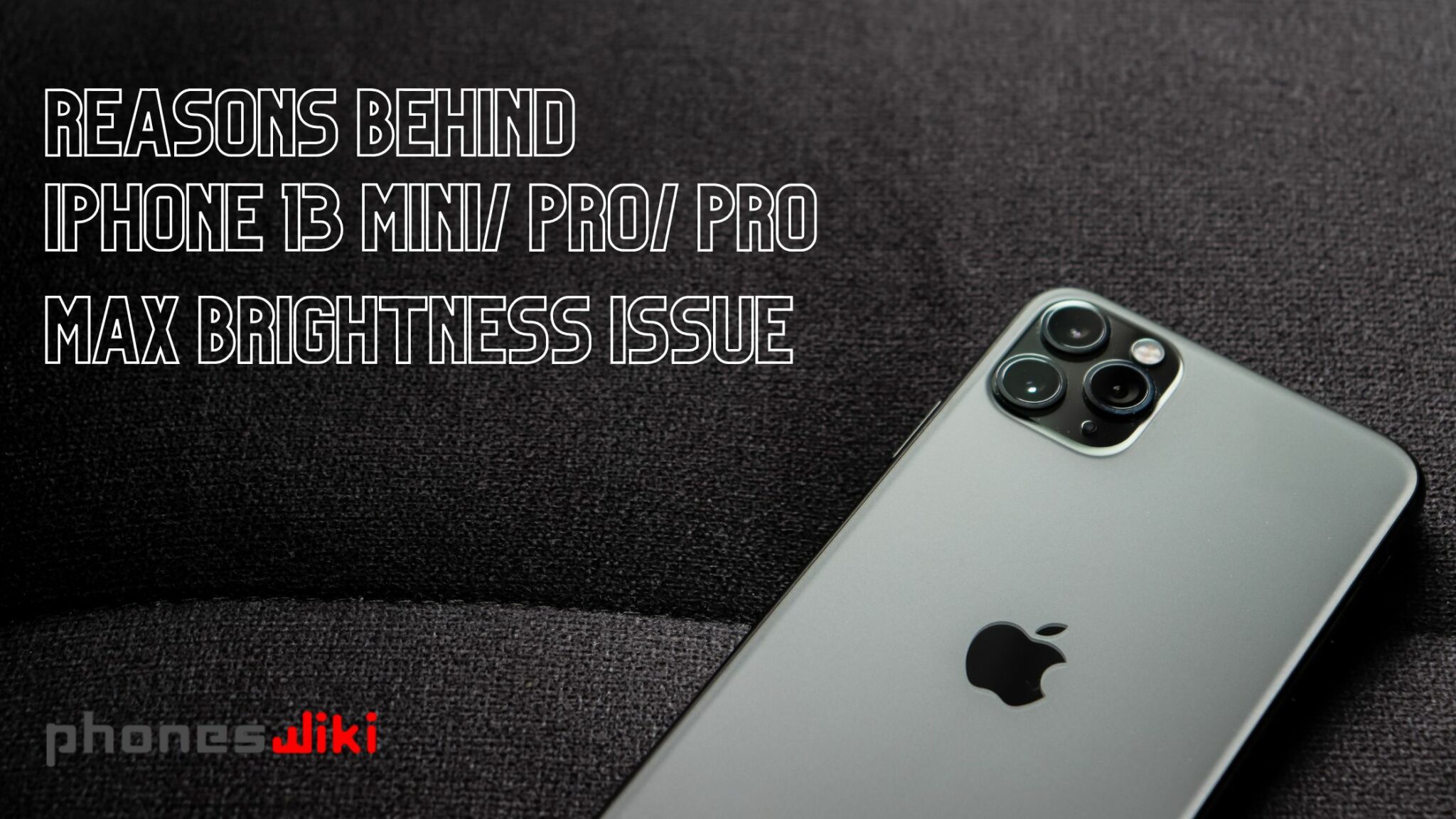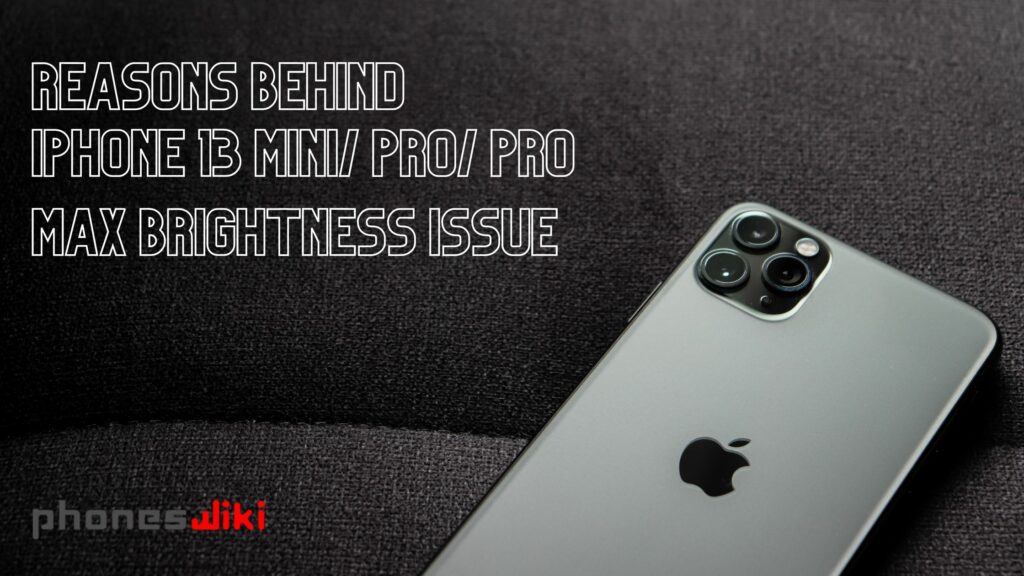 All phones, be it Android or iPhone dim the brightness when faced with overheating. Thermal throttling is heavily affected by multiple factors like form factor(a phone with the same SoC as a tablet will overheat sooner), ambient temperature, display brightness, and type of workload feeding the phone.
With some analysis, there can be a decent number of probable causes behind this glitch. However, the most likely cause behind the iPhone 13 mini, 13 Pro, and iPhone 13 pro max screen brightness issue is overheating in the sun which might be tied to the display settings of the device. The settings responsible for this might include
Auto-brightness
True Tone
Scheduled Night Shift
Usually, all of these three features come automatically enabled. The iPhones have been rumored to have the worst cooling systems among all OEMs.
If you are facing random brightness throttling in your iPhone 13 series (iPhone 13 Mini, iPhone 13 Pro, or iPhone 13 Pro Max), read the next portion carefully to know how to troubleshoot the glitch. 
How to fix the iPhone 13 Screen Brightness issue?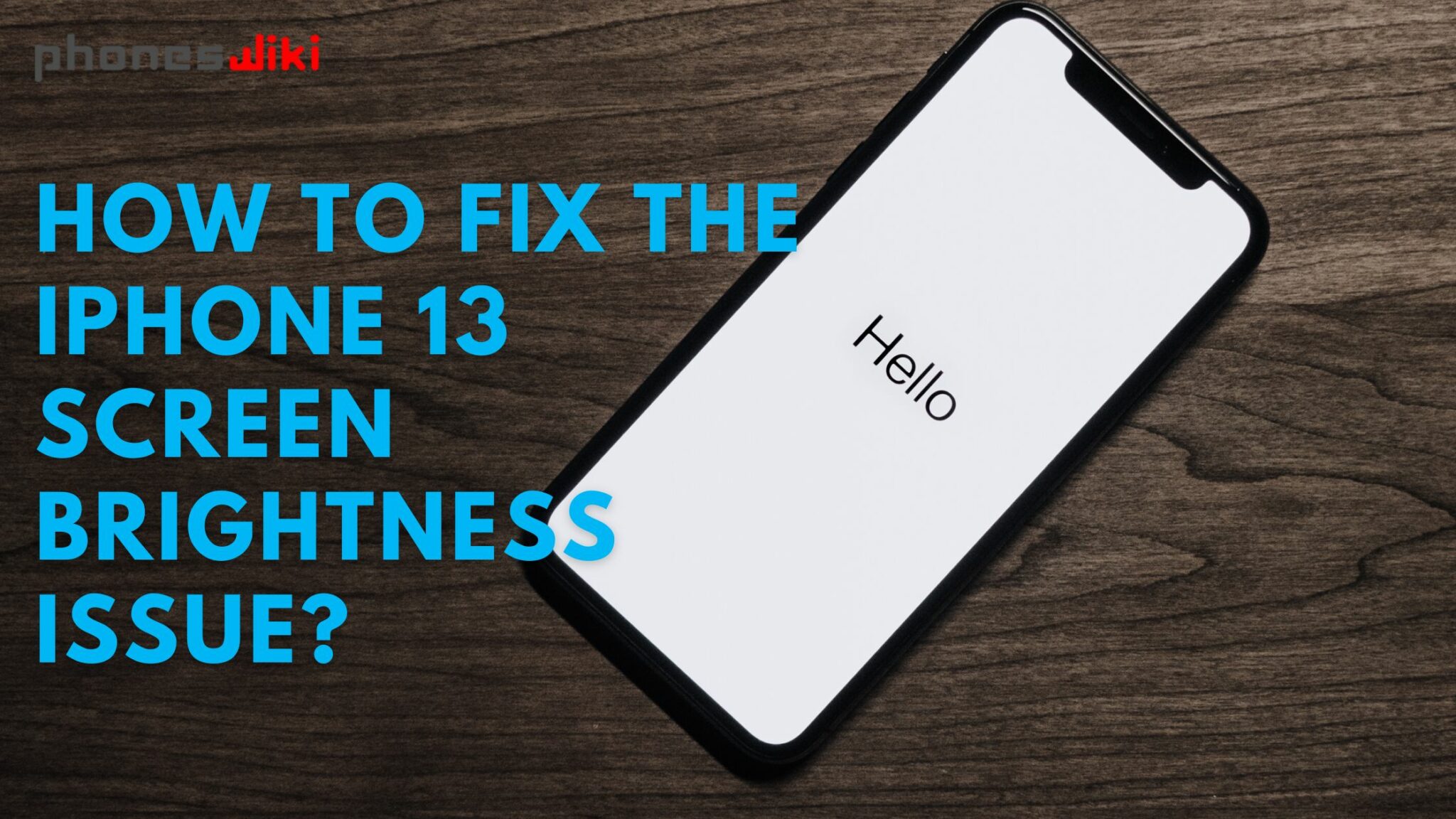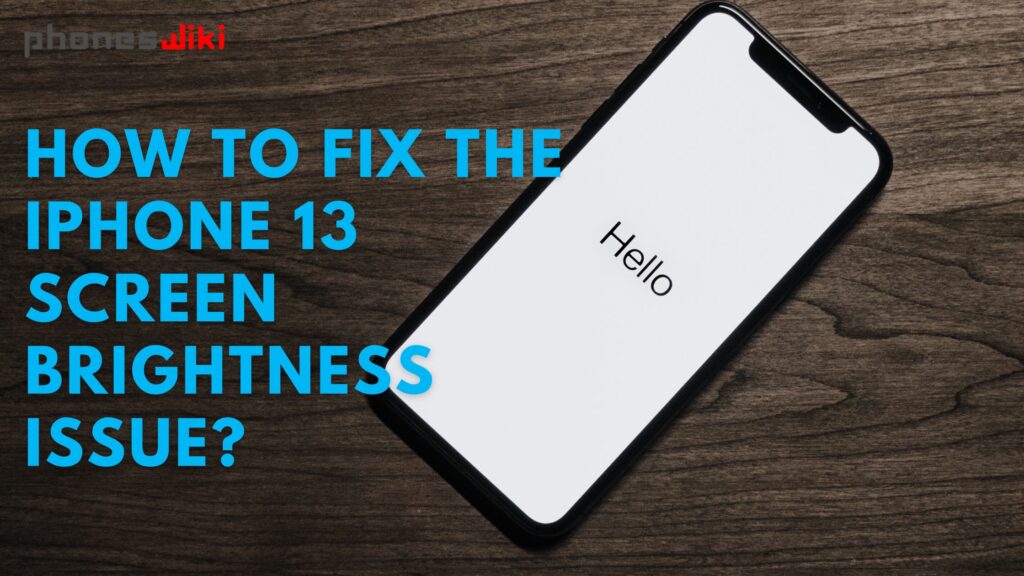 Quite unfortunately, Apple has not made any official comment regarding the screen brightness throttling issue. And on top of that, this is also not the first time iPhone users have found themselves subjected to this issue.
Below, we have listed some of the easy fixes you can try to stabilize the iPhone 13 Screen Brightness problem.
Fix #1: Disable Auto-brightness in your iPhone 13
The auto-brightness feature enables your iPhone 13 to adjust the screen brightness automatically according to the ambiance. Now, this feature might work in a stable way for some. But try switching off the auto-brightness in your iPhone 13 to see if it can solve the issue. You can do this easily by following these steps:
1. Open the Settings app on your iPhone
2. Select the Accessibility option and tap on 'Display & Text Size".
3. Now, just scroll down to the bottom and turn off Auto-Brightness. 
This gives you the ability to manually set the brightness of your iPhone 13. By disabling the Auto-brightness feature, now your iPhone 13 mini/pro/pro max screen brightness issue might get fixed since the surrounding ambiance will not have any impact on the device.
Fix #2: Disable Night Shift on your iPhone 13
Night Shift is a feature found on iOS devices that automatically adjusts the colors of the display towards the warmer end of the spectrum. This makes it easier to read anything on your iPhone and lessens the strain on your eyes. However, since this feature works in sync with the time and location where you are, sometimes it might be responsible for random throttles in the screen brightness. You can disable it on your iPhone13 by following the steps below. 
1. Open the Settings app and tap on 'Display & Brightness. 
2. Select the 'Night Shift' option and then tap on 'Scheduled'. 
3. Now you can drag the Color Temperature slider to adjust the color balance accordingly. 
Fix #3: Soft-resetting your iPhone 13
More often than not, some random glitches are capable of causing the iPhone 13 screen brightness fluctuation issue. In that case, performing a soft reset can help since it helps to fix various types of software glitches. 
1. Press and hold the Power and any of the Volume buttons simultaneously for a few seconds and select Power  Off. 
2. Drag the slider to the option of turning your iPhone completely off. 
3. After 30 seconds or more, press and hold the side button to restart your device.
Soft resetting your iPhone 13 won't affect any saved data so it is safe to try if you do it correctly.
As per the response from Apple Support, restart your iPhone to make sure iOS is up-to-date and if the issue persists, contact Apple Support.
Final Statement
Although we have listed some fixes that your iPhone 13 Brightness issue, there is no guarantee that these steps can resolve the issue. Sometimes, people were also required to perform a complete Factory Reset and reset all settings to resolve the issue. However, since Apple has not made any official fixes available, you can only wait if these fixes don't resolve your iPhone 13 mini/pro/pro max screen brightness fluctuation issue. Maybe this lack of prioritization is due to the tech company focusing on the release of the upcoming iPhone 14.