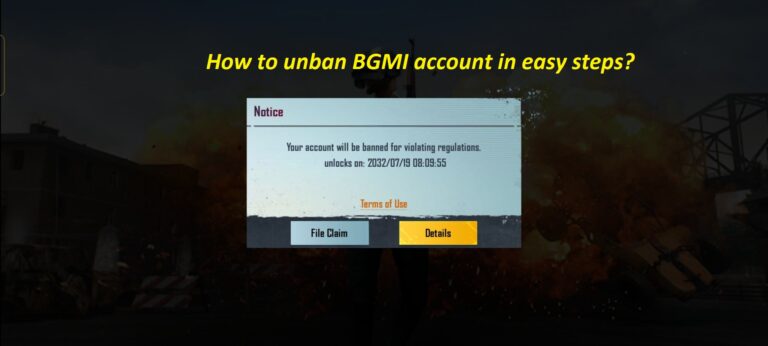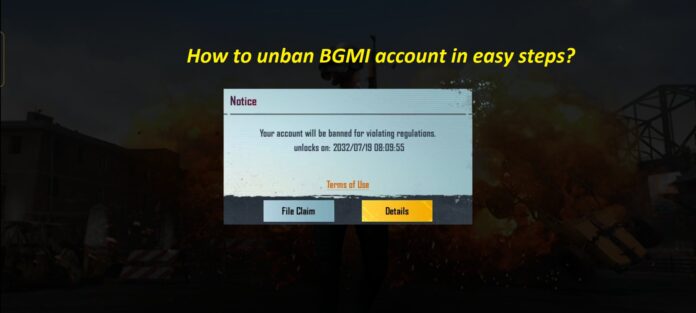 At the end of every year, news of millions of BGMI/PUBG Mobile accounts getting banned always stirs the hornet's nest. As it stands, players who used unfair means, mods, and hacks to win the game are slapped with a "PUBG account banned for 3650 days".
To date, notices of "violation of user agreement" or "your account will be banned for violating regulations" are dealt out to players using 3rd party hacks to get by in the game. Some of these hacks give a minor performance boost while others alter the gameplay settings. These 3rd party hacks go against the fair policy of the game. Some accounts got suspended while the more serious offenses undergo a period ban of 10-100 years.
Since you are here, I assume that you're one of those unlucky few who got banned from the game for no reason whatsoever, or so you think. You also know that BGMI is a game that doesn't tolerate cheaters and has a strong Anti-Cheat Policy in place.
But there are genuine players who run out of luck, without using any hacks and tricks or any plugins get slapped BGMI ban for 10 years. They are looking for ways to unban their BGMI account and get their favorite game back. Fortunately, there are still ways to unban BGMI account if it has been temporarily suspended or banned without valid reasons.
With the rising popularity of Battlegrounds Mobile India, popularly known as BGMI, players oftentimes resort to illicit ways to achieve victory. If you are a regular player, you should be already familiar with the high number of cheaters within the battle royale game. This is made possible with the availability of all kinds of MODs and cheats over the internet. And sometimes, even a normal user can be subject to a ban.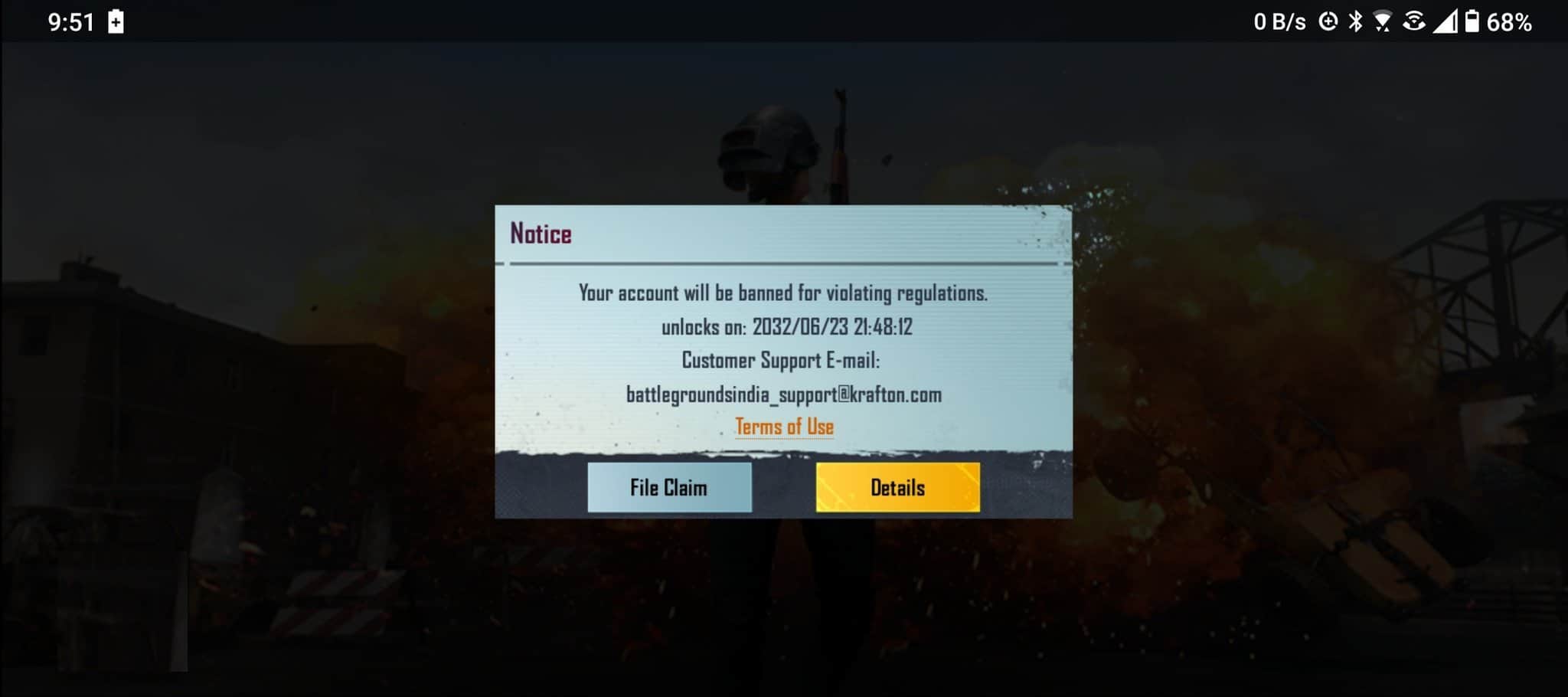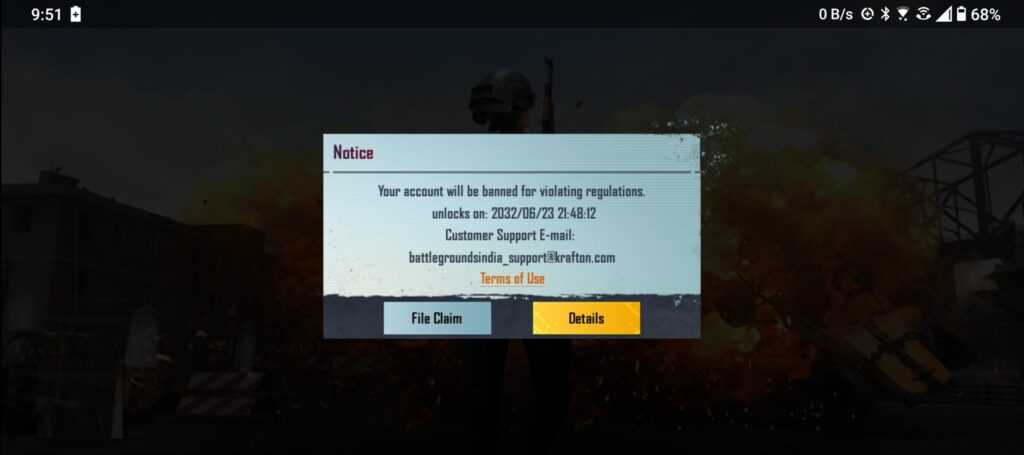 As such, today we will discuss how to unban BGMI ID so that you can get into playing your favorite game again. The steps in this article are fairly easy, however, it doesn't assure surety since the ultimate decision is held by Krafton Inc. 
Reasons your BGMI ID can get banned
Being one of the most popular battle royale games, BGMI effectively has strict guidelines along with a long list of rules. Players failing to abide by them will unfortunately have their account immediately banned. The increasing usage of hacks like aimbots and UC cheats has resulted in a stricter Anti-Cheating System within the game. However, in many incidences, top-tier players might lose their accounts as they get reported a lot of times by other players who assume their skills as hacks.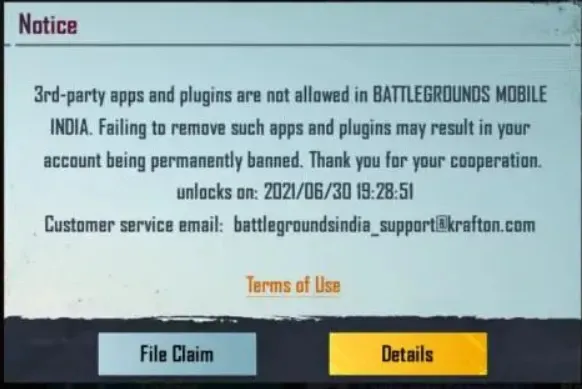 Let's take a look at the probable reasons why your BGMI account can get banned below.
Using hacking tools or unauthorized 3rd-party programs to change the client file data in the game
Using any kind of unofficial game client to play the game
Taking part in team matches with teammates who resort to using cheats and hacks
Teaming up with the opposing players in the game
Using unauthorized payment channels to recharge UC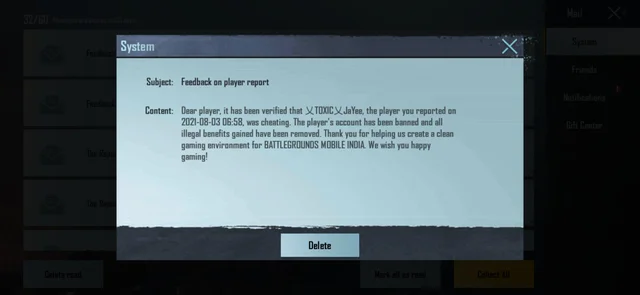 The ban period usually varies depending on your offense, starting from 30 days and can last permanently. FOr read reckoned, find below the penalty criteria slapped by Krafton.
| Penalty Criteria for Misconduct | Maximum Penalty Period |
| --- | --- |
| Use, develop, advertise, trade, or distribute Unauthorized Programs or Hardware Devices | Permanent Ban |
| Investigate the use of Unauthorized Programs or Hardware Devices | 3 Days Ban |
| Modification of Game Client, Servers, and Game Data (packet, etc.) | Permanent Ban |
| Exploiting Bugs and Glitches | Permanent Ban |
| Discriminatory Act (e.g. racial and sexual discrimination) | Permanent Ban |
| Inappropriate use of language (e.g. profanity or other offensive languages) | 30 Days Ban |
| Usage of Inappropriate Nicknames and Clan names | 90 Days Ban (nickname and clan name will be changed without your consent) |
| Teamkilling | Permanent Ban |
| Teaming | Permanent Ban |
| Gameplay Interference | 30 Days Ban |
| Stalking | Permanent Ban |
| Publishing Personal Information | Permanent Ban |
| Abusing (e.g. manipulating match results, etc) | Permanent Ban |
| Usage of Another User's Account / Restrict the Usage of Account (for protecting the Account) | Permanent Ban |
| Abusive Use of AFK (Away From Keyboard or idling) | Permanent Ban |
| Disturbing Business Operations (e.g. spread false information, abuse customer service platform, impersonate oneself as an employee, create and spread rumors or conduct any other acts) | Permanent Ban |
| Abnormal Gameplay | Permanent Ban |
| Inappropriate Advertisement (e.g. commercial without authorization, abusive, etc.) | Permanent ban |
| Inappropriate Use of Profile Photo (Inappropriate text or images in the profile photo, use of someone else's photo, etc.) | 90-day ban |
| Abnormal Payment and Subscription | Permanent ban |
| Abuse of Open market store Policies and Processes | Permanent ban |
| Trade/Sell Accounts | Permanent ban |
BGMI Ban Crietria
But if you feel like your account was banned without any reason, then we have good news for you. Read the next portions of the article carefully to understand how you can unban BGMI ID easily and get back in the game. 
How to unban BGMI account 10 years?
There is no hard and fast-defined rule to the question of how do I unban BGMI account? But yes, getting unbanned is possible, although the same BGMI id unban hack cannot work for everyone.
To start with let us understand the type of ban on BGMI id is temporary or permanent.
If the BGMI id ban is temporary, as all players know that it will get unbanned within a couple of days. One needs to wait patiently for the ban period to be over. It is pretty simple.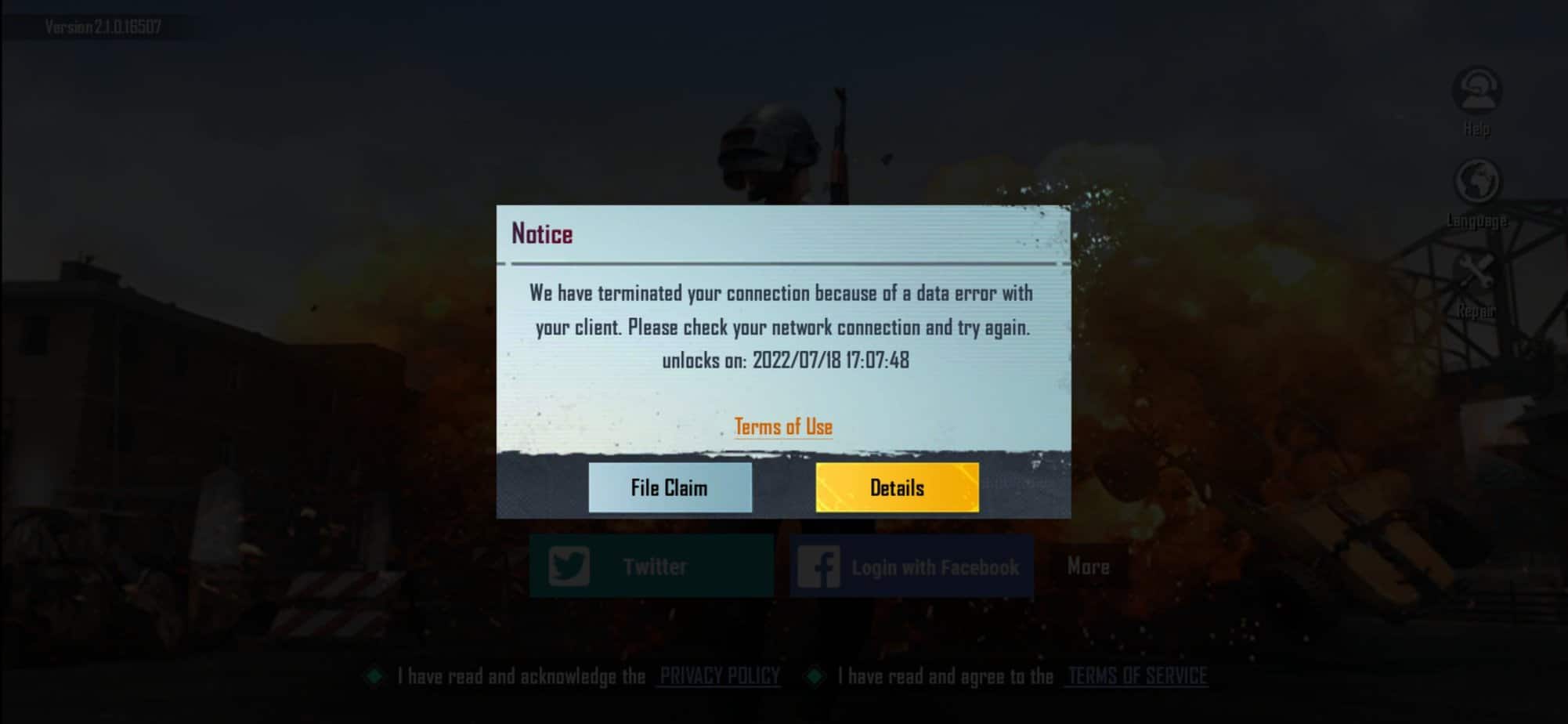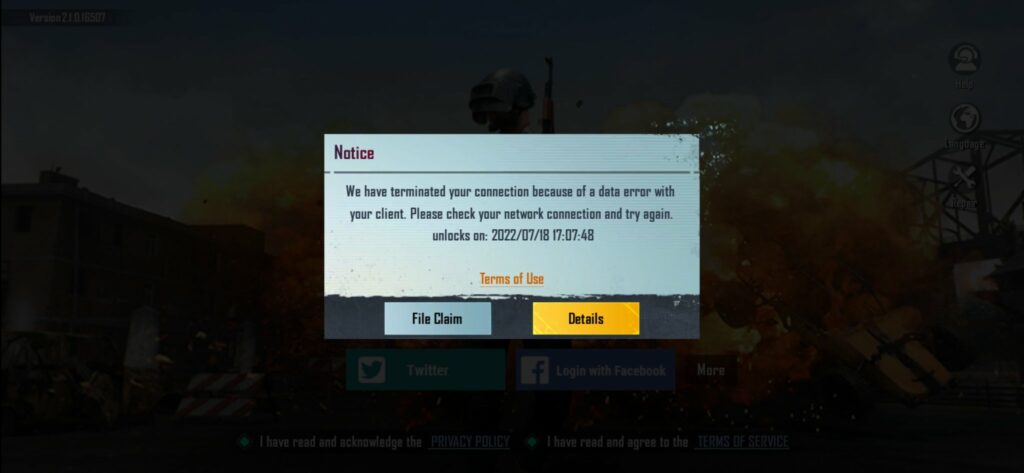 The other type of BGMI account ban is permanent. It is slapped if the devs catch the payers resorting to cheating, toxicity, and offensive nicknames to name a few.
BGMI support makes it clear how they approach the whole idea of banning hackers and cheaters. Although there is a method to approach customer service to help unban the PUBG Mobile account. This is applicable only in those cases that have been wrongly banned.
There are 3 different ways, depending on the type of ban, a player can appeal to unban BGMI account. It is not that difficult to unban BGMI ID so follow the steps below to get your access back.
Method #1: "File Claim" to unban BGMI Account
The devs have provided a feature when the BGMI Id has been wrongly banned. It is the feature to file a claim. On the Notice being served, there is an option of "File Claim" on the left side. This is an appeal to Karfton to get the BGMI account restored. If you have been wrongly judged when it comes to the violation of any terms and not using third-party apps to enhance gaming skills, this option can be exercised.
Step 1: Launch BGMI
Open the BGMI application on your device and proceed to log in to your account. 
Step 2: Tap on 'Details'
Tap on 'Details' where you can find out why exactly your BGMI ID got banned. Make sure that your own actions in the game did not create this scenario.
Ensure you understand and have proof that it was not your fault and you got accidentally banned due to false reports.
Step 3: Tap on Account Ban pop-up message
Click on the dialogue box that reads, "Your account will be banned for violating regulations".
Step 4: Head to the 'File Claim' section
If the reason for BGMI ban is not valid, quickly head over to the 'File Claim' section. 
Step 5: Write a detailed request to unban BGMI ID
After you have analyzed the reason, write down a detailed request to unban BGMI ID that you are using. Once done, email the unban request letter to Krafton Inc. at battlegroundsindia_support@krafton.com.
Remember to include your BGMI ID- login and account name within the body of the mail. 
Step 6 – Unban by BGMI devs
These requests are reviewed manually by the Battlegrounds Mobile India Team and if they validate your claim, your BGMI account will get unbanned instantly. Even in the case of accidental bans or technical glitches, you should always first notify the support team and try to retrieve the account.
Method #2: BGMI Account Unban Appeal Via In-Game
There is one other way to unban BGMI ID which is by contacting the BGMI support team from their official website. In order to do so, follow these steps:
First, you need to open the official BGMI support page from your browser or you can simply click here to open the site.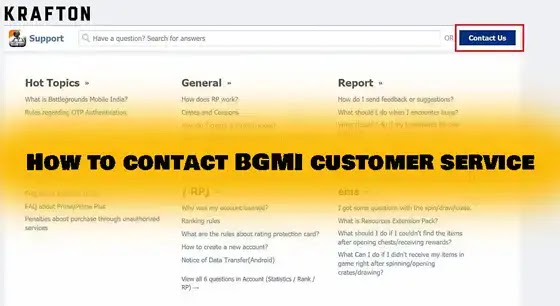 Tap on 'Contact Us'.
Enter your BGMI credentials and proceed to describe the issue you are facing.
Attach a screenshot of the ban that is visible on your device when you log in.
Submit the application.
If the Support Team finds that your account got banned due to some false report or any unbeknownst reason, they will unban BGMI ID belonging to you immediately!
Method #3: Unban BGMI ID Appeal via BattlEye
You can draft a well-written (inclusive of all details) e-mail to support@battleye.com or fill out a simple contact form.
One cannot confirm that after following all the steps, BGMI id unban will happen. In case you do not hear from support or are unable to extract your banned BGMI account, the next best alternative is to make a new BGMI account. Ensure that you are extra careful and avoid getting cheated. We do not promote in-game cheating via third-party apps and trainers.
Final Verdict
This year has seen an incredible rise in the usage of cheats and hacks to obtain victories in the game. However, such a win is neither enjoyable nor skillful and often comes at a price. Thus to avoid the hassles you need to go through to unban BGMI ID, we recommend you abide by fair practices!