In today's age, PUBG Mobile hacks have started to become increasingly recurrent despite the title being one of the most popular Battle Royale games. Did you ever get killed suddenly by another player who can seemingly trace your movement even through walls, headshot other players from miles away, and has no trace of any recoil on their weapons? If yes, then chances are you have also run into a player using PUBG Mobile hacks. This raises the question- how are so many people able to hack such a renowned game like PUBG Mobile easily?
The popularity of the game definitely contributes to the growth in the number of users of PUBG Mobile hacks. Tencent, the developer of the same, has made strides to stop cheaters from ruining the experience of the game. But this move has only led to the constant development of new PUBG Mobile hacks.
PUBG Mobile cheats can be accessed via modified APKs on Android devices. It gives uncomplicated entry to abilities such as auto-aim, no recoil, and one can enter to see through walls and grass. When it comes to cheating on iOS, it gets tougher as one needs a jailbroken device.
There are many free as well as paid hacks downloadable online. These free hacks work only for a limited duration as they usually get caught by the anti-cheat system. However, do not assume that the paid hacks will bypass the anti-cheat radar.
Players who want to bypass the Anti-cheat system and desperately rely on such lame tactics are also on the rise. Although hackers can potentially have their PUBG Mobile account banned for 10 years, you will still not be devoid of encountering them often.
Our guide to PUBG Mobile hacks reveals how underhanded players use these hacks. It is very necessary to know how you can easily hack PUBG Mobile. This will help you to know how they are able to easily hack PUBG Mobile UC and perform other feats which should be impossible. By knowing what they do, you can deal with people using PUBG Mobile hacks in a better way when you encounter them. But first, let's see their motive.
Why do gamers hack multiplayer games like PUBG Mobile?
There can be a number of reasons behind a user depending on PUBG Mobile hacks to make their voyage through the game easier.
To Push Rank
The concept of rank push almost exists in every multiplayer game and PUBG Mobile is no exception either. Rank Pushing in PUBG Mobile refers to the process of winning games and using the points to level up into higher ranks, ultimately with the goal of achieving the Conqueror rank.
Cheaters rely on PUBG Mobile hacks in order to gain these winning points faster, with the determinants being survival time, number of kills and so on. In this way, they can rapidly push their rank in comparison to other genuine gamers. The insane rise in the number of hackers consequently has also resulted in many pro players quitting the game.
Unfair Abilities and Perks
Hackers can use PUBG Mobile hacks to get features like wallhack where they can kill players through walls and objects. Other abilities include Aimbot or Aim-Assist where every bullet they fire towards the enemy will convert into a headshot and definitely land on an enemy's head. Many of these hacks were exposed through Livestreams since streamers can easily use PUBG Mobile hacks in order to showcase that they are really adept at the game.
Most importantly, the lack of virtues, the craving for instant pleasure and the inability to work hard to achieve what they dream of are the leading psychological factors pushing the players into using PUBG Mobile hacks.
What are the different types of PUBG Mobile hacks?
Let's take an in-depth look at the different abilities that cheaters of the game receive while using PUBG Mobile hacks.
Wallhack – Wallhack is one of the most popular PUBG Mobile hacks used by hackers. Using this, hackers immediately have the advantage of being able to identify their adversaries in all situations- even when they are not visible! If you use wallhack, you can effortlessly see the location of any player through any walls and covers.
ESP Hack – ESP, also known as Extra Sensory Perception, is another mainstream PUBG Mobile hack that enables the hackers to gain more information, besides the position that the enemy is in. The ESP framework fuses software into the game's data stored in the memory of the hacker's device. They can easily attain details like name and distance, health, the type of weapon employed, and even more! This type of hack is also known as the radar hack and its most important feature focuses on its capability to locate objects and players using guided radar-like lines.
Speed and Jump Hacks – Speed hacks grant hackers the ability to increase the speed of their running and moving around the map. This can create a massively unfair advantage in short-distance combats and turn into an infuriating experience for a genuine player within the match. Jump hacks on the other hand let players leap high into the air which consequently provides an elevated view over the entire map. This eagle-eye feature can also be used as an anti-gravity hack. Did you know that hackers can use jump hacks even while driving?
Aimbot – Aimbot or Aim-Assist instantly grants hackers 100% accuracy whenever they engage in a fight against any opponent. Some Aimbot hacks in PUBG Mobile do not even require hackers to shoot their opponents or be in the vicinity. They can easily direct their shots anywhere near their enemies and instantly score a number of quick killings. If you ever got killed while you were completely behind a cover or wall, there are high chances you encountered a player using PUBG Mobile hacks.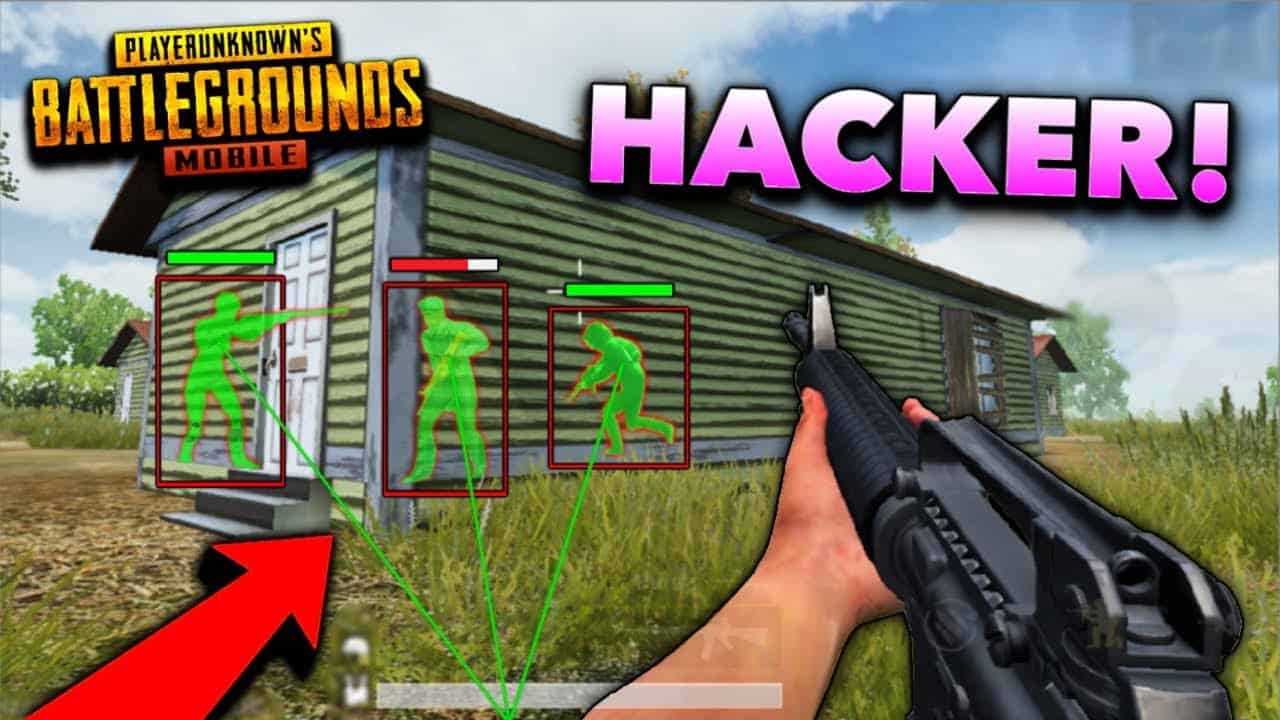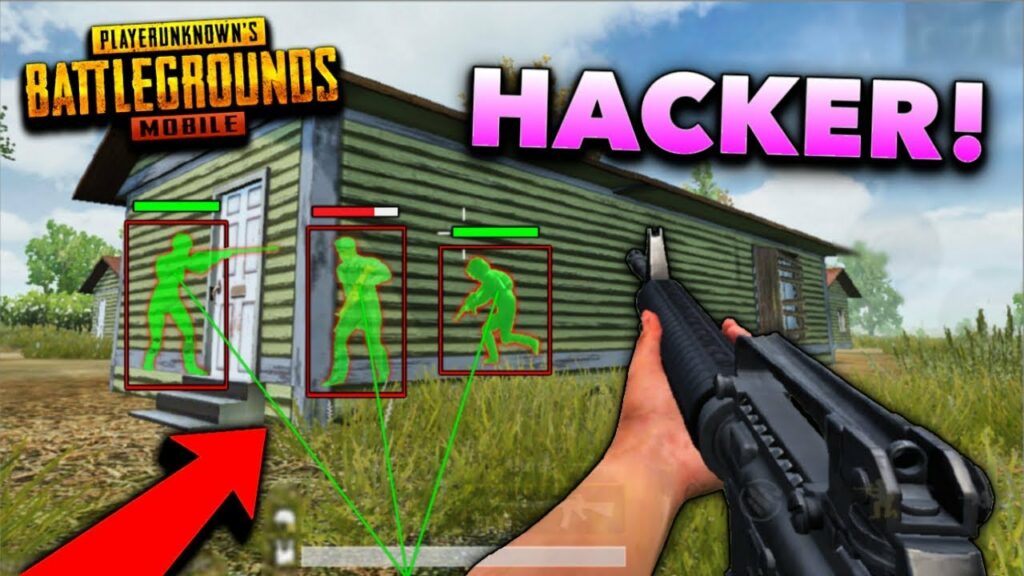 How to hack PUBG Mobile?
You'll be surprised to know that a simple search in your browser can instantly reveal an unending number of PUBG Mobile hacks available for absolutely free.
PUBG Mobile MOD APK
Hackers mainly use PUBG Mobile Mod APK versions on Android devices to cheat and get easy power to play. They also get access to other premium items like in-the-game currency PUBG UC, outfits, and more.
These free hacks typically work for a short while only and push the players into investing money to use undetectable hacking features. However, Tencent's strict anti-cheat policies have definitely still managed to suppress the number of people using PUBG Mobile hacks using a modded APK. It makes much more sense to play the game and have real experience leveling up your skills rather than depending on petty PUBG Mobile hacks available on the Internet.
You can get your hands on these modded hacked versions surprisingly easily.
First, install PUBG Mobile MOD APK on your device.
Make sure to delete any existing version of the application before installing the MOD.
Allow Installation of applications from Unknown sources.
Upon finishing the installation process, just open the application and start playing.
Macros and Scripts Hack
Expert hackers also use Macros and Scripts hack for PUBG Mobile to set up automatic tabs and actions. Scripts are basically used to shoot automatically, loot the enemy crates while the player is in combat, reload while firing, and much more.
Online Tools and Platforms
Installing modded APK files or iOS mods can sometimes be quite a challenging task for new hackers. In this case, they can easily choose to take the help of game hacking tools and paid hacking services to serve their purpose.
There are numerous online options both free and paid that offer insane PUBG Mobile hacks and cheats. However, we do not promote cheating the system.
How to report people using PUBG Mobile Hacks?
If the developers manage to catch any player using cheats and PUBG Mobile hacks, their account will get instantly banned. There are rumors about how players who invest hundreds of dollars in the game are exempt from being banned for cheating, but that is the farthest from the truth. Tencent resorts to a Zero Tolerance Policy against users resorting to PUBG Mobile hacks.
You should instantly Report any player whose movements seem suspicious and synonymous with the abilities we have mentioned above. Successfully reporting a player using PUBG Mobile hacks using the in-game system will show you a notification to show you how the accused has received a permanent ban. If you ever mistakenly lose access to your account, you can follow our guide to unban your PUBG Mobile account here.
FAQs
1. How to hack PUBG Mobile UC?
Hackers use a number of different ways to get access to Unlimited UC within PUBG Mobile. They usually do this by using VPN connecting to different servers and collecting free UC cash. There are also a number of paid online tools and platforms which help you to hack PUBG Mobile UC.
2. Can I hack PUBG Mobile?
If this question focuses on the possibility of hacking PUBG Mobile, then the answer is yes. More and more people were depending on modded versions of the application and other PUBG Mobile hacks to easily get access to Unlimited Battle Points, UC, items, crates and overpowered skills.
It is definitely not ethical to use PUBG Mobile hacks. Taking an unethical way just to have fun by ruining the experience of 99 others should not get normalized by you.
3. Are PUBG Mobile hacks legal?
No, the creation, distribution, and business of cheats or 'hacks' for any video game are not inherently illegal. Paid PUBG Mobile hacks are usually safe and they often manage to hide hackers from getting detected.
4. Does PUBG PC has hackers?
Like most competitive games, even the servers of the PUBG PC version are completely rife with individuals using cheats and hacks. And we know how hard it is to fall in love with a game when you see yourself being shot from 1000 meters away.
What is Tencent's latest policy on PUBG Mobile Cheats?
Despite the game's increasing popularity, there are always individuals attempting to gain unfair advantages using third-party programs. In 2021, the officials had to ban a total of 1,674,772 accounts permanently! This was an increase of 200 percent from last week's count. Take a look at the number of banned accounts posted by the official Twitter page of PUBG Mobile.
PUBG Mobile recently also launched a new device ban feature. Previously if you were caught using unfair means within the game, your account would receive a ban. Hackers usually create multiple accounts so that they can keep using PUBG Mobile hacks even if they lose one account. From now, if the security team identifies anyone using hacks deliberately to cheat, you will receive a permanent ban and never be able to log-in to the game using that particular device.
The success and reputation of PUBG Mobile from hereon depend a lot on the creators' ability to maintain the integrity and the sportsmanship spirit within the players. PUBG Mobile hacks will only continue to get developed owing to how easily the members of Gen Z can get swayed into using unfair means without a thought. Tencent and Krafton have always stressed the competitive and fair nature of the game. Do you think the new device ban system will successfully give rise to hacker-free gameplay in classic matches and Esports scenarios?