Before 2020 ended, news of more than 2 million PUBG Mobile accounts getting banned stirred hornet's nest. The move dubbed as the "Ban Pan" gave clues to the reason behind the permanent ban. As it stands, players who used unfair means, mods, and hacks to win the game were slapped with a "PUBG account banned for 3650 days".
To date, notices of "violation of user agreement PUBG Mobile ban" or "your account will be banned for violating regulations PUBG Mobile" are dealt out to players using 3rd party hacks to get by in the game. Some of these hacks give a minor performance boost while others alter the gameplay settings. The commonly routed violations are the use of X-Ray Vision, Auto-Aim hacks and Player Speed hacks.
These 3rd party hacks go against the fair policy of the game. Some accounts got suspended while the more serious offenses undergo a period ban of 10-100 years.
Take that, cheaters! Although it's worth noting that hacks have been found to be scattered at all levels of the game. Ranging from the basic Bronze to the top tier Diamonds.
The Twitter release statement can be viewed here for more info about Tencent's stand on the issue.
However, if you're one of those unlucky few who got banned from the game for no reason whatsoever, or so you think, keep reading. We've put together a list of possible problems and solutions that could help unban PUBG Mobile account.
How to avoid PUBG Mobile Account ban notice?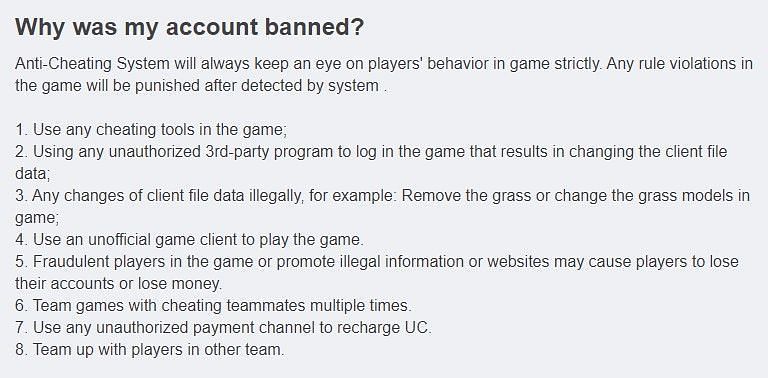 CHEATING & HACKS: For a gamer who has received the notification "PUBG mobile banned for no reason", he should be sure to not have used any unfair means. No cheats or hacks involving 3rd party software, DUH!
TEAMING WITH HACKSTERS: Secondly, avoid teaming up with members who believe in hacks, team killing, or even stalking others. While you can argue that you weren't using any of the restricted advantages, the account can easily become a candidate for suspension. Paying heavily for someone else's mistake is worth avoiding.
OFFENSIVE BEHAVIOUR– The game publishers take the behavior of players seriously when it comes to abuses around nationality, color, gender, race, or any form of harassment or intimidation.
VPN: There are few countries that have imposed a PUBG Mobile ban. In case you are using a VPN to access your PUBG Mobile account, don't… just don't. While it doesn't count as a violation of "PUBG mobile ban rules", the usage of a VPN can incidentally trigger third-party software which in turn can call for a ban. Long story short, better keep away from that shady dude on the internet who sells booster packs "legally".
Is it possible to unban PUBG Mobile account?
The official statement from PUBG Mobile support makes it clear how they approach the whole idea of banning hackers and cheaters. Although there is a method to approach customer service to help unban the PUBG Mobile account. This is applicable only in those cases that have been wrongly banned. There are 3 different ways, depending on the type of ban, a player can appeal for unban PUBG Mobile.
PUBG Unban Appeal Through Support Ticket
Submit a ticket on the official PUBG Support ticket creation page after selecting the platform. Before raising a ticket, collect all the necessary shreds of evidence. Upload them along with the justification for "PUBG mobile banned for no reason" in the Description box.
One can also send an email to 'PUBGMOBILE_CS@tencentgames.com' explaining your side of the story. Do not forget to include character ID and account name
PUBG Unban Appeal via BattlEye
You can draft a well-written (inclusive of all details) e-mail to support@battleye.com or fill a simple contact form here.
PUBG Mobile Unban Appeal Via In-Game
Head to the Customer Service option available in-game which leads to messaging service with support staff. Keep your arguments ready before hitting the message option.
Once all the details have been shared, the arguments will be cross verified by the support technical team and you will be notified of their decision.
Many of you slapped with an account ban, would like to make a pro-gamer move. Share with us in the comments box, how you did. If you find that helpful do visit our website for more info on similar trends.