Resident Evil 4 is a third-person shooter game developed and published by Capcom. The game was released in 2005 for the Nintendo GameCube and later ported to several other platforms, including PlayStation 2, Wii, PC, and more.
The game follows the story of Leon S. Kennedy, who is sent on a mission to rescue the President's daughter, Ashley Graham, who has been kidnapped by a mysterious cult in Europe. As Leon navigates through the village, he encounters a variety of infected villagers and must fight his way through them to find Ashley and uncover the truth behind the cult.
Resident Evil 4 features an over-the-shoulder perspective, which was a departure from the fixed camera angles used in previous Resident Evil games. The game also introduced several new gameplay mechanics, such as quick-time events, context-sensitive actions, and a new inventory system.
The game received critical acclaim for its innovative gameplay, intense action sequences, and stunning graphics. It is often cited as one of the greatest video games of all time and has sold over 10 million copies worldwide.
Resident Evil 4 Remake is the latest one and is a remake of the 2005 game Resident Evil 4. RE4 remake has not surprised its fans as Capcom has been remaking several of its classic games in recent years, including Resident Evil 2 and Resident Evil 3.
When is the Resident Evil 4 remake release date?
RE 4 remake is scheduled for release on PlayStation 4, PlayStation 5, Windows, and Xbox Series X/S on Friday, March 24, 2023.
What is the release time of the RE 4 remake?
Resident Evil 4 remake countdown will start at 21:00 PST on 23rd March, 00:00 EDT, and 00:00 GMT on 24th March. These dates and times are applicable for PS and Xbox users. As of now, it appears that it will be midnight for all local regions but need an official word from Capcom.
However, Game8 reasons that the RE 4 remake launch is likely to be region-locked. In other words, players in any part of the United States will be able to access it at the same time.
For PC via Steam players, the game launches on March 24th, but the release countdown has not been revealed.
What is the file size of RE 4 remake?
The only confirmation received officially so far is about the Xbox Series X|S file size. It will be 67.18 GB.
Though the file size is yet not confirmed for PlayStation and PC versions but the players can expect anywhere from 65 GB+.
However, the Steam listing has a note of a recommended memory requirement of 8 GB RAM with 16 GB.
Is there a RE 4 remake pre-order bonus?
Capcom's pre-order bonuses for the Resident Evil 4 remake (any edition) are as follows (as on the PSN store):
Standard Edition — £54.99/$59.99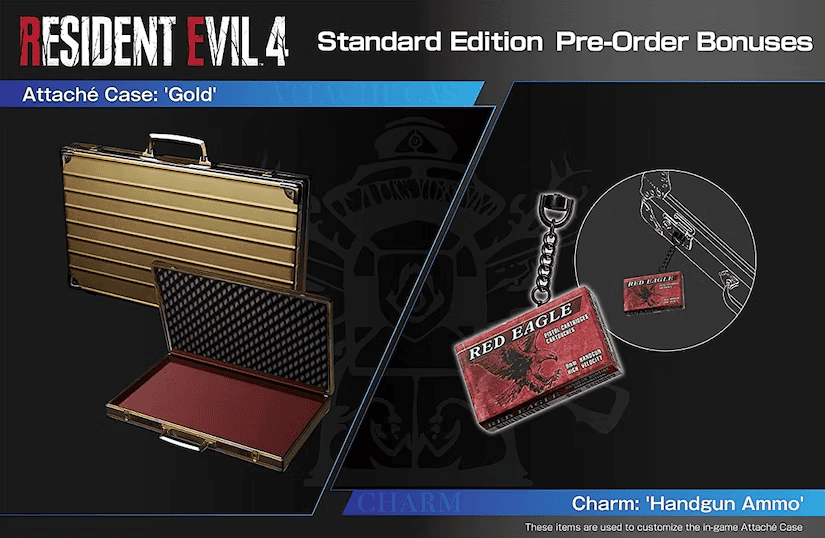 'Gold' Attaché Case
'Handgun Ammo' Charm
Mini soundtrack (PlayStation exclusive)
Deluxe edition – £64.99/$69.99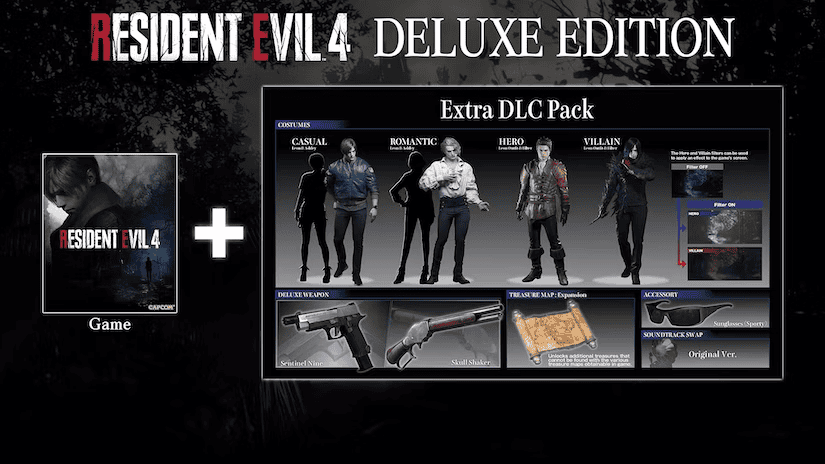 Attaché Case: 'Gold'
Attaché Case: 'Classic'
Charm: 'Handgun Ammo'
Charm: 'Green Herb'
Mini soundtrack (PlayStation exclusive)
Standard Deluxe edition – £64.99/$69.99
Casual costume for Leon & Ashley
Romantic costume for Leon & Ashley
Hero costume for Leon & filter
Villain costume for Leon & filter
Sentinel Nine pistol
Skull Shaker shotgun
Treasure Map: Expansion
Sunglasses (sporty)
Original version soundtrack swap
Collectors Edition — $249.99
Leon action figure
Map poster
Artbook
Steelbook case
Digital Soundtrack
Extra DLC Pack
How to play the Resident Evil 4 remake early access?
Officially speaking, Capcom has continued its tradition to not announce any early access period Resident Evil 4 remake. Technically there is no way to play early on PS5, PS4, Xbox Series X|S, and PC when it launches globally on March 24, 2023. Capcom wants its players to find a ton of secrets in-game together.
However, there is a trick to playing the Resident Evil 4 remake early access. This is only for Xbox users by exploiting the New Zealand RE 4 remake launch time trick. The release time in New Zealand is set for 00:00 NZDT on March 24th. Also, the RE4 remake has a midnight local launch on consoles for all regions. In other words, New Zealand hours will translate to 04:00 PDT, 07:00 EST, and 11:00 GMT on March 23rd and Xbox users can get early access on March 23rd. However, to avail the early access, one needs to pre-order the title.
Assuming that the game is pre-ordered on either Xbox One or Series X/S, the trick to make it run is to simply follow the below steps on March 23rd:
Select Settings > System
Head to Language and Location
Switch Location to New Zealand
Reset Xbox console
In the meantime, with 2 more days to go, you can continue to play the Chainsaw demo right now. Do share with us whether the trick to Resident Evil 4 remake early access from New Zealand location worked for you.