Following HBO Max's rebranding as "Max" on 05/23 there has been a frequent occurrence of current subscribers encountering the "not available in your region" message while trying to upgrade the streaming service
The streaming platform has dropped "HBO" from its title and is now known as just "Max." This rebranding aims to provide users with a broader selection of content to choose from. Warner Bros. Discovery had revealed plans to blend the content from HBO Max with Discovery+, suggesting a potential consolidation of their respective libraries. This will result in a wider and more diverse range of content available to subscribers across both platforms. While this transition in branding and content selection is exciting, it's essential to address any issues related to the "not available in your region" error.
Why is Max "not available in your region" yet?
HBO Max aka Max is currently available in the United States, including American Samoa, Guam, the Northern Mariana Islands, Puerto Rico, and the US Virgin Islands. If you're located outside of these regions, you will encounter the "not available in your region" error message.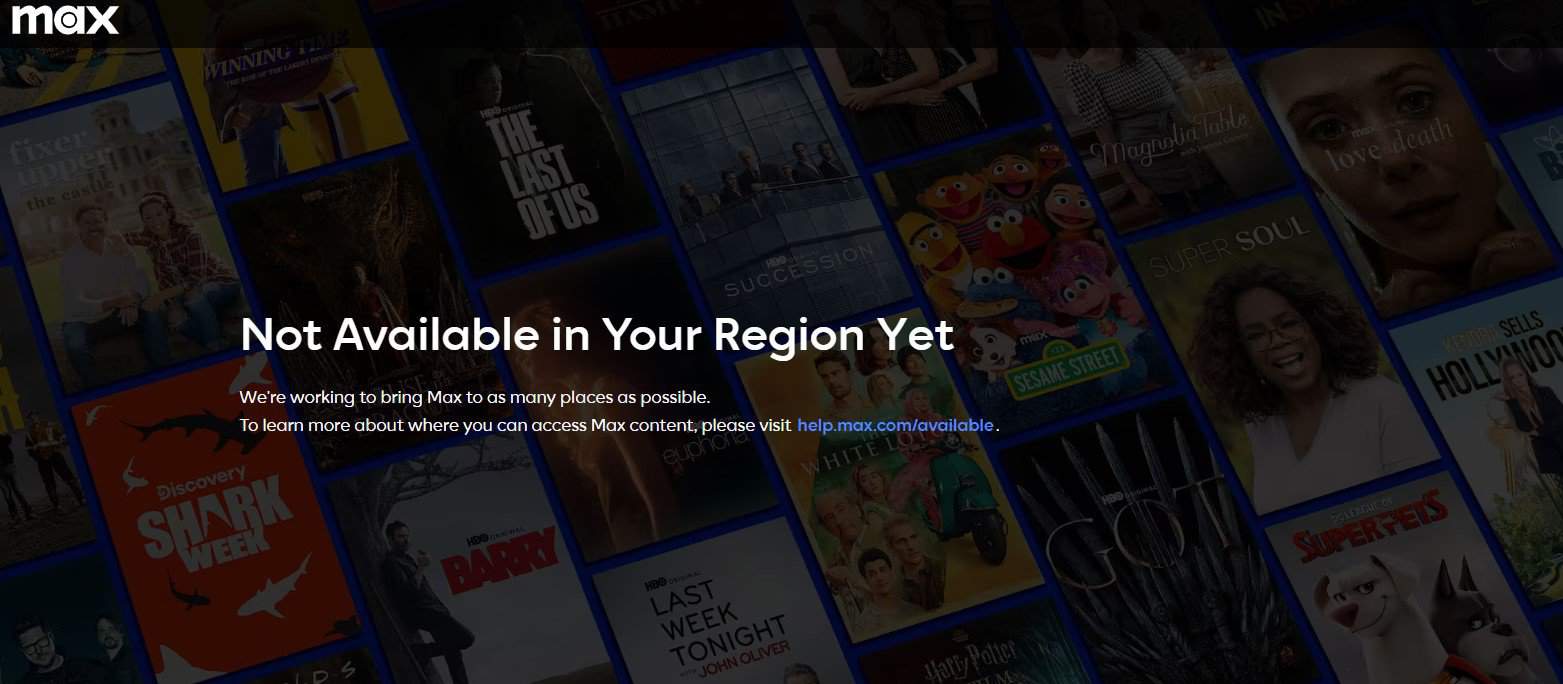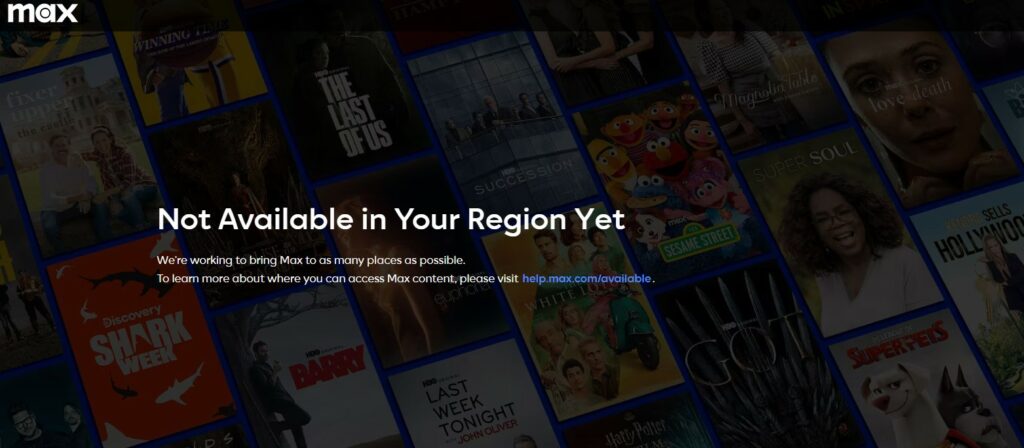 Additionally, it's worth noting that even within the United States, some users may face issues logging into the Max app due to factors like a blocked IP address.
If you're receiving a "Not available in your region" error when trying to access HBO Max, it typically means that the streaming service is not currently available in your geographical location. HBO Max has regional restrictions due to licensing agreements and content distribution rights.
There are a couple of more possible reasons why you might encounter this error:
VPN or proxy usage: If you're using a virtual private network (VPN) or a proxy server to mask your location and access content from another region, HBO Max might detect this and block your access. HBO Max actively works to prevent VPN usage from enforcing regional restrictions.
Account settings: If you've created an HBO Max account in a region where it is available but is currently trying to access it from a different region, you may encounter the error. Your account is tied to the region where it was created, and you need to be physically present in that region to access the service.
Several US-based subscribers have taken to Twitter to inquire about issues with their Max subscriptions. It suggests that there may be a common problem affecting users. While the specific steps to resolve the issue can vary depending on the cause, here are a few general troubleshooting steps that might help.
Apart from the common glitch reported, some Roku TV users are encountering login difficulties with YouTube TV despite having valid subscriptions, it could be a specific issue related to the Roku TV platform or the YouTube TV app.
How to resolve the "Not available in your region" error message?
To resolve the issue, you can try the following steps:
Check availability: Confirm whether HBO Max is officially available in your country or region. Visit the HBO Max website or contact customer support for the most up-to-date information on supported locations.
Clear cache and cookies: Begin by clearing the cache and cookies on your device. This can help refresh your browser or app and resolve any temporary issues that may be causing the error message.
Update the app or browser: Ensure that you have the latest version of the Max app or browser installed on your device. Outdated versions can sometimes result in compatibility issues or errors. Update the app through your device's app store or manually update your browser to the latest version available.
Disable VPN or proxy: If you're using a VPN or proxy server, try disabling it and accessing HBO Max without any location-masking tools.
Unplugging the device on which you use the Max app from power and waiting for around 30 seconds before restarting it can indeed be a straightforward fix for various technical issues. This action can help reset the device and clear any temporary glitches or conflicts that may be causing problems with the Max app. By power cycling the device, you allow it to fully shut down and restart, which can often resolve minor software or connectivity issues. It's a simple and effective troubleshooting step that is worth trying before diving into more complex solutions.
Create a new account: If you're in a supported region but still encounter the error, ensure that you create a new HBO Max account while physically present in that region. Using a VPN to create an account from an unsupported region may result in access issues later.
Contact HBO Max support: If you believe you're experiencing the error incorrectly or have any other issues, reach out to HBO Max customer support. They can provide further assistance and information specific to your situation.
Remember that attempting to bypass regional restrictions may violate the terms of service of HBO Max or other streaming platforms, and it's important to respect content distribution rights.
FAQs on Max
Q: How can you update Max app on Roku TV?
Roku TV users are facing difficulties transitioning their HBO Max accounts to Max and are unable to find the option to upgrade.
Here are a few suggestions to help resolve the issue:
Check for app updates: Ensure that you have the latest version of the HBO Max app installed on your device. Go to your device's app store (e.g., Apple App Store, Google Play Store) and check for any available updates for the HBO Max app. Installing the latest version may enable the transition to Max and provide the upgrade option. For some, the Max app got updated automatically while for others it had to be done manually. All you have to do is to head to the HBO Max app on your Roku TV, push the asterisk (*) button on the remote, and choose the 'Update app' option.
Clear app cache and data: Sometimes, clearing the cache and data of the HBO Max app can help resolve issues and refresh the app's settings. Go to your device's settings, find the app settings or application manager, locate HBO Max, and choose the options to clear cache and data. Restart the app and see if the upgrade option appears.
Restart Roku app – Few users reported that they were able to move to the new Max app by simply restarting Roku.
Contact customer support: If you have followed the above steps and still don't see the option to upgrade, it's recommended to reach out to the customer support team of HBO Max or Max for further assistance. They can provide specific guidance and troubleshoot any account-related issues you may be facing.
Remember, the transition from HBO Max to Max should generally be seamless and require only updating the app. However, individual experiences may vary, and technical issues can arise. By contacting customer support, you can receive personalized assistance and the most accurate information to help resolve the problem and successfully transition to Max.
Q: Has Max changed the subscription fee for existing users?
Existing HBO Max users will not incur additional charges when transitioning to Max. The transition should allow users to seamlessly continue streaming their content from where they left off.
The pricing for Max includes $9.99 per month for the ad-supported tier and $15.99 per month for the commercial-free streaming tier, similar to the pricing structure under HBO Max.
The new addition is the Max Ultimate Ad Free tier, which is available for $19.99 per month. This tier offers several benefits, including the ability to stream on up to four devices simultaneously and the option to download up to 100 movies or episodes for offline viewing.
The Max Ultimate Ad Free tier also provides access to extra movies and TV shows in 4K Ultra HD resolution, enhancing the visual experience for subscribers.
However, the official Roku page states that users will be able to enjoy the current HBO Max plan features for a minimum of 6 months before transitioning to new Max plans and their features, it suggests that there will be a transition period where existing HBO Max subscribers can continue to access the same plan features they are currently enjoying.
During this transition period, users will likely have the opportunity to familiarize themselves with the Max platform and its new features before any changes or upgrades to their subscription plans are implemented. This approach allows for a smoother transition and gives subscribers time to adjust to the new offerings.
It's important to note that pricing and features can evolve over time, so it's advisable to refer to official sources or contact Max's customer support for the most accurate and up-to-date information regarding their subscription plans and offerings.