Google apart from being a multinational-billionaire-tech giant has also been a center of attraction among 'junta'. It has devised ways to attract audiences from all around the world in innumerable creative ways. Google has never failed to amuse its audience when it comes to software, programs, and devices that it envisages. Be it Google maps, Gmails, Google assistant, or hardware like Fitbit, Google Pixel, Nexus or even the rumored Pixel Watch, Google has always managed to come up with something out of the box and knows well how to maintain its grip on the market.
So, like every other time, it is rumored that Google will join the race for next-gen style statement the smartwatches – the alleged Pixel Watch 2022. Though the development of this device hasn't yet been confirmed by officials, its look is already out among users from the recent buzz on social media. It is speculated that the Pixel Watch 2022 will work on the latest version of the Wear OS. From the leaked images it is assumed the features will be similar to Fitbit and Tizen smartwatches.
Let us visit what we know so far from reliable leaks on design, price and Pixel Watch 2022 release date.
Google Pixel Watch leaked images on Social Media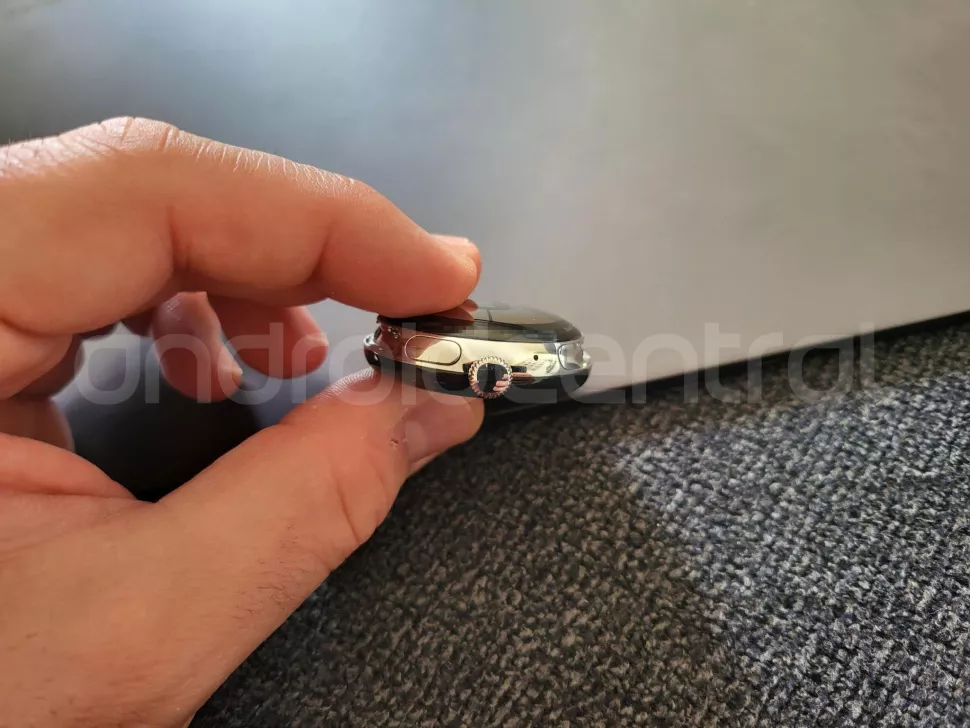 So, today, we are talking about Google's Pixel watch that was recently spotted when one of the members of the team, left his alleged prototype behind in a restaurant in Chicago. It could be intentionally Google's unique way to leak its upcoming product and generate hype. One can get a bit of an idea about the design from the mage of Pixel watch left in the restaurant. There is a stainless steel crown on the right edge of the dial that stands out. One can also make a small button adjoining the crown for choosing UI elements.
One more interesting part is that the watch was left with a note that read,
"This device has not been authorized as required by the rules of the Federal Communications Commission and Industry Canada, nor has it been tested for compliance with EU regulations. It is for internal testing and development only. The markings and packaging are not final."
Here are a few more latest Pixel Watch images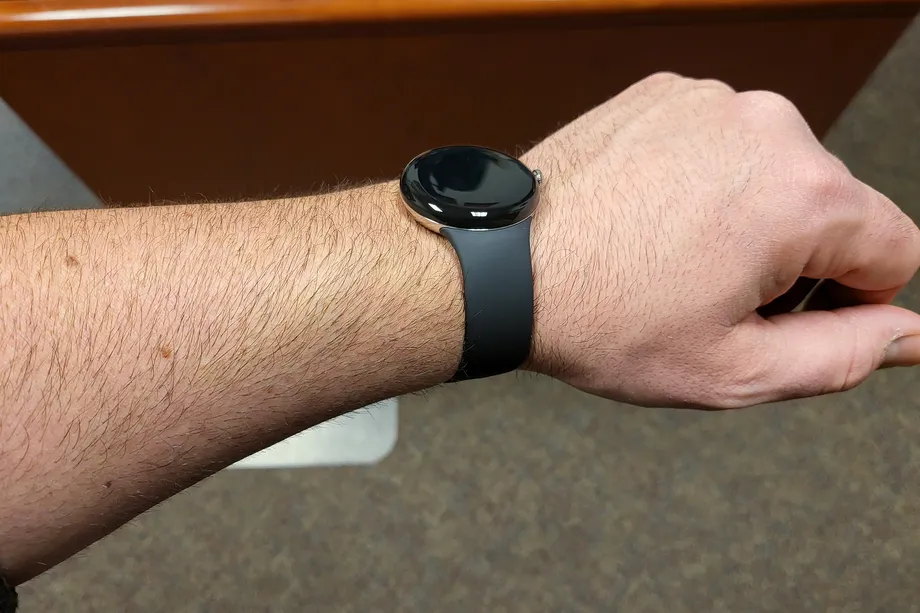 Do we have Google Pixel Watch release date?
No, we don't have any official confirmation about the product from Google. But there are leaks as always. Google Pixel Watch is tipped to make its debut with the announcement coming in the 11th May event of Google I/O. Speculations say that Google will introduce Pixel Watch at the event along with a formal announcement of the launch of the rumoured Pixel 6a.
Insiders are expecting a Pixel Watch 2022 release date to happen in October 2022 with the launch of Pixel 7 devices. Google's CEO Sunder Pichai has also confirmed the launch of hardware devices in Google's I/O though we are not sure if he is talking about the Pixel Watch or not.
Google Pixel Watch Pre-Order Information
Pre-order details will be made public once Google launches Pixel Watch hopefully in October. However, traditionally speaking, taking a cue from its smartphone launches and their pre-orders, expect the Pixel watch to be available online with a few retailers like Amazon, and Best Buy. Also, expect Google to launch its first Pixel Watch in select countries like the United States, United Kingdom, Australia, Canada, France, Germany, Japan, and Taiwan.
Google Pixel Watch Design
According to the left behind piece prototype and rumors, the watch has a rotating disc or crown structure with one button attached to it. The sources also say that this metallic watch has a glassy covering. This Pixel Watch comes with removable straps as suggested by the recently found prototype. The watch has an overall diameter of around 40 millimetres and is about 14 millimetres thick. The watch weighs around 36 grams and the diameter of the body will be 36 millimetres. Though no charger has been left behind on the spot, people are suspecting it to come along with a charger. The spotted prototype also looks similar to the one developed by Apple.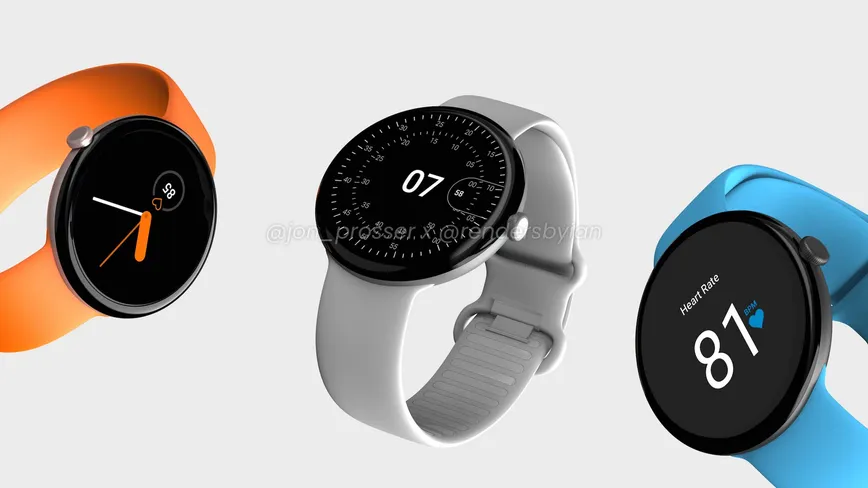 Google Pixel Watch features
According to the 9to5Google,
"the code hidden in a Google update indicating that the Pixel Watch will use an Exynos chipset, rather than the Snapdragon model found in most Wear OS 3-eligible watches."
The Pixel Watch is also suspected to come with features already existing in Google Fitbit. These features might include:
Blood SPO2 and Heartbeat Monitor: This has become one of the primary features of any wrist smart device, so we can expect the same here too.
Route Tracking: This feature may enable the user to integrate Google Maps with their path while running, walking, or jogging.
Google Pay: This feature will enable you to make instant and fast contactless transactions.
On-Wrist Maps: It's much safer to navigate on a bike, car, or by foot when you only need to glance at your phone for a split second. A smartwatch makes this even easier.
ECG Sensors: These are the sensors that are currently being used by the Samsung Galaxy Watch series.
Next-gen smart Assistant: The Google Pixel Watch is estimated to come with a personal Google Assistant to make things much easier and handier.
With so many features running all at once, we can surely suspect for this watch comes with a charger and a battery of 300mAh.
Google Pixel Watch Price Leaks
With these dazzling features, the Pixel Watch's cost is suspected to range somewhere between 300-400 dollars, i.e. the price range that belongs to Apple's iWatch Series 7 and Samsung Galaxy Watch 4 classic.
Features
Google Pixel watch (Rumored)
Samsung Galaxy Watch series(Watch 4)
Apple Smartwatch 7
Smartwatch Price
$300-400 (Rumored)
$249-349
Galaxy Watch 4- $249
Galaxy Watch 4 Classic- $349
Starts at $399
Battery life
300-360mAh
Supposed to last 30-40 hours with regular use
40 hours with regular use
18 hours after an overnight charge
Release date
Release in October 2022
August 27, 2021
September 14, 2021
Personal Assistant
Support Google's personal assistant
Supports personal assistant Bixby
Supports Siri
What next?
Though the above note is able to give some more insights on the prototype, this doesn't yet quench our thirst to know more about what Google is planning for its customers this time. The incident has raised a number of questions and curiosities among the people. The incident in itself is quite beguiling in a way that the whole insights and information we know comes from a bogus incident where a Google team member left the prototype by mistake. 
I know you all are excited to know and confirm this Google Pixel Watch phenomenon. If the rumors are true, we'd sure be getting this information from Google. Stay tuned with PhonesWiki to get more insights on a smartwatch!