Genshin Impact's latest update is around the corner, therefore we have brought some exciting new leaks about the same. From what we have seen, the game is about to get bigger and better. The Genshin Impact 2.0 update will also be the biggest update the game has seen since its launch last year. Like the previous update, the 2.0 update will have lots of interesting costumes, new powers, and most importantly a bunch of new characters.
Genshin Impact 1.6 gave gamers many interesting new features and modes. It also had new clothes and weapons. But now miHoYo, the company behind the game, has decided to skip the intermediate versions and jump from version 1.76 to the 2.0 version.
The cross-save function between the account for PlayStation and miHoYo Account is coming in Version 2.0.
Let's dive a bit deep into this and have a look at what all the Genshin Update 2.0 will bring.
Genshin Impact 2.0 Release Date-
The Genshin Impact 2.0 release date is Wednesday, July 21. The date was announced along with the special peek into the new Inazuma map. Later the release date was confirmed by miHoYo when they launched the 2.0 update trailer.
The Inazuma map has been in conversation for quite a long time. Gamers began taking notice of it when characters in the game began talking about the Inazuma. This was a very clever marketing move from the company.
Genshin Impact 2.0 update size
Genshin Impact will come to the Galaxy Store on Wednesday, July 21, 2021, at 06:00 (UTC+8). Travelers using Android can download Genshin Impact through the Galaxy Store, and venture into the world of Gardening Gameplay on other platforms.
Hoyolab will release a pre-installation version couple of days before 2.0 goes live. If installed will help players to jump straight to the game once it goes live. Those having slower internet connections and limited bandwidths will appreciate the pre-installation release. It will be available for both PC and mobile platforms.
You can keep space free on your PC and mobile on the basis of past releases. Looking at the past update sizes, expect Genshin Impact 2.0 update size PC to be at least 7 GB. Genshin Impact 2.0 update size for Mobile will be at least 3 GB.
So if everything goes according to the plan, the Genshin Impact 2.0 will be out on July 21. Let's now discuss all the new leaks of the latest update.
Genshin Impact 2.0 Leaks- Inazuma Map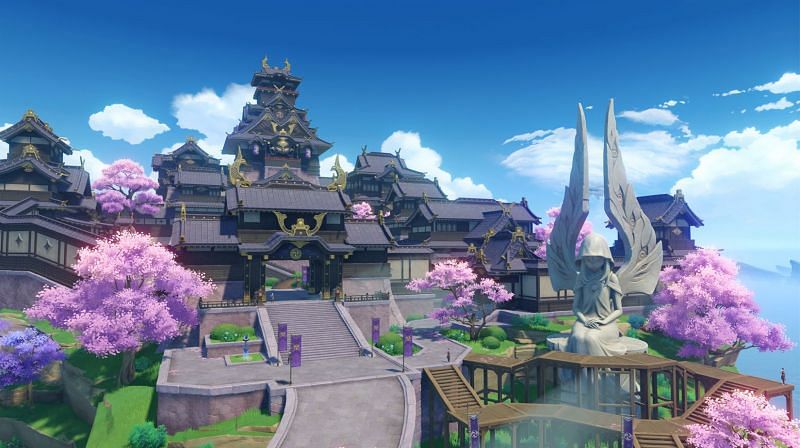 Inazuma is a chain of six islands, spanning over a huge area. Inazuma is reportedly the domain of Electro Archon. The map will have some exciting features and special locations. If reports are to be believed there a bunch of new locations on the Inazuma map. It has the Grand Narukami Shrine that protects a sacred Sakura tree.
Apart from this, few major locations are Inazuma city, Musoujin Gorge, Komore Teahouse, Kamisato Clan Estate. All these regions form a crucial part of the map and will have exciting puzzles, solving which will give you extra credit.
Apart from all this, the Inazuma map will have other exciting features too.
Genshin Impact 2.0 Banner & Characters Reveal
The 2.0 update will bring along a bunch of new and exciting 5-star and 4-star characters. Among all the new characters, the most anticipated one is Ayaka, followed by a bunch of other Cryo 4-star characters. Let's learn about all the new characters one at a time.
1. Ayaka
Ayaka is the first 5-star cryo character that will be out on July 21. She is the daughter of the Kamisato clan, one of the major tri-Commissions that overlook the Inazuma region. Along with sword fighting skills, she will have many interesting new elemental powers. Her banner, The Heron's Court, will also come out on July 21.
2. Yoimiya
Another 5-star cryo character, Yoimiya is an archer and firework maker. She is a strong character with exciting new powers. She is the owner of Naganohara fireworks and also happens to be the finest pyrotechnician of the Inazuma region. Yoimiya's banner, Tapestry of Golden Flames, will come out after Ayaka.
3. Sayu
This is the first 4-star cryo character of the latest 2.0 update. Sayu is of small stature but is a powerful Anemo ninja who also happens to be a claymore user. She doesn't have her banner yet and will come along with Yoimiya's banner.
Apart from these three, other major new characters are 4-star cryo Chongyun, Ningguang, and Yanfei. We don't know much about these characters.
Genshin Impact 2.0 Weapons
The leaks reveal many new and exciting weapons that the 2.0 update will bring along. There are many swords, spears, a catalyst, a claymore, and other interesting stuff. The only 5-star cryo weapons would be Mistsplitter Reforged (Sword) and Thundering Pulse (Bow).
Here's an overview of the new Genshin Impact 2.0 weapons:
| Name | Rarity | Type |
| --- | --- | --- |
| Amenoma Kageuchi | Four | Sword |
| Mistsplitter Reforged | Five | Sword |
| Hamayumi | Four | Bow |
| Thundering Pulse | Five | Bow |
| Kitain Cross Spear | Four | Spear |
| Katsuragikiri Nagamasa | Four | Claymore |
| Hakushin Ring | Four | Catalyst |
As for the artifacts, there are majorly two new artifacts; Emblem of Severed Fate and Shimenawa's Reminiscence. Both of them have two different types of set pieces; one's a two-part set and the other is a four-set set. Both the artifacts have certain specified elemental powers that players can unlock at a certain level.
Here's an overview of the new Genshin Impact 2.0 artifacts:
Name
Two-piece set
Four-piece set
Emblem of Severed Fate
+20% energy recharge
At least 25% increase in elemental burst damage.
Maximum is 75% bonus damage
Shimenawa's Reminiscence
+18% attack
Loss of 15 energy if the character has 15 or more energy. Attack damage increased by 50% for duration of 10 secs
Genshin Impact 2.0 New Bosses
The Genshin Impact 2.0 update will introduce a bunch of new and powerful bosses to fight against. These bosses will come at various levels in the Inazuma region.
1. Ruin Sentinal-
Ruin is a ruin protector and a powerful one and can take different forms such as crab, snake, etc. Defeating him won't be easy as each of his forms has its own set of powers.
2. Magu Kenki-
Magu is a powerful swordsman from the Golden Apple Archipelago. He is a mechanized swordsman and has different elemental powers.
3. Pyro Hypostasis-
Part of the new elemental construct, Pyro is a powerful boss. It features new powers and elemental weaknesses.
These were all the major pointers we could gather from the Genshin Impact 2.0 leak. Genshin Impact is one of the most popular anime games with over 40 million players. So the new 2.0 update is huge news. If you are a Genshin gamer, hold tight and keep revisiting us as we'll be covering all the news around the 2.0 update.