The gaming community sure had plenty to keep themselves busy within 2020. Some games proved to be wonderful, such as Demon Soul's; encouraging a sense of nostalgia while others, like Cyberpunk 2077 failed to deliver where it mattered. In such a situation would a mobile game triumph? Well, it certainly has, Genshin Impact was received with both applause and criticism. It managed to capture the expansive nature of Breath of the Wild (2017) while adding the elements of a gacha game to it.
Updates have been consistent to keep players hooked onto the game. The most recent of them all, Genshin Impact 1.3 promises a much deeper world with intricate lore for you RPG-enthusiasts out there.
Here's our one-stop guide: Genshin Impact 1.3: Release Date, Weapons, Geo Buff, Xiao banner, New Characters, Zhongli Reveal details, in no particular order.
Why should I play the Genshin Impact game?
Genshin Impact is an open-world action RPG developed and published by miHoYo. It features a fantasy-based game that centers heavily on a 3rd person action-based battle system that uses elemental magic and character switching in-game. It relies on gacha game monetization to help you expand your roster of fighters and weapons.
While we would like to elaborate on the story it's better if you take a look at it yourselves. The first-hand experience is better than merely taking us at our word. On a side note; if you're looking to relive the glorious endgame storyline of BotW, I suggest you look elsewhere.
Genshin Impact 1.3 Release Date
Genshin Update 1.3 promises a new chapter being added, this time though with a little sombre approach. A new Xiao banner is looming across the horizon. The patch update means a renewed installation of the game.
As it stands, the date has been fixed for February 3rd, 2021, at 14:00 PST(17:00 EST / 22:00 GMT). The developers have issued the notes giving a detailed description of all that is to come for the new patch.
A new event by the name Lantern Rite, is set to take place where you can obtain a 4-Star Liyue character of your choice. it also promises several new quests that end with a grand reward of having Xiao himself on your team roster. Get ready to grind I guess.
How to Pre Install Genshin Impact 1.3?
The 1.3 update has a scheduled pre-load on February 1st, 2021 around 3 A.M. Support is mentioned for the PC and Mobile platforms while PlayStation 4 release does not find any mention.
There are a few steps involved in the pre-installation process. Be sure to read our guide down below consisting of pointers for both PC and Mobile platforms of the game.
By doing a pre-load of the Genshin Impact update, you'll experience a much smoother and faster load-in even if the pre-installation is incomplete.
1. PC Platform:
Once the Pre-Installation function is available, you must proceed to update the game launcher.
After updating the launcher a "Game Pre-Installation" button will appear to the left of the "Launch" button.
Click the "Game Pre-Installation" to download the latest resources.
After pre-installation when the new update is released all you have to do is go open the launcher and click on "Update".
Failing to complete the pre-installation process will still show an "Update" button but the download process would resume with the completion of the "Pre-Installation Package".
2. Mobile Platform (iOS & Android)
You can access the pre-installation resources by going into the Paimon Menu>Settings>Other>and finally the Pre-Installation Package.
Or the pre-install update would be located on the bottom left corner of the login menu and can be accessed by tapping on the "Pre-Install Resource Package" icon.
When the version update is released head on over to the Play Store (or App Store) and tap on "Update".
For those running the game on PC can continue to play although a few restrictions would be in the offing. According to miHoYo:
Genshin Impact 1.3 Weapons and Skins
New weapons in your armoury are slated for release ranging from stylistic skins to new weapons themselves. Much of the Inazuma weapons are set to get an upheaval too.
"Bakufu," "Narukami," "Wildsith," "Kunwu," and "Morax" form the bunch. A statement from a rather reliable Genshin Impact leaker NEP NEP supports the claim of a new range of artillery, some of which are the primary supports for Xiao and Zhongli.
Currently, we have confirmation for improved drop rates for the Primordial Jade Cutter and the Primordial Jade Winged-Spear, both 5-Star weapons.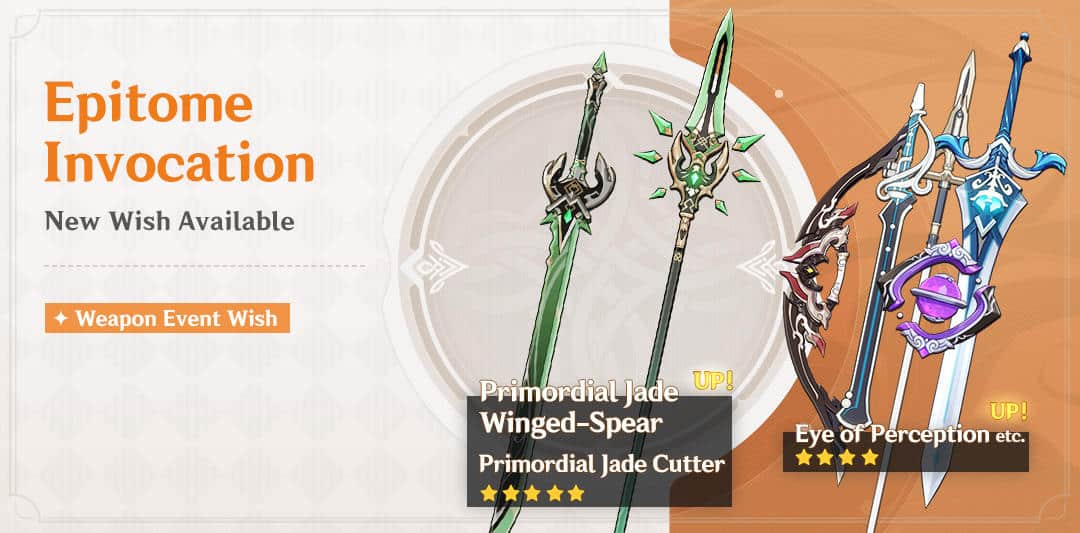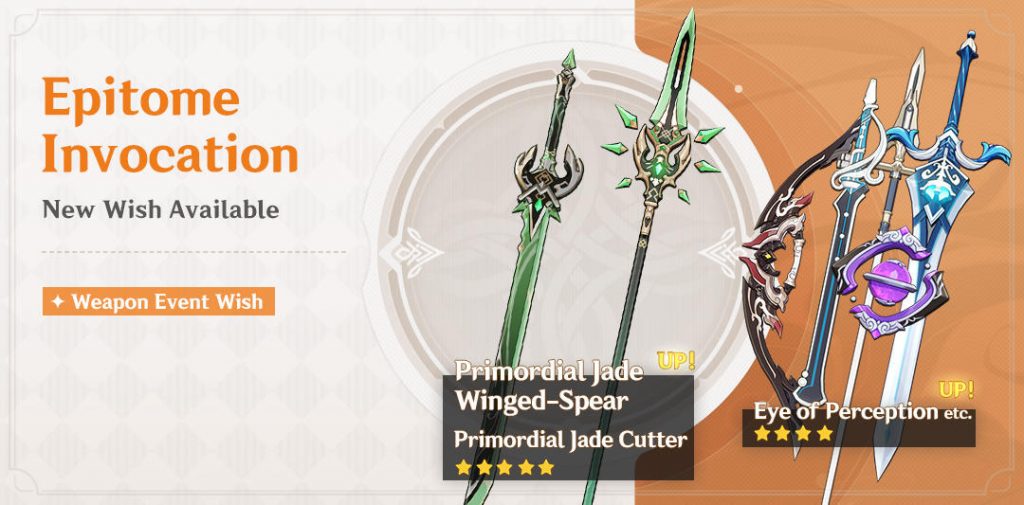 Others include the 4-star weapons The Flute (Sword), Sacrificial Greatsword (Claymore), Rust (Bow), Eye of Perception (Catalyst), and Favonius Lance (Polearm).
Genshin Impact 1.3 Geo Buffs and Zhongli's Upgrade
Genshin Impact 1.3 Zhongli's debut back in December 2020 had fans of the game enthusiastic about receiving the kit. However, many felt that the value of the kit didn't warrant the character's value in the game and demanded an improvement. miHoYo finally gave in to the issues plaguing the Zhongli problem and came out initially with a lackluster update.
The need for a buff has been witnessed often even on the Reddit forums.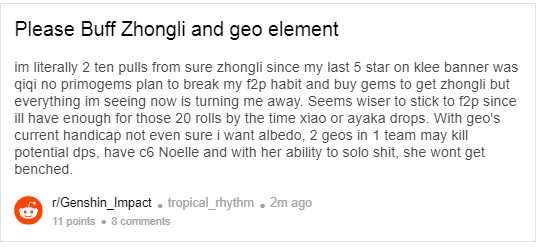 The final changes however in update 1.3 is set to improve upon his base stats and improving Geo as an element for every player to use in Genshin Impact 1.3. The lack of power associated with the Geo element is set to change and improvements in player and weapon status are also to witness a significant buff.
Mihoyo also plans to buff the Geo element in two significant ways:
All Geo Shields (Zhongli's Jade Shield, Noelle's Breastplate, Crystallized Geo Shield) no longer have a 250 percent absorption effectiveness against Geo Damage. Instead, they have 150 percent absorption effectiveness against Physical and Elemental Damage.
Geo Elemental Resonance, "Enduring Rock" will increase shield strength by 15 percent. Shielded characters will have their damage increased by 15 percent but also decrease the Geo resistance of enemies hit by 20 percent for 15 seconds.
Zhongli's integral presence in the story of the game and his characterized Geo element is finally going to receive the recognition and impact(mind the pun) it was meant to deserve.
Genshin Impact 1.3 New Characters
Genshin Impact 1.3 is set to come with its titular character Xiao, an Anemo Adepti whose signature weapon is the polearm. His voice actor, Yoshitsugu Matsuoka, also plays the role of Inosuke in Kimetsu no Yaiba. In English, Laila Berzins will be voicing him.
A second character is also expected, who goes by the name Hu Tao. A Pyro elemental polearm user who's infamous for her pranks.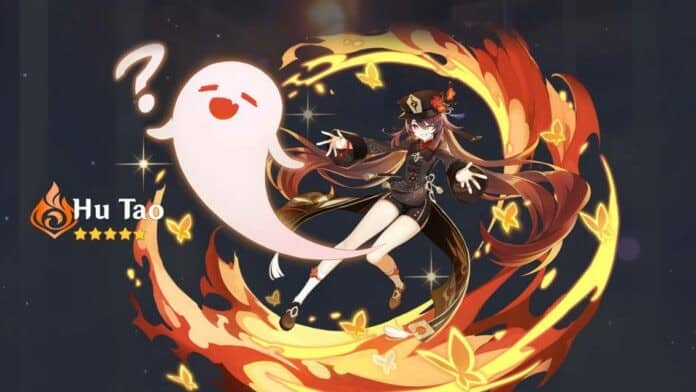 Hu Tao will mostly be voiced by Rie Takahashi who previously voiced anime characters like Megumin from Konosuba, and Emilia from Re: Zero. In English, Hu Tao will be voiced by Brianna Knickerbocker. She previously portrayed characters like Rem from Re:Zero.
Under the Xiao banner, we also have an increased drop rate for Keqing. However, the time frame to obtain her is limited to a narrow window of 14 days.
Genshin Impact 1.3 Banner Leak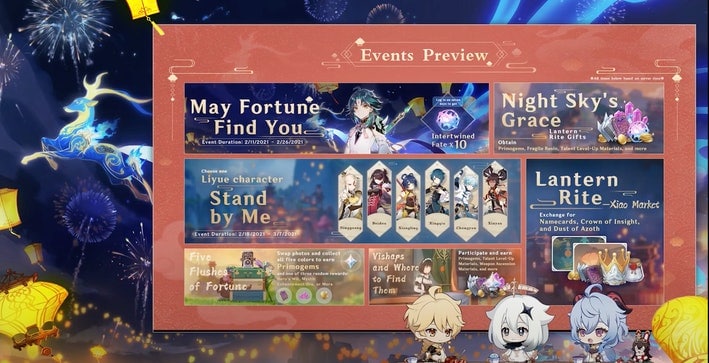 1. Five Flushes of Fortune:
You'll earn Primogems and Kamera filters by taking photos around Teyvat. You'll be able to trade these rewards with your friends. The title seems apt for a game that solely relies on luck.
2. May Fortune Find You:
Doing a daily login will net you a free Intertwined Fate every day.
3. Vishaps and Where to Find Them:
Geo seems to be the crux of the Genshin Impact 1.3 update, Geovishap becomes the brand new enemy you'll have to take down in order to upgrade Xiao. Doing so also opens up new events to explore.
4. Leyline Overflow
During the event, the first three leylines you complete will provide double the normal reward.
This pretty much sums up what is to be for the Genshin Impact 1.3 update. To sum it all up here's a video from the developers themselves.
Do you think our list has covered all that you seek? Do leave a comment below. For more content like this visit our website here. If you'd like to see more in-depth articles from our side do leave your opinion.