Even a near-to-perfection device like Google Pixel can sometimes have features that users find frustrating. One particular annoyance reported by some Google Pixel users is the Google Assistant "Hold your earbud" notification.
Google Pixel smartphones have gained recognition for their sleek design, impressive performance, seamless integration with Google services, stock Android experience, timely updates, and innovative features. The Pixel series has consistently provided users with a user-friendly interface and distinctive features that differentiate it from other Android devices.
However, the latest Pixel 'Hold your earbud' notification is a reason for annoyance to many new Pixel owners. Let's check out more details on the issue and what can be done to fix Google Assistant's 'Hold your earbud' notification till the time Google does it permanently.
The issue has been reported by users who are using earbuds with their Pixel phones. The prompt "Hold your earbud to have me read your notification out loud" on Google Pixel devices is displayed. The intent behind this feature was to improve the seamless connection between Bluetooth earbuds or headphones with pixel devices. However, the notification is found to be more annoying than helpful by several users.
Users are experiencing frustration with notifications that interrupt their activities on their devices. It can be disruptive and impact their workflow and immersion, especially when engaged in important tasks like reading, gaming, or watching videos. If users have already attempted troubleshooting methods suggested by Google's official website without success, there are a few additional steps they can try
How to fix Google Pixel 'Hold your earbud' notification?
If users are experiencing persistent 'Hold your earbud' issues with Google notifications following troubleshooting options can be tried.
Turn off all Google notifications as a potential workaround. Users can review their device's notification settings to ensure they are configured as desired. They can adjust notification preferences for individual apps or globally to reduce the frequency or intrusiveness of notifications. Here's how to do it, as experimented by a Reddit user:
Head straight to Google Discover Page > Profile Picture > Settings > Google Assistant > Notifications > View All Notification Types > Tips & Tricks > Turn everything off. However, some people are finding that turning off the sliders doesn't save and defaults to back on. In that case, follow the below tips and tricks to fix Google Pixel 'Hold your earbud' notification bug.
Do Not Disturb mode: Activating the "Do Not Disturb" mode on the device can help minimize interruptions. This mode silences notifications and alerts temporarily, allowing users to focus on their activities without interruptions. Users can set specific periods or customize the settings to suit their preferences.
Turn off Google Assistant: Turning off the Google Assistant completely through the Pixel Buds has been found to work, but the user is not able to use the Google Assistant at all.
App-specific settings: Some apps have their own notification settings within their respective settings menus. Users can explore these settings to disable or modify the notifications generated by specific apps that are causing frequent interruptions.
Check for app updates: Keeping apps up to date ensures that users have the latest versions, which may include bug fixes and improvements that address notification-related issues. Users can check for app updates through the device's app store.
Clear cache and data: If the problem persists, clearing the cache and data of the specific apps experiencing issues can sometimes resolve notification problems. This action removes temporary files and resets the app to its default settings. Note that clearing app data may lead to the loss of app-specific settings and data.
Factory reset the earbuds: Forget the earbuds on the phone and then factory reset them. Once you set them back up, the issue will be fixed.
Contact support: If none of the above steps work, users can reach out to the app developer's support team or the device manufacturer's customer support. They can provide specific details about the issue and seek further assistance in resolving the problem.
Remember that these suggestions may not directly address the specific "Hold your earbud" notification issue, as its behavior might have changed since my knowledge cutoff. It's always advisable to consult official Google Pixel resources or reach out to their support for the most accurate and up-to-date assistance regarding this particular notification.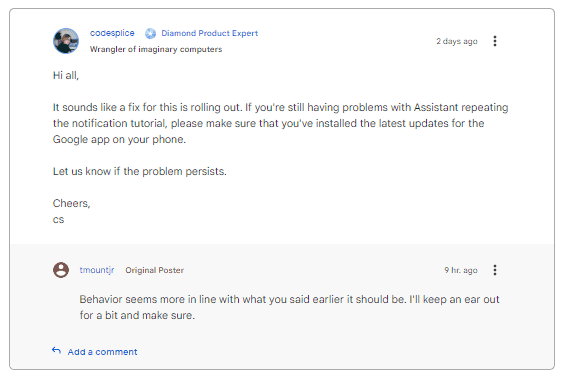 Users have reached out to Google Support and they have confirmed that Google Pixel 'Hold your earbud' notification was a known issue, and they are working on a resolution. Hopefully, they are working towards its resolution and the update might roll out anytime soon.