One of the most well-known brands in the wearable devices market, Fitbit's products revolves around fitness and healthy living. The latest to their smart wearable segment is Fitbit Charge 5 which was launched in August 2021. Now loyal Fitbit customers are waiting for Fitbit Charge 6 release speculated at the earliest in Spring 2023 or the latest by late Summer 2023. The Fitbit Charge lineup is quite popular and is the best-selling product of the company.
Although Charge 5 is a significant enhancement over its predecessors in numerous ways, Fitbit Charge 5 Battery Drain issue persists with no ETA in sight. Many users are experiencing a serious problem that is affecting the battery life of their Fitbit Charge 5. Many of you who are reading this piece is already facing an abnormal Fitbit Charge 5 battery drain issue for months. For you guys, we have covered all the workarounds that have worked for many.
Let's first understand what Fitbit Charge 5 Battery Drain issue is!
What is the Fitbit Charge 5 Battery Drain Issue?
Fitbit Charge 5 battery life is claimed to be up to 7 days. However, a majority of users have found that the Fitbit battery life has degraded. Fitbit 5 needs recharging every 2-3 days whereas the older Fitbit 3 averaged at 6-7 days between charges. Even though keeping the GPS switched off and disabling unused apps, the phone is not set to always on have not improved Fitbit battery life.
In fact, if one tries to troubleshoot on the basis of instructions from Fitbit, one needs to disable all of the features that were selling points of Fitbit 5 in order to get decent battery life.
The ongoing problem makes the Fitbit Charge 5 battery drain rapidly which makes it last less than 24 hours. Furthermore, sometimes, the battery gets drained out completely and users are unable to charge the wearable.
If one goes through the thread of complaints by users, it appears that some were shipped with faulty batteries while for the rest battery drains within 2-3 days unless one restarts the unit immediately after charging to 100%. Those who had faulty batteries and are within the warranty period are eligible for exchange. On the other hand, if the battery drain issue is due to software, then one has to wait for the new firmware update.
The question is where is the firmware upgrade that Fitbit was working on to address the poor battery performance of the Fitbit 5?
Multiple users have reported the Fitbit Battery drain issue on Fitbit's community forum.
Charge 5 stopped holding a charge

"My Fitbit stopped holding a charge and keeping track of zone minutes, heart rate, sleep. Have updated and tried the button 3 times but never get the Fitbit logo afterwards. My Fitbit was purchased in October."

Source

"Mine barely last 24hrs even when doing nothing/sat in the office. Help advice seems to be Reset - which nothing as its up to date - plus disable all the functions you bought the device for - seriously? There's so many complaints about this device on these kinds of forums - i wish i'd read before purchasing. It's clearly majorly deficient in both software and hardware - how did it get anyway near commercially to market?"

Source

"I had a similar experience recently.  I also purchased my Charge 5 last fall.  It ended up not working at all so they sent me a RA postage pdf and I sent it back to FITBIT on 6-6-2022.  I'm waiting for the replacement."

Source
Approaching customer support has resolved the Fitbit 5 battery drain issue for some. Few have been given replacement Fitbit Charge 5 while some have been denied. It has turned out to be a mixed experience with the support handling the call.
Fitbit Charge 5 Battery Drain Fix
There may be times when you experience issues with this fitness tracker, such as when the battery runs out soon. We have found quite a few workarounds that might help fix your Fitbit Charge 5 battery drain.
Solution 1: Charge the Fitbit Charge 5 until 100%
It is possible that the battery on this Fitbit device is depleting quickly because it is not fully charged. A fully charged Fitbit battery should last up to 7 days. The battery will take about 1 to 2 hours to fully charge.
Solution 2: Restart the Fitbit Charge 5
Another possible solution to fix the battery drain issue could be to simply restart the device. Your device could be affected by a glitch or corrupt data running in the background, and in such cases, a restart might fix the bug.
Step 1: Swipe down from the lock screen to find the Settings app.
Step 2: Tap on the Settings app.
Step 3: Tap Restart Device.
Step 4: Tap Restart.
Once the watch has fully booted try to check if the problem persists.
Solution 3: Turn off the Always-On Display on your Fitbit Charge 5
The Always-on Display is a feature that ensures that the screen is always turned on. This is handy since it gives you a glimpse of important information on the watch. This can use a significant amount of power life, so try turning it off and seeing if the battery life of this fitness tracker improves.
Step 1: Swipe down from the clock face to access quick settings.
Step 2: Tap on the Settings app.
Step 3: Tap on Display settings.
Step 4: Tap on the Always-on display.
Step 5: Tap on the Always-on display and turn it off.
Solution 4: Perform a firmware update on the Fitbit Charge 5
The most recent firmware update for your Fitbit Charge 5 will usually include fixes and new features. It's always a good idea to make sure that the device has the most recent firmware update.
Step 1: Open the Fitbit app on the connected phone
Step 2: Tap on the photo avatar on the top left side of the app
Step 3: Scroll down and tap Help & Support.
Step 4: Tap on Check for Charge 5 update.
If there is an available update, then make sure to update your Fitbit device. Once the device is running on the latest update try checking if the problem persists.
Solution 5: Turn off sensors that you are not using on your Fitbit Charge 5
If you want to extend the battery life of your Fitbit Sense, you should consider turning off the sensors you don't need right now. GPS, Bluetooth, and other health monitoring sensors could be included.
Solution 6: Factory Reset your Fitbit Charge 5
While this method will delete your data stored in the device and bring it back to its default or what's called factory settings, this may fix any problems caused by corrupted software.
Step 1: Swipe down from the clock screen and find the Settings app. Tap to open it.
Step 2: Swipe up until you reach the Device Info menu. Tap to open it.
Step 3: Again, swipe up until you reach the Clear User Data option. Tap on it.
Step 4: Tap and hold the Hold 3-sec button to initiate the factory reset.
Fitbit Charge 5 firmware update
It should be taken into consideration that company acknowledged the insane battery drain issue in March 2022. Users have been waiting for a firmware update to fix it up. Nevertheless, Fitbit Moderator has responded recently that there is no confirmed date for the upcoming firmware. However, he provided some workarounds and stated that they are working on this issue to fix Fitbit Charge 5 battery drain. You can also try the same.
The question is that a firmware update to Fitbit Charge 5 is long overdue. Why is the promised firmware update is taking so long? One can only speculate that the Fitbit developers are having trouble getting the new firmware version certified through beta.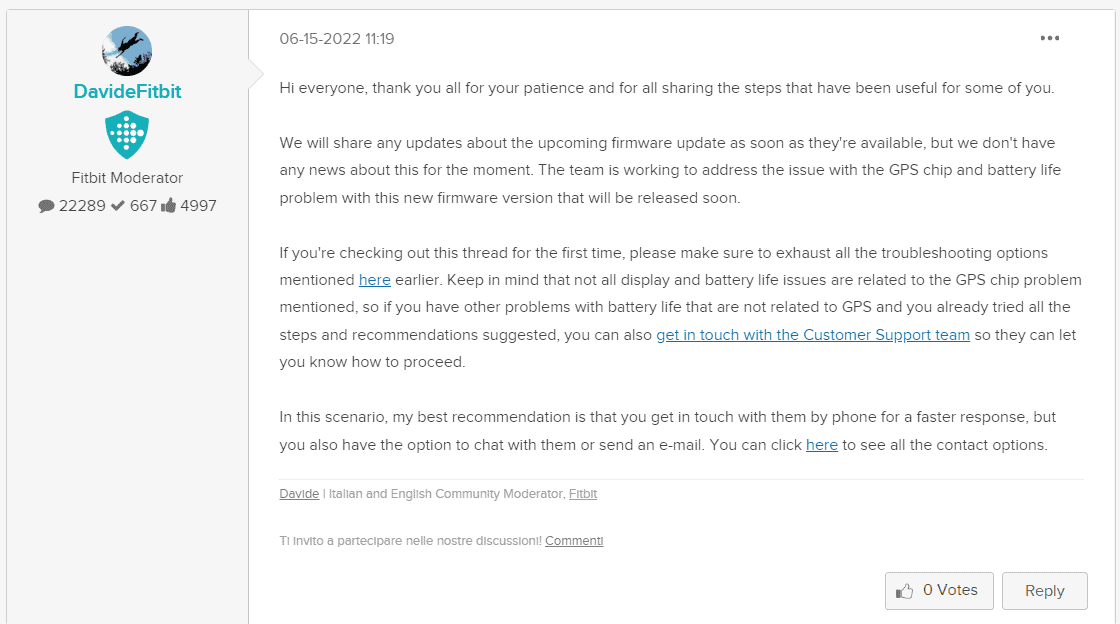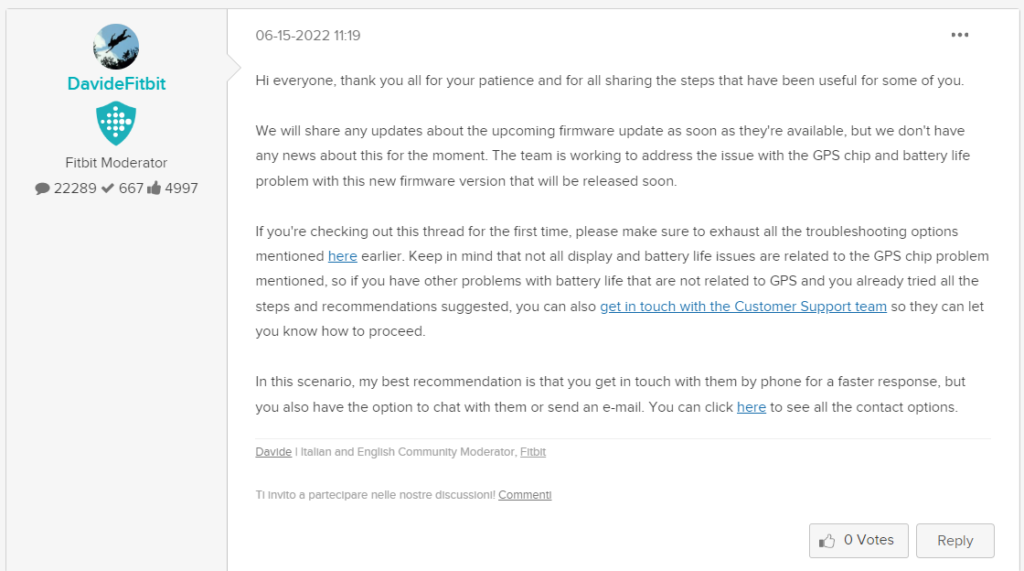 In case the issue persists after following all the tips, it is advisable to wait for the next patch or get a replacement from Fitbit or DM FitBit on Twitter.
Fitbit Charge 5 Battery Drain issue fix released
Fitbit Support team has confirmed about a new firmware update getting rolled out. It is a phased rollout and hence wait for it to reach you. DO share with us your experiences on updating it!
Summing It Up
Fitbit Charge series has been a great product, especially for fitness freaks. It is a wristband that monitors more than just your steps. Equipped with GPS, skin temperature tracking, and a heart rate monitor, it provides key insights into your health and activity which makes it overall a great product.
Unfortunately, the Fitbit Charge 5 battery drain bug is ruining all the fun and its productivity. Although there is an official acknowledgment of the bug, sadly, the firmware update is long overdue, for sure. Many of us are waiting for it and keeping our fingers crossed that it will fix the Fitbit Charge 5 battery drain problem without introducing new ones.

We have listed some workarounds that might help you fix the issue, however, if the problem persists, you may contact Fitbit support for further assistance. In the meantime, let us know if there is any other workaround to fix the issue.