Diablo 4 has emerged as one of the most significant games of the year. Players have eagerly awaited Diablo 4 Season 1 since the game's launch last month, and recently, Blizzard revealed exciting details during a livestream event. The upcoming Season 1 will introduce a plethora of fresh content to the game.
Embark on an unforgettable journey in Diablo 4 Season 1: Rise of the Nephalem, where you'll step into a dark and treacherous world filled with epic adventures! Unleash your Nephalem power and conquer the darkness as you rise to become a mighty force in this highly anticipated season. To aid you on your quest, we provide essential tips and a comprehensive prep guide, ensuring your success in this thrilling adventure.
Prepare for anticipated significant changes in Patch 1.1, and learn from others' mistakes to avoid hindering your progress. Choose your class wisely among the diverse options: the stealthy Rogue, the arcane Sorcerer, the elemental-wielding Druid, or the master of the undead, the Necromancer. The fate of Sanctuary rests in your hands, and as you play, let your voice be heard as we strive for a brighter future in Diablo 4. Here are all the Diablo 4 Season 1 details that you have been looking for!
All the Diablo 4 Season 1 Details
When is Diablo 4 Season 1 start date?
Diablo 4 Season 1 is set to launch at the following times on July 20th:
10:00 PDT
13:00 EST
18:00 BST
Players will be thrilled to know that the game will be released simultaneously across PlayStation, PC, and it supports cross-platform multiplayer co-op. making it accessible to a wider gaming community. With the inclusion of cross-platform multiplayer, players can team up with their friends, regardless of the platform they're on, enhancing the multiplayer experience.
However, to participate in Season 1, players must meet Blizzard's specific entry rules. It's essential to check these rules and requirements on Blizzard's official website to ensure eligibility for the upcoming season and to enjoy all the exciting new content with friends.
Are there any rules set by Blizzard to play Diablo 4 Season 1?
As the new season begins, players will be required to create a completely new character to participate. This ensures that everyone starts on equal footing, promoting a fair and balanced gaming experience. This change has been confirmed by Rod Fergusson on Twitter, and the community's response has been varied, with newer players expressing mixed feelings while returning series veterans seem more understanding of the decision.
To take part in Season 1, players will need to log into the game on the designated date and create a brand new hero or heroine. Additionally, players must have already completed the campaign with at least one character to gain access to the fresh content offered in the season.
Although a fresh character will need to be created with every new season, it has been confirmed that seasonal characters will be moved to the eternal realm. This means that if players choose not to participate in future episodes or seasons, they will still have the opportunity to continue playing with their previously made heroes, maintaining their progress and achievements.
Diablo 4 Season 1 Battle Pass Details
The developers of Diablo 4 have reassured players that the Season 1 Battle Pass will not be pay-to-win, addressing one of the community's main concerns. However, there are still several aspects of the Battle Pass that have piqued the community's curiosity due to its unique progression system.
What is the Diablo 4 Battle Pass?
The Diablo 4 Battle Pass is designed as a three-month-long progression system, offering cosmetic rewards and premium currency as players complete the pre-defined Season Journey challenges while playing the game. This system introduces a fresh approach to the standard gameplay seen so far in the Diablo series.
What is the Diablo 4 Battle Pass release date?
Scheduled to be released on July 20, 2023, as part of the Season of the Malignant, the Battle Pass will be the first of four planned releases throughout the year, forming a regular cycle of content updates.
How can you unlock the Diablo 4 Battle Pass?
While players can progress through the Diablo 4 Battle Pass without completing the campaign, certain seasonal elements like Malignant foes will require players to finish the main story. Once players defeat Lilith, the game will provide an option to skip the campaign for new characters, allowing them to access the seasonal content.
For players who have purchased the Diablo 4 Deluxe or Ultimate Edition, the Season 1 Premium Battle Pass will be provided for free. However, those who have not purchased these editions will need to acquire the Premium Battle Pass through a separate purchase.
This new approach to the Battle Pass system aims to provide players with engaging challenges and cosmetic rewards, enhancing the overall gameplay experience without introducing pay-to-win elements. As players embark on this new adventure, they will have the opportunity to explore and enjoy the Season of the Malignant, discovering what awaits them in Diablo 4's evolving world.
What different rewards Diablo 4 Battle Pass will give?
In Diablo 4, the Battle Pass will offer a variety of items and rewards to players, catering to both free and premium tiers:
Free Tiers: These Battle Pass tiers will be accessible to all players without any additional cost. Players can earn rewards from these tiers simply by progressing through Diablo 4's Season Journey and completing various in-game challenges.
Emotes: Emotes will be included in the Battle Pass, allowing players to use them to complete quests and interact with other players who join their world.
Titles: Players can obtain titles as rewards in the Battle Pass. These titles will appear beside their names socially, enabling them to showcase their in-game expertise, favorite class, playstyle, and more.
Premium Rewards Tiers: These tiers can be purchased at any point during the season and will offer superior aesthetic cosmetic rewards compared to the free tiers.
Cosmetics: The Battle Pass will provide players with a variety of cosmetics, including seasonal ones. These cosmetics serve as a visual representation of the player's participation and progress in a specific season.
Premium Currency: Players will receive Premium Currency as part of the Battle Pass rewards, which can be used to purchase additional cosmetics from the in-game shop.
Smoldering Ashes: Smoldering Ashes are special in-game items that grant various boosts to gameplay. These boosts may include XP boosts while completing seasonal challenges, better chances of obtaining high-rarity items through salvaging gear, and more.
Importantly, the developers have assured players that Smoldering Ashes will be free for all players, emphasizing that they will not affect the game's balance or introduce any pay-to-win elements. Therefore, players can rest assured that the Battle Pass will focus on providing cosmetic items and rewards, enhancing the overall gaming experience without compromising fair gameplay.
What are Diablo 4 Season 1 Battle Pass Rewards
In Diablo 4 Season 1, players will have three different battle pass options to choose from, each offering various cosmetic rewards. Here are the details for each battle pass option:
Free Diablo 4 Season 1 Battle Pass Rewards – Players can earn rewards such as Smoldering Ashes and cosmetics by completing in-game quests and challenges. Smoldering Ashes obtained through the free Battle Pass can be exchanged for XP, Gold, Obols, and other valuable resources.
Includes 20 Smoldering Ashes.
Contains 27 Tiers on the Free Track, offering rewards such as armor transmogs, titles, and more.
Premium Diablo 4 Season 1 Battle Pass Rewards- It costs $10 and includes 63 tiers, offering a variety of premium rewards, such as:
Includes 20 Smoldering Ashes.
Contains 27 Tiers on the Free Track, offering the same rewards as the Free Battle Pass.
Contains 63 Tiers on the Premium Track, providing additional rewards such as armor transmogs, weapon skins, emotes, and more.
Comes with the Coldiron Armor Set for each class, both Base and Awoken versions.
Includes the Warded Mustang Mount, both Base and Awoken versions.
Offers the Coldiron Barding Mount Armor, both Base and Awoken versions.
Accelerated Diablo 4 Season 1 Battle Pass Rewards – It costs $25 and includes everything that the Premium Battle Pass offers. Additionally, players immediately unlock 20 tiers and receive the On the Warpath emote.
Includes 20 Smoldering Ashes.
Contains 27 Tiers on the Free Track, offering the same rewards as the Free Battle Pass.
Contains 63 Tiers on the Premium Track, providing additional rewards like armor transmogs, weapon skins, emotes, and more.
Includes the Coldiron Armor Set for each class, both Base and Awoken versions.
Comes with the Warded Mustang Mount, both Base and Awoken versions.
Offers the Coldiron Barding Mount Armor, both Base and Awoken versions.
Additionally, the Accelerated Battle Pass grants 20 Tier Skips and the "On The Warpath" Emote.
Players can review the images provided on Blizzard's website to get a glimpse of all the cosmetic items available through the different battle pass options in Diablo 4 Season 1. These rewards offer a range of customization options to enhance the gameplay experience and allow players to express their individuality in the game.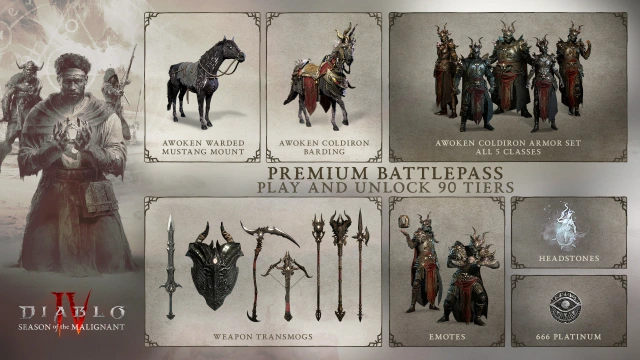 How long will it take to complete the Diablo 4 Battle Pass?
As Diablo 4 will have quarterly seasons, players will have approximately three months to complete the Battle Pass. According to Joe Piepiora, the associate director for Diablo 4, the Battle Pass is expected to take around 80 hours to complete. However, if players aim to reach level 100 with their seasonal character, the process may take longer. It's worth noting that the duration and difficulty of completion may vary based on individual player progress and playstyle.
Diablo 4 Season 1 Tips and Tricks to Survive Hardcore Mode
Preparing for Diablo 4 Season 1 can be essential to get the most out of the new content and challenges that await players in the Season of the Malignant. Here are five tips to help players jump into Season 1 on July 20, 2023, and make the most of their experience:
Explore Sanctuary
Exploring as much of Sanctuary as possible before the start of Diablo 4 Season 1 is an excellent tip for players looking to optimize their Seasonal Character's progression. By completing the "Areas Discovered" for each region in the Eternal Realm, players can carry over this progress to their Seasonal Character, offering several benefits:
Unfogged World Map: When you start your Seasonal Character, the world map will already be unfogged, allowing you to see the areas you've previously explored. This saves time and ensures you won't have to re-explore the entire world.
Renown Rewards: By exploring regions and completing "Areas Discovered," you earn Renown for each region. Renown is a valuable currency that can be used to unlock rewards for your Seasonal Character, including Skill Points and Potion Charges, which can significantly boost your character's power from the beginning of the season.
Efficient Progression: With Renown earned through exploration, your Seasonal Character can start with additional advantages, making the early leveling and progression stages smoother and more efficient.
It's essential to note that this exploration strategy applies to all regions in Diablo 4, not just specific areas. Make sure to ride to waypoints outside of the main cities to unlock them and gain even more Renown.
By taking the time to thoroughly explore the world map and complete "Areas Discovered" in the Eternal Realm, players can lay a strong foundation for their Seasonal Character's journey in Diablo 4 Season 1 and gain a significant advantage right from the start.
Locate every Altar of Lilith in Diablo 4 Season 1 before it goes live
You won't need to unlock Altars of Lilith more than once in Diablo 4 to benefit from the stats increases and Renown in a region. Preparing for Season 1 by finding every Altar of Lilith in the Eternal Realm can give your Seasonal Character a significant advantage right from the start.
Here are the benefits of locating and unlocking Altars of Lilith before Season 1 begins:
Massive Boost to Stats: By unlocking Altars of Lilith, your Seasonal Character will receive a substantial boost to their stats, enhancing their overall power and effectiveness in battles.
Early Paragon Points: Specific Altars in Dry Steppes will grant your Seasonal Character four Paragon Points as soon as they hit level 50. Paragon Points provide additional customization and power to your character, giving you a head start in character development.
Renown Boost: Each Altar of Lilith you unlock in the Eternal Realm will reward you with 10 Renown. Accumulating Renown in this manner preloads your new Season 1 character with Renown, contributing to a higher starting level of progression.
For example, in the Fractured Peaks region, finding all 28 Altars of Lilith will grant you 280 Renown on your Seasonal Character for that region, providing a significant advantage in the new season.
By taking the time to locate and unlock Altars of Lilith in the Eternal Realm before Season 1 commences, you can ensure that your Seasonal Character starts off buffed and well-prepared for the challenges that await in Diablo 4 Season of the Malignant. Praise the High Heavens for this valuable preparation tip!
Create a New Character for the Season
To set foot into the abyss of Diablo 4 Season 1, you must craft a fresh character. Keep in mind that each season operates within its own separate realm, and once the season concludes, your seasonal character will be seamlessly transferred to the Eternal Realm, preserving your hard-earned progress.
Map Exploration Progress
Harness the advantage of your previously explored map from the Eternal Realm, as it carries over to the new season. But don't forget to gather waypoints as you traverse the Diablo 4 Season 1 content. Certain aspects of your Renown, such as map exploration and Altar of Lilith accomplishments, grant you a head start and additional benefits to prepare you for the challenges ahead.
Seasonal Objectives and Blessings:
In the heart of Diablo 4 Season 1 lies a tapestry of unique challenges and objectives, each offering generous rewards. Embrace these tasks, complete them, and rise through the ranks of the battle pass to earn coveted Smoldering Ashes. Unlock a myriad of character boosts, from increased XP gain to rare materials and extended elixir duration. Rest assured, the blessings acquired through seasonal challenges are not pay-to-win, ensuring a level playing field for all players.
Anticipated Major Changes
Buckle up for significant changes in the game, courtesy of Patch 1.1 accompanying Diablo 4 Season 1. Brace yourself for adjustments to aspects, items, drop rates, monster HP scaling, and other vital game mechanics. Adapt swiftly to these transformations to make the most of your seasonal experience.
Avoiding Mistakes and Challenges
Diablo 4 Season 1 presents thrilling challenges and rewards, but it's vital to navigate carefully and avoid pitfalls that may hinder your progress. Before venturing forth, plan your class and build preferences wisely. Make informed decisions about your skills, ensuring they synergize effectively to bolster your gameplay. Additionally, manage your inventory efficiently to optimize your character's performance.
With these essential tips, you stand poised to conquer the darkness, rise as a mighty Nephalem, and pave your path to triumph in Diablo 4 Season 1.
Plan Play Hours
Last but not least – Plan and Plan. Reaching level 100 in Diablo 4 can indeed be a time-consuming task, especially for players with limited game time due to work, school, or other commitments. Planning your game time ahead of Season 1 is a smart approach to make the most of the three-month duration.
Here are some tips for planning your Diablo 4 game time during Season 1:
Set Realistic Goals: Considering your available game time set achievable goals for your Seasonal Character's progression. Instead of aiming for level 100 right away, focus on steady progress and enjoy the journey.
Prioritize Tasks: Identify the activities you want to accomplish in the game, such as completing specific challenges, exploring areas, or acquiring certain items. Prioritize these tasks based on their importance and potential rewards.
Manage Play Sessions: Break your game time into manageable play sessions that fit your schedule. Consistent shorter play sessions can be more productive and enjoyable than trying to grind for hours at a time.
Use Countdown Timers: Utilize countdown timers or calendars to track the time remaining in Season 1. This will help you stay organized and ensure you have enough time to achieve your goals before the season ends.
Be Flexible: Understand that life responsibilities may come first, and it's okay to adjust your gaming plans accordingly. Remember that Diablo 4 is meant to be a fun and enjoyable experience, not a source of stress.
By planning ahead and setting reasonable expectations, you can make the most of your game time in Diablo 4 Season 1 without feeling overwhelmed or missing out on the content you want to experience. Remember, it's all about enjoying the journey and having a great time in the world of Sanctuary.
Must read: How to fix Diablo 4 Error Code 316751 in the multiplayer invite
Diablo 4 Season 1: Tips and Tricks for Beginners
How to Choose a World Tier (World Tier 1 or 2):
World Tiers act as a difficulty system in Diablo 4. If you're new or prefer a casual experience, go with World Tier 1. For more challenging gameplay with better rewards, opt for World Tier 2. Experiment and find your sweet spot!
Choose Your Class Wisely
Diablo 4 offers a variety of character classes, each with unique playstyles and abilities. Take the time to research and try out different classes to find the one that suits your preferred gameplay style.
Explore and Learn
Take your time to explore the world of Sanctuary and familiarize yourself with the game mechanics, environments, and lore. The Diablo universe is rich with history and secrets, so immerse yourself in the story and background.
Focus on Survivability
In the early stages, prioritize survivability over damage output. As a beginner, you may face tougher challenges, so having a well-rounded build that keeps you alive will make the learning curve more enjoyable.
Experiment with Skills – Unlock hotbar slots
Don't be afraid to experiment with different skills and abilities for your character. Test out various combinations and find the ones that suit your playstyle and are effective in combat.
In Diablo 4, players will initially have limited access to their hot bar skill slots. Here's a breakdown of how skill slots unlock as you level up:
First and Second Skill Slots: You will gain your first skill point at the start of your journey, allowing you to unlock the first skill slot. When you earn your second skill point, you can unlock the second skill slot on your hot bar. This typically happens at the beginning of your adventure.
Remaining Four Skill Slots: The remaining four skill slots on your hot bar will be initially locked and inaccessible. However, once you reach level eight, these slots will automatically unlock, providing you with a total of six skill slots.
As you level up and unlock more skill slots, you'll have the freedom to assign the six skills that best suit your playstyle and build. This allows you to create a powerful and versatile character that can tackle the challenges of Kyovashad and beyond.
Keep in mind that as you progress and gain additional skill points, you'll have the opportunity to further customize your character's abilities and enhance your gameplay experience in Diablo 4. Experiment with different combinations of skills to find the perfect build that complements your chosen class and playstyle. Happy adventuring!
Manage Inventory
Inventory management is crucial in Diablo 4. Regularly clear out your inventory, prioritize valuable items, and salvage unwanted gear to gain resources for crafting and upgrades.
Use the Map
The map is a valuable tool to navigate through the game world. Pay attention to it to avoid getting lost and to locate points of interest such as waypoints and merchants.
Spend points prudently
To ensure you make the most of your skill points in the early stages of Diablo 4, it's essential to spend them wisely and avoid wasting them on skills you may not need. While respec options are available later, it's best to plan ahead and make efficient choices from the start. Here's how to approach skill point allocation:
Prioritize Core Skills: Focus on your two main skills initially. Invest skill points into these core abilities to maximize their effectiveness and ensure a smoother progression through the early game.
Avoid Unnecessary Unlocks: Be cautious not to unlock skills you won't use or can't fit into your chosen playstyle. Overcommitting to multiple skills early on can spread your skill points thin, hindering your character's growth.
Level Up Chosen Skills: Instead of unlocking numerous skills, consider leveling up your chosen core skills during the first seven levels. This approach enhances their power and reliability in combat.
Plan for Respec: While careful skill point allocation is vital, keep in mind that respec options are available. If you need to adjust your build later, you can reallocate points after reaching level 8.
Respec your Skills
In Diablo 4, you have the option to respec your skills if you wish to make changes to your character's build. Here's how the respec system works:
Free Respec Until Level 15: Until you reach level 15, you can freely respec your skills without any cost. This allows you to experiment with different skill combinations and find the best build for your playstyle without penalties.
Respec Options: There are two ways to respec in Diablo 4. The first option is a complete respec, which resets all your skill tree choices, essentially allowing you to start from scratch. The second option is a partial respec, where you can reassign individual skills as needed.
Partial Respec: For most players, the partial respec is the preferred method. To respec an individual skill, simply right-click on the skill you wish to refund, and the skill point will be returned to you. This allows for more flexibility in adjusting your build without wiping your entire skill tree history.
Cost: Respecs in Diablo 4 do incur a gold cost. While the cost may increase as you respec more frequently, it serves as a balance measure to prevent excessive skill point reallocation.
Starting Anew: If you want a more radical change to your character's build, starting a new character might be a better option. While it involves completing quests again, it gives you the opportunity to explore different builds and discover which skills suit your preferences best.
By utilizing the respec system wisely, you can fine-tune your character's skills and adapt your build as you progress through the ever-evolving world of Diablo 4.
Play Solo or Group
Diablo 4 offers both solo and multiplayer modes. Decide whether you prefer solo gameplay or want to team up with friends or other players for a cooperative experience.
Participate in Events
Keep an eye out for special events and limited-time activities. These events can provide unique rewards and challenges, adding more excitement to your Diablo 4 experience.
Save World Tier 3 & 4 for Endgame:
Unlock World Tiers 3 and 4 after completing the main story and reaching level 50. These tiers are more challenging and ideal for leveling up your character after finishing the campaign.
Mark Inventory As Junk
When looting, mark unwanted items as junk. This makes it easier to sell or dismantle them all at once, saving time and effort.
Use Town Portal Often
When your inventory is full, use Town Portal to return to the nearest city, manage your items, and quickly return to where you left off.
Unlock Transmog Options
Dismantle items with the pickaxe symbol to unlock transmogrification options for your character. Customize your appearance independently of your gear!
Fast Travel Out of Dungeons
Use the map to fast-travel out of dungeons once you've defeated the boss. No more tedious backtracking!
Elite Enemy Modifiers
Learn to recognize elite enemy modifiers by the colored symbols above their heads. Stay informed of their abilities to counter their strengths effectively.
How Boss Health Bars Work (Stun Meter)
The stun meter underneath a boss's health bar indicates when they can be staggered. Stun them with debuffs or elemental effects for a window of opportunity to deal massive damage.
Use Potions to Pick Up Spares
When your health and potions are full, consume one to top up your life and pick up the spare potion, so none go to waste.
Upgrade Potions (Alchemist)
Visit the Alchemist with the required items and gold to upgrade your potions' potency as you reach certain level milestones.
Increase Maximum Potion Capacity
Increase your potion capacity by increasing your renown level in a specific area. Complete side quests, dungeons, and explore the map to earn rewards and raise your limit.
Defeat Treasure Goblins
Hunt down Treasure Goblins for heaps of gear and gold. They have lots of health, so stun them to prevent their escape.
Liberate Strongholds
Conquer challenging strongholds for renowned rewards, transforming areas into new towns and unlocking more dungeons.
Purveyors of Curiosities (Murmuring Obols)
Earn Murmuring Obols by completing events in the open world. Use them to buy randomized loot from purveyors for a chance at powerful unique weapons and gear.
Open Silent Chests (Whispering Keys)
Purchase Whispering Keys from purveyors to open silent chests found while exploring the world. These chests also reward you with random loot.
Extract and Imprint Legendary Aspects
At the occultist, extract legendary effects from armor to unlock transmog options. Fuse rare gear with extracted aspects to convert it into legendary gear.
Save yourself from Dying
Staying alive in Diablo 4 is crucial for various reasons, and it's not just a matter of safety – it impacts your gear and resources too. When your character dies, your weapons and armor lose 10% of their durability, leading to costly repairs in terms of money and resources. Therefore, it's essential to be vigilant with your health during combat and upgrade your healing potion promptly to ensure a smoother and more efficient journey in the world of Diablo 4.
What Class Should You Play for Diablo 4 Season 1: Tier List Edition?
As Diablo 4 Season 1 approaches, players are eagerly awaiting the chance to dive into the dark and treacherous world of Sanctuary. One critical decision awaits them: choosing the right class to play during the season. With the release of our Tier List Edition, we present a subjective ranking of classes based on their leveling performance, strengths, and potential for Diablo 4 Season 1.
S-Tier: Rogue – Embrace the Shadows
The Rogue class stands tall as the apex predator for Diablo 4 Season 1 leveling. Agile, swift, and deadly, Rogues combine speed with ruthless damage output, making them exceptional at taking down foes. Their assassin-like playstyle allows them to strike swiftly and disappear into the shadows, leaving enemies in disarray. If you crave a fast-paced, devastating experience, the Rogue class will be your go-to choice.
A-Tier: Barbarian – Unyielding Might
In the A-Tier, the Barbarian roars with unyielding might. Strong and resilient, Barbarians charge headfirst into the fray, obliterating enemies with sheer power. They possess unmatched tackiness, making them ideal for players who prefer a more robust and straightforward approach to combat. While they may lack the versatility of other classes, their tenacity ensures they remain a force to be reckoned with.
B-Tier: Sorcerer – Embrace the Mystic Arts
The Sorcerer class takes its place in the B-Tier, wielding arcane magic to obliterate enemies from afar. Sorcerers are consistent and agile, capable of raining destruction upon foes with their spellcasting prowess. While they lack the brute strength of Barbarians, their mobility and versatility offer a unique playstyle. If you seek a balance between raw power and mystical finesse, the Sorcerer class awaits your command.
C-Tier: Druid – Harness the Elements
In the C-Tier, the Druid class harnesses the raw power of nature and the elements. With shapeshifting abilities and a variety of elemental attacks, Druids provide a more gradual, methodical approach to combat. Their potential shines brighter as they progress through the game, making them a rewarding choice for those who enjoy a slower start and build variety.
D-Tier: Necromancer – Master of the Undead
Finally, the D-Tier houses the Necromancer, a master of the undead. With a more challenging leveling experience, Necromancers rely on Bone Spear and summoning abilities to conquer enemies. While their pet-focused playstyle offers unique gameplay, it may not be everyone's cup of tea. However, with dedication and finesse, Necromancers can become a formidable force in the late game.
Remember, this tier list is subjective and based on the leveling experience for Diablo 4 Season 1. Each class brings its strengths and playstyles to the table, and the most important factor is choosing the class that aligns with your preferences and play preferences.
Conclusion
Prepare for the battles that lie ahead and seize the opportunity to ascend as a formidable Nephalem in Diablo 4 Season 1 of Diablo 4. With our comprehensive guide, you're equipped with the knowledge to conquer the challenges, amass bountiful rewards, and carve your legacy in the annals of Sanctuary's history. Embrace the darkness, embrace your power, and embark on an unforgettable journey of triumph and discovery in the enthralling world of Diablo 4 Season 1! The fate of Sanctuary awaits your triumphant arrival!