With Season 1 in midway, new COD Modern Warfare 2 Season 2 leaks have started surfacing already. As the fans of the ever-growing Call of Duty franchise continue to enjoy everything that Modern Warfare 2 and Warzone 2 have to offer throughout Season 1. Players got their hands on three new weapons, the Shoot House map, and of course, the launch of Warzone 2's new battle royale map Al Mazrah in Season 1. However, players continue to be curious about what the next significant update, or Season 2, will bring despite a ton of new material arriving in the middle of the season.
When will Modern Warfare 2 Season 2 release?
Each game usually has a run schedule of 77 days once it gets rolled out. We all know that Call of Duty: Modern Warfare 2 Season 1 was released on Wednesday, 16th November 2022, dropping in at the same time as Warzone 2. Going by 77 days or over 2 months of the cycle, one can expect Modern Warfare 2 Season 1 Battle Pass to end on February 1st, 2023.
This data was taken from the Battle Pass timer found on the Battle Pass page of the games. If devs do not make any last-minute alterations, Modern Warfare 2 Season 2 release date can be expected to be on Wednesday, February 1, 2023, the same day it ends. Going by tradition, updates are usually rolled out immediately after the previous Battle Pass lapses.
Modern Warfare 2 and Warzone 2 Season 2 are expected to be released across all platforms on February 1 of next year, given that the Season 1 Battle Pass comes to a close on this date. The developers have remained rather tight-lipped about the recent additions arriving with Season 2, but thanks to the well-known leaker RalphsValve on Twitter, newly leaked images by him showed the players have already got their first look at what to expect. However, do keep in mind that these are just leaks, which means not all of the content revealed will make it into the final update.
When does Warzone 2 Season 2 release?
Warzone 2 Season 2 will also be launched on Wednesday, February 1, 2023, as soon as the current Warzone 2 Season 1 expires.
These dates are mere speculations. The updates can arrive early or might get delayed depending on the devs.
The Season 1 Reloaded update, which is scheduled to release on December 14, 2022, is anticipated to include the mid-season enhancements mentioned in the Season 1 plan posted on the official Call of Duty blog.
Are there Modern Warfare 2 Season 2 leaks?
Activision developers have not disclosed any features coming up in the sequel to Call of Duty Modern Warfare 2 Season 1. However, players can expect better weapons and perhaps some new maps to land up. Here are the Modern Warfare 2 Season 2 leaks for time being. The space will be updated as and when we get confirmed news.
Ronin Operator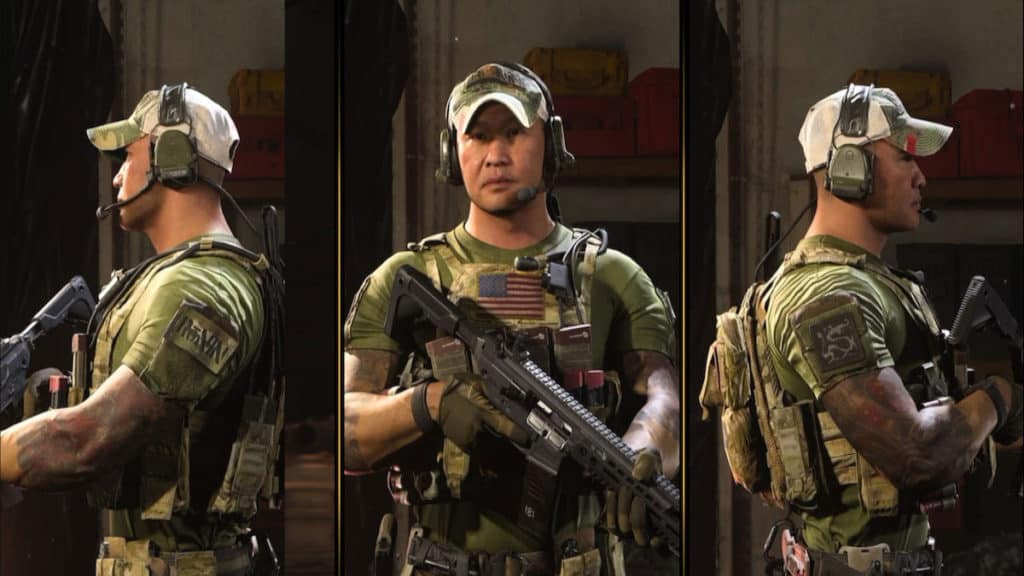 While Modern Warfare 2 players have already received a samurai-themed Warcom operator called Oni, it seems like Modern Warfare 2 Season 2 may follow a similar theme. Ronin from Call Of Duty Modern Warfare 2019 appears to be the Operator leaked in the recent Modern Warfare 2 season 2 leaks who is on his way to make his back into the sequel.
The center stage for the Season 2 of Modern Warfare 2 and Warzone 2 will most probably be taken by Ronin's fearsome blade.
In addition to Ronin and two other possibly new female operators that we don't know about yet, we can see the popular World at War multiplayer map Castle in the background.
Classic Castle Map
WhatIfGaming has leaked a key art from marketing material. One can make out a Japanese theme with artwork and the classic Castle map in the background. Modern Warfare (2019) Operator Ronin wielding a blade can also be seen giving rise to rumors.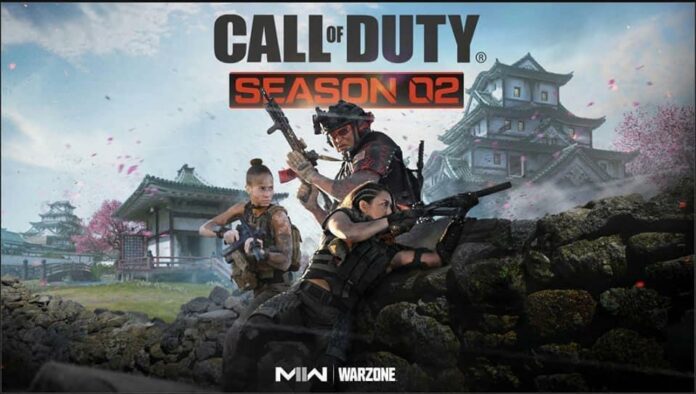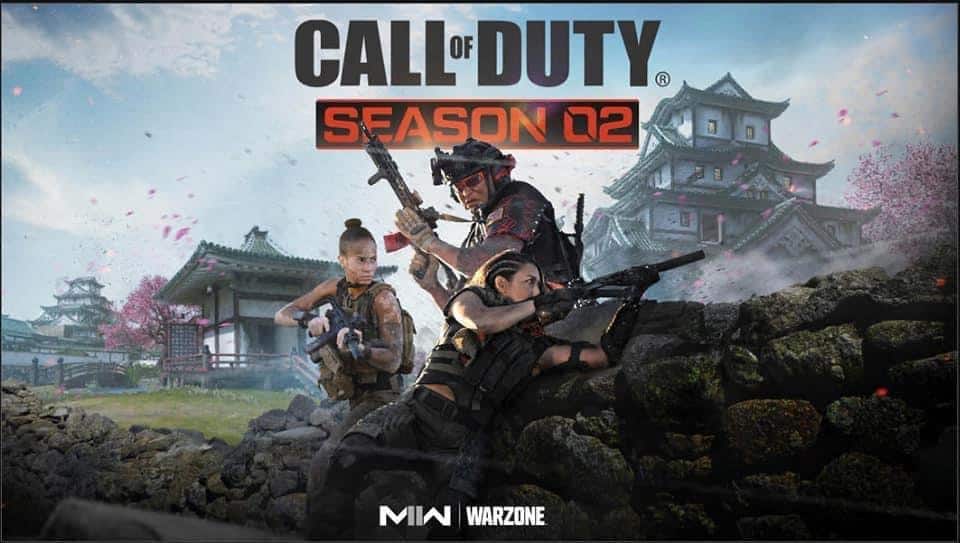 Do you ever get the feeling of déjà vu? It's where you are going through a new experience yet you feel that you have already experienced that in the past.
Because this is exactly how diehard fans of the Call Of Duty franchise are going to feel when they play the Castle Map which has been seen before in Call Of Duty Vanguard and was seen for the very first time in Call Of Duty World at War. This map was perceived very well by the players which is exactly why it is again making an appearance in a modern Call Of Duty title.
However it still remains a big question if this map will work for Call of Duty Modern Warfare 2 as when you consider the fact that 'Castle' is a pretty big map and that Call of Duty Modern Warfare 2 so far only has 6v6 or ground war map styles, it doesn't seem to fit in with the style of Modern Warfare 2 which raises many questions about the pacing of the match, the pacing of this map will be crucial as it will be the deciding factor between this map becoming a good map or a boring/hectic mess.
Resurgence type map gets introduced
Modern Warfare 2 2022 leaks on Reddit give us a hint of Warzone 2.0's new Resurgence map. It also shows Castle right in the mid of the map. Resurgence Map might be utilized for the DMZ mode and Modern Warfare 2's Ground War mode.
Devs had earlier informed us about a new Resurgence map coming to Warzone 2.0. The map was supposed to replace Rebirth Island from the original Warzone alongside Fortune's Keep.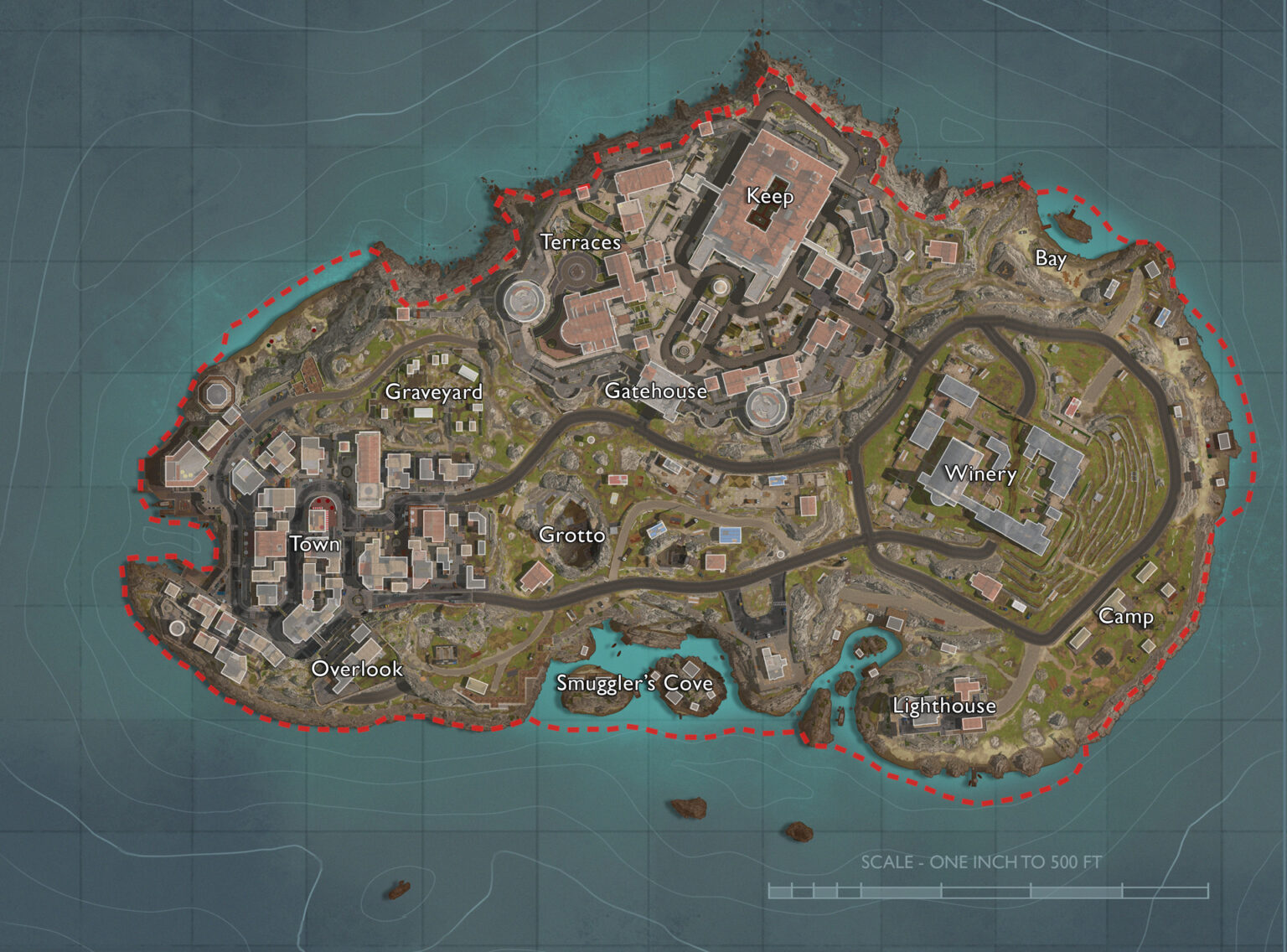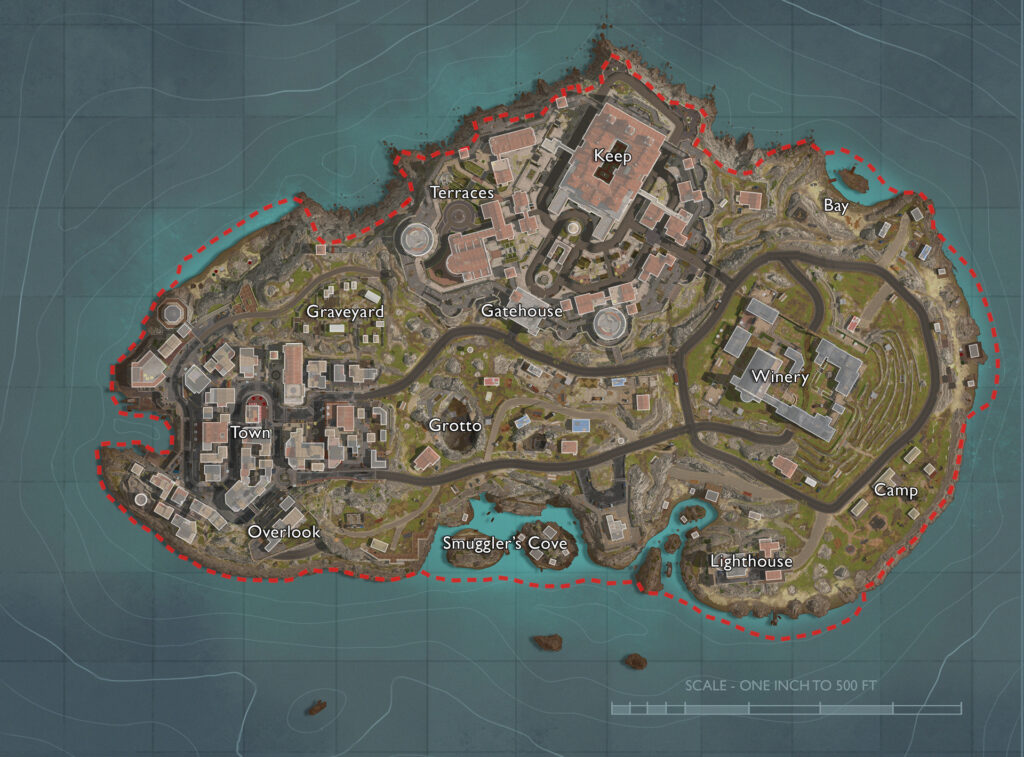 Call of Duty Vanguard saw the release of a resurgence-type map called 'fortune's keep' however that map was removed from the game just after a period of 6 months, everyone was left very confused by Activision's decision as it was very well perceived by the players. However, the players are now rejoyced as a resurgence-type map which looks like the hybrid of the fan favourite 'fortune's keep' and 'rebirth island' is making its way into the universe of Call of Duty Modern Warfare 2.
The map doesn't have a lot of elevation which means the players will benefit during engaging in combats with other players from the various point of interests such as the shipwreck, multiple apartment complexes, a water treatment facility, a greenhouse area, a residential area, a beach club, a residential area, a powerplant, a port, some industrial ruins, the castle which will also become a map of its own, a town centre and a network of canals running through the whole map which help players take advantage of the new in-game swimming physics mechanic.
The new map will feature 3 game modes.
The resurgence mode which will have support for a 50-player battle royale.
The ground war mode which will divide the players into 2 teams of 24 players producing a very fast-paced match.
And at last, a DMZ mode will also be supported however the player count for this mode remains unknown. On comparing this map's size with the 'Al Mazhar' map which is already present in the game, we see it is one-third of the size. And the 'Al Mazhar' map has support for 60-player lobbies in DMZ mode which means the new map will support 18-21 players. This has caused a lot of scepticism in the Call of Duty community as the players fear this map might be very slow paced and boring in DMZ mode, however, only time can answer if the community's worries are valid are not.
Other news includes Call of Duty's clarification of Modern Warfare 2's Water Physics and Gameplay improvements. The perception of water as a barrier has changed to one of an environmental factor with tactical potential. Players can also tell if an adversary has approached them through a waterway if they are dripping wet. This system's developers make it possible for any item to appear to be wet. Until the in-game object eventually dries, which also relies on its substance, the appearance and functionality will experience a variety of consequences.
Also, in order to give gamers better images and higher-quality shadows and textures, the 120Hz mode was also tuned.
Modern Warfare 2 Ranked Play
It is speculated that Modern Warfare 2 Ranked Play may appear in Modern Warfare 2 Season 2. The devs had earlier informed us that Modern Warfare 2 Ranked Play will release in 2023. One can expect to see it in MW 2 Season 2.
Frequently Asked Questions (FAQs) on Call of Duty: Modern Warfare 2
Q. What is Modern Warfare 2?
A. Modern Warfare 2 is the 20th instalment in the Call of Duty franchise which is a first-person shooter video game published by Activision.
Q. Is Modern Warfare 2 multiplayer?
A. Yes, Call of Duty is a multiplayer game that can be played by up to 20 players together.
Q. Is Modern Warfare 2 a sequel?
A. Yes, Call of Duty Modern Warfare 2 is a sequel to Call of Duty Modern Warfare released in 2019.
Q. How can I install Modern Warfare on my device?
A. If you are on a PC, you can install Call of Duty Modern Warfare 2 by purchasing it from the official Call of Duty website. If you are on a console, you can install it by purchasing it from the PlayStation store if you use a Sony PlayStation device or from the Microsoft Store if you own an XBOX device.
Share with us if you come across any reliable CoD 2022 leak. PhonesWiki would feature them with due credits.