A couple of years ago, all the gamers in the world were blessed with the remastered version of the beloved Call Of Duty Modern Warfare 2007. It was a massive hit at the time of its release and was announced as the Call Of Duty 2019. And to no surprise, CoD 2019 broke many sales records as it was loved by many.
And now as every gamer knows, at the moment we all are being overwhelmed by remastered versions of the games that we all grew up playing like the GTA San Andreas Definitive Edition. Some of these remastered versions are really good and a dive into the old days. While some of them are clearly the same old games being released with cosmetic changes in graphics set at a very high price to take the advantage of nostalgia and hence rob the buyers.
The remastered versions have come from major publishers like Rockstar Games and EA. Now it makes sense for Activision to join the remastered bandwagon and release another version of the super-duper hit title.
With Call Of Duty 2022, Activision has done just that. Following the success of Call Of Duty 2019, this year's game will be called Call Of Duty Modern Warfare 2, a sequel to CoD Modern Warfare 2019. However, don't be disappointed because the bar to be crossed by the upcoming Modern Warfare 2 will have to be much higher. Teh official information about the gameplay is scarce yet with all the leaks inundating the internet, the game looks very promising indeed and should not disappoint its fans.
There are speculations and rumors from reliable leaksters who have intel about the Call Of Duty 2022 release date, gameplay, platforms and everything you are curious to know.
Modern Warfare 2 release date

Modern Warfare 2 leaks

Call of Duty: Modern Warfare 2 Characters and Actors
Modern Warfare 2 maps
CoD 2022 Warzone integration
CoD 2022: Modern Warfare 2 Game modes
Modern Warfare 2 platforms
But, it's still too early to draw conclusions so we will take you through all the Call Of Duty Modern Warfare 2 leaks and rumours so far, and we will let you decide yourself.
Call of Duty 2022: Modern Warfare 2 Release Date
Needless to say, the leaksters have added to the hype of the game. Now the gamers are waiting for the game's launch date.
Officially no date has been announced by Activision. However, in continuation to Activision's annual cycle, the release year is 2022. Looking at the past releases of titles by Activision, we can assume that the release window should fall in October-November 2022 timeframe.
Keeping in mind Vanguard's subpar sales, it is speculated that an October launch looks more promising. October 2022 launch will also give the devs sufficient time to a "big Warzone update soon after" coming up in 2023.
Call of Duty 2022: Modern Warfare 2 platforms
Officially speaking Activision has not confirmed the platforms one will be able to play on.
Both Black Ops Cold War and Vanguard are cross-gen CoD titles, and these leaks suggest that Modern Warfare 2 will continue this trend. However, MW2 will follow the suit and maybe the last title to do so.
However with the latest developments of Microsoft acquiring Activision-Blizzard, one can expect the PS support strategy to change in future. It is expected that Modern Warfare 2 will come to PlayStation hardware but not for long.
"Activision Blizzard games are enjoyed on a variety of platforms and we plan to continue to support those communities moving forward," Phil Spencer said in an Xbox blog post.
According to the claims made by Henderson, Modern Warfare 2 will make its debut and will be playable on both past-generation and current-gen which includes the PS4, the PS5, the XBOX ONE S/X, and the XBOX ONE.
"It's currently believed that this will be the last Call of Duty coming to past generation consoles, but it will ultimately depend on the console market conditions," Tom Henderson.
Call of Duty 2022: Modern Warfare 2 Leaks
In the last September, individuals on Medium blog and Reddit observed a back-end server opening into NVIDIA's GeForce technology site that allowed them to take a peek inside and see the games that were being tested out on their GeForce now servers.
One of the many games by Activision and Infinity Ward was listed under the name "Project Cortez," which is suspected to be a possible codename for Modern Warfare 2. After this VGS shared some new potential plot details of Call of Duty 2022.
In reference to the leak, "The sequel to Modern Warfare will include a campaign which will involve the US special forces fighting a covert war against Columbian drug cartels." This claim was also supported by Tom Henderson who is a renowned leaker in the video game industry.
Henderson has claimed that the AI will be refreshed and there will be significant improvements over the previous Call Of Duty games, where they'll act a lot more realistic to getting shot.
It is also worth keeping a thought in your mind that these are currently just leaks, and this information is yet to be confirmed by the developers of the game themselves. Until any official announcements are made, you should take this with a grain of salt.
Modern Warfare 2 Characters and Actors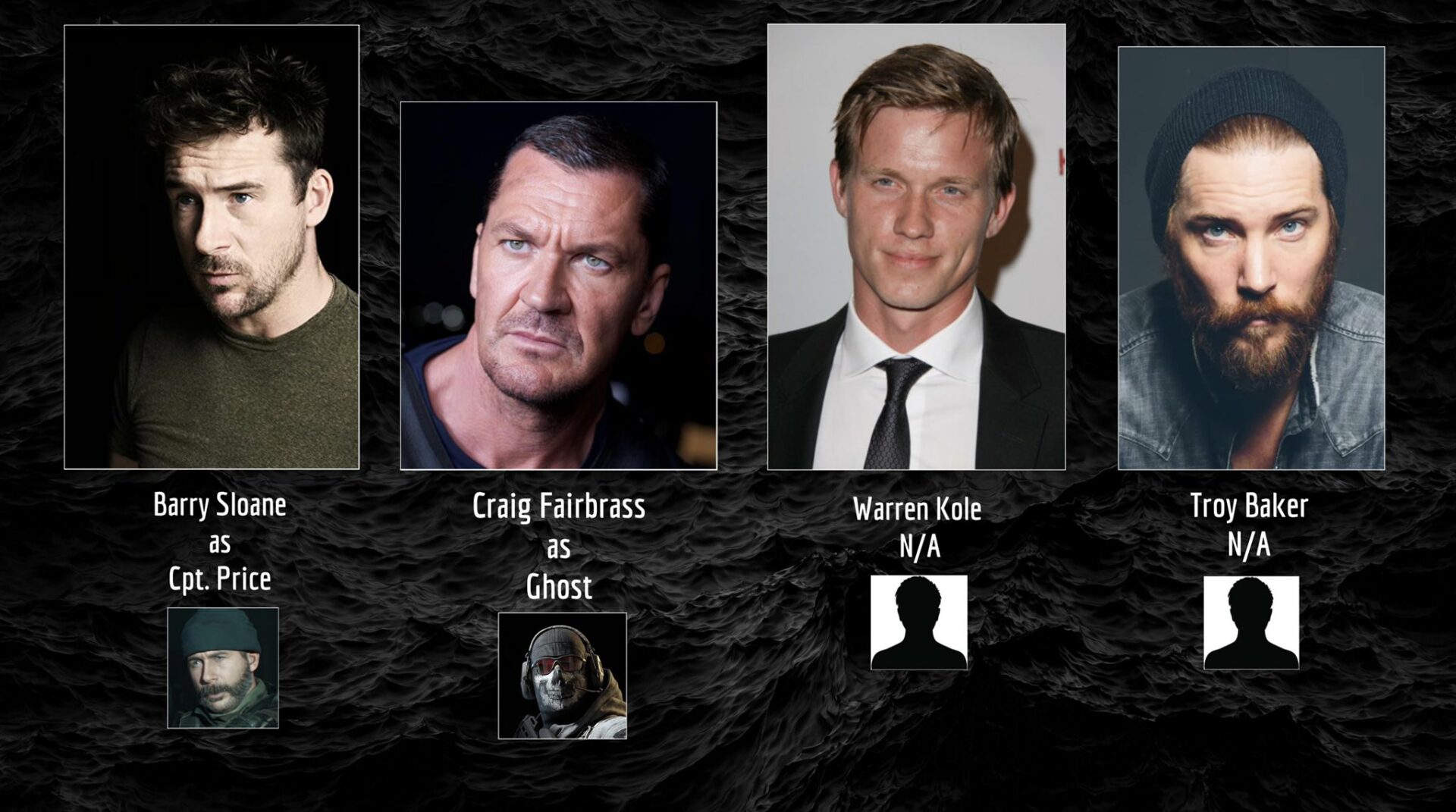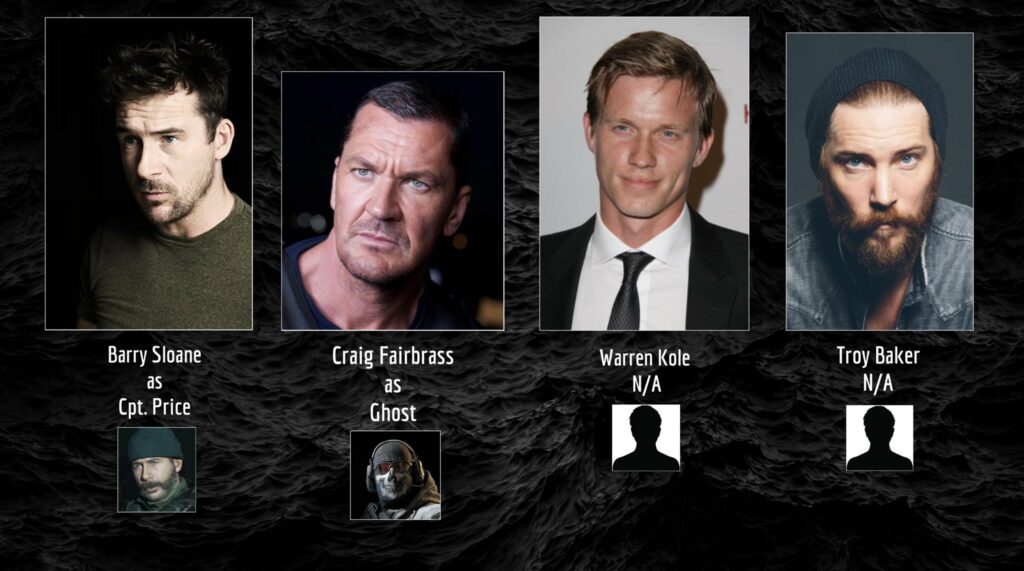 Barry Sloane playing as Captain Price
Craig Fairbrass playing as Ghost
Elias Toufexis playing as TBA
Neil Ellice playing as Soap MacTavish
Rya Kihlstedt playing as Kate Laswell
Troy Baker playing as TBA
Warren Kole playing as TBA
The claim made by leakers that Craig Fairbrass is set to play as Ghost in the 2022 release of Call of Duty: Modern Warfare 2 is fascinating. Fairbrass addressed the rumors himself before by pushing back against them previously, but however, it is becoming increasingly obvious that Activision will be resorting to other options for the role other than Jeff Leach, and Fairbrass seems like the obvious choice since he has voiced the character before.
For those who don't know, Craig Fairbrass also voiced Ghost in the original Call of Duty: Modern Warfare 2, however, Jeff Leach ended up voicing the character of Ghost in the 2019 release of Call of Duty: Modern Warfare reboot. However, Activision ended up cutting ties with Leach after he was found making sexist remarks while conducting a live stream.
Based on the previous dates of Call of Duty reveals in recent years, fans can expect an official reveal of the 2022 release of the Call of Duty game late in summer, at which point the other details like the game's story, characters, and the actors involved will also be revealed. Until then, we can expect the speculation, leaks, and, rumors to continue.
2019's Call of Duty: Modern Warfare rebooted the Modern Warfare sub-series, reincarnating some of the most popular characters of the franchise and hence progressing the story forward so that it takes place in the present. The sequel is reportedly to be Call of Duty: Modern Warfare 2 just like the 2009 Modern Warfare 2, which is believed to be inactive development by Infinity Ward for announcing it later this year. An official announcement for a 2022 release of Call of Duty: Modern Warfare 2 is yet to be made, but a leaker has confirmed to leak some of the actors and characters that will feature in the game.
Many leakers like Ralph have claimed to have some sort of insider sources on Call of Duty, have recently revealed a list of "confirmed" Call of Duty: Modern Warfare 2 characters and actors. Ralph has also revealed that CoD Modern Warfare 2 will see Barry Sloane making a comeback as Captain Price as well as Craig Fairbrass as Ghost. Neil Ellice will be returning to his old role as Soap MacTavish, while Rya Kihlstedt is said to be making a return as Kate Laswell. Ralph also lists actors Troy Baker, Elias Toufexis, and Warren Kole as appearing in Call of Duty: Modern Warfare 2 in roles that remain disclosed.
Ralph failed to provide any kind of evidence to confirm his claims, so fans should take all this leaked information with a grain of salt. Although, many renowned reputable leakers have revealed that the 2022 Call of Duty game is indeed Modern Warfare 2, so that part is easy to believe, and which obviously lead one to imagine that the main characters from the old game would be making a return in the sequel, though again, nothing has been announced officially as of now.
Call of Duty 2022: Modern Warfare 2 maps
Both leakers Tom Henderson and RalphsValve are making claims that the classic Modern Warfare 2009 maps are making a return in Call Of Duty Modern Warfare 2. In a video that covered everything that we know about Call Of Duty Modern Warfare 2 so far, Henderson said that these maps have been taken from the scrapped Modern Warfare 2 Remastered.
RalphsValve leaked five maps that players can expect to see in Call of Duty: Modern Warfare 2. These are some of the most popular ones in the entire series and we might see them return.
Check out the following Modern Warfare 2 maps that are making a comeback:
Favela- This map puts all the players in enclosed areas against each other to provide some amazing cloe quarter shootouts.
Highrise- This is the map birthed many famous Call Of Duty gaming clubs and is responsible for a ton of no scope 360 montages.
Shipment- This is a very small but defiitley the map with the most fast paced matches, it is so iconic that it has featured in every Call Of Duty game made till now.
Terminal- This is the iconic "airport" map which povides various strategies and rewards many playstyles like long-range snipers and stealth shooters too.
Quarry- This is another map that is favoured by players who prefer close range fights.
Return of old maps into Modern Warfare 2
Call of Duty reliable leaker Tom Henderson has surprised us with a possible treat if the leak turns out to be true. In Henderson's new video, the expert details ten things players should know about the upcoming title, and one of the most intriguing is the return of Modern Warfare 2 maps.
CoD 2022 is rumoured to become a sequel to 2019's Modern Warfare. Modern Warfare divided the Call of Duty community by being highly adored by many casual players while being viewed as average by long-time fans of the franchise and pro players.
Now, Henderson has stated that the sequel set to release in 2022 will come fully equipped with maps from 2009's Modern Warfare 2. Understandably, it can be hard to follow the recent news with the excessive overlap in CoD title names but rest assured if Modern Warfare II is anything like MW2, fans of the franchise will be eager to get their hands on the game.
Henderson shares a ton of information about the upcoming CoD title including the possibility of a new DMZ mode that is meant to resemble Escape from Tarkov gameplay. However, the news that got most people excited was the mention of MW2 maps.
MW2 maps were reportedly going to be included in Modern Warfare (2019) through a Modern Warfare 2 Remaster but we never got that iteration. Now, it seems like players may be getting MW2 maps, weapons, and Operators in MWII instead.
We can assume that it might turn out to be true for teh simple reason that devs have been working on similar features in 2019 for the reported MW2 Remastered version. We can hope that the work might not go to waste and be implemented in the new version.
However, these are currently just leaks, and we might see the addition of entirely different maps in the final game once it arrives.
Call of Duty 2022 Warzone integration
It is expected that CoD 2022 will get integrated with Warzone in a similar fashion as teh devs had done in Black Ops Cold War and Vanguard. But expect to get a brand-new map.
Cold War brought Rebirth Island with its integration and later gave Verdansk an overhaul into Verdansk '84. Vanguard's integration, however, brought Caldera – an entirely new battle royale map.
Alongside the leaked DMZ mode for Modern Warfare 2, VGC claimed that CoD 2022 will launch with a brand-new Warzone map consisting of classic maps from the Modern Warfare franchise. This map will reportedly also be used for the DMZ mode.
Call of Duty 2022 Game Modes Leaked
DMZ Game Mode
Tom Henderson claims that Modern Warfare 2 will come with a brand-new game mode – DMZ. While we don't know exactly what the game mode will entail, the leaker described this mode as "MWII's take on Escape From Tarkov."
Henderson believes the mode will have been in development for over four years by the time Modern Warfare 2 releases, and you'll drop into several locations and will have to plunder through abandoned homes, buildings, vehicles, crates, and corpses. He also said that the area has been made up of maps from the original MW2 which act as POIs, and should also act as the new Warzone map.
From this description, it seems that DMZ will be one of the most grounded game modes in the upcoming title. Hopefully, it will make for an intense experience for Call of Duty 2022 players.
Attackers v. Defenders Game Mode
Now, those of you who like Ubisoft's Rainbow Six Siege and also like Call Of Duty would be pleased to hear that a mode inspired by R6S will be featured in Call Of Duty Modern Warfare 2 as confirmed by leaker RalphsValve which will be called Attackers v. Defenders. However, many leakers have also disputed the claim, such as Tom Henderson.
This mode will see players attack and defend objective sites while In this mode you will have to utilize "cameras, hidden locations, and booby traps."
In this mode, every player of the team will have a separate role of their own like "Squad Leader" and this new mode will also feature a revamped health regeneration system, and players are able to assign each of their squad members separate roles such as "Squad Leader."
Although, many significant Call Of Duty leakers such as Tom Henderson and TheMW2Ghost are claiming that their resources say that Attackers v. Defenders was supposed to feature in Call Of Duty Modern Warfare 2019 but it later got scrapped and they are yet to see or hear something regarding it making its way to Modern Warfare 2.
Henderson went ahead and commented, "It doesn't necessarily mean it's not coming, but I'm inclined to believe people working on the project/or with very good connections at the studio."
These two modes are only rumors or leaks only at least till now, so they are yet to be confirmed. The integration should also bring across all of CoD 2022's weapons.
Share with us if you come across any reliable CoD 2022 leak. We would feature them with due credits.