Apple has been working on lossless audio in Apple Music for quite some time. After getting an official launch in the USA, it seems lossless audio streaming has made its way to the gullies of India. In May, Apple had confirmed that lossless audio will be rolled out in India in the coming months. However, some users confirmed on Reddit that they have started receiving access to lossless on their Apple devices.
Apparently, Apple is testing out its technology and thus rolling selectively on devices at random. That's how some people got their hands on lossless audio. The word-of-mouth for lossless technology has been great so far.
Few Apple users have confirmed that they could play on iPhone and iPad. They also confirmed that they own an Indian iPhone with an Indian iTunes account. It is playing like a charm on Dolby Atmos, Lossless and Hires lossless including lossless AirPlay.
But the lossless option is not there yet on Apple Music on Apple TV 4K yet or MacBook. Users had been able to use it via the toggle for Spatial Audio in the music settings. For some users, it appeared for a few hours every night and used to disappear in the morning.
Spatial Audio works with all music apps and is not limited to Apple music. Apple Music Lossless Supported Devices are iPhone, iPad, Mac and Apple TV 4K only. Apple Music will become the first music streaming service in India to offer lossless audio. Do keep in mind that lossless on homepod does not exist yet, a feature not available in the latest AudioOS 15.
Lossless audio is designed for people who like to enjoy their music at its full capacity. Lossless does exactly that. It is an audio compression technology that does the job without compromising on the quality of the music.
How to enable toggle for Spatial Audio?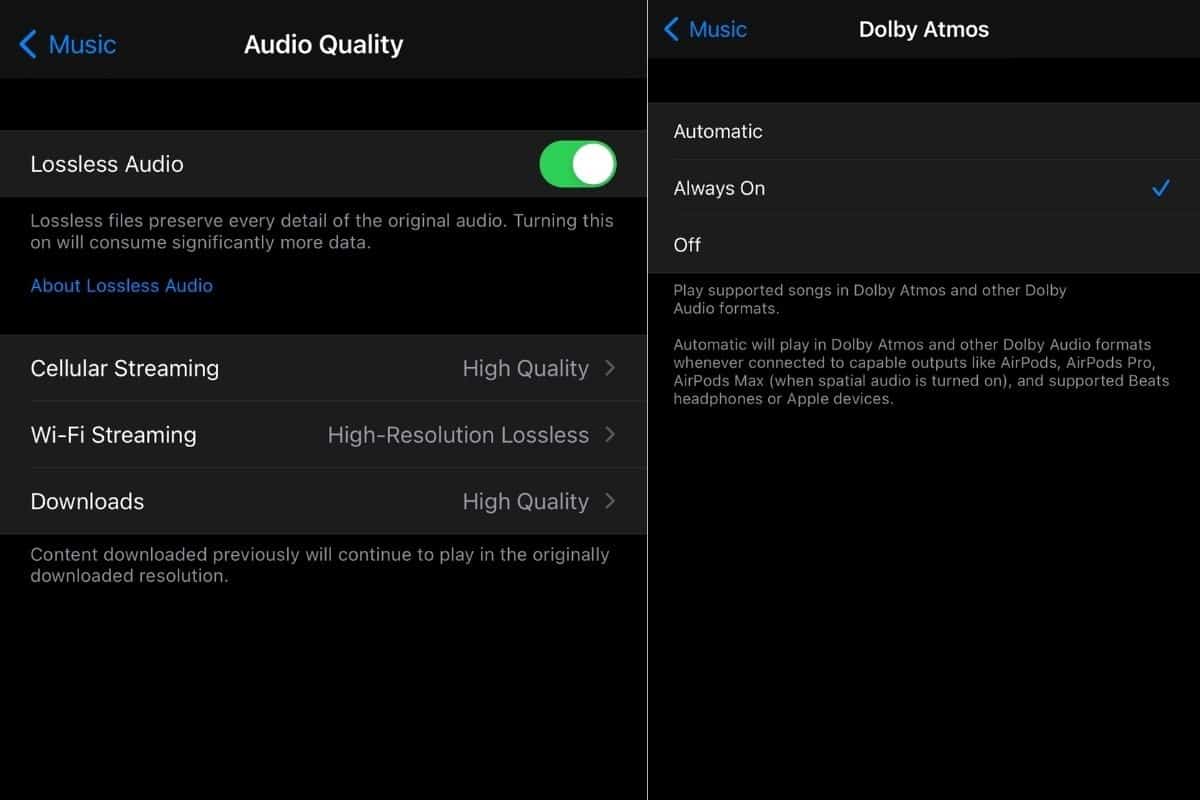 When the Apple Music Lossless India rollout starts, head straight to Settings > Music on your iPhone or iPad
3 extra alternatives will be listed
Tap on Dolby Atmos
Make a choice between Automatic, Always On or Off
Select option Audio Quality
Toggle Lossless Audio and set to Green
Select from options Cellular streaming, Wi-Fi Streaming and Downloads on the basis of data plan and quality
In case you want to download music and listen offline, select Dolby Atmos.
Toggle it to green and download Apple Music content
About Apple Lossless Audio
Apple lossless technology allows users to hear the music as it is, without any alteration. Compression technology, so far, hasn't really been groundbreaking. Most of them heavily compromise the audio quality. This has been a concern for many music lovers for quite some time. I guess the devs at Apple have finally listened to their prayers. Their lossless is designed to give users an unparalleled listening experience.
Apple launched lossless audio in Apple Music earlier this month in few countries. Since the technology is new, Apple is taking it slow and in a phased manner. The earlier versions of the lossless audio did have some issues but seem like Apple straightened them out.
The reviews and responses around the lossless feature have been great so far. Apple appears to be testing the feature in the Indian subcontinent and is likely to release it very soon. But if you are lucky you may get early access like some users on Reddit.
We'll keep updating you on this. Don't forget to revisit and share your comments in the box!