The announcement of GTA 6 on social media has ignited widespread anticipation across the internet, even though the game's full details have yet to be revealed. Excitement is steadily building each day as fans eagerly await the release of the first trailer next month. Alongside the trailer reveal, there's speculation that Rockstar's team may pleasantly surprise fans by opening pre-orders for the highly anticipated Grand Theft Auto sequel.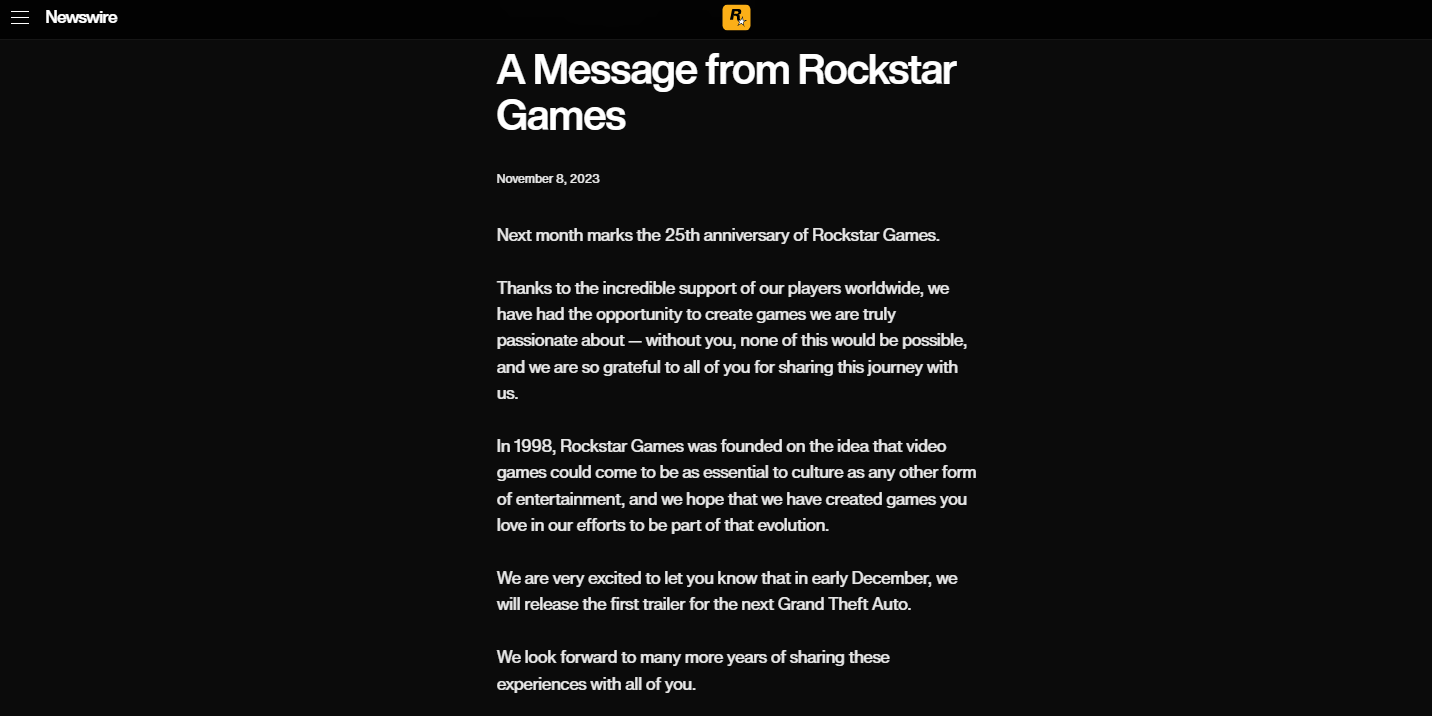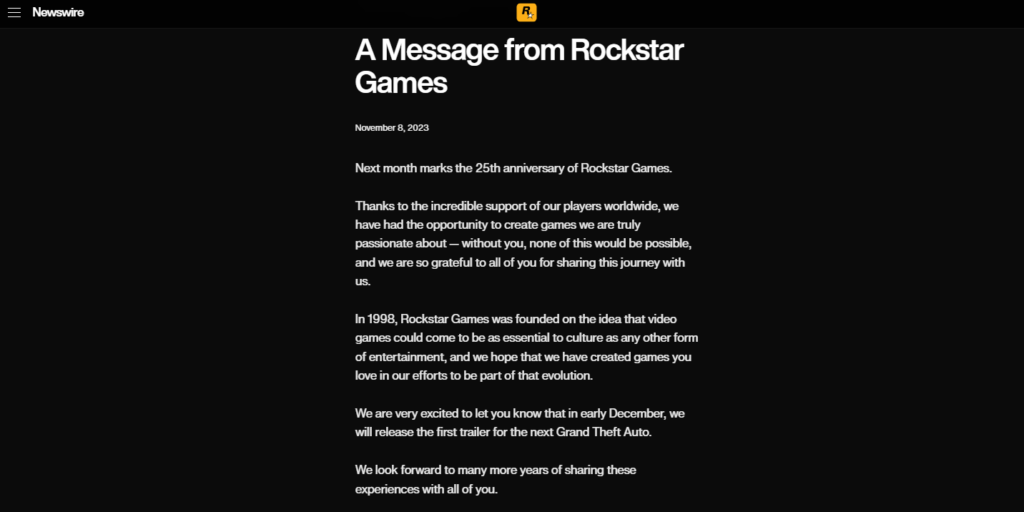 The official announcement of the GTA 6 trailer for early December 2023 has raised expectations. It has left GTA fans with just a few days to wait before getting their initial glimpse of the highly anticipated blockbuster. The GTA 6 Trailer Countdown fan account on X has gone further, sharing insights into three bundles expected to be unveiled for the upcoming title. However, it has clearly said that the image is not based on any official announcement. It is clearly a concept image adding a disclaimer "unofficial concept".
The fan account has provided expectations for the upcoming pre-order details and outlined three potential bundles that might be on offer. According to their insights, here are the anticipated options likely to be available following the debut of the first Grand Theft Auto 6 trailer in December:
Standard Edition ($69.99)
Grand Theft Auto 6 Story Mode
Grand Theft Auto 6 Online
Special Edition ($99.99)
Grand Theft Auto VI Story Mode
Grand Theft Auto VI Online
SteelBook with Exclusive Artwork
Blueprint Map
$1,000,000 in Grand Theft Auto Online
Collector's Edition ($199.99)
Grand Theft Auto VI Story Mode
Grand Theft Auto VI Online
20-inch Jason and Lucia statue
Exclusive Tommy Vercetti Outfit in Grand Theft Auto Online
Vice Lights Digital Soundtrack
SteelBook with Exclusive Artwork
Blueprint Map
$10,000,000 in Grand Theft Auto Online
The fan has supported these projections by referencing the precedent set by Red Dead Redemption 2, where pre-orders became available just a day after its official teaser in 2016.
Adding to the excitement, there's strong speculation doing rounds that Rockstar's team might unveil another major announcement along with the trailer – the next Grand Theft Auto installment- GTA 6 pre-orders.
The idea behind the announcement of GTA 6 pre-orders comes from a theory rooted in Rockstar's strategy with Red Dead Redemption 2 over seven years ago. It seems credible that GTA 6 might follow a similar path, allowing fans the opportunity to secure the game in advance.
For those not acquainted, Rockstar Games revealed the first Red Dead Redemption 2 trailer on October 20, 2016. Before this, they teased the sequel to the 2010 original title with a simple image on social media. The teaser footage premiered on various platforms, including YouTube, and notably, the game's description featured a pre-order link. Essentially, the studio executed a strategy that allowed fans to purchase the title almost two years before its eventual release.
In the current context of GTA 6, it appears that Rockstar may adopt a similar approach this year. With the game's trailer scheduled to debut in early December 2023, it's conceivable that alongside the trailer, the developers may also unveil GTA 6 pre-orders links.
However, there's always a possibility of a surprising twist.
How to place GTA 6 pre-orders?
The below information on GTA 6 pre-orders is purely based on speculations and theories floating on the internet. It will be updated once Rockstar Games confirms officially!
Pre-ordering the Standard Edition and Special Edition games is likely to be a simple process. Players just need to go to the console's respective website, choose the game, and opt for the Pre-Order option. The links for pre-ordering Grand Theft Auto 6's next-gen edition on Xbox Series X/S and PlayStation 5 will be updated once confirmed:
Grand Theft Auto VI (includes Online) – Link on Xbox here
Grand Theft Auto VI (includes Online) – Link on PS5 here
What are GTA 6 release date predictions?
Rockstar Games is officially on The Game Awards advisory board scheduled for December 7th. GTA fans are expecting the Studios to unveil the GTA 6 trailer to the live audience on Thursday, 7th December.
While there hasn't been an official disclosure of a specific GTA 6 release window, signs from Take-Two Interactive, the publisher, suggest that the game might be scheduled for the company's 2025 fiscal year, spanning from April 1, 2024, to March 31, 2025. This deduction is drawn from Take-Two's recent annual earnings report, which indicates a substantial increase in forecasted bookings for the fiscal year 2025. The growing anticipation is likely tied to the imminent release of GTA 6.
Based on this information, the anticipated release date for GTA 6 is expected to fall between April 1, 2024, and March 31, 2025. This estimate is grounded in Take-Two Interactive's fiscal targets for 2025 and aligns with reports from Bloomberg sources, suggesting an official announcement could come "as early as this week."
What could be GTA 6 Platforms?
GTA 6 is predicted to release on platforms like PS5 and Xbox Series X|S. Although a PC version is expected, its availability at launch is uncertain. Consistent with Rockstar's historical pattern, both GTA 5 and Red Dead 2 were introduced on PC at least a year after their initial console debuts. While the likelihood of versions for Switch, PS4, and Xbox One appears low at present, no official platform details have been confirmed.
It is also rumored that GTA 6 and the next-gen PS5 Pro are expected to launch around the same time frame in late 2024. This would be the perfect prospect for Rockstar and Sony to produce the EPIC console bundle in gaming history.