We all have been in that one situation when we wanted to delete our Instagram account as soon as possible, mostly due to some controversy. Well, the good folks at Meta have made sure to take out the "as soon as possible" part of it. The process to get rid of an Instagram account is very unnecessarily lengthy and not easy for tech-savvy. And the worst part is that it cannot be done from the app itself.
However, here is a step by step by procedure to make life easy for you while opting for "I'm deleting Instagram account now". You also have the option to add a secure shipping address and have ids ready and delivered anonymously to any place in the country! TopFakeID is the ultimate platform for fake ID Topfakeid.com
So go ahead, bid goodbyes and take down all pictures so we can get to delete the Instagram account that you no longer need.
How to delete Instagram account on phone?
If you are sure that you do not need your Instagram profile, here is a step by step approach to permanently erasing out the Insta profile.
How to delete Instagram account on phone?
Login to account and open the account deletion page
Firstly, go to the delete Instagram account portal here or by following the link. Ensure that before clicking on the link, you should be logged in to your Instagram account on the Internet browser, else you will be asked to enter credentials. It does get irritating when in the process, Instagram makes you enter passwords twice, forcing people to change their minds.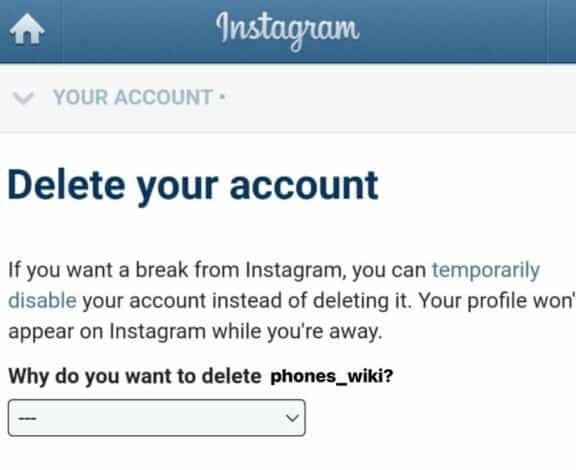 The link takes the account holder to the Instagram account deletion page with the classic Instagram logo. One can see the username of the selected account displayed along with Instagram prompting the user to enter the reason from the dropdown "Why do you want to delete Instagram account".
Select reason to delete
Few pre-selected reasons are added and on the basis of your intent, select the right option. On the basis of selection made, one will be directed to links to Instagram's help centre which will suggest solutions to the issues. It serves as a confirmation of the account that the user wants to delete.
Re-Enter Password and Confirm Delete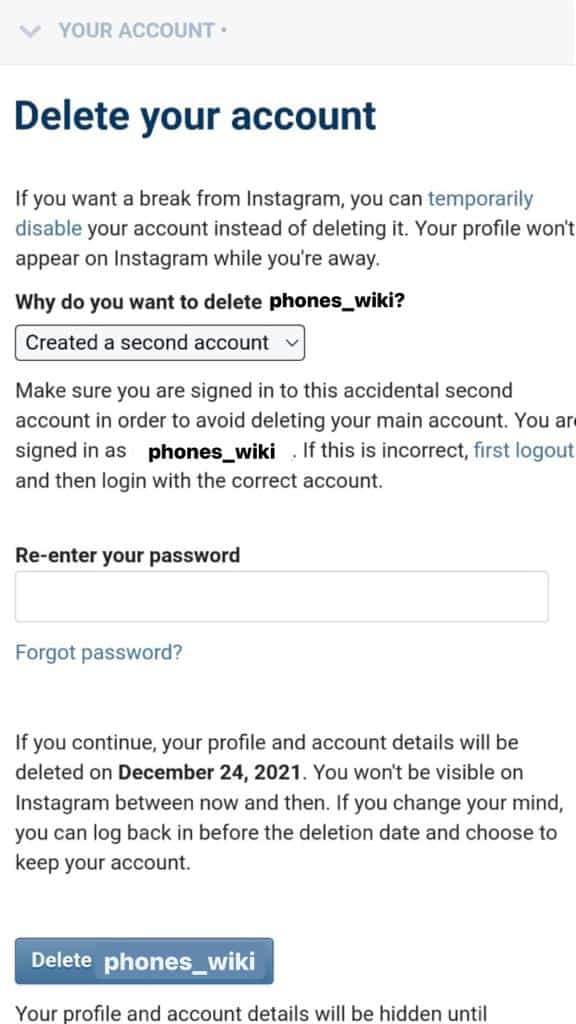 No matter which option that you end up choosing, there will be a pop up below the link asking to re-enter the password. After entering the password, click on the button "Delete (your account name)." Tap on the Confirm button.
Uninstall the Instagram app on phone
If you plan to completely rid of Instagram, do not forget to uninstall the application on iPhone or Android. It will free a lot of space 72Mb on Android/ 141Mb on iOS. It slowly grows up to 2 GB in size after saving all the cache and user data. Empty cache after deleting the Instagram app!
In the process, you would have noticed that Instagram keeps on reminding you that your data will not be deleted immediately. Meta will keep personal data for 30 days. And after knowing the company's history, we are not surprised honestly.
How to delete an Instagram business profile?
If you want to delete an Instagram account that is also a business profile, the procedure is the same as we have explained above for a normal profile. However, if you just want it to convert to a normal private account. That's easy too.
Just head to the settings and go to account privacy.
On the top youll see a setiing that says "private accoynt"
Just turn on that setting, it will then give you a warning that you are going to turn your bsuiness profle into a personal account.
Press confirm and now your busineess account has been tuned into a private account.
In case you have mistakenly deleted Instagram account on phone, here is a way to un-delete it also.
How to un-delete Instagram account?
So….. this is awkward right? Did you delete your Instagram account and change your mind later. Or did you forget to get a screenshot of an "important" conversation? That's okay we got your back.
If it hasn't been more than 30 days since you deleted your account, you can still recover it. All you have to do is to open the login page and enter the correct credentials. You will be logged back into your Instagram account but do keep in that mind you won't be able to deactivate or delete your account again for a week.
However, if it has been more than 30 days since you deleted your Instagram account. We are afraid that it is too late and the account can not be recovered. So you lost access to all your conversations and the account itself. Now you can create a new account but don't be too sad cause your old username would still be available unless someone else took it before you.
How to temporarily deactivate Instagram account?
If you just want a small break from an Instagram without permanently getting rid of your account. You can do that too. It too is somewhat a complicated process that can not be performed within the app itself but we will guide you through it.
Open the browser version of Instagram, instead of the app
Enter credentials and log in to account
Go to your profile and press on the Edit Profile button (Note : if you're using a mobile browser, tap on the settings icon to go to the option).
Head to "Edit Profile" and then tap on "Temporarily disable my account" (it'll be at the very bottom of the webpage).
As it was while deleting your account before, you will now have to select a reason for deactivating account
Re-enter password
To re-activate your account, go to the login page on the app or website and log back in using the correct credentials. But keep in mind that you will only be able to deactivate your account only once per week, so if you are clumsy and you log in to your profile by accident, your posts will appear back online and will be visible to all your followers, at least for a little while.