Nowadays, more and more business owners rush to the industry of e-commerce. So many small- and medium-sized online stores start to show their products with the pictures posted on websites. But have you ever been troubled with some problems? For example, the background is not very suitable for your product. Or the background hardly highlights the feature of your product. In that case, you may choose Photoshop to solve your problem if you don't care about the application is time-consuming, complex, and a little bit expensive. Here, I will show you another convenient and affordable background remover from VanceAI for producing better product photos.
Part 1: Why the Photos of Products are important for the E-commerce Industry
According to Justuno, almost 93 percent of customers think of visual content like product photography as a key factor when they plan to buy something. In the customer's view, the quality of your product photos, to some extent, reflects that of your products. And over 70 percent of consumers hope they can see vivid and detailed product pictures. They don't like reading the lengthy words used to describe how good your products are. They are tired of such dull and voiceless descriptions. They hope to see the texture or other details from your product photos within several seconds. That is why some developing business owners need to pay more attention to producing high-quality product photos.
Part 2: What AI can help you take high-quality product photos?
As shown above, AI enables you to take good product photos for boosting sales in e-commerce. Then you will see the real changes in your product photos with the help of VanceAI based on an advanced algorithm. First, BGremover supported by AI has the ability to remove background from images. Then this background remover actually has solved your problem. A large amount of energy or money can be saved while you want to produce transparent background. In most cases, business owners like to use transparent backgrounds to emphasize the features the advantages of products. On the contrary, too-busy background images tend to distract consumers, which potentially overshadows the features. Next, I will show you the magic of the background remover by using transparent background or just changing another background in order to take great product photos.
Example 1: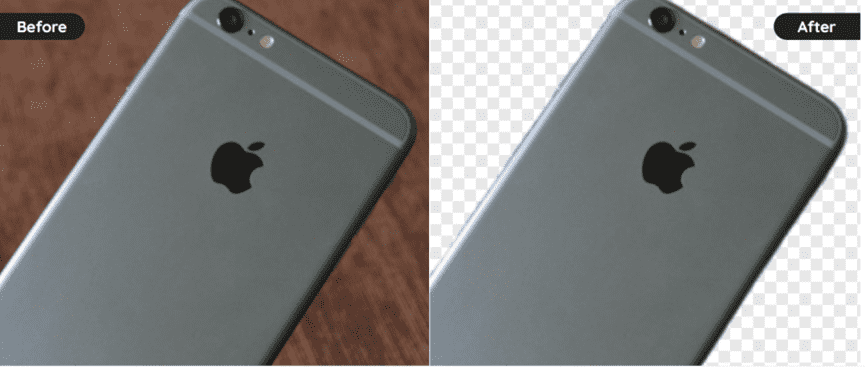 Take the instance of the phone, it may be not helpful for increasing the sales of your phones. If you just want to attract visitors with the phone, then any background is likely to distract them. Under such a situation, background remover enables you to remove background from the image, which in turn helps consumers pay attention to the product again.
Example 2: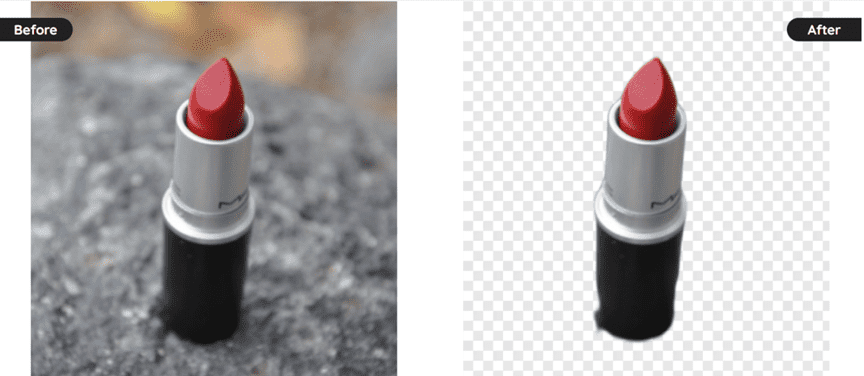 It is important for business owners to remove background from the image in the following product picture. The background image around the lipstick lowers the quality of the luxury. It is possible to promote the product by using some high-end background decorations rather than a rough background. Hence, when you remove background from the image free, you perhaps apply the concept of less is more to your product photography. All you need to do is use background remover to remove the image background with lightning speed.
Part 3: How can one take satisfactory pictures of products to sell online using AI?
In this part, I will offer you two AI solutions to take good pictures of products. By adopting the first method, you can remove background from the image with effective tools like background remover from VanceAI. Then it is easy for you to delete unnecessary background parts to stress your products. The other one is that increase image resolution while you enlarge your product pictures. When you take product photos with your phone, sometimes you need to upscale and then show them on your websites. After being upscaled, pictures seem to be vague and less recognizable. If it happens to you, it is time for VanceAI Image Upscaler to optimize them. Follow the next steps and you will know how to take good pictures of products to sell online at ease.
How to use BGremover?
Step 1: Go to the homepage of BGremover.
It is better to enter AI Background Remover if you want to remove background from an image. On the homepage of the product, these descriptive words help you understand how the tool works and what services it offers. Before removing the background, knowing the essential information about the tool is good for you.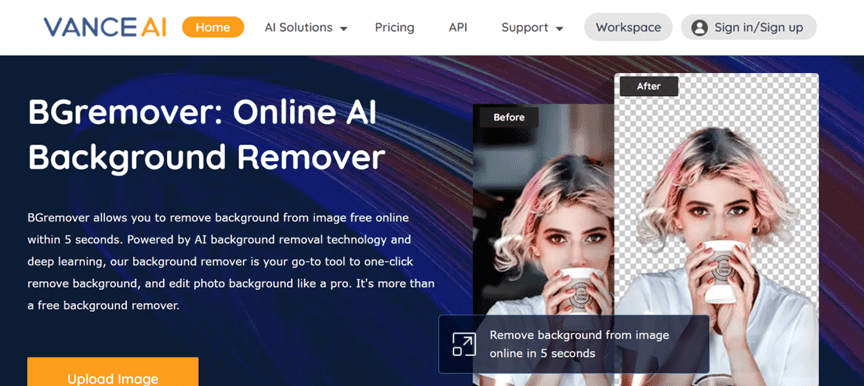 Step 2: Choose Portrait or Object in AI Workspace.
After clicking the button Upload Image, you will naturally be redirected to BGremover Workspace. After that, you need to choose the function of Portrait or Object according to your product picture to remove the background from the image free.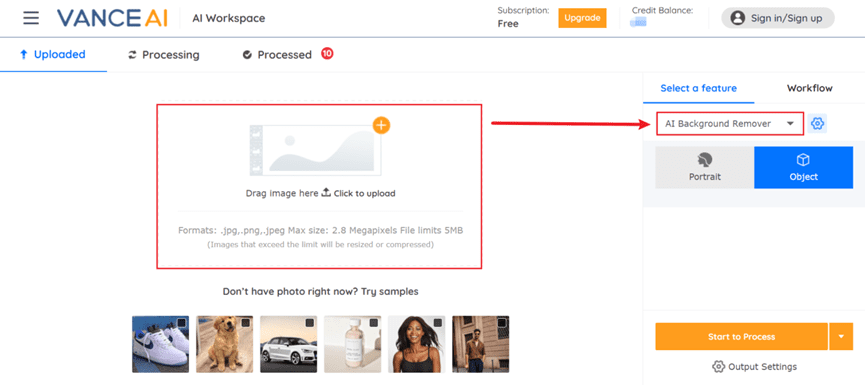 Step 3: Preview or download the product picture.
In the final step, it is your choice to preview or download the result. VanceAI is committed to giving you the easiest solution to the most difficult problems.

How to use VanceAI Image Upscaler?
Step 1: Go to the homepage.
First, it is necessary to come to the main page of VanceAI Image Upscaler. And the link image enlarger is helpful for you to get to the destination as quickly as possible.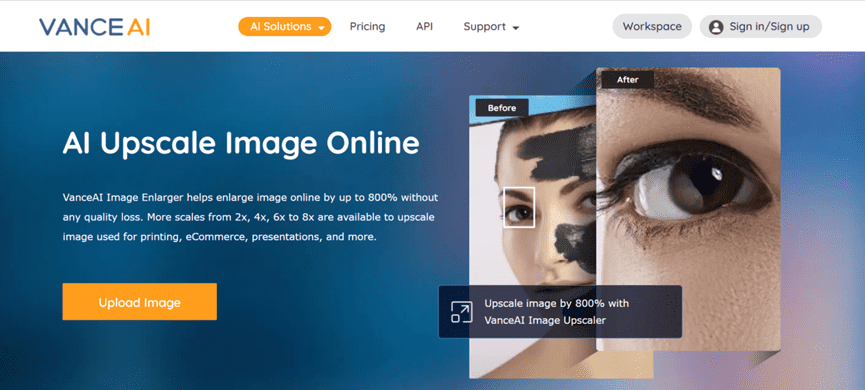 Step 2: Choose your image on VanceAI Workspace.
Then you come to the page of VanceAI Workspace by entering VanceAI Enlarger Workspace. On this interface, you can choose to magnify your image to 2x, 4x, or even 8x. It also has some other features if you have any requirements.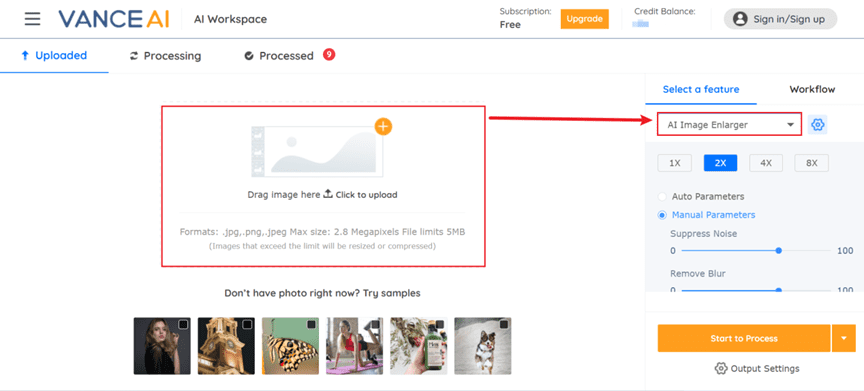 Step 3: Upscale the image and download it.
Now, it is time to download your enlarged image. AI Workspace provides you with the three functions Uploaded, Processing, and Processed. And here you can also preview, edit or download your image. Click on the Download button and you will own the image forever.

Conclusion
Throughout the essay, it is possible for thriving business owners in the e-commerce industry to promote their products with VanceAI. The website has an edge over some well-known photo editing tools be it the cost or efficiency. Each homepage of a product has already given users descriptive words or easy-to-take steps. It is also worth noting here that many consumers often judge your products by the quality of your products. If you have any requirements for your product photos, it is more likely to find solutions!
Additional Choices from VanceAI
VanceAI is a website where various online photo editing and quality enhancement tools are provided. To remove background from image free and improve the definition of product pictures are merely the tip of the iceberg. VanceAI has more powerful tools. If your product pictures have too many noises, VanceAI Image Denoiser is your first choice. And if there are many soft or blurry product pictures, you also can unblur images online or fix motion blur with the aid of VanceAI Image Sharpener.