Amazon Prime Video sure made the right choice when it came to the streaming action-packed thriller "The Family Man Season 1" on its OTT platform in 2019. Season 1 had expectedly ended in a cliffhanger giving fans sufficient reasons to clamor for Family Man 2. Its popularity can be judged from its ranking as well as rave reviews. Family Man Season 2 IMDb scored 8.5/10 and 4/5 stars on Amazon Prime.
Moving on, we'll take a rather in-depth look at the most pertinent question now – "The Family Man" Season 2 new release date and latest news. Before that, we have news for you on trailer reveal by Amazon Prime Video
Family Man 2 Trailer
Family Man Season 2 trailer is out today. Expectedly it is gripping, giving a sneaky peek into the upcoming season of Family Man. Manoj Bajpayee is seen deep into the character of Srikant Tiwari. However, to carrying forward from Season 2 plot, he is seen making an effort to save his marriage. Srikant can be seen going to a relationship counsellor along with his wife.
As the story progresses, he cannot resist the thrill and action of the role he is designed for – an intelligence officer of the National Intelligence Agency. he gets reminded in a phone call with his former colleague. There we find him landing in Chennai to handle a case of terrorism.
Samantha Prabhu makes a digital debut and the trailer shows her cast as a terrorist named Raji. Her only aim is to "I will kill them all".
The Family Man 1 streamed on 20th September 2019 and had a run of 10 episodes. The makers have not announced the Family Man 2 episodes yet.
However, it is expected that there will at least 10 episodes in the latest Family Man Season 2 web series. Each episode will have a run time of 30-40 minutes each.
The web series will be available on Amazon Prime in 3 languages namely Hindi, Tamil, and Telugu. There will be subs in English, Gujarati, Japanese, French, Italian and more languages!
The Family Man 2 Release Date
"New release date?", yep you heard that right. For those of you still unacquainted with the news, Family Man 2 was temporarily put on hold. Mind you it got delayed but not canceled. There were rumors that the shooting of Family Man Season 2 was completed in September 2020 and post-production was in progress.
In fact, Amazon Prime had released a teaser on 11th January 2021. It announced the Manoj Bajpayee-starrer The Family Man Season 2 release date. But, the controversies surrounding Mirzapur 2 and Tandav put Amazon Prime Video in a spot. It coincided with a new set of regulations on OTT platforms enforced by the government.
Due to the controversies, the next installment of the web series got postponed. It got a new release date, sometime in the summer of 2021.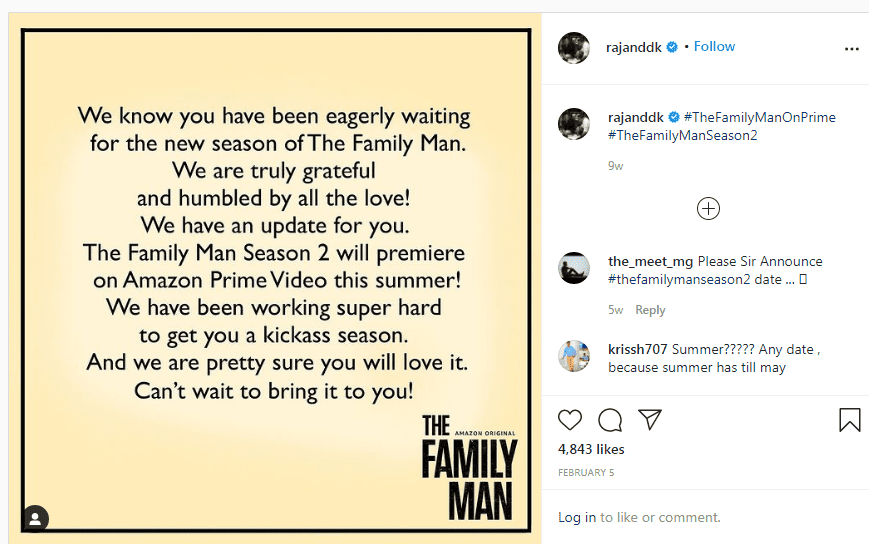 The central character of Family Man 2, Manoj Baypayee aka Srikanth of Family Man also dropped in a bumper update for his fans on the date of release.
The wait for The Family Season 2 Release date announcement is over. Here lands the confirmation of one of its most awaited web series Amazon Prime was airing.
Responding to the persistent queries of its fans, Amazon Help account replied
There is an unofficial update but from a confirmed source. LetsOTT Global, a popular streaming guide channel, has tweeted the premiere date.
The Family Man 2 is premiering on 11th June on Amazon Prime Video.
Besides confirming the date it has also informed the dubbing status in four languages, namely Hindi, English, Telugu, and Tamil.
Amazon is touted to make the return official with an announcement this week.
Family Man 2 Cast
We'll be seeing the original cast of action-thriller Family Man 2 being retained. There are few exceptions given to the appearance of a new antagonist. Here is the expected The Family Man Season 2 cast and their role in the web series.
Manoj Bajpayee as Srikant Tiwari, Secret Agent, Senior Analyst in T.A.S.C
Priyamani Iyer as Suchitra Iyer Tiwari, Srikant's wife
Samantha Akkineni as Raji, makes an appearance in Season 2
Sharib Hashmi as JK Talpade, Srikant's colleague at T.A.S.C
Gul Panag as Saloni, Srikant's Commanding Officer
Asif Basra is also to be included on the list, yet information regarding his contribution is still under wraps. Previous characters like Moosa Rahman (Neeraj Madhav), Imran Pasha (Kishore Kumar), and Zoya (Shreya Dhanwanthary) won't be continuing in their respective roles. Though it remains to be seen if they'll appear in the later seasons of The Family Man, although Moosa might not be present either way.
The Family Man 2 Plot
Filmmakers Raj Nidimoru and Krishna D.K. are the producer and directors of the thriller web series. The story tells the tale of Srikant Tiwari, an agent who works for a cell in the secretive National Intelligence Agency. While espionage seems to be much of his job, the show focuses more on the everyday drama that he has to go through being a member of a middle-class family.
The Family Man Season 2 plot will probably take off from where the cliffhanger of Family Man 1 ended. Manoj Bajpayee will continue his juggling with his personal and professional lives while he is making efforts to stop a chemical attack.
It remains to be seen if Srikant will manage to save the day or not. Other events point out to breaking point in his relationship with his wife along with further issues at his own workplace. Family Man 2 has roped in Samantha Akkineni who will be seen playing a pivotal role. The web series will mark her digital debut.
According to Raj, the inspiration for the story was his uncle who worked for the NIA. Most of the time he had to dodge questions by giving a false reply for what and where he worked.
Family Man Season 2 Download
Family Man 2 download of much-anticipated espionage series is available for free on Amazon Prime Video. The Amazon Prime Member can watch unlimited ad-free streaming entertainment including Amazon Prime Originals, Hollywood, Bollywood & Regional movies, and TV series. For those who are yet to join, the annual membership is available at Rs.999 only.
If you don't have access to the Amazon Prime account, The Family Man Season 2 Download can be done using Flipkart Super coins. All one has to do is to log in to Flipkart Account and go to the Plus Zone. There is an option to redeem Supercoins for Amazon Prime Premium membership. On claiming it, visit the Amazon site and log in to your Prime account with the free membership.
There are few more piracy websites like 123movies, tamilrockers where Family Man 2 web series can be watched online for free. However, watching/downloading is illegal from piracy sites.
Other Mentions about "The Family Man" Season 2
The show received plenty of accolades and was nominated for several awards at the FilmFare festival. It received the Best Actor Title for both Male and Female Lead.
It also received the Best Director Award which went to both Raj Nidimoru and Krishna D.K.
For once we want the rumors on the release date to come out true. What do you think about the upcoming The Family Man Season 2 on Amazon Prime? How long can you wait now? Leave us a comment down below. For more content like this, visit us here.