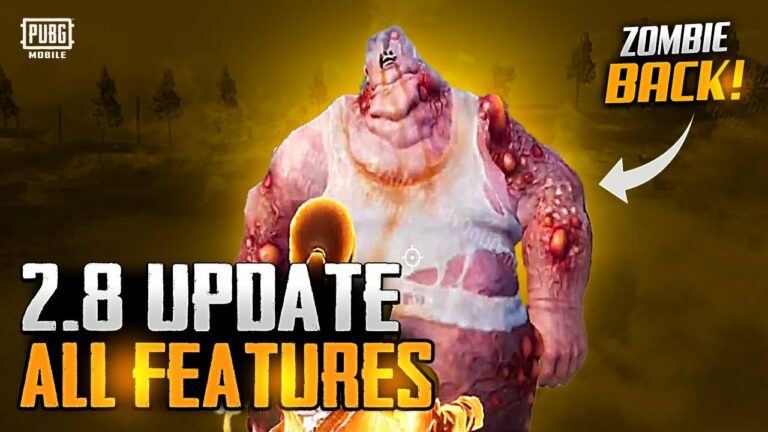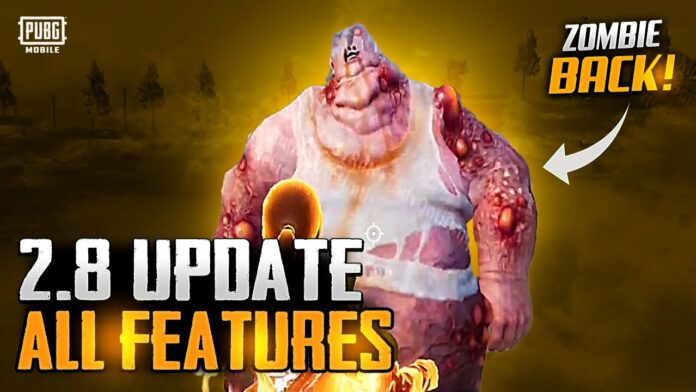 The release of the PUBG Mobile 2.8 update is on the horizon, with Krafton having introduced the Beta APK for the upcoming patch. Players have the opportunity to download the PUBG Mobile 2.8 Beta APK, allowing them to get a sneak peek at the developers' plans for the next version, all while dedicating their efforts to the current iteration of the game.
Similar to the PUBG Mobile 2.7 update launched in July 2023, the PUBG Mobile 2.8 update is set to introduce an array of fresh features, events, and optimizations to enhance the gaming experience. Additionally, players can anticipate brand-new collectibles being introduced to the in-game shop. For those curious, here's a breakdown of the release date, schedule, and the upcoming content that the PUBG Mobile 2.8 update will bring.
PUBG Mobile 2.8 Update Release Date & Schedule
Krafton typically follows a cycle of approximately two months for the rollout of new patch updates or beta versions for PUBG Mobile. For instance, version 2.6 was released in May 2023, followed by the launch of version 2.7 on the Google Play Store and Apple App Store in July 2023. Meanwhile, Beta APK releases for versions 2.7 and 2.8 took place in June and August 2023, respectively. Consequently, players can anticipate the official launch of the PUBG Mobile 2.8 update to occur around mid-September 2023.
Beta testers are already playing the PUBG Mobile 2.8.2 beta on a regular basis to detect any possible flaws or bugs that could be there in the update. Those who have downloaded the beta version can have a sneak peek into the game's latest features at the cost of stability.
It's important to note that the exact release date and rollout schedule have not been officially confirmed yet. Developers typically announce this information a few days before the final launch. Therefore, once there is new information available regarding the release date and rollout schedule for the PUBG Mobile 2.8 update, we will update this section accordingly. As of now, players can anticipate the next patch to be released between September 11 and 17, 2023.
There is no official news on the release date of the PUBG Mobile 2.8 update from the makers of the game. However, gamers know that Krafton usually follows a trend of releasing new packs every 2 months. Estimating from the time of previous releases, we can expect to see PUBG Mobile 2.8 release happen in the 2nd week of September between September 11 and 17, 2023 with Sunday, the 17th of September being the most likely one. The rollout of the stable version takes a few hours across the globe.
The release timing of PUBG Mobile 2.8 will be as below
Indonesia: 7:00 AM WIB (UTC +7:00)
Brazil: 9 PM BRT (UTC -3:00)
Bangladesh: 6.00 am
Nepal: 5.45 am
Pakistan: 5.00 am
Russia: 5.00-6.00 am
Indonesia: 6.00-7.00 am
Japan: 10.00 am\Europe: 2:00 AM CEST (UTC +3:00)
North America: 8:00 PM EDT (UTC -4:00)
Note: The above date and time of the PUBG Mobile 2.8 release have arrived on the basis of past releases. This will be updated as it becomes official.
Keep in mind that players should await updates from Krafton and Level Infinite to unveil the official release date. This page can be bookmarked for future reference, and players can return later to check for updates on the release date of the PUBG Mobile version 2.8 patch update.
How to download PUBG Mobile 2.8 APK and OBB files for iOS and Android?
Before initiating the download sequence and installing it remember that both PUBG Mobile and PUBG Mobile Lite are banned in India, so proceed at your own risk. There are a few points to keep track of, especially with the system requirements needed to run the game.
PUBG Mobile 2.8 Update download requirements
The storage file needed for the download procedure is as below. Make sure you've sufficient space to accommodate the installation packages as well.
iOS Update Size: 1.93 GB
Android Update Size
Regular APK Size: 846.64 MB
Compact APK Size: 634 MB
The storage space on your mobile needed for the download procedure will be updated as soon as it gets official. Make sure you've sufficient space to accommodate the installation packages as well. The exact will be updated once the official release is announced.
PUBG Mobile 2.8.2 beta APK download link Android – download BETA-PUBG-Mobile-28-2-APK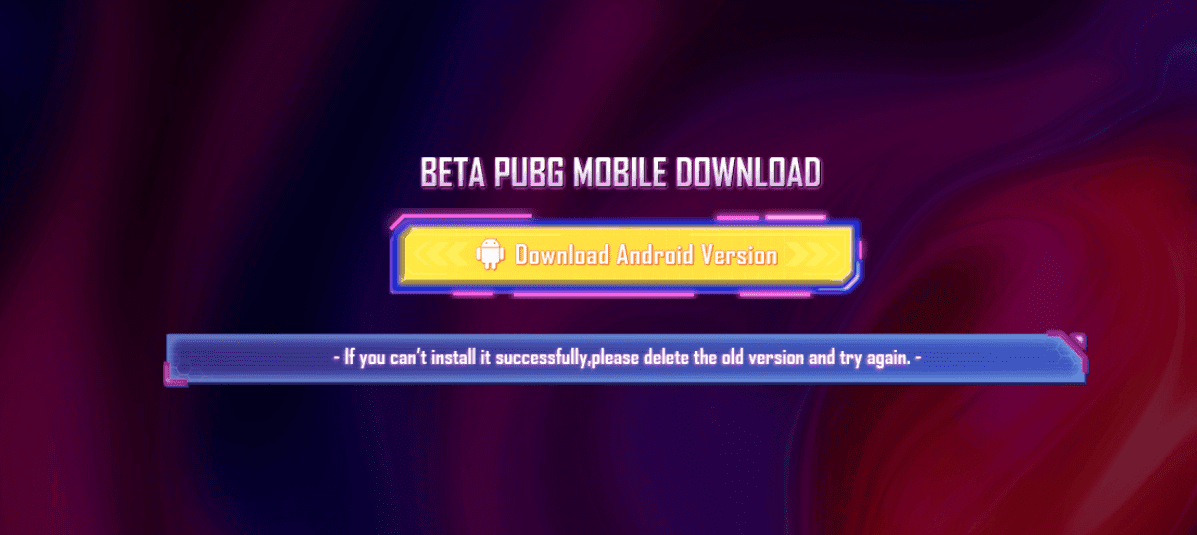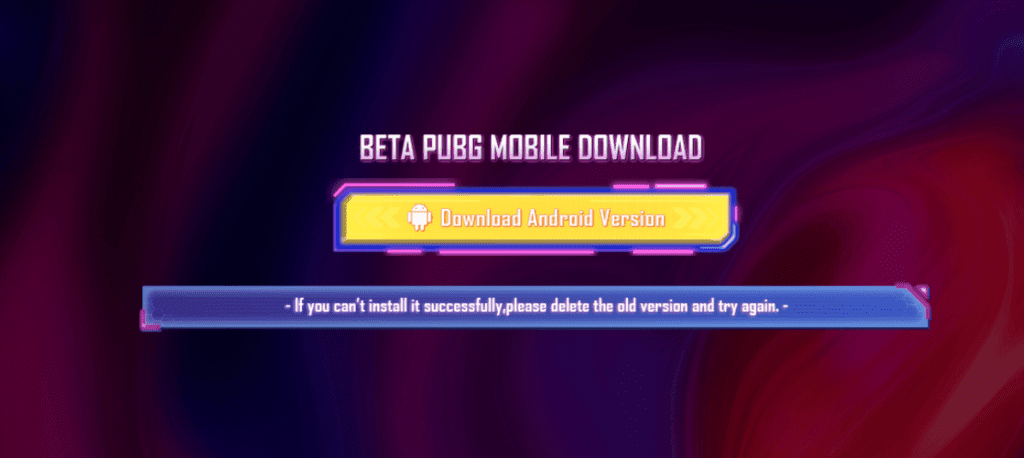 Players on the regular/standard APK version will get the chance to play PUBG Mobile 2.8 update almost immediately. However, gamers who are playing using the compact APK version cannot start playing immediately after download. They will be instructed to download an extra resource pack before they can lay their hands on the game.
Players on the regular/standard APK version will get the chance to play PUBG Mobile 2.8 global update almost immediately. However, gamers who are playing using the compact APK version cannot start playing immediately after downloading. They will be instructed to download an extra resource pack before they can lay their hands on the game.
Have a VPN handy. If you're running the game (PUBG Mobile 2.8 update) on a Jio network it's recommended that you use a VPN with the location tethered somewhere outside India. However, do keep in mind using VPN to download a banned version of the game is illegal in India. The action if detected may invite a penalty.
4. The Beta version is installed separately from the original PUBG Mobile update. You'll have them as individual apps. Thus, minimal risk of losing your account.
For those who cannot resist themselves, follow the given steps to prevent any faulty error while executing PUBG Mobile Global 2.8 beta APK downloads and installation.
Steps to Download PUBG Mobile 2.8 Beta Update
Follow the steps below to run the APK download process
Steps to download PUBG Mobile 2.8 APK and OBB files
Step 1: Open the PUBG Mobile site
Open the PUBG Mobile official site. Depending on the platform, players can choose between iOS and Android.
For iOS users, select iOS Download from the Apple App Store
For Android players, select AOS Download from the Google Play Store
Hit the Download/Update option
Before the PUBG Mobile 2.8 goes official, you can download the PUBG Mobile 2.8 beta APK from the aforementioned link. The size of the APK File is about 700 MB, and users should have enough space available on the phone before downloading it.
Step 2: Download the APK file
Download the APK file after selecting the preferred APK – Regular or Compact. The download process shouldn't take long about 15 mins or so.
Step 3: Install the APK file
For Android users, locate and install the APK file. The 'Install from Unknown Source' option should be enabled if it has not been done previously. Go to settings and activate it in "Permissions".
For iOS users, after completion of installation, go to Settings > General > Configuration Documents> Device Management > Trusted Certificates
Step 4: Complete installation steps
After the installation is complete, open the game and then download the desired resource pack, after which the game can be played easily. There are two options to select from. They are Low-spec Resource Pack and HD Resource Pack. The features will be updated, too.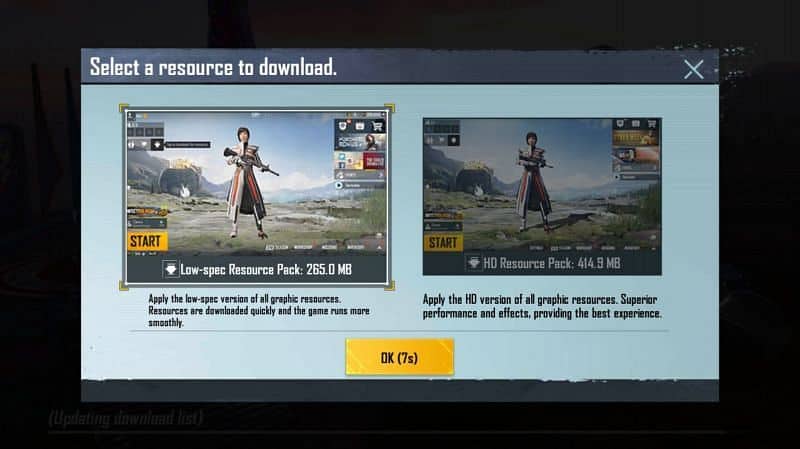 1. Size of Low-spec Resource Pack – 400 MB approx
2. Size of HD Resource Pack – 700 MB approx
The exact size of the resource pack varies from user to user
Enter valid Invitation Code for Beta users
Once the resource pack is selected, players need to locate and tap on the "Guest" button. A dialog box pops up to enter a valid Invitation Code. Enter the code and hit the yellow 'OK' button to complete the flow.
Parsing Errors while Installation
If a player encounters a parsing error during the installation process of the PUBG Mobile 2.8 APK, re-download the APK and OBB files from the official site and repeat the above steps. It is probable that incomplete APK installation caused the error.
Take note though that being in the Beta stage means it is still liable to undergo changes. Player experience reports are important as they help eradicate any possible bugs or issues that may crop up. The PUBG Mobile Global 2.8 update helps Tencent make use of its massive player base to test the stability of new features as well as the existing ones.
Steps to Download PUBG Mobile 2.8 Update
For Android users
Thanks to UptoDown! For those who are struggling to download PUBG Mobile 2.8 Update, we have got you covered. You can simply click on the download link mentioned below and download the game without any hassle.
Steps to install PUBG Mobile 2.5 Update
Go to the mentioned link, hit the download button
Allow unknown sources on your Android device to install the game
Now, launch the downloaded file and install it
Once, installed simply run it
PUBG Mobile will now download the necessary files to keep the gun running
Restart the game, and now you have the latest PUBG Mobile 2.5 update
For iPhone users
Installing PUBG Mobile on a new iPhone can be a bit of a hassle, but if you're an existing player, it's much easier than you might think. When you download an app to your Apple device, you technically "buy" it, even if it's free. This means that the app will be saved in your App Store purchase history, making it easy to re-download the app on any new device.
To get started, simply open the App Store on your new iPhone or iPad and tap on the "Today" tab at the bottom of the screen. From there, tap on the profile icon in the top-right corner of the screen, then tap on "Purchased." This will take you to a list of all the apps you've ever downloaded or purchased on your Apple ID.
Scroll through the list until you find PUBG Mobile, then tap on the cloud icon to the right of the app to begin downloading it onto your new device. If you have automatic downloads turned on in your settings, the app may start downloading automatically.
Once the app has finished downloading, simply log in with your existing account information, and you'll be ready to start playing PUBG Mobile 2.8 on your iPhone or iPad. With these simple steps, you'll be back in the game in no time.
PUBG Mobile 2.8 Update Leaks
Numerous new features have been introduced in this update, although it's important to acknowledge that not all of these features are guaranteed to make it to the official release of PUBG Mobile. Adjustments and fixes may result in certain features being removed or added post-update. We will ensure to keep you informed and updated should we receive any information regarding these changes. This dynamic nature underscores the ongoing development and refinement process of the game.
The anticipation within the gaming community is palpable as the eagerly awaited PUBG Mobile 2.8.0 Beta Version has been released to select players, promising a myriad of exciting updates and features
New Crossbow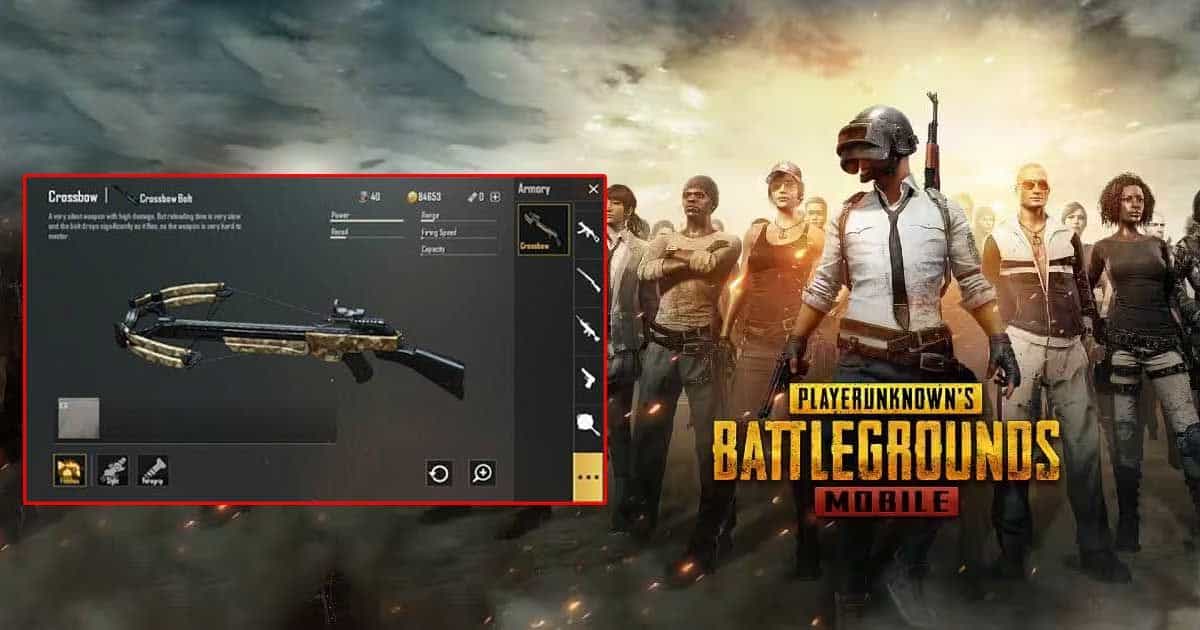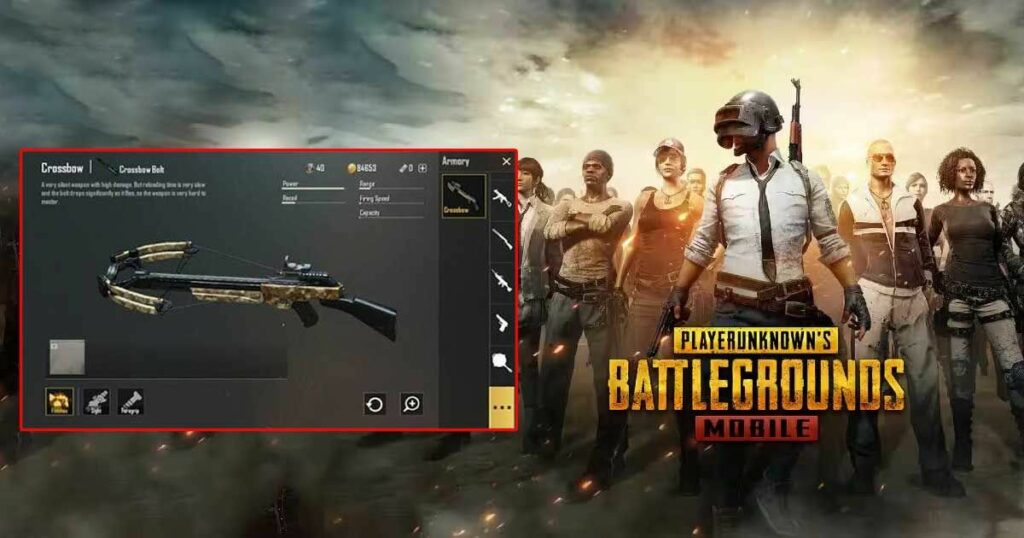 Among the most anticipated additions in this upcoming update is the introduction of a novel weapon: the Crossbow. As players prepare to immerse themselves in this latest iteration, the Crossbow is poised to revolutionize the battlefield and introduce a fresh layer of strategic gameplay.
The Crossbow, a timeless weapon often featured across various gaming franchises, lends its unique allure to the intense realm of PUBG Mobile. Renowned for its stealthy and tactical nature, the Crossbow bestows players with a novel approach to engaging in combat scenarios.
Equipping players with the ability to silently eliminate adversaries from a distance, the Crossbow particularly appeals to those who favor a more understated approach. This weapon has the potential to be a game-changer for adept marksmen and individuals who take pleasure in the gratification of a precisely aimed shot.
In the ongoing evolution of PUBG Mobile, the forthcoming 2.8.0 Beta Version promises to captivate players through the inclusion of the Crossbow and a slew of other enhancements. In particular, a new Tactical Gunpowder Attachment is being introduced to address certain challenges faced by the Crossbow. Issues such as reload speed and accuracy are being tackled, with this attachment poised to bolster its capabilities. By implementing this attachment, the Crossbow will offer aerial damage, affording players the means to secure damage or kills even if they miss a shot.
As the PUBG Mobile community eagerly anticipates the arrival of the 2.8.0 Beta Version update, they are preparing to embrace the innovative possibilities and challenges that the Crossbow and other enhancements will bring to the battlegrounds.
Frag Grenade Update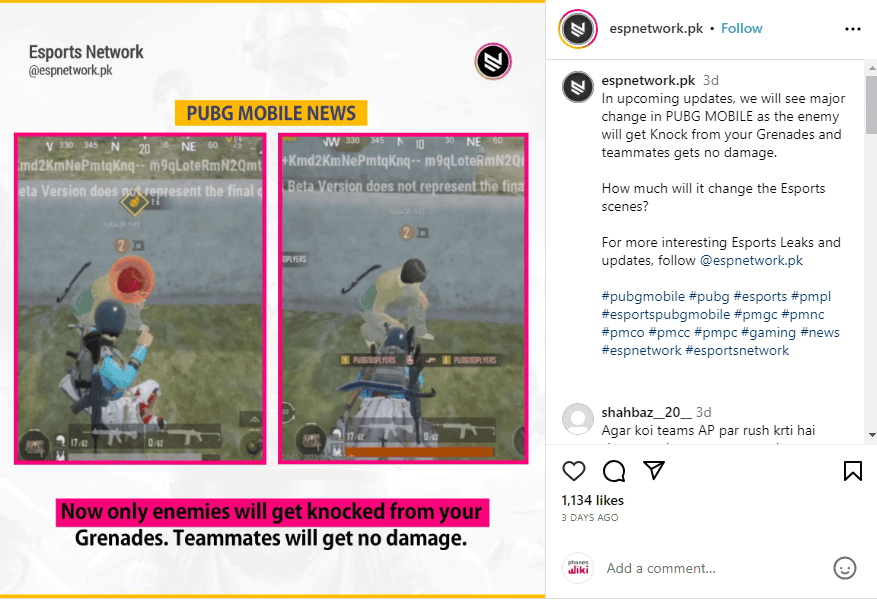 PlayerUnknown's Battlegrounds Mobile is a renowned battle royale game where teams of four engage in intense battles, vying for survival. In this competitive landscape, firearms and grenades take center stage as pivotal tools for eliminating adversaries. Notably, while PUBG Mobile features a disablement of friendly fire, grenades have the potential to inadvertently harm or eliminate your own teammates. However, an upcoming update signals a change on the horizon.
In the forthcoming 2.8 update, the concept of friendly fragmentation is set to be eliminated. This alteration means that your teammates will no longer sustain damage from your grenades, fostering a safer environment for team coordination. Nevertheless, it's important to note that if you are in proximity to the detonation area of the grenade, you yourself will still be susceptible to damage.
Grenades hold a pivotal role within PUBG Mobile esports matches, adding a dynamic element to the gameplay. Instances of players inadvertently impacting their own teammates with grenades have contributed an extra layer of excitement to watching esports matches. However, this aspect is slated for removal in an upcoming update.
At present, the occurrence of players inadvertently knocking out their own teammates with grenades has introduced an element of unpredictability and amusement to the esports viewing experience. Nevertheless, this dynamic is set to change with the upcoming update. With the implementation of this update, the scenario where teammates accidentally harm each other with grenades will be eliminated.
Currently, players often maneuver frag grenades in the direction of adversaries, while being mindful of the potential risk posed to their own teammates who are advancing toward the rival squad. The forthcoming upgrade aims to transform this strategic landscape. Once the update is in place, players will be able to boldly advance against the opposing team without the concern of friendly grenades jeopardizing their efforts.
As these changes take effect, the esports community within PUBG Mobile is poised to undergo a transformation in gameplay dynamics, encouraging players to reevaluate their strategies and approaches to matches.
Halloween-themed mode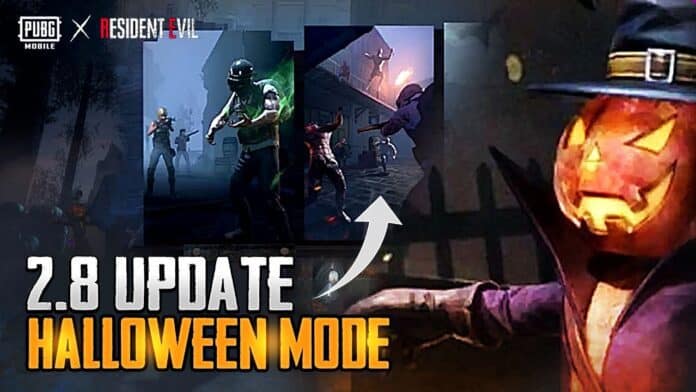 Speculation suggests that a Halloween-themed survival mode will be introduced, set within a haunted house. In this mode, players will need to endure through the night by combating zombies and other supernatural creatures. The mode is expected to feature a mini-boss and an ultimate boss, with the goal of defeating the ultimate boss zombie being a central objective. This mode will also bring new buildings to the map, enriching the gameplay experience.
"Desert Town" Map
It's rumored that the 2.8 update will unveil a fresh map known as "Desert Town." Set in a desert environment, this map is said to introduce a diverse range of locations and features. However, as the map is still in the development phase following the launch of the beta version, we will provide further updates on its specifics as more information becomes available.
Brand New Royale Pass
PUBG Mobile 2.8 is poised to incorporate a new Royale Pass. Through this pass, players can unlock an array of rewards, including skins, cosmetics, and emotes. The Royale Pass has historically been a popular feature that adds an extra layer of progression and customization to the game.
As with any anticipated updates, the specifics and availability of these features are subject to change. We will ensure to keep you informed with the latest developments as they unfold in the PUBG Mobile universe.
New Features
The introduction of the A3 Royale Pass, the Zombie Edge Theme Mode, and the array of extensive enhancements all contribute to solidifying the game's position as a beloved and enduring favorite within the gaming community. With an unwavering commitment to continuous evolution and innovation, PUBG Mobile consistently engages and captivates players, immersing them in a realm of high-stakes battles and exhilarating challenges that keep them deeply engrossed.
Here's a breakdown of some of the new features and additions that are expected to come with the PUBG Mobile 2.8 update:
New Combat Knife (Melee): Players will have access to a new melee weapon, the Combat Knife, which adds an additional layer of close-quarters combat tactics.
New Parachute Jump Customization: A fresh feature will allow players to customize their parachute jumps, adding a touch of personalization to their entrances into the battlefield.
New Victory Dance: Following a match victory, players will have the chance to showcase a new victory dance, offering a celebratory flair to their triumphs.
New Zombie Edge Mode (Halloween 3.0): The Halloween-themed Zombie Edge Mode will make a return, this time playable across the Erangel, Livik, and Miramar maps, providing thrilling survival challenges against zombies.
Crossbow 2.0 (New Attachment – Tactical Gun Powder): The Crossbow will receive a substantial enhancement with the introduction of a new attachment called Tactical Gun Powder, empowering players to make the most of this unique weapon.
New Skins: The upcoming A3 Royale Pass will introduce a variety of new skins for weapons such as the Mini 14, Scar L, Bike, Molotov, and more, allowing players to customize their arsenal.
Weapon Changes: The AUG weapon will no longer be available as an in-game drop item; instead, it will be found as a Ground Spawn item. Conversely, the FAMAS weapon will shift from Ground Spawn to Drop items, making it exclusive to airdrop crates.
New Upgradable Skins: Players can anticipate the availability of new upgradable skins, including the Zombie Mess Dacia skin and the SLR Megablaze skin.
Please keep in mind that these features and additions are based on speculation and rumors, and changes may occur before the official release of the update. Stay tuned for further updates and information as the PUBG Mobile 2.8 update progresses.
Bug Fixes
The upcoming update is poised to introduce user interface enhancements aimed at streamlining navigation, improving in-game communication, and delivering an overall more intuitive experience. The inclusion of bug fixes and quality-of-life enhancements is a crucial aspect of significant updates. As issues from previous versions are addressed and resolved, players can anticipate a more stable and enjoyable gameplay experience.
The development team's dedication to engaging with the player community stands as a cornerstone of PUBG Mobile's enduring success. Through regular updates, community-driven activities, and open lines of communication, player feedback plays a pivotal role in shaping the game's ongoing evolution. This commitment to player engagement is expected to persist with the release of PUBG Mobile 2.8, underscoring the creators' dedication to crafting a game that resonates deeply with its player base.
Summing It Up
The developers of PUBG Mobile are working hard to keep gamers interested in the game with new updates and improvements. All of the rewards for an upcoming new update of PUBG Mobile 2.8 are not confirmed. Therefore, you may either see a few of them or all of them in the next update.
Stay tuned for more information about PUBG Mobile and its community in the meanwhile. Make certain that you do not use any unethical methods to get blacklisted. By any chance you land up in that situation, check out the steps on how to unban a PUBG Mobile account.
In the meantime, PhonesWiki will keep you informed of any new information on the upcoming PUBG Mobile 2.8 update.