Cardano's price has established liquidity pools that are likely to be tapped in the future. Meanwhile, HUH Token's price is presenting traders with a fresh buy opportunity after consolidating to its major support level.
Cardano (ADA)
The most likely direction for ADA appears to be bullish, with on-chain metrics supporting the assertion.
Cardano's price formed a double top on December 2 at $1.75 and then retraced 32% to $1.13. ADA then formed a double bottom at $1.13 and surged 18%. However, the recent upward correction will almost certainly lay the groundwork for sustained bullishness.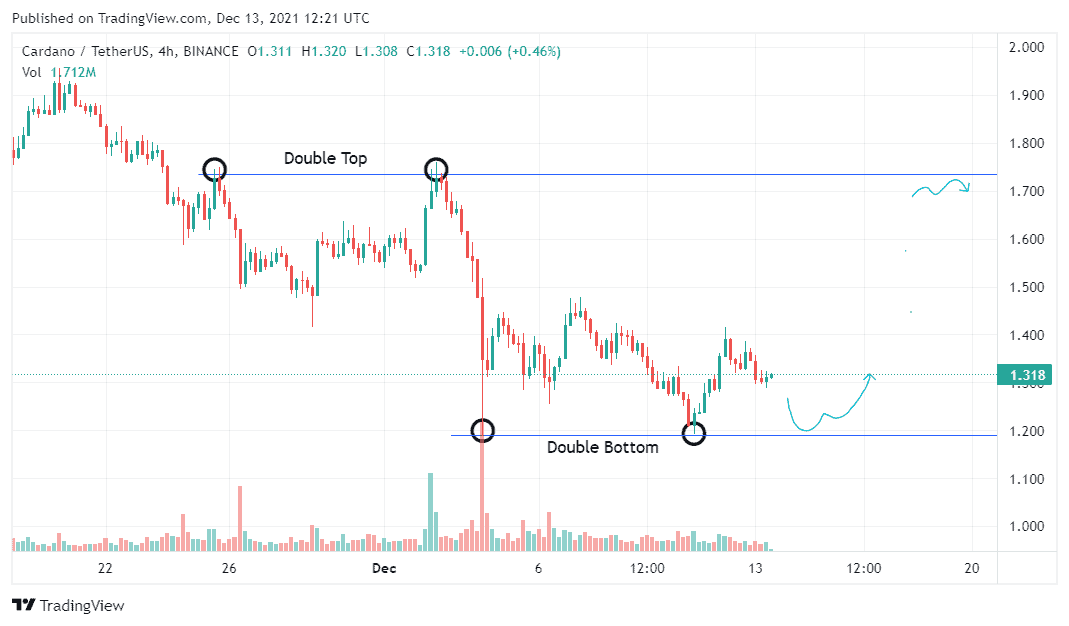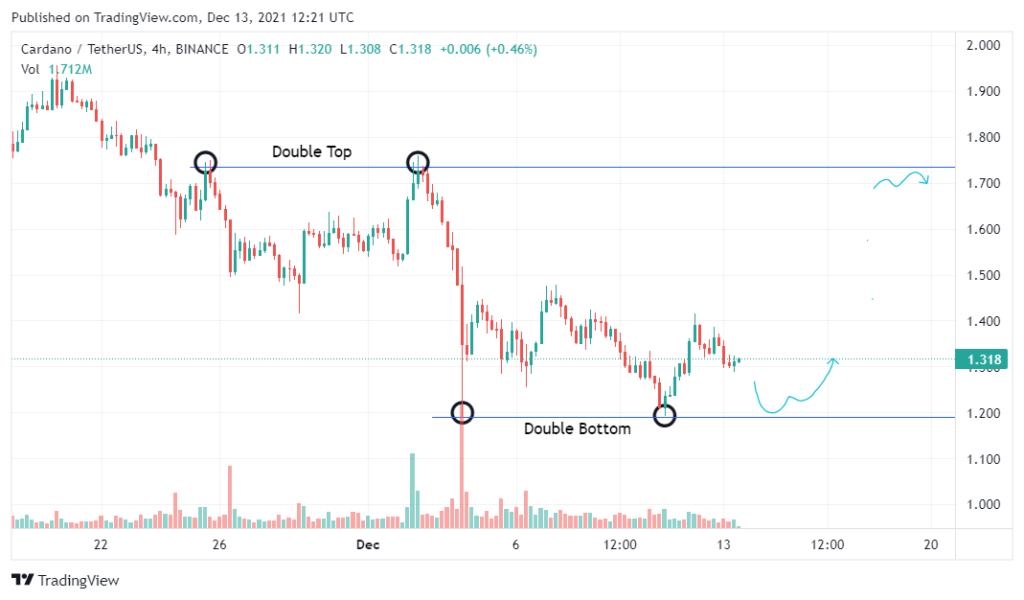 ADA 4-Hour Chart according to TradingView
A break above $1.47 and a subsequent bounce off the $1.26 support level will confirm the start of an uptrend. Cardano's price will then encounter the $1.60 resistance level. Transforming this barrier into a support floor will imply that buyers have regained control. This action clears the way for the collection of buy-stop liquidity above the $1.75 barrier. The climb would total a 38% gain.
The recent increase in the average transaction size from $23,877 to $83,704 bolsters the bullish outlook for Cardano's price. This 250% increase in transfer volume indicates that investors are interested in the current price of ADA and are actively investing in it.
While things appear to be going well for Cardano, there is a strong possibility that ADA will retrace below $1.19 in order to collect liquidity. In this situation, investors can scoop up the dubbed "Ethereum killer" at a discount.
However, if Cardano's price falls below $1.12, the bullish outlook will be nullified. In this case, ADA could slip below the 1.02 support floor and retest it.
HUH Token
HUH Token's price is presenting traders with a fresh buy opportunity after consolidating over the weekend to its major support level at $0.0001264.
HUH's relative strength index (RSI) and stochastics have moved below their bottom bands and into the buy zone, indicating that an upswing is imminent. In addition, HUH's price has also fallen below its moving average, reinforcing the bullish outlook.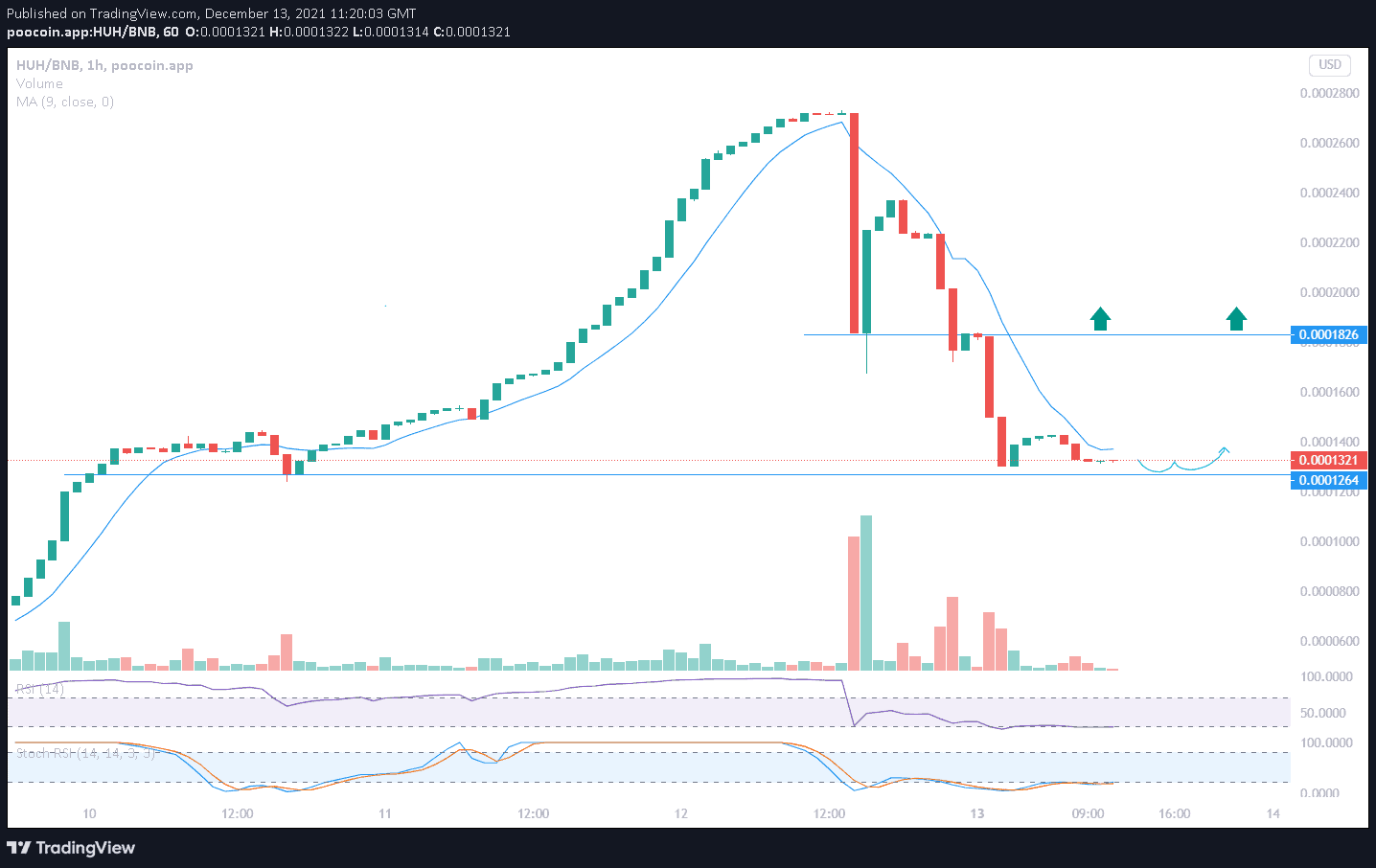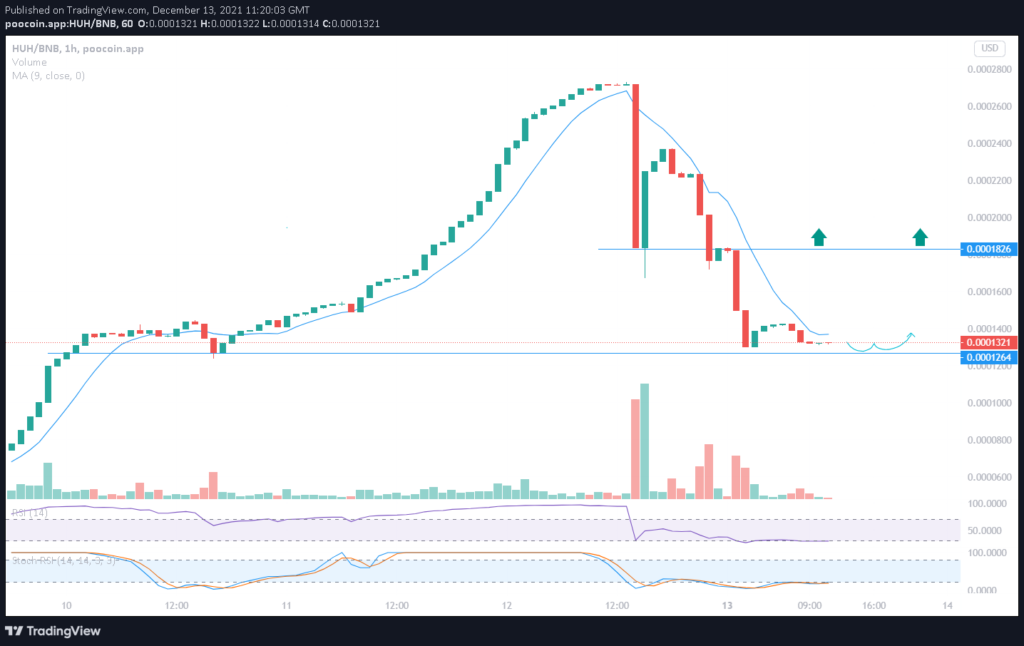 HUH 1-Hour Chart according to TradingView
HUH Token's first resistance level is at $0.0001826, but if the price can break above this level then HUH looks set to retest its all-time high at $0.0002726, which would be a 100% rise from current levels.
However, if HUH's price falls below the 0.0001264 support level then the bullish outlook would be nullified.
HUH Token surged over 4000% last week after its debut on PancakeSwap on Monday, December 6. The new cryptocurrency went viral after breaking into the Top 20 on PancakeSwap in just a few days of its launch. HUH has a market cap of over $110 million.
The new cryptocurrency dubbed plans on competing with other meme tokens by offering enhanced features and utilities, and has subsequently been called a "utimeme".
HUH Token offers a novel referral system. A holder of HUH Token can refer others using a unique code provided at the time of purchase. The holder is then compensated with 10% of the first HUH purchase of the person they refer.
HUH Token is designed to increase a holder's tokens incrementally over time, which means that the more tokens a person holds onto, the more tokens they continue to receive.
Additionally, investors may be enticed by HUH Token's announcement of $1 million in locked-in liquidity, which will be locked in for at least 2 years.
You can find out more with the following links:
1- Buy on PancakeSwap – https://bit.ly/3pSg09d
2. Website – www.huh.social
3. Latest HUH Token News https://bit.ly/3F6ttAV