A large number of users have been reporting the issue of Picture in Picture not loading or working correctly on their iPhone smartphones. Even with the feature enabled in your settings, it is seemingly malfunctioning. Are you also facing glitches using the Picture in Picture feature even while using the latest iOS 15? No worries, today we will discuss the problem in detail and how you can solve the issue using easy fixes!
Available globally across all iOS devices, the Picture in Picture functionality allows users to multitask efficiently. It helps in shrinking any video you're watching into a small player, enabling you to use other apps on your iPhone or iPad simultaneously.
And it's not limited to watching videos only. Using the Picture in Picture feature, you can easily use FaceTime while using other apps too. It is one of the most necessary functions for users who use their devices to study, attend meetings, or simply do other tasks where multitasking is essential.
Picture in Picture issue hits iOS devices! Check out the reason behind the issue, fixes, and more!
Picture in Picture stopped working on iOS 14.5/iOS 15
YouTube started rolling out Picture-in-Picture feature globally in July. The feature lets one watch videos in a floating window while using other apps, and is slowly rolling out to iOS and iPad devices.
Earlier, the feature was not made available on the iOS YouTube App but worked on the browser version. Do note that if the video contains music then it will not be eligible for PIP. Also, it has been made free for US users and premium only elsewhere in the world.


There are many users who are reporting that YouTube keeps prompting saying 'Music content can not be played in Picture-in-Picture'.
You are definitely not alone in the issue of Picture on Picture (PiP) not working across iOS 15 devices. Recently, a large mass of reports hit the internet about the glitch. Even with the feature turned on from the settings of your iPhone or iPad, it is not working.
Many are reporting that in spite of having a Premium subscription on an iPhone 13 Pro Max running iOS 15.5 with PiP enabled in iOS, the Settings > General in YouTube don't show the option to enable picture-in-picture.
Even the premium users are finding difficulty in watching videos on YouTube PiP. However, it seems, that there are many who can access (picture-in-picture) in the YouTube app from their iOS devices. YouTube had announced that they're rolling the feature out slowly, but also confirmed that there is an "issue" and their engineers are "currently investigating this".
Starting from compatibility issues to selecting the correct settings, this problem can have its origin in several places. However, it is not difficult to fix and you can usually do this without much hassle. Our guide here will help you to find your easy fix if the Picture in Picture feature is malfunctioning in your Apple device so read the next portion carefully!
How to fix the Picture in Picture issue on iOS devices?
Are you unable to properly watch YouTube videos while multitasking? Is your device not playing videos despite turning on the Picture in Picture feature from your settings? Whether you're using an iPhone 12 or an iPhone 13 or an iPad, here we have some of the best fixes that you can easily use to fix the issue!
Fix #1: Using YouTube PiP Shortcut
If your Apple device is running on the iOS 14.5 Beta version, this workaround is surely worth a shot. The YouTube PiP Shortcut takes advantage of the capabilities of the new Picture-in-Picture feature and brings them easily to the YouTube app. Here's how you can install the shortcut on your iOS device.
First, install the YouTube PiP Shortcut from a trusted source. We recommend doing this from here. Remember to enable "Allow untrusted shortcuts" in iOS settings from the Shortcut menu before installing.
Install Scriptable from the official Apple Store.
Now open a video in the YouTube app or Safari browser and select "More" after clicking the share button.
Select "YouTube PiP" and you'll be able to successfully use the Picture in Picture feature once again!
Using the shortcut also offers users some great pros like faster video load, playback speed control, playing live YouTube videos, and even downloading the videos using a share sheet in Safari.
Fix #2: Checking compatibility
Many users are not aware but the Picture in Picture functionality only supports select applications. The list of supported iOS apps is long, but some of them include Apple TV, FaceTime, iTunes, Safari, Podcasts, Google Chrome, Amazon Prime, Netflix, etc. YouTube does not support the PiP feature on iOS devices as of now. As a result, if the application you're trying to use for multitasking is not supported, you have no choice but to wait for the app developer to offer support for compatibility.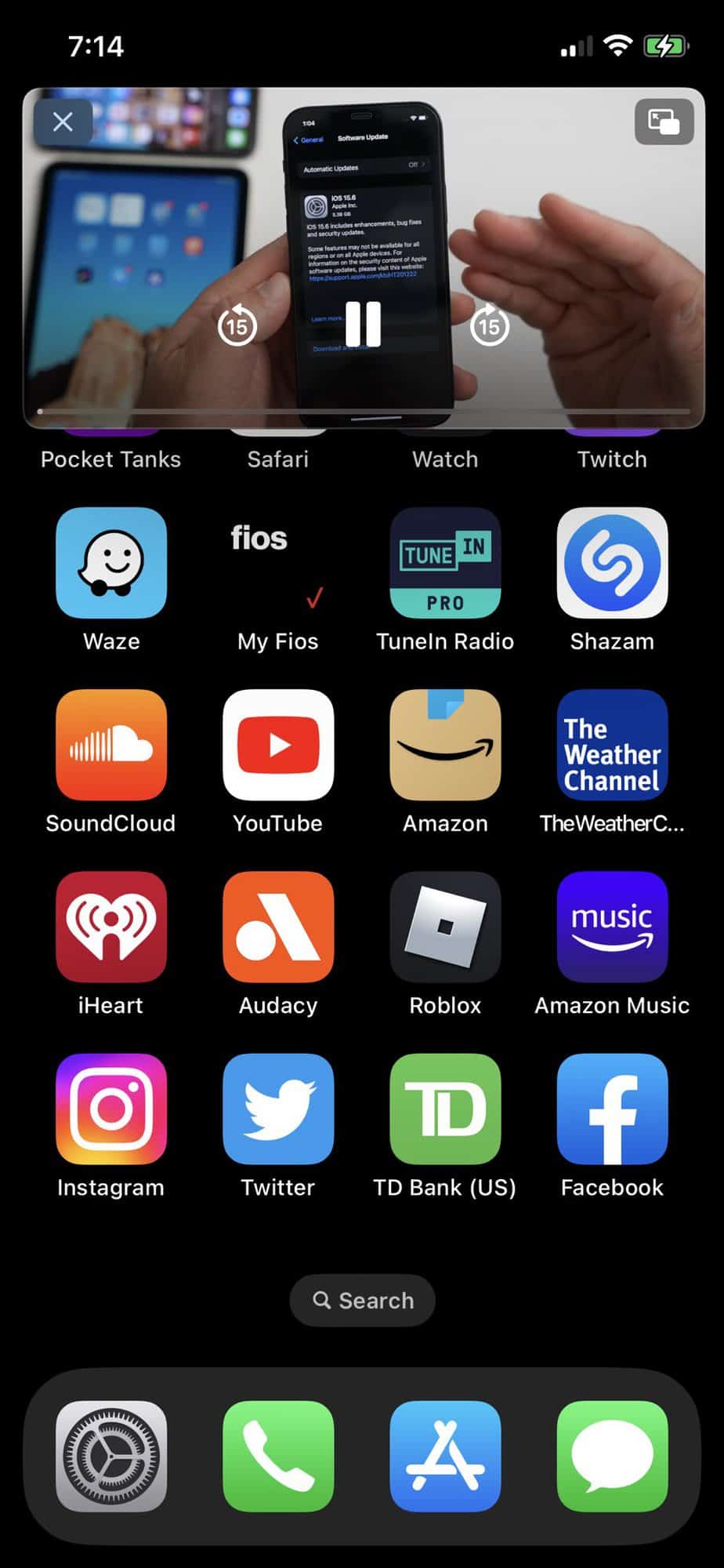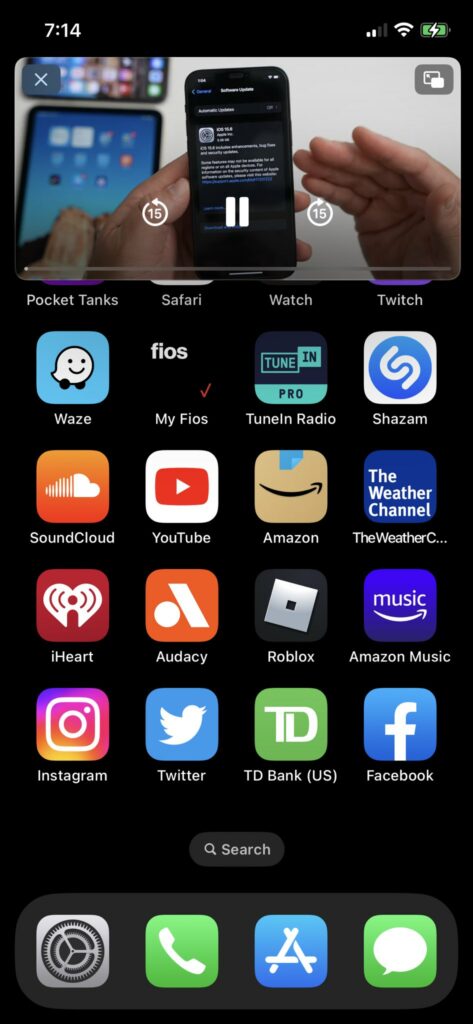 Fix #3: Turning on the Picture in Picture feature correctly
You should cross-check and see if you have turned on the PiP feature correctly. In order to do this-
Go to the Settings app and tap on General.
Select the Picture in Picture option where you'll find the option to automatically start it.
Turn the feature on if it is not already enabled.
Fix #4: Updating your iOS to the latest version
This feature is only available to Apple devices with iOS 14 and 15. Even in some cases, the current build may contain certain bugs that can interfere with the proper functioning of the PiP feature. In that case, follow these steps to ensure you have the latest version of the iOS firmware on your device.
Launch the Settings app and select General.
Select Software update to see if any new build is available.
Download and install the new build if it shows up so that your system remains updated.
Fix #5: Restarting your Apple device
In some scenarios, reports indicate even supporting applications failing to work properly using the Picture in Picture feature. Try to simply restart your iPhone or iPad as sometimes, even minor software glitches can cause the feature to malfunction.
Fix#6: Use Brave browser
A Reddit user has experienced no such PiP issues on the Brave browser he has been using with no ads on all!
Final Verdict
The Picture in Picture feature is relatively new on Apple devices and is continuously getting updated. With the increasing popularity of YouTube and its usage, there is no doubt that Apple will soon extend its compatibility with the platform. However, with the release of the iPhone 14 in sight, users might have to wait for some time till the official support becomes available.