Earlier in December, OnePlus had started rolling out the stable version of OxygenOS 12 for the OnePlus 9 series. But it had to be pulled down due to glitches and bugs reported by the users. It all started with the version marked OOS 12 C.36 when users reported that their devices had stopped working. Another stable version was released after a few days on 17th December, labelled OOS 12 C.39. Users who had updated the software version to C.36 were requested to install the C.39 version immediately. Unfortunately, it also had to be pulled down again.
Today OnePlus has announced another stable OxygenOS 12 C.40 update for OnePlus 9 and OnePlus 9 Pro. The OOS 12 C.40 rollout is for India and Global regions only. OnePlus 9 India region will find firmware version labelled LE2111_11_C.40 whereas, for Global, it is versioned LE2115_11_C.40.
The version number of the OTA rollout for the OnePlus 9 Pro Indian variant is LE2121_11_C.40 whereas, for Global, the build number is LE2125_11_C.40. The size of the update is relatively small at approximately 70MB. It is an incremental rollout with a broader rollout scheduled for tomorrow. December 2021 security patch is also part of the package.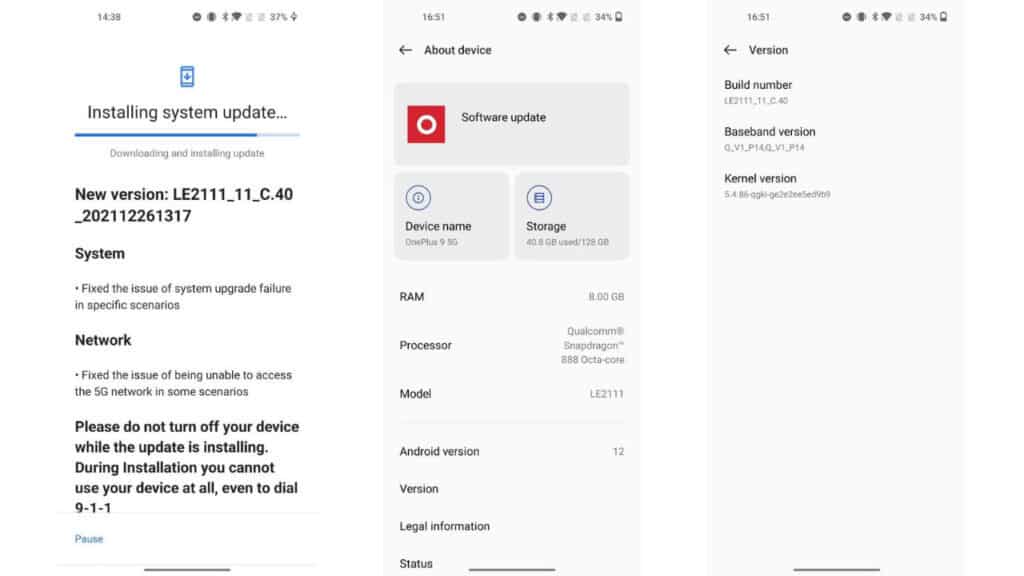 OxygenOS 12 C.40 OTA build brings a fix to the recently reported niggling issues of 5G connectivity and system upgrade failure. OnePlus 9 series users will be notified via OTA rollout or one can check it manually via Software updates under the Settings menu. It is advised that if you had updated to C.39 build version, you should take a backup to be on the safer side and immediately install the latest OxygenOS 12 C.40 update.
But there is a catch. OnePlus has left Europe out again when it comes to Oxygen OS 12 rollout. Is it because Europe is strict about privacy? The question arises why do OEMs sell Europe specific devices if one cannot receive updates when a global version is released?
However, the EU privacy law issue has not been confirmed by OnePlus themselves at any point in time. For the time being it is a supposition. However, there is a workaround to it. The global version has been found to be working for EU members but Global build might miss on GDPR.
But there is a relief to see the reply on the missing OxygenOS 12 C.40 EU build rollout by OnePlus in the community forum. See it below!

It is only a matter of time when EU will get the update. Till then hold tight!
How to Install Stable OxygenOS 12 C.40 update?
There is another mystery that can be answered by OnePlus. Those who have not received OOS 12 C.36 or OOS 12 C.39 yet, will they receive the OxygenOS 12 C.40? The answer to it is that OOS 12 C36 is the full install file while the C39 and C40 build versions are incremental hotfix updates. In other words, one has to manually install C36 from a Full install file, then update from there with the latest OxygenOS 12 C.40.
Download Stable build OxygenOS 12 C.36 from download links as given below
OnePlus 9
OnePlus 9 Pro
Copy OxygenOS 12 C.36 zip in Internal storage
Head To system update -> Click top-right icon -> Local upgrade -> Click on .zip installation package -> Hit upgrade -> System upgrade completed to 100%
Once installation is complete, Tap on Restart

Download OxygenOS 12 C.40 packages

once have the links and follow the steps given above
OnePlus 9 and 9 Pro smartphones are the first ones in the lineup to receive the OxygenOS 12 update after the merger of OnePlus and Oppo.
In teh meantime, you can wait to receive notification of OxygenOS 12 C.40 OTA build and follow the steps given above. Share with us your experiences!