Since its highly anticipated release in September 2023, the iPhone 15 has taken the smartphone world by storm, introducing cutting-edge features like a powerful 48-megapixel main camera equipped with a larger sensor and a groundbreaking telephoto lens offering 5x optical zoom.
However, as with any tech gadget, the iPhone 15 has not been without its fair share of challenges. Among the various issues reported by users, a persistent and frustrating concern stands out: the iPhone 15 not charging. In this comprehensive guide, we'll explore the common reasons behind iPhone 15 charging issues and provide 10 practical tips to address this iPhone 15 not charging and resolve these concerns. Let's dive in!
Why is my new iPhone 15 not Charging?
Here are some general reasons why you might be facing the issue of iPhone 15 not charging:
Faulty Lightning Port
The Lightning port is the first place to inspect when your iPhone 15 isn't charging. Check for any damage, such as bent or broken pins, that might hinder the connection between the charger and your device. Additionally, accumulated debris or gunk in the iPhone 15 charging port can obstruct the charger from seating properly, preventing efficient charging.
Worn Out Charging Cables and Adapters
Over time, charging cables and wall adapters can wear out due to repeated use. If you notice a fraying charging cable or experience issues with a malfunctioning wall adapter, it could interrupt the electricity needed to charge your iPhone. Regularly inspect and replace damaged cables or adapters to ensure a reliable charging experience.
Faulty Electrical Outlet
Before pointing fingers at the iPhone 15 charging port or chargers, verify the functionality of the electrical outlet. Loose, damaged, or improperly wired outlets may not deliver consistent power to your charging accessories, leading to charging failures. Confirm that the outlet is in good condition and provides a stable power supply for charging.
Incompatible Charger for Reverse Charging
The iPhone 15 series introduces the capability to reverse charge other Apple devices using the USB-C charging cable. However, if you're not using the Apple USB charging brick or a charger with a similar wattage, the reverse charging feature may not work.
How to fix iPhone 15 not Charging?
If you're scratching your head over your iPhone 15 not charging, don't worry! Here, we will break down the common issues that cause an iPhone 15 charging block even though it's a relatively new device, and offer simple steps to get your iPhone 15 back to full power in no time.
Dealing with iOS issues can be a headache, but with Tenorshare ReiBoot, fixing 150+ different system problems becomes as easy as a single click. As the top-rated free iOS system repair and recovery software, ReiBoot is equipped with advanced AI technology to swiftly diagnose and resolve update problems, network glitches, and various system issues on iOS, iPadOS, tvOS, and macOS – all without compromising your valuable data.
Easily enter or exit Recovery Mode for quick troubleshooting.
Fix 150+ iOS, iPadOS, tvOS, and macOS issues without data loss.
Support the latest iOS upgrades, downgrades, and Beta versions.
Reset iOS devices without a passcode, iTunes, or Finder.
Effortlessly fix common iPhone and iTunes errors like 4013 and 4005.
If your iPhone does not charge, follow these steps to solve it easily.
Free download Tenorshare ReiBoot on your computer.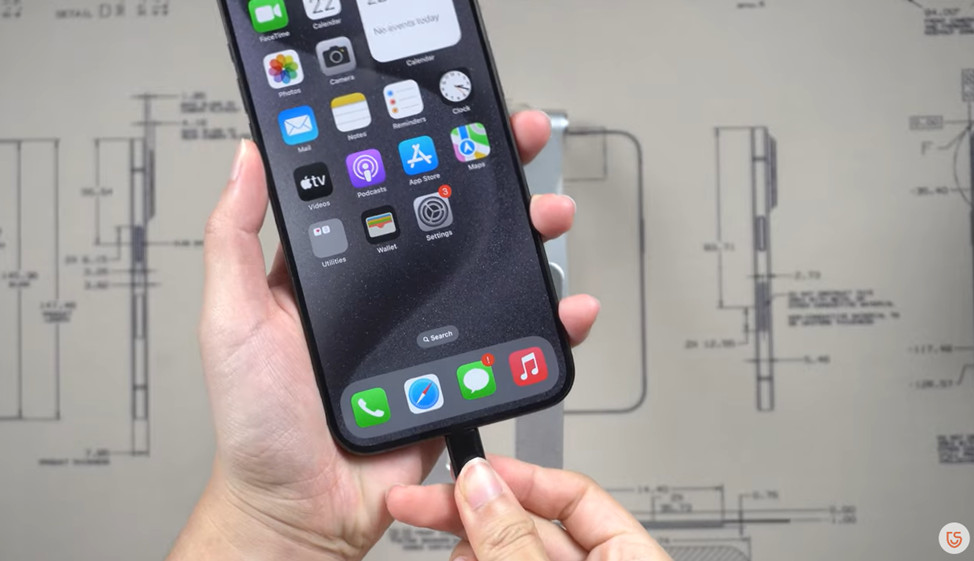 Execute the program and connect the iPhone to the computer.
Step 3: Start Standard Repair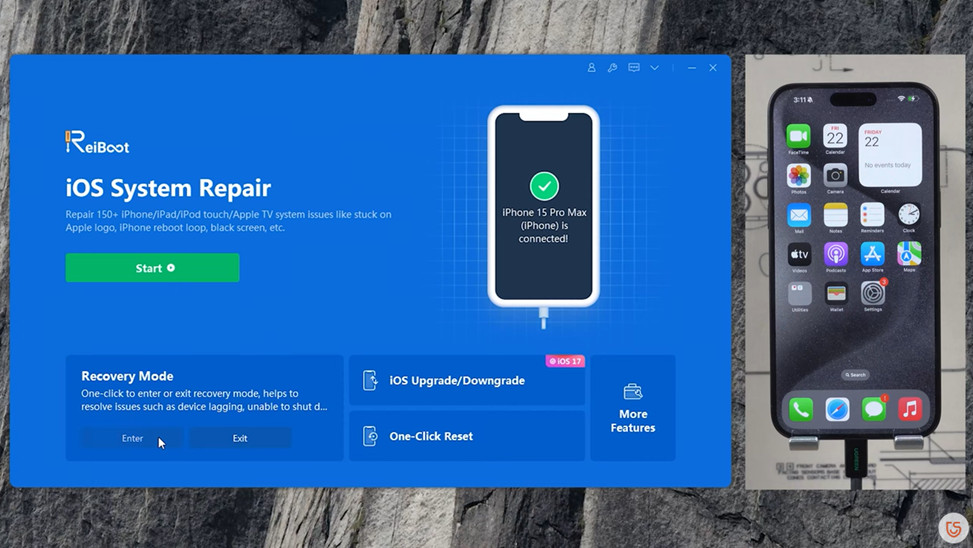 Click "Start" and choose "Standard Repair." If your iPhone doesn't connect automatically, follow the on-screen instructions to enter recovery mode.
Step 4: Choose Device Model
Select your device model (iPhone 15). For iPhone 15, press and quickly release the volume up and down buttons, then hold the side button until the recovery mode screen appears.
Download the latest firmware package when prompted.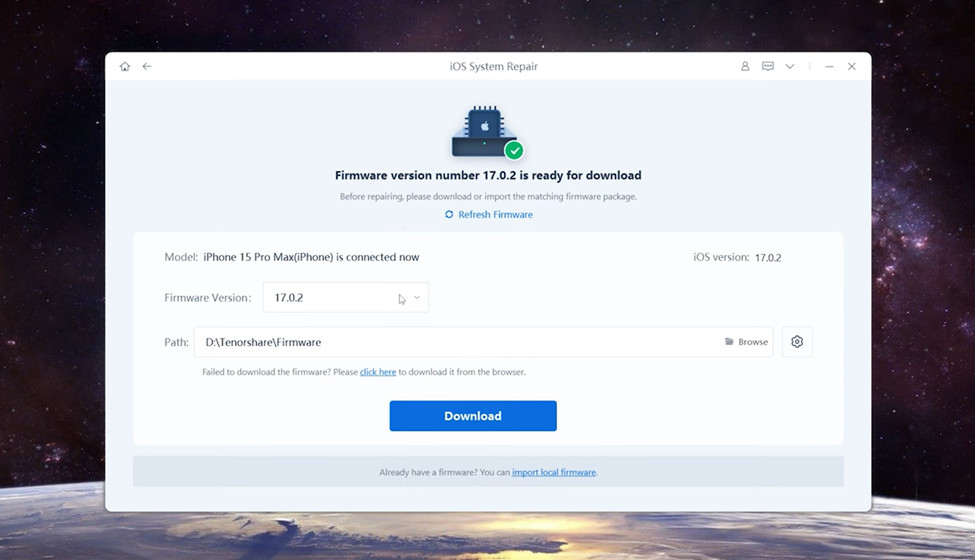 Press "Start Standard Repair" to initiate the repair process. Wait for about ten minutes for the repair to complete.
Full video guide
Force Restart your iPhone 15
Quickly press and release the Volume Up button.
Quickly press and release the Volume Down button.
Press and hold the Side button until the slider appears. Slide it to power off.
Press and hold the Side button again until the Apple logo appears.
Get a New Charging Cable
To troubleshoot your iPhone 15 not charging, consider changing the charging cable. Swap out your current cable with a new one in good condition. A frayed or faulty cable can disrupt the electricity needed to charge your device.
Check your iPhone Charging Port
Check and clean your iPhone 15 charging port. Examine the bottom of your device, remove any debris gently with a toothpick or a non-metallic, pointed object, and, if available, use a can of compressed air for a quick clean. Afterward, firmly plug in your charging cable to establish a secure connection.
Reset your Network Setting
Navigate to the Settings app from your Home screen; if you can't find it, swipe left to access the App Library or go to Settings > General. Once there, tap on "Reset," followed by "Reset Network Settings." If prompted, enter your passcode, and then confirm the action by tapping "Reset Network Settings" again. This process will reset your network configurations, including Wi-Fi passwords and cellular settings, to default.
Update iOS Version
Outdated software can sometimes cause issues with basic functions like charging. Here's a simple guide to update your iPhone:
Open Settings on your iPhone.
Navigate to 'General' and then tap on 'Software Update.'
Check if your iOS version is up-to-date. If Automatic Updates are on, it will display your current version.
If updates are off, tap 'Automatic Updates,' toggle on 'Download iOS Updates' and 'Install iOS Updates.'
Once updated, plug in your iPhone and monitor the charging process.
Try to Hard Reset
If your iPhone 15 is still refusing to charge, a hard reset might do the trick. Unlike a regular restart, a hard reset completely reboots your processor, offering a more thorough solution. Here's how to perform a hard reset on iOS 16 or newer:
Press and quickly release the volume up and down button.
Now, press and hold the Power button located on the right side of your iPhone 15. Keep holding it until the Apple logo appears on the screen. This process may take up to 20 seconds, so please be patient.
Release the side button when the Apple logo appears.
Clear Up your iPhone Storage
To free up storage space on your iPhone, follow these simple steps:
Locate and tap the Settings app on your iPhone's home screen.
Scroll down and select "General." Within General, tap on "iPhone Storage" to view detailed information about your device's storage usage.
In the iPhone Storage section, you'll see a breakdown of your storage usage, including categories like Apps, Media, Photos, and Messages.
Scroll to the bottom of the storage screen to find recommendations for optimizing your storage. These suggestions may include deleting large or unused apps, offloading unused apps, or managing your photo and video storage.
Check Faulty Apps
Checking for faulty apps can be done in two ways:
Manual App Cleanup:
Navigate to Settings on your iPhone
Tap on Battery, then go to Battery Usage by App
Identify apps with unusually high battery usage
Update the problematic app to its latest version through the App Store
If issues persist, consider uninstalling and reinstalling the app.
Enable Offload Unused Apps:
Access iPhone Storage in Settings
Enable the "Offload Unused Apps" option
This feature automatically removes apps you don't frequently use but retains their data.
Contact Apple Support
If you've tried all the troubleshooting steps and your iPhone 15 charging block continues, it might be time to reach out to Apple Support for personalized assistance. You can easily get in touch by calling the Apple Support phone number for your country or region. You'll find the specific contact details on the official Apple website.
Tips to protect your iPhone 15 Battery Heath
To safeguard your iPhone 15 battery health, consider these tips:
Turn Off Live Activities
Live Activities, which display ongoing notifications on the Lock Screen or Dynamic Island, can contribute to battery drain, especially with the Always-On display feature. To conserve battery life, turn off Live Activities in your iPhone settings.
Disable Live Voicemail
Live Voicemail provides a real-time voicemail readout on the Lock Screen, but it can be a battery-intensive feature. To optimize battery health, go to Settings > Phone > Live Voicemail and toggle it off.
Use an Original USB-C Charger
With the iPhone 15's shift to USB-C, stick to using an original USB-C charger for optimal compatibility. Choose reputable brands like Apple, Anker, Belkin, Cable Matters, and Magsafe to ensure quality and safety in charging your device. This step helps in maintaining your iPhone's battery performance over time.
Conclusion
Mastering the art of troubleshooting can save you from the frustrations of an iPhone 15 not charging. Whether it's checking the charging port, swapping out cables, or performing a hard reset, these steps can make a real difference.
And if, despite your efforts, the charging issue persists, don't forget the powerful tool in your arsenal: Tenorshare ReiBoot. This software provides an advanced solution, which allows you to address iOS system issues efficiently. With these combined strategies, you're well-equipped to overcome charging challenges and keep your iPhone 15 in top-notch condition. You also can read this article: [Quick-Path] Fix iPhone 15 Not Charging with Top 5 Ways:
Hot FAQs
How do I know if my iPhone 15 is charging?
You can easily tell if your iPhone 15 is charging by looking for a lightning bolt inside the battery icon in the status bar or a large battery icon on your Lock Screen.
How much time does it take to fully charge an iPhone 15?
With a USB-C cable and an Apple 20W USB-C power adapter, the iPhone 15 can charge from zero to 50% in approximately 30 minutes. If you're aiming for a full charge, it takes less than 2 hours to go from zero to 100%.