With the month of September drawing close, the pent up excitement for Apple's tentative launch is at an all-time high. Especially when several features are set to make their debut on the iPhone 13. Judging from the clamour though, one could discern excitement for some of Apple's other products as well. The prospect of a redesigned Apple Watch and an up-scaled M1X processor is worthy of some degree of attention. So if you're looking to upgrade from your yesteryear Apple device or are merely in it for the drool factor, read on.
iPhone 13 launch revealed by retailer!
Apple may follow tradition and stick to its usual release date during the second week of September. However, it's worth noting that the iPhone 12 release was delayed till October owing to the pandemic. A keynote address is likely in the works. It is likely to follow the pandemic trend started in 2020 of a pre-recorded event streamed online.
A Chinese retailer on Weibo has listed the iPhone 13 series with Friday, September 17 date. The projected date for September 2021 event invitation will fall on Wednesday, September 15th. Further elaboration on the matter is stated down below.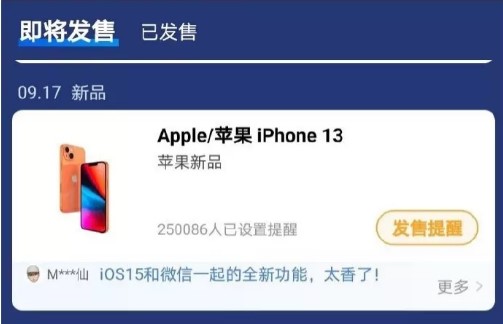 Apple may feature not just the 4 new iPhones, but also some of their next-gen product releases. Expect 3rd-gen AirPods, 2021 MacBook models, Apple Watch Series 7, and the 6th gen iPad Mini coming your way in a few days for now.
iPhone 13 Pre-Orders and Dispatch
Pre-Orders for iPhones usually start the Friday following the keynote. Assuming if Apple follows its traditional approach, iPhone 13 pre-orders are to likely begin from Friday, September 17th.
If there are no delays in production or any snags, new iPhones are ready to ship one week after pre-orders start and that is from September 24th onwards. Here it is assumed that the Apple Launch event 2021 will happen on Wednesday, September 14, 2021.
It is recommended that you place your pre-orders via the Apple app rather than their Desktop Website. Getting the first batch of phones is a bit tricky with luck being the key factor coming into play.
Pre-Order Date Rumors and Leaks
According to the reliable source Jon Prosser, Apple might start their pre-orders on September of 17th with the on site arrival scheduled for September 24th. Our primary source of information comes from the Chinese e-commerce website of IT Home.
Pre-order links for the iPhone 13 series have been put up on the IT Home iPhone 13 page.
Besides the supposed release of the iPhone 13 on 17th September, the AirPods 3 will also make their debut on September 30. Even so, we would advise you to take these claims with a grain of salt. Most of these claims have no significant backing other than a few rumors sprouting hither and thither.
How do I pre-order iPhone 13?
Apple does offer two membership programmes to register for the iPhone.
Existing Membership: Where you get to choose to upgrade your current Apple device.
New Members: For people who wish to get the Apple experience after planning to switch from Android.
There isn't a requirement to make any pre-existing payments. The process qualifies as a reservation for an appointment in-store.
Apple typically has a restriction of 2 iPhones per Apple ID. As for shipping on the same day of launch might be a bit of a stretch. Unless your pre-order has been approved, the delivery medium has been established in an impressive stroke of luck, same-day delivery isn't possible. Visit the product website to keep an eye on a possible pre-order option.
Trade-in while making a purchase is available. Although, the value per trade-in can vastly vary based on your current device condition. "Credit applied towards your new iPhone will be based on the received device matching the description you provided when your estimate was made..." in other words, describe the condition of your device properly and you'll get your money's worth.
iPhone 13 Price
There will not be much of a technical upgrade from 2020 iPhones, hence much of the iPhone 13's pricing is expected to be based on its predecessor iPhone 12 lineup. Keeping in track with the iPhone 12 models prices, here's the expected pitch for the base model of the iPhone 13!
iPhone 13 Mini- $699/₹52000*
iPhone 13 (Base)- $799/₹60000*
iPhone 13 Pro- $999/₹75000*
iPhone 13 Pro Max- $1,099/₹82000*
(*Based on the current exchange rate, excluding taxes)
There will be price variations among carriers and storage configurations. These are the currently included models right now. Although, having the unfounded rumour of a 1TB model could mean a much higher price on the Pro versions.
For reference sake, find below iPhone 12(all variants) US pricing:
iPhone 12 Pricing
| iPhone 12 models | 64GB | 128GB | 256GB | 512GB |
| --- | --- | --- | --- | --- |
| iPhone 12 Mini (Via Carrier) | $699 | $749 | $849 | N/A |
| iPhone 12 Mini (SIM-free from Apple) | $729 | $779 | $879 | N/A |
| iPhone 12 (Via carrier) | $799 | $849 | $949 | N/A |
| iPhone 12 (SIM-free from Apple) | $829 | $879 | $979 | N/A |
| iPhone 12 Pro | N/A | $999 | $1,099 | $1,299 |
| iPhone 12 Pro Max | N/A | $1,099 | $1,199 | $1,399 |
iPhone 13 Lineup
Much of the original design of the iPhone 12 may be retained albeit with a few caveats. Speculations are strong about Apple's 2021 release to be based on the 2020 iPhone 12 series.
Since the size of the devices were leaked we can get a glimpse of how their 2021 line-up might look like.
iPhone 13 Mini
iPhone 13
iPhone 13 Pro
iPhone 13 Pro Max
The size of the four devices includes 4 variants from 5.4 inches, 6.1 inches and 6.7 inches with the last option reserved exclusively for the "Pro" series. There are rumours that the notch is likely to become smaller in comparison to its predecessor.
Keeping in mind Apple's convention of having an S-class introduced each year, we can expect an iPhone 12 S series. This is carried over from their last trend of having the iPhone XR and XS series.
Moreover, the iPhone 13 Mini might be at 5.4 inches, the base model at 6.1 inches and the Pro/Pro Max model at 6.7 inches. A further distinction between the Pro and base models are rumoured which we will cover further in the article.
iPhone 13 Colors
iPhone 13 will come in traditional color offerings including white, black, blue, green, and (PRODUCT)RED. However, Apple usually introduces unique colours to boost sales. The same has been corroborated by a Korean-language message board leaker Ranzuk. As per him, Apple's iPhone 13 Pro is coming in four novel colours: black, silver, rose gold, and sunset gold. But, expect these colours to come to the higher-end "iPhone 13 Pro" models.
iPhone 13 Specifications – Leaks
Below are some of MacOtakara's sample designs for the purported iPhone 13. Small changes like the front-camera positions, the shrunk front notch and the different orientation of the speakers and microphone are included as well.
iPhone 13 Display
Display for the iPhone 13 sees a new entry in the form of their 120Hz ProMotion display. It was on the rumour mill since the high-end iPhone 12 came into the picture, but was shunted over fears of poor battery. The newer iPhone 13 is expected to come with a beefier battery which increases the likelihood of a 120Hz display.
Apple's LTPO display technology might make a debut on the iPhone 13. When combined with the low power consuming OLED display we may finally have a device capable of the expected refresh rate.
Further speculation also suggests that the ProMotion displays will be restricted to the higher-end models, such as the Pro and Pro Max versions. The Base and Mini versions might run the 60 Hz display which would also allow for a weaker battery within the smaller frame.
The supply for the LTPO OLED displays is expected to come primarily from Samsung with the lower-end versions from LG or BOE. Apple's need for lower power OLED displays also requires the manufactures to change the construction process a bit.
Portless Design and USB-C?
The running gag that often goes around Apple is the virtually numerous attempts made at streamlining their device. Naturally, a portless design was to be expected sometime soon. Ming-Chi Kuo on the other hand denies the possibility of the portless design coming to the 2021 iPhone. His longstanding reliability in predicting each Apple product does make us take his word for it.
Evidence does point out that the MagSafe chargers and power banks still need to work out a few kinks. One is too slow to charge older devices while the other has problems charging quick enough.
That's pretty much all there is on our end. Are you eagerly expecting the iPhone 13's arrival as well? Let us know in the comments down below. For more similar content visit us at our website.